The interior offensive line class is one of the most interesting groups in the 2022 NFL Draft. Iowa's Tyler Linderbaum headlines the interior class, but it's not often we see centers get taken in the top half of the first round. He might slide entirely based on positional value, which would be good news for teams in the back half of the first round — looking at you Cincinnati Bengals — who need offensive line help.
If not Linderbaum, Texas A&M's Kenyon Green and Boston College's Zion Johnson are Tier 1 guards. Although it seems unlikely, the need for guards in the NFL might push them ahead of Linderbaum on some teams' draft boards.
Regardless, the Iowa product comes in at No. 1 on my list of the best interior linemen in the 2022 NFL Draft, followed by a handful of other intriguing prospects.
Click here for more PFF tools:
Rankings & Projections | WR/CB Matchup Chart | NFL & NCAA Betting Dashboards | NFL Player Props Tool | NFL & NCAA Power Rankings
Best Bets Tool
---
Linderbaum is the best center prospect in the PFF College database (2014-) and ranks ninth overall on the current PFF big board. The former Hawkeye does everything at a high level. His ability to time when to come off double teams on zone runs and cover up and knock back linebackers is stunning.
He can also get in front and reach shaded defensive linemen with his quickness. He can handle nose guards aligned head-up and is suited for the heavy zone scheme seen at the NFL level. In pass protection, he can handle bull rushes with a good anchor and does a stellar job resetting his hand placement to continue to be inside the opponent's chest. 
Linderbaum Grades by Season
| | |
| --- | --- |
| Season | PFF Grade |
| 2021 | 95.4 |
| 2020 | 91.5 |
| 2019 | 81.7 |
He is every bit a unanimous first-team All-American and Rimington Trophy winner, given to the best center in college football. The question is where his draft slot belongs. Being ranked that highly on the PFF draft board means he is a superb individual prospect, but how high can a center go in the draft? What is the position value for a center?
Last season, before the draft, PFF projected Landon Dickerson and Creed Humphrey — the top two centers in the draft — to land in the second round and third round, respectively. The top centers each year are going to be in that range. One season later, Humphrey — after being drafted 63rd overall — is arguably already a top-five center in the NFL after recording the highest PFF WAR mark at the position in 2021. 
Linderbaum is projected to be a better player than Humphrey coming out of college, which begs the question: Since Humphrey has been so successful in Kansas City, could Linderbaum go in the first round?  
Projection: Late First Round
Johnson is power personified. The former Davidson guard is going to keep rising up draft boards after a dominant 2021 season with Boston College and a really nice showing at the Senior Bowl. Combining practice reps and game reps, Johnson was the second-highest graded offensive lineman at that All-Star game. 
Zion Johnson, iOL. #77

Excelente ancoragem pic.twitter.com/5jLsY6XLS3

— Rapinas do Mar (Cortes) (@cortesrapinas) February 9, 2022
Johnson finished the 2021 regular season as one of just five Power Five guards with 80.0-plus grades as both a run-blocker and pass-blocker. One could make the case that, due to positional value, either he or Texas A&M guard Kenyon Green could be drafted ahead of Tyler Linderbaum, although that is unlikely. 
The battle for top guard between Johnson and Green is one of athleticism versus power. I prefer Johnson, but the two are close and it wouldn't surprise me if any general manager liked one above the other. 
Projection: Late First Round
Green is a quick player who possesses pop to stop pass-rushers, but his most coveted trait might be versatility. 
Green Snaps By Position | 2019-2021
| | |
| --- | --- |
| Position | Snaps |
| LG | 1,098 |
| RG | 853 |
| RT | 142 |
| LT | 81 |
His best position is left guard, where he posted an 85.0 grade in 2021. You can see how light he is in his pass sets with tackle-like pass protection reps. Green's issues come from his hands. There have been instances of rushers being able to remove his hands from their body and then get to the quarterback. He has strength coming from his lower half and upper body, but the hands need to be grippier. As a run-blocker, he uses his leverage — he's just 6-foot-3, 316 pounds — to get underneath defenders' pad levels and wash them down. He's a nasty player for a position that demands it.
He'll be able to fill in at multiple different positions if needed, just as he did at Texas A&M, but if a team is drafting him in the first round, it must be to play left guard.  
Projection: Early Second Round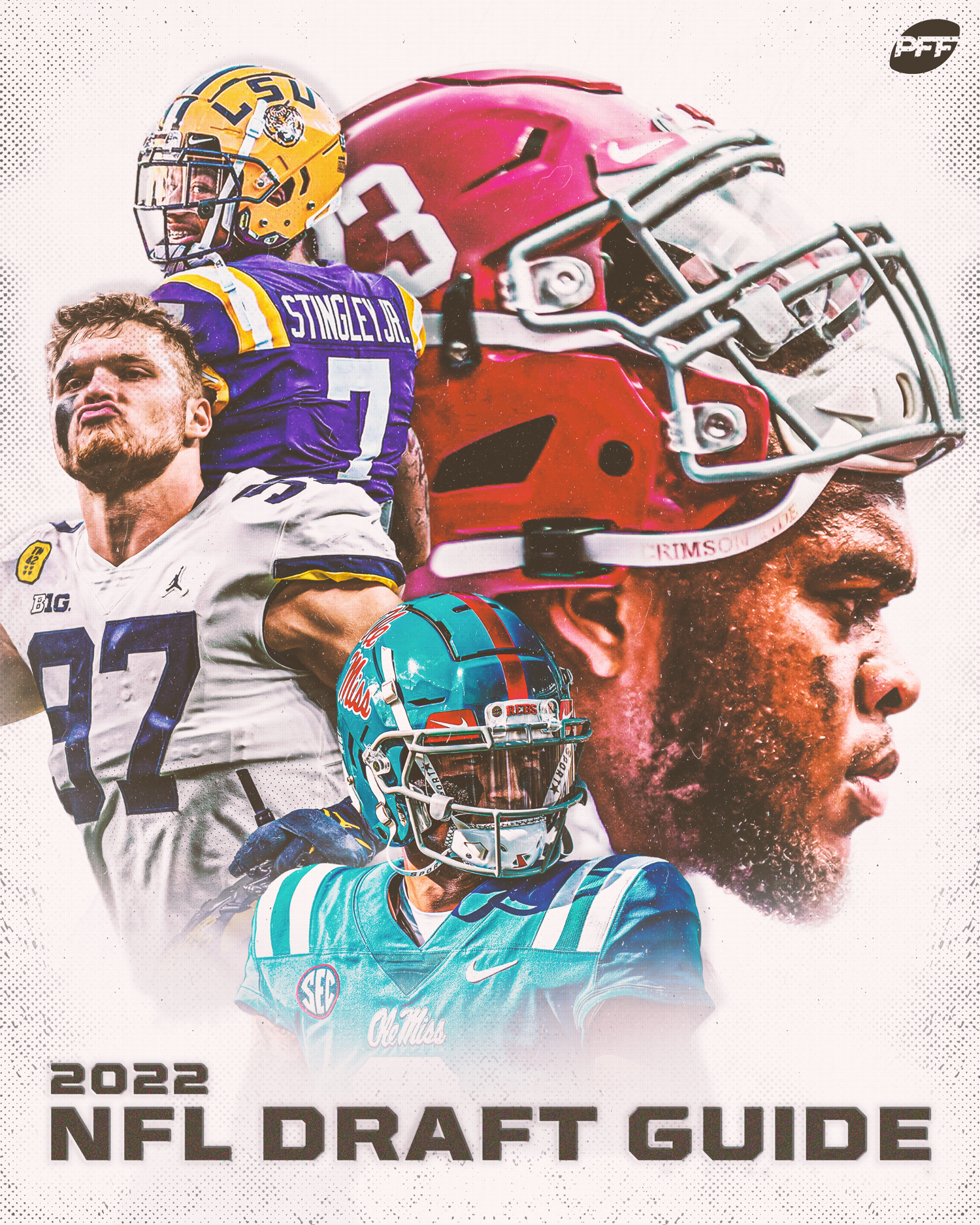 Hayes is another power guard who stops defenders in their tracks in the passing game. His career pass-blocking grade towers above his career run-blocking grade, which is a little odd for a player with reps where he's clearing defenders off the ball. He improved his run blocking every season while at Oklahoma, though, which is a good sign. 
Hayes Grades By Season
| | | |
| --- | --- | --- |
| Season | Pass-Block Grade | Run-Block Grade |
| 2021 | 83.8 | 76.4 |
| 2020 | 74.2 | 69.4 |
| 2019 | 80.2 | 58.0 |
Hayes coming into his own and figuring out how to drive defenders off the ball — which he showed in the final game of his career against Oregon — will be huge for him going forward. 
Projection: Third Round
At 6-foot-3 and 285 pounds, Parham is going to face an uphill battle every time he steps on an NFL field. His grade fell drastically in 2021 after he exploded onto the scene as a tackle for Memphis in 2020 — 90.6 grade — before slotting back inside for 2021 — 78.8 grade — where he projects at the next level. 
#Memphis iOL Dylan Parham doesn't get enough pub.

Love his knee bend, core strength, and balance in pass protection on tape. Showing the same thing during SB practice. pic.twitter.com/qDWIEIMzdw

— Dane Brugler (@dpbrugler) February 2, 2022
Just three guards listed below 290 pounds played any snaps in the NFL this season, and none of them graded out higher than 60.0. Parham isn't a bad player and had some good reps against bigger players than him, but it's tough to evaluate a smaller guard in the Group of Five and elevate him to even a third-round pick in the NFL. A move to center might be in the cards.
Projection: Fourth Round