The 2018 NFL Draft is officially into the final round and yet there are several prospects yet to be taken who ranked highly on our official Big Board.
With all the movement likely to come on with the few picks, here's the list of the top 50 remaining prospects, updated after the culmination of each round.
Follow along on Twitter – @PFF – for complete analysis and community threads to jump in the discussion of your favorite draft pick so far!

Top 50 remaining prospects for the 2018 NFL Draft
63. Hercules Mata'afa, Washington State – edge defender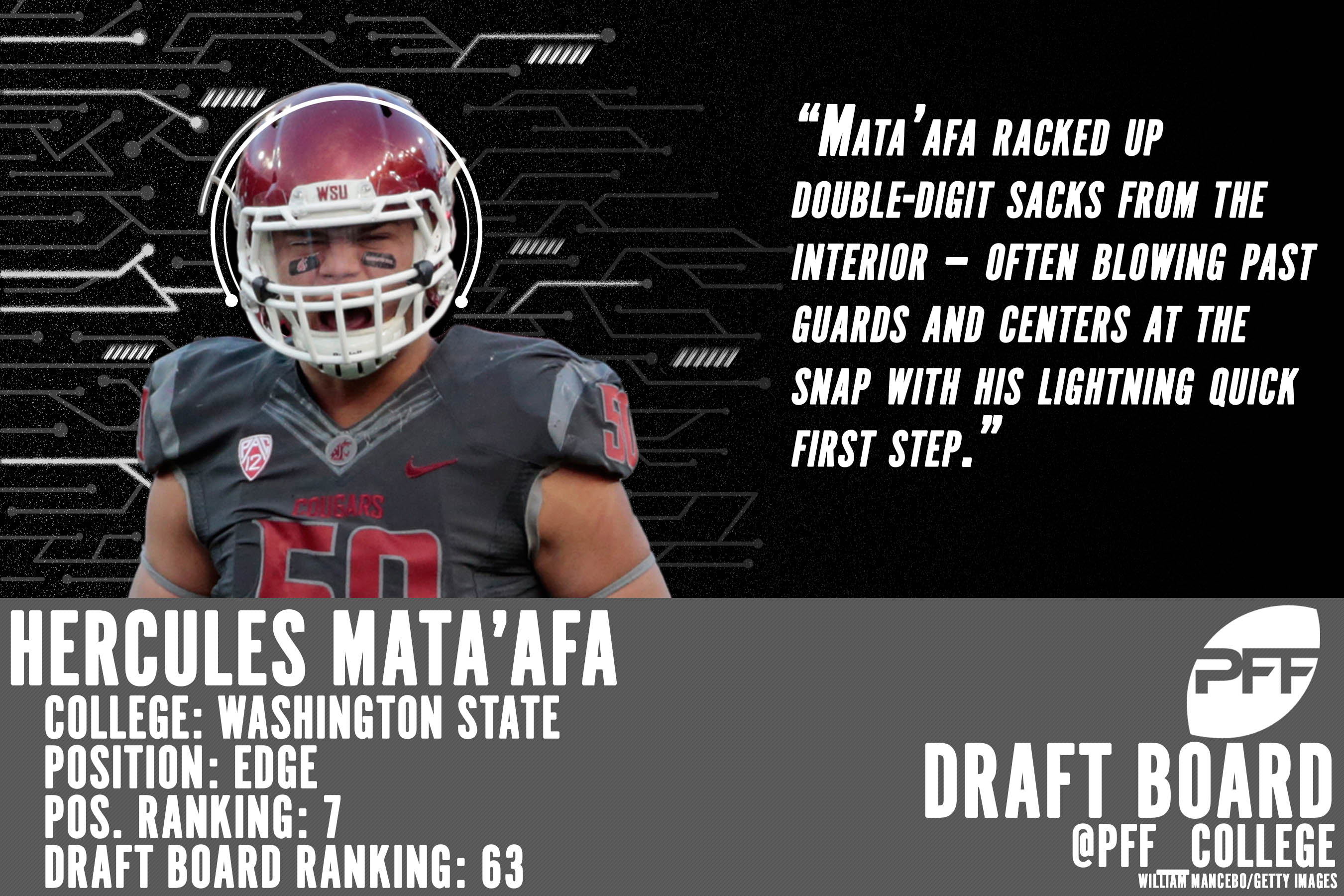 Mata'afa played a grand total of seven snaps this season outside the tackles, but tipping the scales around 250-pounds, the Washington State defender will have to end up there in the NFL. It's intriguing that he still racked up double-digit sacks from the interior – often blowing past guards and centers at the snap with his lightning quick first step.
72. Skai Moore, South Carolina – linebacker
Moore has a lot of negatives working against him, but his play has been excellent in the SEC, which is no small order. His PFF coverage grade of 88.7 was one of the highest in the nation in 2017, one spot above Georgia's Smith, and his instincts are clearly excellent. He will need to convince NFL teams that he can still produce with a step up in competition given he is both undersized and potentially less athletic than they would like. Missing the entire 2016 season with a herniated disc is also a major injury red flag and he will need to check out medically as well.
82. Quin Blanding, Virginia – safety
A four-year starter at Virginia, Blanding had three excellent years of grading and one poor season in 2015. He fits best in a split-safety role, where he has sufficient range and can work downhill against the run, particularly in quarters looks. Blanding finds the ball well in the run game and he's a sure tackler, as he missed only 43 of his incredible 502 tackles attempts during his career. 
90. Joe Ostman, Central Michigan – edge defender
Ostman was the most productive pass-rusher in this draft class this past season, notching 54 total pressures. His length and athleticism are lacking, but his production is hard to ignore.
97. Damon Webb, Ohio State – safety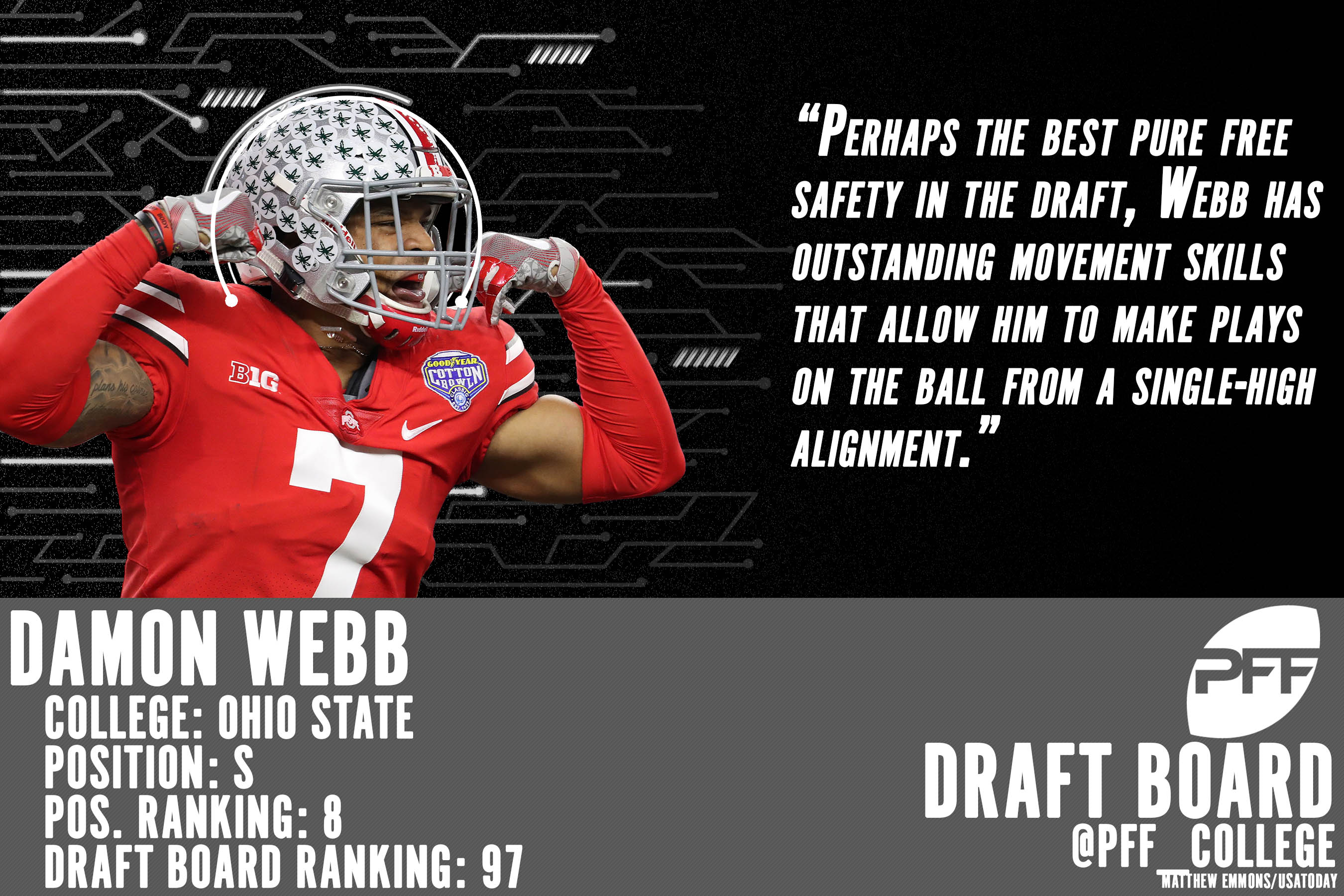 Perhaps the best pure free safety in the draft, Webb has outstanding movement skills that allow him to make plays on the ball from a single-high alignment. His quickness is also on display when covering slot receivers, which allows Webb to offer up a versatile skill set for creative defensive teams willing to use him on the back end and in the slot. Webb's not great in the run game, but his lateral quickness makes him one of the more unique talents in the draft.
98. Kris Weatherspoon, Troy – safety
Players used to be tarred with the 'tweener' tag as a negative, consigning them to a career-long struggle to conform to one position and fit into the NFL, but now those players are matchup weapons on defense, and Weatherspoon could be a perfect matchup weapon. He is a safety with experience manning the slot and shows good feel for zone coverage in either role. He enters the league at the perfect time for him to make an impact. 
104. Darious Williams, UAB – cornerback
A small-school corner, Darious Williams is also undersized, so he has a lot to overcome as a prospect, but he has tape in 2017 that should help with that. He allowed a passer rating of just 38.9 when targeted, and allowed just 31.9 percent of passes thrown his way to be caught, despite seeing 69 targets over the season. He did allow four touchdowns, but had five interceptions and 13 more pass breakups. His size and speed combination may limit him to the slot in the NFL, but he played just 46 snaps inside in 2017. 
122. Levi Wallace, Alabama
A great story, Wallace was a walk-on at Alabama, and went from flag football to starting for the Crimson Tide in just a few seasons. His one season of extensive playing time was excellent and he didn't allow a single touchdown across 68 targets. He wasn't beaten for a catch longer than 30 yards all year. Although, he did struggle at the Senior Bowl during practices and in the game, and is a very lightweight player that may be overmatched at the NFL level.
126. Quenton Meeks, Stanford – cornerback
Meeks is a player that may look better from a physique-standpoint than as a football player. He is working against recent history of Stanford defensive backs struggling at the next level and while he has played well, he has also surrendered plenty of big plays in college, allowing a passer rating of 91.5 when targeted in 2017. He will need to rely on having more untapped potential that he could reach in the NFL. 
127. Deontay Burnett, USC – wide receiver
Burnett has a knack for making spectacular catches and he dropped only four out of 156 catchable pass attempts during his career at USC.
128. Dalyn Dawkins, Colorado State – running back/wide receiver
A productive college running back at Colorado State, Dawkins showed the kind of receiving skills that may make him a candidate to move to the slot at the next level. 
129. Al-Rasheed Benton, West Virginia
There are few linebackers that have the kind of leadership qualities that Benton displayed at WVU. He has three seasons of solid play, but saw his college career end on an ugly note, with back-to-back struggles and a bowl defeat as his send off. He didn't allow a touchdown in coverage over the past two seasons, albeit on just 33 targets, but did have two interceptions and three pass breakups in 2017 alone. Was a missed tackle machine in 2017, falling off 28 tackles, the most in the nation and three times as many as his 2016 total. He very well could prove to be a mid-round steal if he limits the missed tackles. 
133. Jeff Holland, Auburn – edge defender
Holland came out of nowhere as he put up an, at-times dominant 2017 season. He notched at least six pressures in seven games for Auburn this past season.
134. Stacy Thomas, Louisville – linebacker
A year ago, Thomas posted one of the best single-season PFF grades we have seen from any linebacker in this class at Louisville (91.2). He took a major step back in 2017 and while he wasn't bad, he was notably less impressive and flawed as a player. Thomas doesn't wow athletically on tape and could potentially rejuvenate his prospects if he tests well before the draft, but otherwise, he hits the NFL coming off some weak tape. 
135. Trenton Thompson, Georgia – interior defender
Thompson never could quite stay healthy at Georgia, but when he was, he flashed more than his fair share of 'wow' reps. Thompson can make plays on the opposite side of the line of scrimmage that few in this class are capable of.
139. Dontrell Hilliard, Tulane – running back
A true draft sleeper, Hilliard improved his overall PFF grade each of the past three seasons at Tulane and was a big-play threat constantly for the Green Wave.
140. Godwin Igwebuike, Northwestern – safety
Igwebuike has plenty of experience after playing 3,191 snaps during his career at Northwestern. He posted three straight years of 80.0-plus grades, doing his best work on the run game and showing capable in coverage in two-high looks.
142. Josh Adams, Notre Dame – running back
Adams was third in the draft class in breakaway percentage in 2017, with 17 runs of 15 or more yards for Notre Dame. He's a big back, but very top-heavy and was the beneficiary of the nation's best offensive line.
148. Allen Lazard, Iowa State – wide receiver
Like many receivers in the 6-foot-5 range, Lazard can be a contributor in the possession game, though he may never be a consistent downfield or after-the-catch threat. He ranked 58th in the draft class with 1.99 yards/route last season.
152. Teo Redding – Bowling Green – wide receiver
Redding improved every year at Bowling Green, finishing with a solid 86.1 overall grade last season. He didn't drop a pass on 45 catchable targets in 2017.
156. Larry Rose III, New Mexico State – running back
Coming off a down year in 2017, Rose III had outstanding PFF grades in 2015 and 2016. A poor man's Saquon Barkley, Rose wants to bounce everything outside for the big play, and has broken 151 tackles over his college career.
168. Jeremiah Kolone, San Jose State – guard
Kolone led the draft class with a pass-blocking efficiency of 99.7 last season, allowing only one pressure on 244 attempts. He has three strong years of grading, including a 90.7 overall mark in 2016.
170. Dejon Allen, Hawaii – guard
Allen has been one of the top non-Power 5 tackles in the country for the past three seasons and has the requisite athleticism to kick in to guard at the next level.
173. Akrum Wadley, Iowa – running back
An undersized option, Wadley may have a solid NFL future as a scatback, who can make plays out of the backfield and be protected from his primary weakness – pass protection. Surrendered 15 total pressures in 2017.
175. Desmond Harrison, West Georgia – tackle
Harrison's movement skills jump off the tape immediately when you watch him. He's a tad undersized though and will see a huge leap in competion coming from West Georgia.
176. Jester Weah, Pittsburgh – wide receiver
Weah has big-play ability after averaging 20.6 yards per reception during his career at Pitt and he brings a solid combination of size and speed to the table. He must do a better job of catching the ball after dropping 12 of his 88 catchable targets in his career and catching only 28 percent of his contested catches last season.
179. Arrion Springs, Oregon – cornerback
Has an impressive stretch of play and the movement skills to translate to the NFL, but surrendered 15 touchdowns over his college career and had some horrendous tackle attempts.
185. Will Geary, Kansas State – interior defender
Geary was the third-highest graded interior lineman in the country a season ago. He's extremely limited athletically though and measured in under 6-foot.
186. Ben Niemann, Iowa – linebacker
'The other Iowa linebacker,' Niemann was very productive in his own right alongside Jewell in the Hawkeyes' defense. In total, he missed just 13 tackles in his college career.
187. Kyle Queiro, Northwestern – safety
Queiro's size makes him a weapon in the run game and he's capable of matching up with tight ends in man coverage, though slot receivers had their way with him in college in 1-on-1 situations. He finished with a strong 87.4 overall grade last season.
192. Tony Adams, NC State – tackle
Adams has impressed as a pass-protector in his time at NC State. The past two seasons he's allowed all of 17 pressures.
193. Kevon Perry, Louisiana – interior defender
Perry was the fourth-highest graded interior defender in the country last year.
194. Jeremy Reaves, South Alabama – safety
Reaves had a breakout 2017 season, grading at 87.8 overall, showing well in the run game and in coverage. He broke up 18 passes on 174 career targets.
195. Aaron Davis, Georgia – cornerback
Davis is a solid slot option who is likely limited to the inside because of size. He constantly walked a tightrope because of a lack of speed and will need to be protected and to not result in some big plays at times.
197. Tegray Scales, Indiana – linebacker
Another player coming off a down year, Scales was outstanding in 2016, and could go higher if teams are convinced they can get that player instead of the 2017 version. Allowed just one touchdown in each of the past two seasons in coverage.
198. Matthew Thomas, FSU – linebacker
A highly athletic linebacker whose on-field play has yet to match those measurables. His grade has improved each season, and he is coming off a solid year, but Thomas will be drafted based on what teams believe he can become.
199. Kyle Bosch, West Virginia – guard
Bosch finished with three straight years of solid production including an 87.1 grade in 2016 and an 86.9 mark last season. He allowed only 23 pressures over the last three years.
202. Korey Robertson, Southern Miss – wide receiver
Robertson had a productive 2017 season, ranking 24th in the draft class with 2.55 yards per route, however he dropped eight of his 84 catchable targets.
204. Poona Ford, Texas – interior defender
It's all about disrupting the run game for Ford who posted back-to-back run grades of 88.8 in 2016 and 88.4 last season. He can move blockers in 1-on-1 situations, though he provides little pass-rush as his career-high grade was only 71.7 back in 2016.
207. Zachary Crabtree, Oklahoma State – tackle
Crabtree is one of the rare college tackle who is already technically proficient in pass protection, allowing all of 12 pressures this past season.
208. Jeromy Irwin, Colorado – tackle
Irwin was very productive in his four seasons at Colorado, improving in grading every single year. He's far too easily knocked off balance though and is undersized for a tackle.
209. Holton Hill, Texas – cornerback
A tall corner with the size and speed that NFL teams covet, Hill was suspended from the team and comes with maturity concerns. Allowed six touchdowns in his college career, but none in 2017, his best season.
210. Ryan Nall, Oregon State – running back
Led the nation in PFF's elusive rating in 2016, may need to find a role in the NFL as a Kyle Juszczyk-style fullback.
212. Ryan Carter, Clemson – cornerback
Carter has two years of strong production, showing well both in the slot and on the outside. He graded at 81.8 overall in 2016 and 83.9 overall last season.
214. Phillip Lindsay, Colorado – running back
Gained 2.0 yards per route run in 2016, and has been at his best as a receiver for Colorado. Lindsay likely projects as a third-down back who can provide a change of pace to an offense.
215. Darren Carrington II, Utah – wide receiver
Carrington has good size and he ranked 26th in the draft class with 2.51 yards per route last season. He has four solid years of production under his belt whether at Oregon or Utah, and he projects as more of a possession receiver at the next level.
216. Toby Weathersby, LSU – tackle
Weathersby is an ox whose best position is likely guard at the next level. In a phone booth, he can look dominant, but when he has to play on the move it's far less pretty.
217. Davon Grayson, ECU – wide receiver
Another possession receiver in this draft, Grayson is physical at the catch point and capable of moving the chains over the middle of the field. He caught an impressive 50 percent of his contested catch opportunities.
218. Jalen Davis, Utah State – cornerback
Allowed just 41.5 percent of passes thrown his way to be caught in 2017, including surrendering just one catch for four yards on seven targets in his bowl game.
219. Deon Yelder, Western Kentucky – tight end
Yelder broke out with a strong 2017 season, grading at 83.7 overall. He caught 76.8 percent of his targets last season, despite dropping six of his 75 catchable targets.