The importance of the off-ball linebacker has reemerged in the past couple of seasons, as coverage ability at the position has become critical to the success of NFL defenses. Last year's draft class featured the perfect example of this, as UCLA's Jayon Brown was not drafted by Tennessee until the fifth round due to his lack of ideal height, weight and speed measurables, but he played 526 defensive snaps as a rookie, largely due to his ability to defend the pass. His 88.9 coverage grade during the 2016 season at UCLA ranked second-best in the 2017 draft class and subsequently, his 87.4 quarterback passer rating when targeted this season with the Titans ranked 10th among NFL linebackers with at least 300 coverage snaps in 2017.
With this in mind, here is a look at the top linebacker prospects in terms of 2017 coverage grade. While the list includes one of the premier players of the entire draft class, the majority of the group is made up of players likely to be selected after Day 1 of this year's draft.
Could the next Jayon Brown be in this group?
[Editor's Note: The 2018 NFL Draft Guide is coming. For PFF Edge & Elite subscribers, a comprehensive guide featuring player profiles of signature stats, grades and exclusive PFF content will be released on February 26.]
1. Skai Moore, South Carolina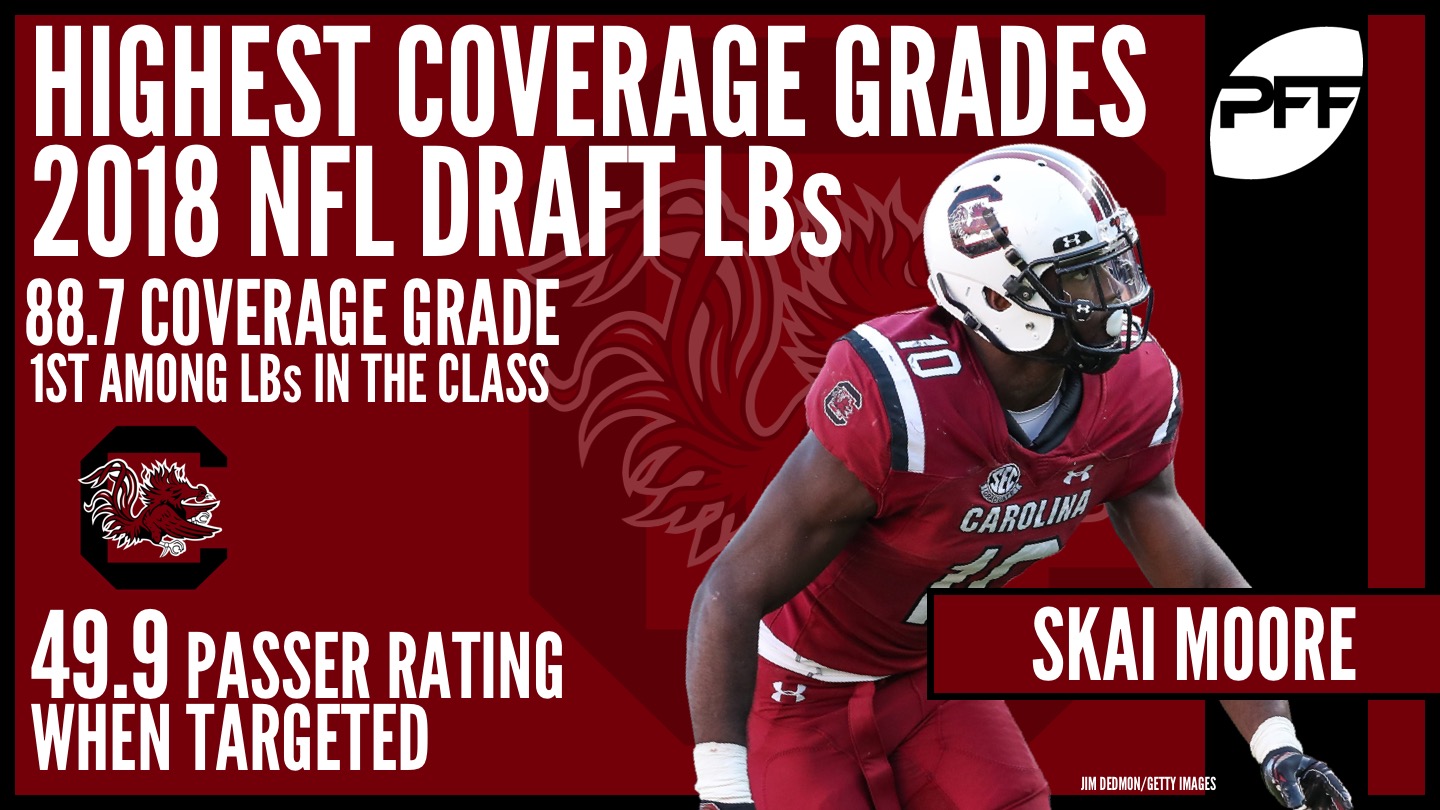 Measuring in at 6-foot-1, 218-pounds, Moore does not possess ideal NFL linebacker size however, his athleticism consistently shows in coverage, as he has been a consistent top performer throughout his college career. In three seasons of play and 122 throws into his coverage, he surrendered just one touchdown while intercepting 10 and breaking up another three. His 49.9 passer rating when targeted this past season ranked first among all 2017 FBS linebacker prospects.
2. Roquan Smith, Georgia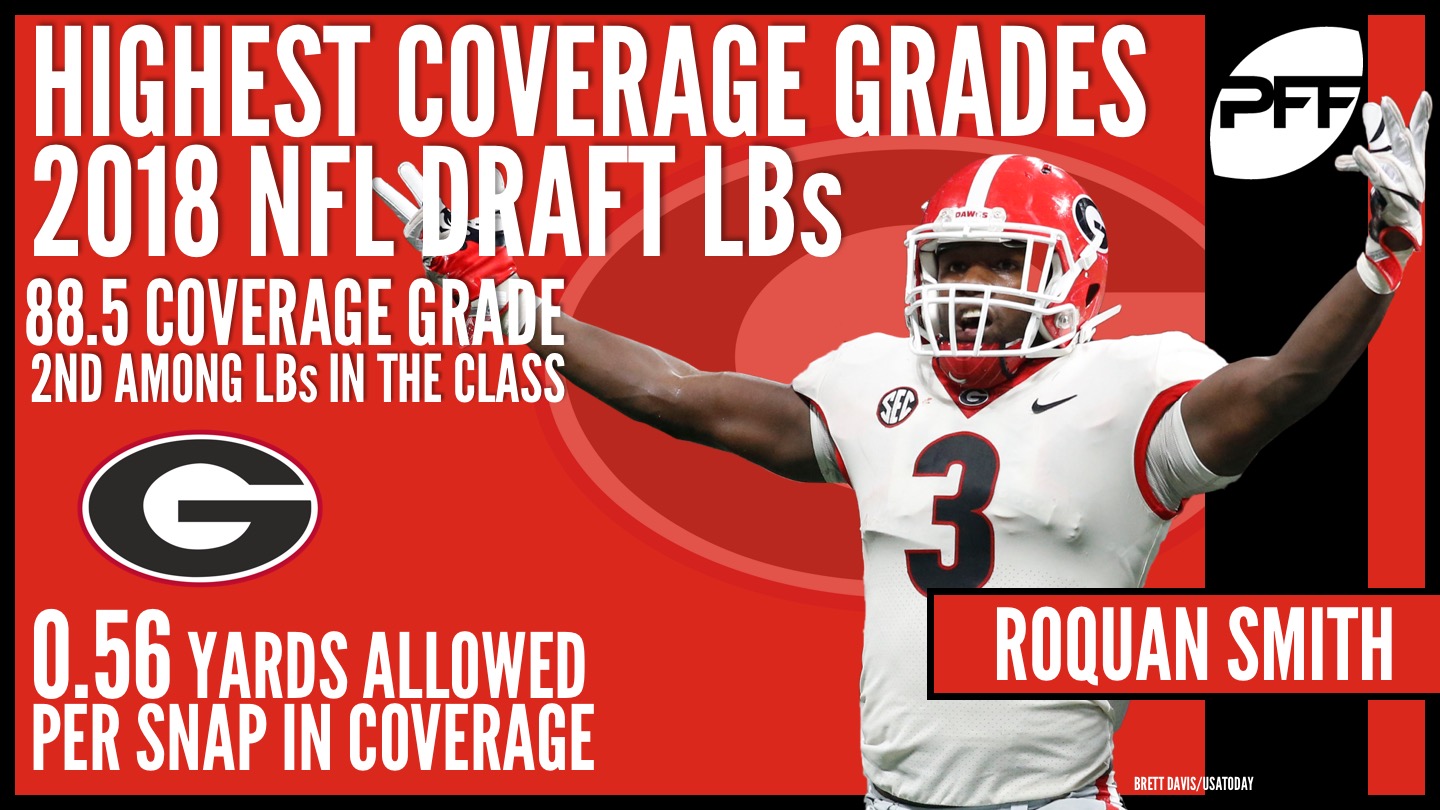 Smith is a fantastic all-around player who graded well in all three defensive phases this year. In terms of coverage, Smith has excelled at minimizing gains after the catch, as opponents averaged just 5.7 yards per catch into his coverage while at Georgia and his 29 coverage stops in 2017 was a figure that stood among the best in the country.
3. Ben Niemann, Iowa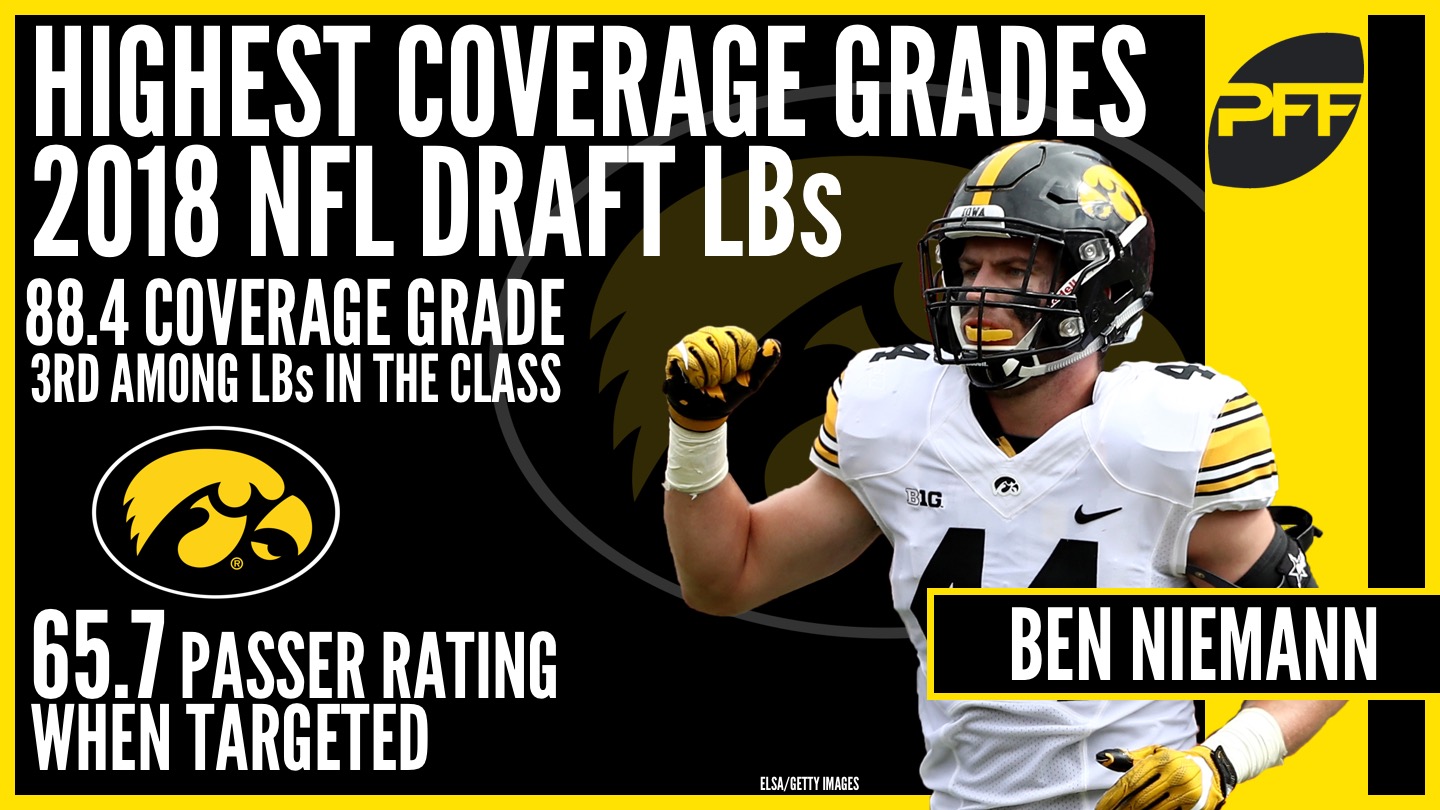 Niemann is certainly a less-heralded name than teammate Josey Jewell, but it is Niemann who can boast being among the best coverage linebackers in the country. Opposing quarterbacks completed just 53.5 percent of throws into his coverage, fourth-best among linebackers in this year's class with at least 20 throws into their coverage.
4. Marcus Newby, Nebraska
The Cornhuskers had a brutal 2017 season, but Newby's play in coverage was one of the few bright spots. He gave up an average of just 14.3 passing yards against per game and only three of his receptions allowed went for greater than seven yards (the longest pass into his coverage went for just 15 yards).
5. Chris Covington, Indiana
The top five of this year's class is rounded out by yet another underrated Big Ten prospect. In nine conference games in 2017, Covington allowed just 89 receiving yards into his coverage, giving up less than 10 yards in seven contests. He also broke up three passes and did all this without giving up a touchdown.