The PFF mantra remains that running back value is at an all-time low, and that's reflected in our draft board rankings. Even the most talented backs are dependent on their offensive line, play calling (box count), and pass game (that's right, the pass sets up the run). That said, there is talent in this class, however, it's best if selected in the middle rounds. Alabama's Josh Jacobs doesn't have a ton of mileage, and he's difficult to tackle while showing the ability to contribute both as a runner and as a receiver. Iowa State's David Montgomery and Florida Atlantic's Devin Singletary have been the two best at avoiding tackles over the last two seasons, while Memphis' Darrell Henderson and Utah State's Darwin Thompson have big-play potential.
[Editor's Note: To view all of Pro Football Focus' advanced stats and grades for draft-eligible players, check out our 2019 NFL Draft Guide. All EDGE and ELITE subscribers already have access to the guide, and for those who don't, you can get your copy for as low as $9.99!]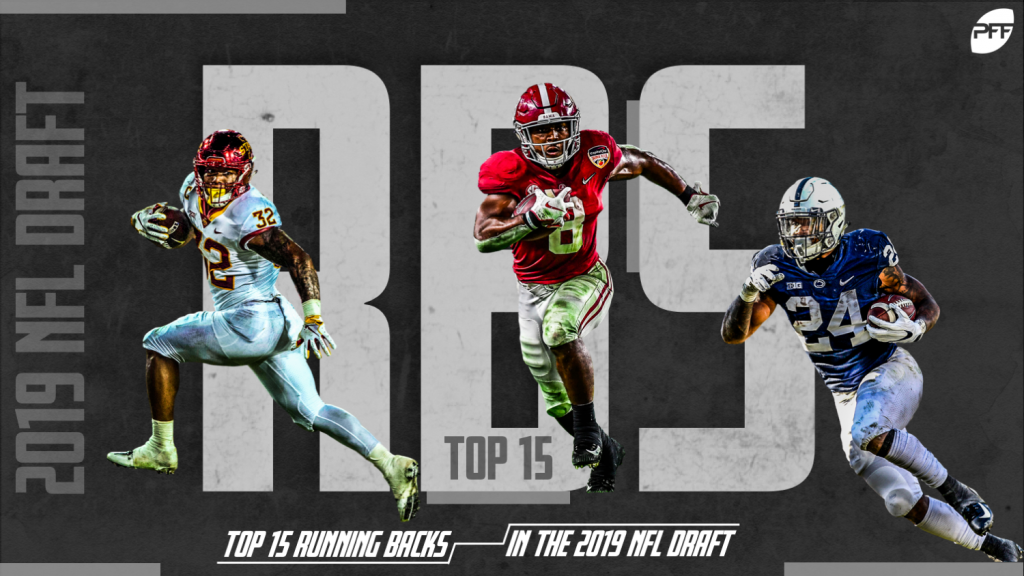 1. RB Josh Jacobs, Alabama
A whopping 41.0% of Jacobs' carries resulted in either a first down or a touchdown in 2018, the highest rate in the country.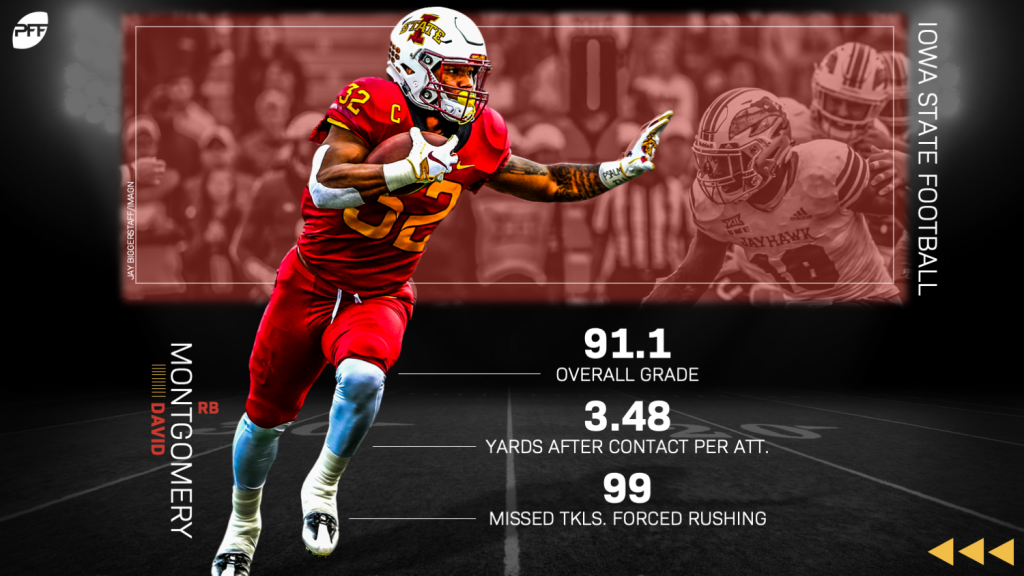 2. RB David Montgomery, Iowa State
Montgomery broke the PFF record with 100 broken tackles on 258 carries this past season.
3. RB Miles Sanders, Penn State
Sanders needs to get his fumbling problem cleaned up (five this year), but he picked up right where Saquon left off for the Nittany Lions.
4. RB Bryce Love, Stanford
Love led all running backs in the 2019 draft class with at least 300 offensive snaps played in 2017 in overall grade (91.6) and rushing grade (91.4), but injury struck in 2018 and prevented him from returning to form. If the 2017 version of Love ever surfaces in the NFL, he'll be quite the steal in this year's draft.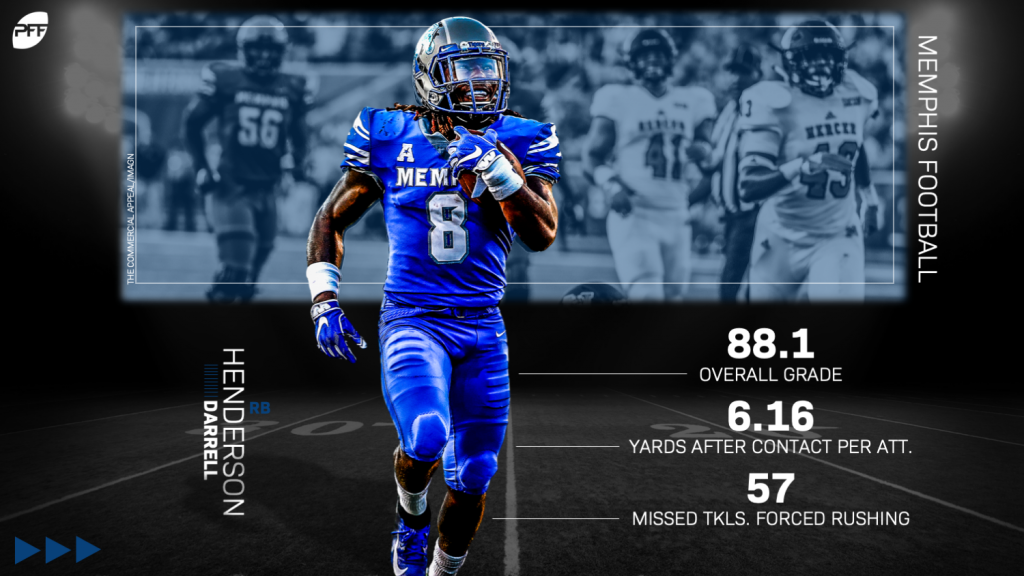 5. RB Darrell Henderson, Memphis
Henderson is a big play waiting to happen. He recorded a class-high 27 runs of 20-plus yards in 2018; no other running back entering the draft had more than 17 such runs.
6. RB Devin Singletary, FAU
Singletary's size, or lack thereof, is a reason for concern, but it doesn't discredit the success he had running the football for FAU in recent years. In 2018, he ranked second among all backs with at least 100 attempts in forced missed tackles per attempt (0.36).
7. RB Devine Ozigbo, Nebraska
A high-cut, powerful back coming out of Nebraska, Ozigbo gained at least two yards after contact on more than 70 percent of his runs and earned an 82.7 overall grade in 2018. Though he didn't receive a Combine invite, Ozigbo should see significant interest in this year's draft.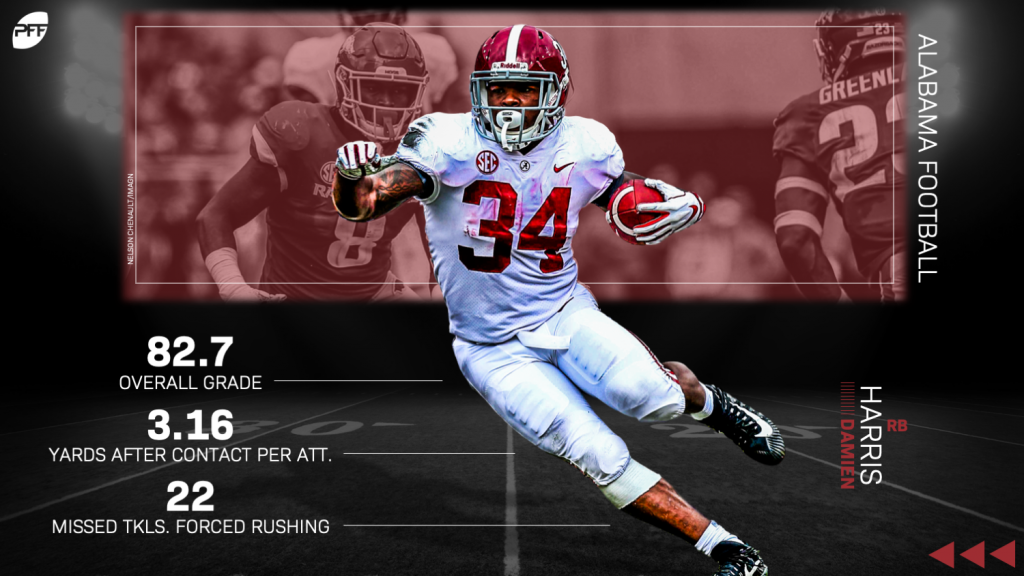 8. RB Damien Harris, Alabama
Harris tied for seventh in overall grade with Ozigbo at 82.7 in 2018. He also earned an 84.4 rushing grade, ranking 12th in the class.
9. RB Rodney Anderson, Oklahoma
Anderson played just 35 offensive snaps before suffering a season-ending knee injury in 2018. In the year prior, he earned an 80.3 overall grade and a 79.9 rushing grade.
10. RB Jordan Scarlett, Florida
Scarlett was suspended for the entire 2017 season, putting his future in the NFL in jeopardy. But the Florida back returned to form in 2018, earning the fourth-best rushing grade (86.4) in the 2019 class.
11. RB Karan Higdon, Michigan
Higdon is a powerful back with explosive jump cuts. He earned a 76.3 rushing grade with Michigan a year ago and has now earned 73.0 rushing grades in each of the past three years.
12. RB Darwin Thompson, Utah State
A freakishly athletic, compact running back coming out of Utah State, Thompson averaged 0.32 forced missed tackles per attempt and 5.1 yards after contact per attempt in 2018, ranking inside the top five in both categories.
13. RB Alexander Mattison, Boise State
Built like a freight train, Mattison brings a rare combination of size, athleticism and football IQ to the table. The 5-foot-11, 221-pound back recorded a top-five 10-yard split at the Combine and forced the third-most missed tackles of any back in the draft-eligible FBS in 2018.
14. RB Ryquell Armstead, Temple
Armstead is a big, punishing back that will make his money bowling through defenders on a train track in 2018. He earned a 77.8 rushing grade in 2018, ranking 32nd among draft-eligible FBS backs with at least 100 attempts.
15. RB Dexter Williams, Notre Dame
Williams averaged just 3.4 yards after contact per attempt, and 0.13 forced missed tackles per attempt with the Fighting Irish in 2018, but he flashed high-end potential in bursts and impressed many with his big-play ability.