It's a deep group of tight ends this season, led by two potential first-rounders from Iowa in T.J. Hockenson and Noah Fant. Hockenson is the better all-around option, finishing with the highest grade in the draft class while Fant's athleticism led to 13.9 yards per reception during his career to go with 13 drops. Don't sleep on Jace Sternberger from Texas A&M who posted the nation's highest receiving grade last season and UCLA's Caleb Wilson who has been one of the most productive receivers in the country over the last two years. Alabama's Irv Smith rounds out a strong class that has value throughout the draft, including a number of lesser-used, athletic options in the later rounds.
[Editor's Note: To view all of Pro Football Focus' advanced stats and grades for draft-eligible players, check out our 2019 NFL Draft Guide. All EDGE and ELITE subscribers already have access to the guide, and for those who don't, you can get your copy for as low as $9.99!]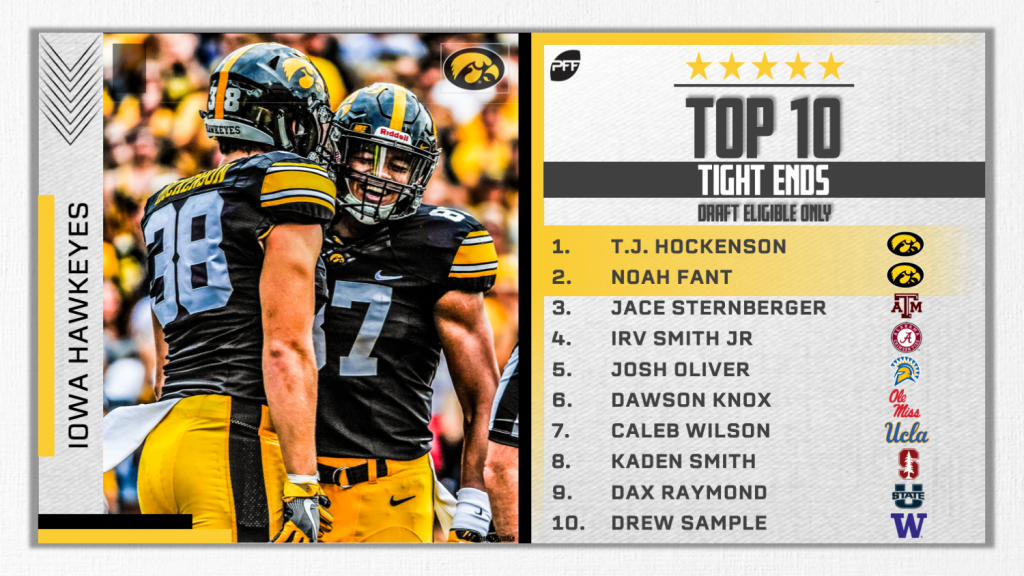 1. TE T.J. Hockenson, Iowa
Hockenson had the second-highest receiving grade among tight ends in college football this past year, dropping one pass on 51 catchable targets.
2. TE Noah Fant, Iowa
Fant is the most freakishly athletic tight end in this draft class, but his inconsistent hands are still a concern. He's dropped 11 passes on 80 catchable targets over the past two seasons.
3. TE Jace Sternberger, Texas A&M
Sternberger might not have the size or athleticism of others in this class, but all he did was produce. He had the highest receiving grade of any tight end in the country.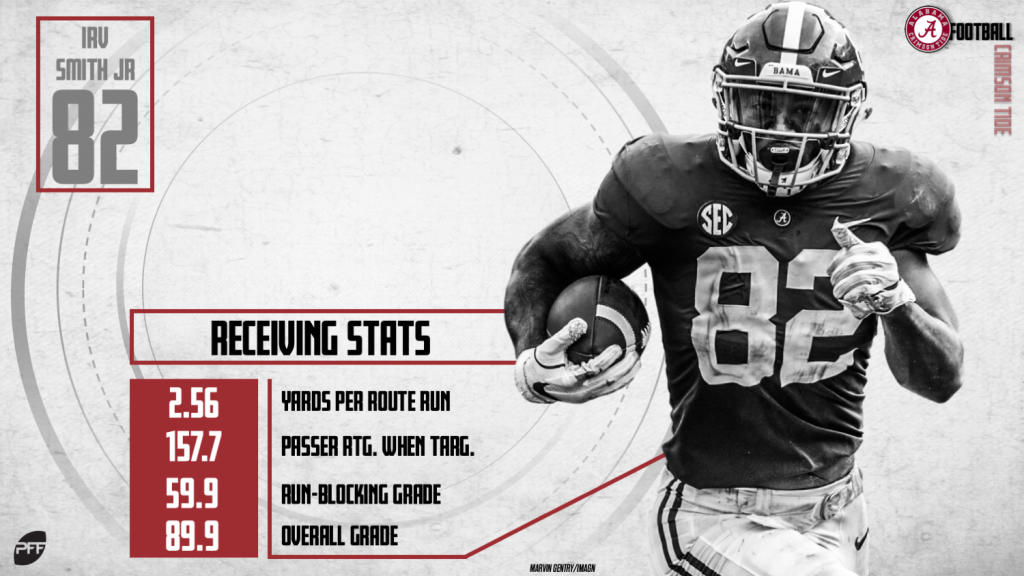 4. TE Irv Smith Jr., Alabama
Smith is more H-back size than in-line tight end, but he has the athleticism and receiving ability to be a downfield threat at the position.
5. TE Josh Oliver, San Jose State
Oliver is one of the most physically imposing tight ends in the draft class. His 16 contested catches led all tight ends in college football.
6. TE Dawson Knox, Ole Miss
Knox earned a 75.3 run-blocking grade across 223 run-blocking snaps with Ole Miss this past season, ranking third in the draft class.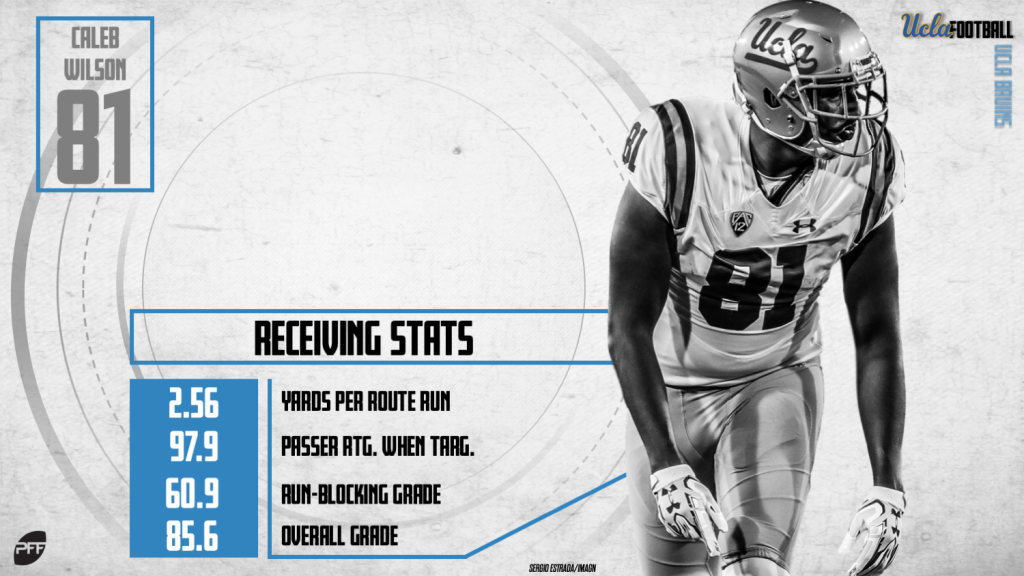 7. TE Caleb Wilson, UCLA
Among FBS tight ends entering this year's draft with 400-plus offensive snaps played in 2018, Wilson ranked third in overall grade (85.6) and receiving grade (90.3).
8. TE Kaden Smith, Stanford
Smith earned a 75.8 overall grade and a 76.5 receiving grade in 2018, ranking 13th and 14th, respectively, among draft-eligible tight ends with 300-plus offensive snaps played.
9. TE Dax Raymond, Utah State
His usage took a hit this past season, but 19 of Raymond's 27 catches this past season still resulted in first downs.
10. TE Drew Sample, Washington
Among draft-eligible FBS tight ends with at least 300 offensive snaps played in 2018, Sample ranked 14th in overall grade (75.5) and first in run-blocking grade (82.3).