The Group of Five gets little to no love in the national college football conversation, but it boasts its fair share of top talent year in and year out — just like the Power Five.
Just last season, BYU quarterback Zach Wilson, Tulsa linebacker Zaven Collins, and Houston edge Payton Turner were first-rounders from the Group of Five. This year, I fully expect the five guys at the top of this list will all be in serious early-round consideration, too.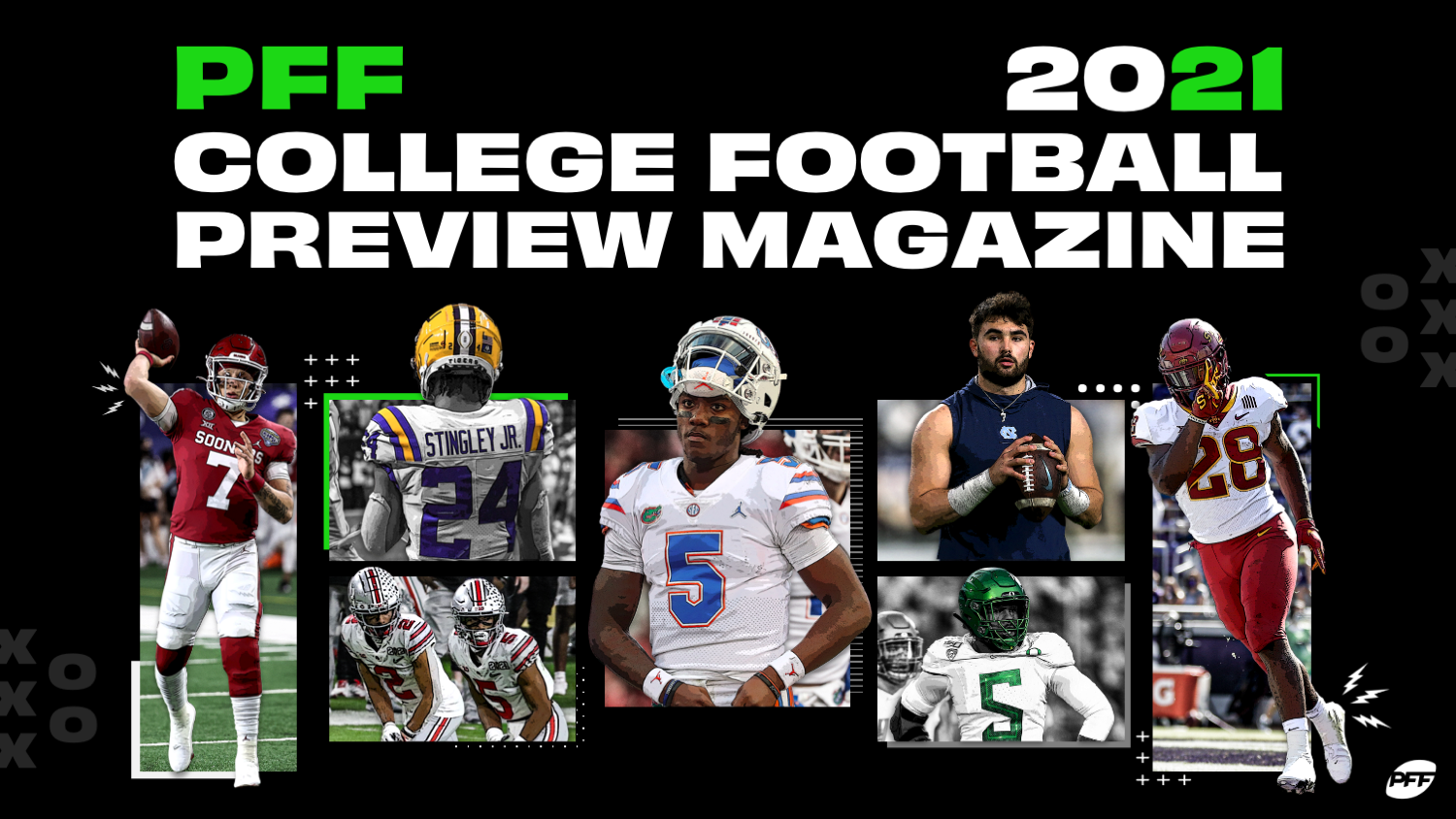 The 6-foot-1, 230-pounder is one of the most physically gifted players you'll ever see at the position. He combines arguably the strongest arm in the country with rushing ability that would be draftable were he solely a running back. Last season, he ran for 1,043 yards on 128 attempts (8.2 yards per carry) with 43 broken tackles. He is nothing short of a game-changer on the ground.
Elusive in Open Field ✅
Sudden Athlete ✅
Escapability ✅

QB Malik Willis ???? pic.twitter.com/KLcGJMfrcy

— Ben Fennell (@BenFennell_NFL) June 15, 2021
It's what he can do as a passer that NFL evaluators will obviously put more stock in. Willis struggled with accuracy and consistency through the air last season in his first as a starter after transferring from Auburn. He earned passing grades of 67.8 and 50.7 against Virginia Tech and N.C. State, respectively — the only two Power Five defenses he faced. This year, Willis has Syracuse and Ole Miss on the schedule to change that narrative.
Statistically, Gardner has been neck and neck with LSU's Derek Stingley over the past two seasons. Gardner has allowed just 40 catches on 98 targets in his career for 581 yards, no touchdowns, six picks and 14 pass breakups. The level of competition is obviously a massive factor, but he has done it all while playing press on over 70% of his career coverage snaps.
Cincinnati has found a gem in freshman CB Ahmad Gardner

The #Bearcats CB was one of the most frequently-targeted DBs this year, ranking 15th (of 200) in snaps/target.

How did he respond?

87.6 @PFF grade (6th)
90.0 coverage grade (7th)
0 TDs & 39.4 passer rating allowed (4th)???? pic.twitter.com/JKXGhf878d

— Evan McPhillips (@emcphil) January 7, 2020
He's one of the longest corners in the country at 6-foot-2 and is still adding mass to his frame. He'll get tested against talented receiving corps from Indiana, Notre Dame, UCF and SMU this fall (and just maybe in the College Football Playoff, as well).
Doubs just has a knack for getting a step on opposing defensive backs and continuing to stride away. He hauled in 11 deep receptions in only nine games last season, finishing with 1,020 yards. Doubs has been a contributor ever since his true freshman year when he caught 44 passes for 583 yards.
The more I watch.. The more I think WR Romeo Doubs could've had even more production!

Can manipulate pacing, get to top speed quickly, crafty releases/stacking…. pic.twitter.com/K9ewYbKCT9

— Ben Fennell (@BenFennell_NFL) May 22, 2021
While he could stand to get a tad stronger, Doubs has an ideal frame at 6-foot-2 and 200 pounds to continue to get the job done on the outside in the NFL. If he does that, he should easily be in the Day 2 conversation in the 2022 NFL Draft.
Strong is one of the most intriguing quarterback prospects heading into 2021. Not only does he possess one of the strongest arms in the country, but the leap he already took from 2019 to 2020 stands out. Strong saw his passing grade go from 65.4 to 85.8 over that span, as his adjusted completion percentage jumped nearly eight points.
.@CarsonStrong_ had over 2700 yards + 26 TDs AND averaged a double-double in basketball as a HS junior. A well-built, impressive pocket athlete, Strong has the physical tools to be an NFL starter.

Timing, anticipation, and accuracy in the mid-field reminds a lot of Derek Carr. pic.twitter.com/qCNlODSsqa

— Eric Galko (@EricGalko) August 2, 2021
If Strong can improve his poise under pressure, a facet where he earned a 51.7 passing grade and converted nearly 20% of his pressured dropbacks into sacks last year, he could sneak his way into the Round 1 conversation.
Sanders certainly has the traits to be an early-round draft pick. The Bearcat was recently ranked 20th on Bruce Feldman's Freaks List. At 6-foot-5 and 259 pounds, Sanders can reportedly run a 4.56-second 40-yard dash and a 4.10-second short shuttle. Those are elite times for any defensive end, let alone one with an ideal edge frame like Sanders.
Cincinnati's Myjai Sanders is one of the best Group of Five players in the country

No. 34 on the PFF College 50: https://t.co/RrKHL7U9gvpic.twitter.com/g3DaPQNkX4

— PFF College (@PFF_College) July 8, 2021
Those figures make him a Day 2 lock at worst, but taking his on-field dominance to another level would solidify his Day 1 status. I wouldn't bet against Sanders, either. He went from an 82.8 pass-rushing grade in his first year as a starter to 90.1 last fall.
Likely is one of the best pure receivers at the tight end position in the country. He has routinely split out and run traditional receiver routes for the Chanticleers. Last year, 37.6% of his routes came from the slot or out wide.
This maybe the top tight end in the 2022 NFL Draft! Isaiah Likely from Coastal Carolina is a dog, he is going to eat this season. I'm a fan! #Chants #2022NFLDraft pic.twitter.com/vKn3zHxt6M

— NFL Draft Diamonds (@DraftDiamonds) May 12, 2021
The problem is, Likely still looks like a receiver. He's listed at 240 pounds but rarely stands out from other receivers on tape from a size perspective. Even if that 240 figure is true, that's still 10 pounds below where you'd like a starting tight end in the NFL. After racking up 601 yards on 30 catches last year with 10 broken tackles, Likely has set high expectations for 2021.
Fehoko's tape falls firmly under the "fun to watch" umbrella. His motor runs as hot as any defensive lineman's in college football, and that's despite his averaging just over 54 snaps a game last season. Fehoko finished his breakout season with an 86.6 run-defense grade and a 79.9 pass-rushing grade.
SJSU JR EDGE Viliami Fehoko is a scheme-versatile, hard-working defender who plays with attitude. Stands up, plays 5T and outside the OT. Don't block him with RB/TE. Outstanding hustle to the ball, as he gets held up here inside but makes his way back into the play. #SnapScout22 pic.twitter.com/koMIYIrRgU

— Chad Reuter (@chad_reuter) July 17, 2021
The redshirt junior has added over 30 pounds since he got to campus and is a well-built 6-foot-4, 265 pounds now. He may not be an explosive, bend-the-edge type of rusher, but Fehoko gets the job done with his strength and hand usage.
Parham is one of the most athletic offensive linemen in the country. It helps that he's listed at only 285 pounds, but even in that context, he still moves very well. He played tackle for the first time in his career last season after two years at left guard and earned a career-high 90.6 overall grade. His mirroring ability is tremendous and he allowed only nine pressures all year long.
Dylan Parham at RT for Memphis is a big question mark. He's listed 6'3"/285lbs…so that's not great. But this pass set is phenomenal. pic.twitter.com/ib5ygUYqHt

— Jared Stanger (@JaredStanger) October 31, 2020
He'll more than likely be back on the inside this fall, though, as well as when he gets to the league. At 6-foot-3, he's going to be an interior player who is likely best suited for an outside zone-heavy team.
Wisdom is a heat-seeking missile disguised as a safety. He plays football with an uncoachable recklessness coming into contact. Opposing receivers never want to see his No. 0 bearing down on them over the middle of the field. While that leads to some whiffs — 31 on 168 career tackle attempts, to be exact — it also leads to some awesome highlight-reel plays.
2022 NFL Draft Prospect: UTSA S Rashad Wisdom. He reacts quick, is physical, and isn't afraid to hit someone. He let's you know he will bring it all game. @RashadWisdom pic.twitter.com/LPemtyPmtY

— Robert Cardona (@CARDONAFAM29) August 8, 2021
He's been starting ever since his true freshman year in 2019 and earned coverage grades of 76.3 and 78.0 over that span. He may be short at his listed 5-foot-10, but he's definitely not small at 205 pounds. Wisdom has also already shown his versatility, as he was primarily a slot corner in 2019 before playing more traditional safety this past fall.
Tolbert was on very few radars heading into 2020 before he put up 64 catches for 1,085 yards and eight scores. He had all of 580 yards in his three-year career prior. Tolbert is a lanky 6-foot-3 wideout with a large catch radius. He thrived down the field last season, hauling in 15 catches on 39 deep targets.
The nation's receiving yard leader returning to College Football in 2021?

64rec, 1085 yards, 16.95 YPC, 8TDs

That'll be South Alabama's Jalen Tolbert. #NFLDraft | #CollegeFootball pic.twitter.com/QdJAfgS6FQ

— Oliver Hodgkinson (@ojhodgkinson) May 5, 2021
He could stand to get a little more physical and be more of a weapon after the catch. He broke only seven tackles on 64 receptions last season.