The Super Bowl champion Los Angeles Rams have just one pick in the first three rounds of the 2022 NFL Draft due to mortgaging their future a bit in order to climb the mountaintop in 2022.
The opposite can be said about the Seattle Seahawks, who made one of the biggest trades of the last few seasons when they sent Russell Wilson to the Denver Broncos. That move mitigates some of their draft capital issues from acquiring Jamal Adams two seasons ago and gives them three picks in the first 41 selections of this draft.
The San Francisco 49ers will attempt to revamp their roster through the draft while the Arizona Cardinals try to fill some all-of-a-sudden voids in their roster.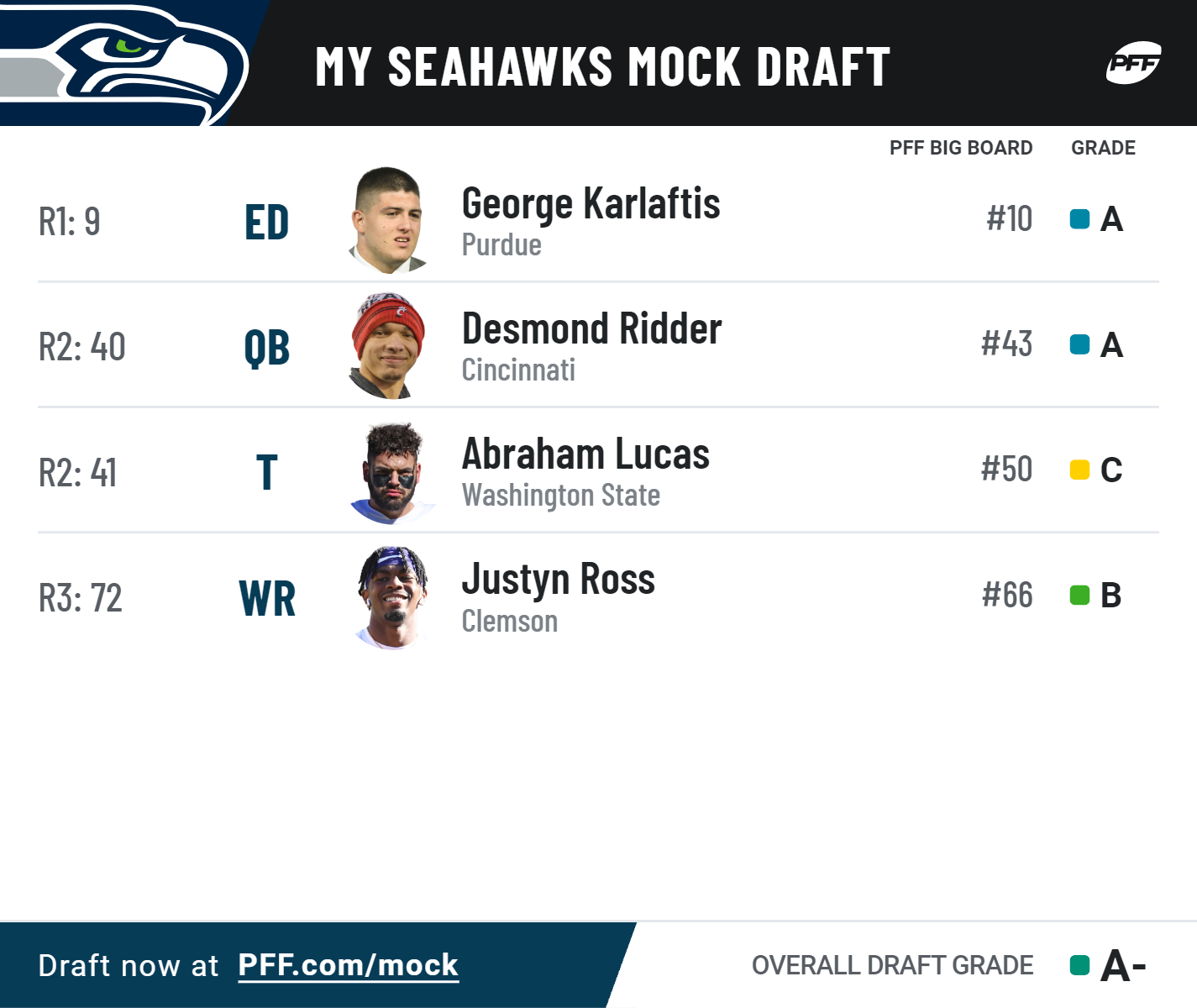 The Seahawks are in a precarious "are we rebuilding or not" spot right now. Without a bonafide top-10 quarterback in this year's draft, it might be wise to let Drew Lock play in 2022 to see how he develops. If he still is the same quarterback from Denver, they can go into the 2023 draft — a potentially quarterback-rich class — with a clean slate and a high draft pick. If one of their preferred quarterbacks falls to them in the second round — and there's a good chance there will be one from the Tier 1 group that falls — then they can take him with one of their two second-round picks, which is what they do here with Desmond Ridder. 
In the first round, the Seahawks take Purdue's George Karlaftis to boost their edge defender group. The team was rough on the edge last season, as their defensive ends combined for a cumulative 56.5 grade — second-worst in the league. Karlaftis prodives the Seahawks with a powerful presence on one side of the defensive line. He's young and strong but will eventually have to learn some more pass-rush moves. Still, his inherent power should carry over while he continues to develop his pass-rush arsenal. 
With Ridder, the Seahawks take the cleanest quarterback in this class. It's probably unlikely that Ridder falls all the way to 40th overall, but if he does, they'll be happy to take him. Ridder has some accuracy issues — which are a tad overblown by the general media — but at his base, he's a technically refined quarterback who has really good eyes. His fast 40-yard dash (4.52 seconds) at the combine also shows that he can be utilized as a running threat as well. 
Getting Abraham Lucas, or any tackle, with one of their two second-round picks should make Seattle fans happy as well. The Seahawks need to replace Duane Brown this season, so finding someone who can slot in right away would be useful. Seattle shouldn't wait that long to find a Brown replacement, especially with a new quarterback in the mix. 
Justyn Ross has the talent to be selected earlier, but his injury evaluations will be key. Nevertheless, he's potentially a first-round talent. Playing outside opposite of DK Metcalf would give Seattle's offense some more firepower.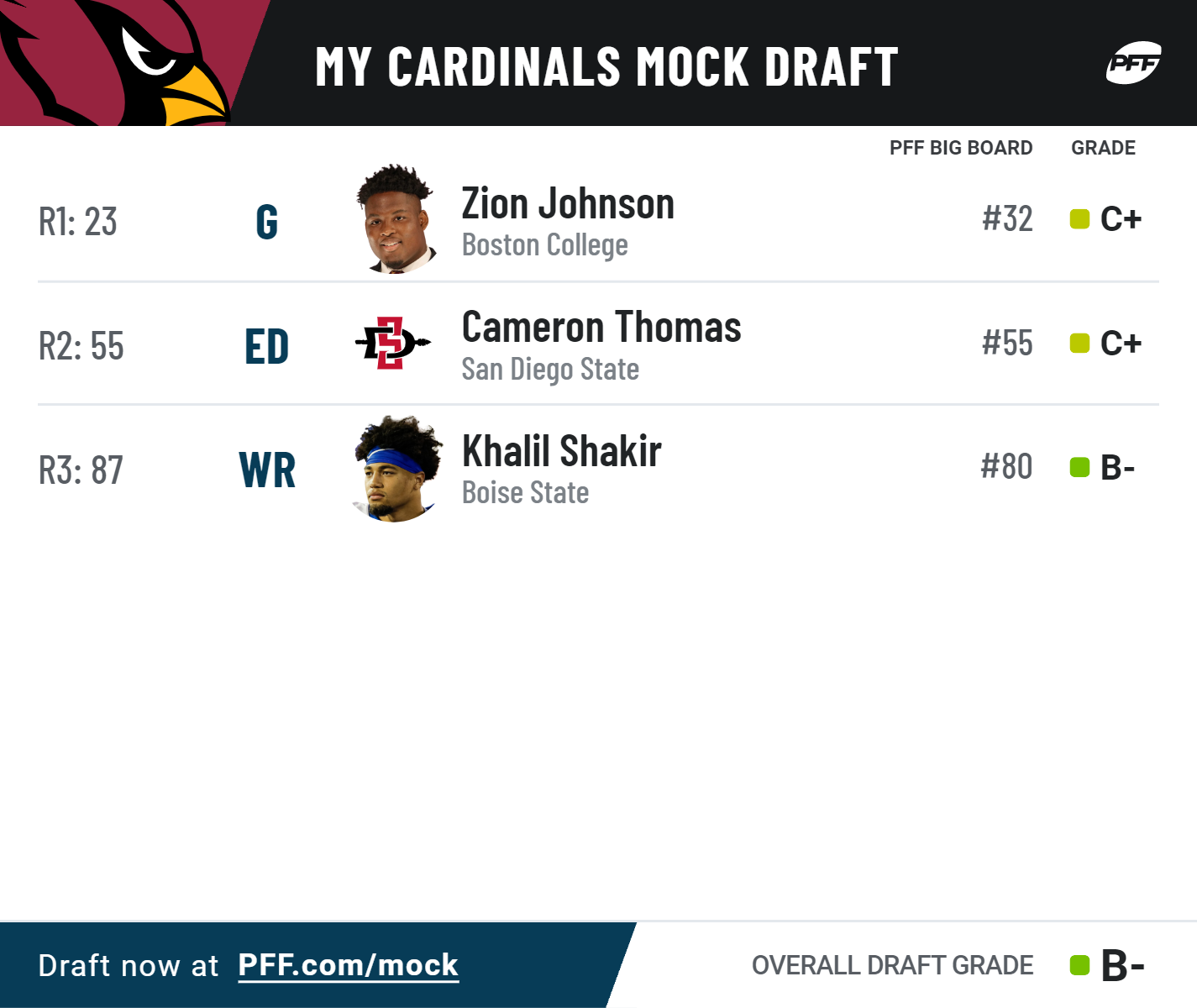 The Cardinals could select one of the Tier 2 edge rushers with their first pick, but Zion Johnson — even a bit earlier than most might think — is too enticing to pass up. Signing guard Will Hernandez helps Arizona's interior, but the Cardinals' guards ranked 27th in cumulative play last year with a 53.4 grade. Johnson is a striking player who has big power and the nastiness needed on the interior. The Boston College product had a great Senior Bowl as well, as he continually stonewalled top opposition. He's the best guard in this class. 
After losing Chandler Jones in free agency and not having much depth or big-play ability on the interior of their defensive line last season, the Cardinals find a versatile player in Cameron Thomas, who can mitigate a little bit of both problems. He's a bigger end (6-foot-4 and 272 pounds) who can slide down inside and wreak havoc on guards with great lateral explosiveness, as he wins with an inside move quite a bit. If he hits his ceiling, he can be a mismatch problem anywhere he's set up, but it remains to be seen if will develop that much under NFL coaching. 
With Christian Kirk on his way out to Jacksonville, the Cards need a slot receiver option, so Khalil Shakir works perfectly here. Shakir is one of the few top receiver prospects who worked from the slot the majority of his time in college. He is a smooth strider who can make up ground, gain separation and even make contested catches if needed.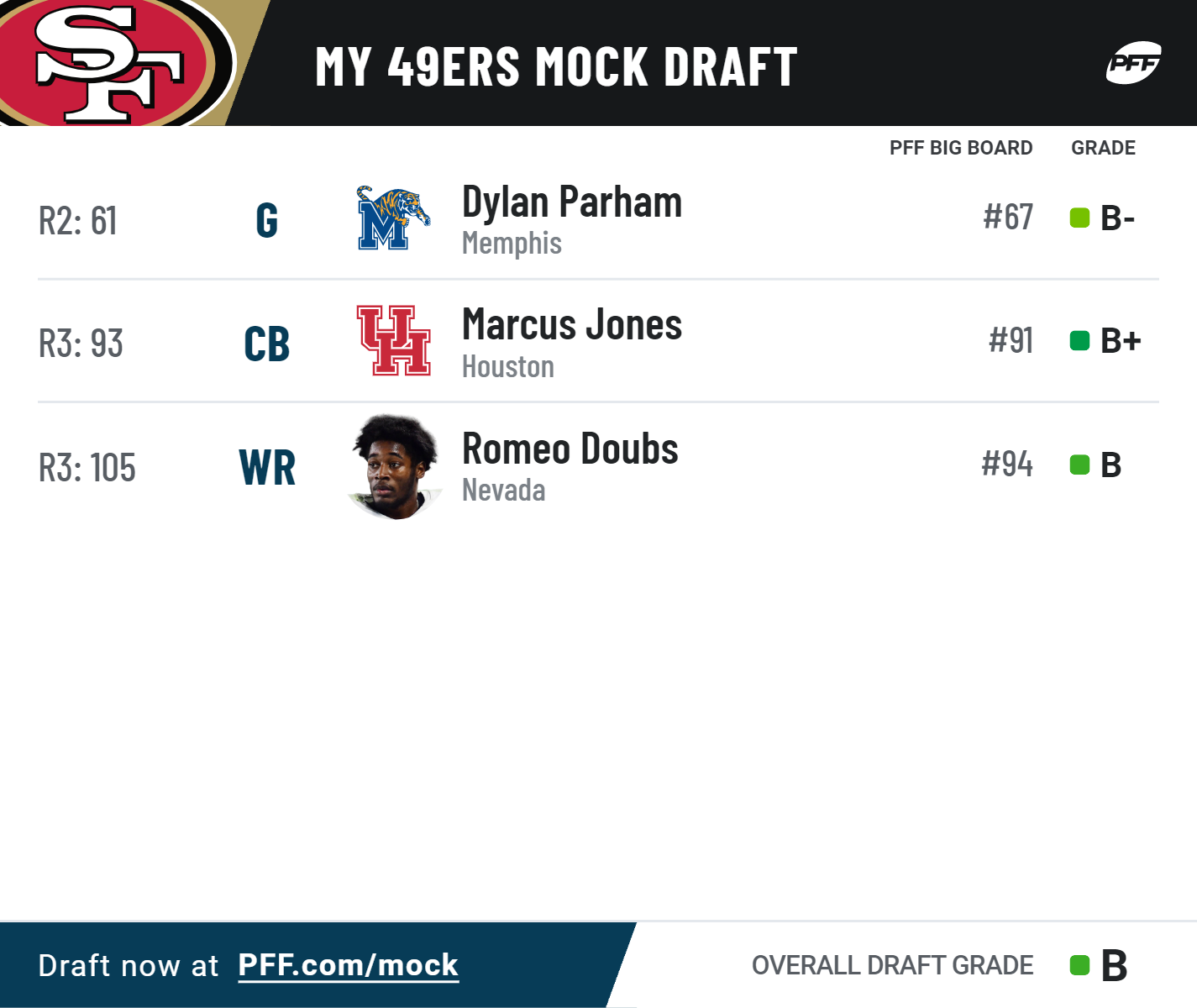 Former 49ers guard Laken Tomlinson seemed to be developing into a solid guard after posting the best grades of his career the last two seasons, but he's now off to the New York Jets after free agency. Replacing Tomlinson is Dylan Parham. It remains to be seen where Parham's best position is going to be in the NFL. While he played guard in college, he is a bit on the smaller side at 6-foot-3, 311 pounds. Therefore, he could potentially slide to center in the future as well. 49ers center Alex Mack, who they signed last year, is going to be turning 37 years old in the middle of next season.
Marcus Jones is a playmaking cornerback. The 49ers started to improve their cornerback room with the Charvarius Ward addition in free agency and continue with Jones here. The Houston Cougars slot cornerback's production is off the charts, as he posted a 99th percentile grade from the slot. K'Waun Williams manned the slot last year and had his moments, but the team could improve there. 
Romeo Doubs is a straight-line, speed receiver who can play on the outside for the 49ers. With Deebo Samuel starting to get more touches from inside alignments, Doubs could fill the void at outside receiver opposite Brandon Aiyuk and give the team some verticality there. If Trey Lance is the starting quarterback, Doubs should fit in well.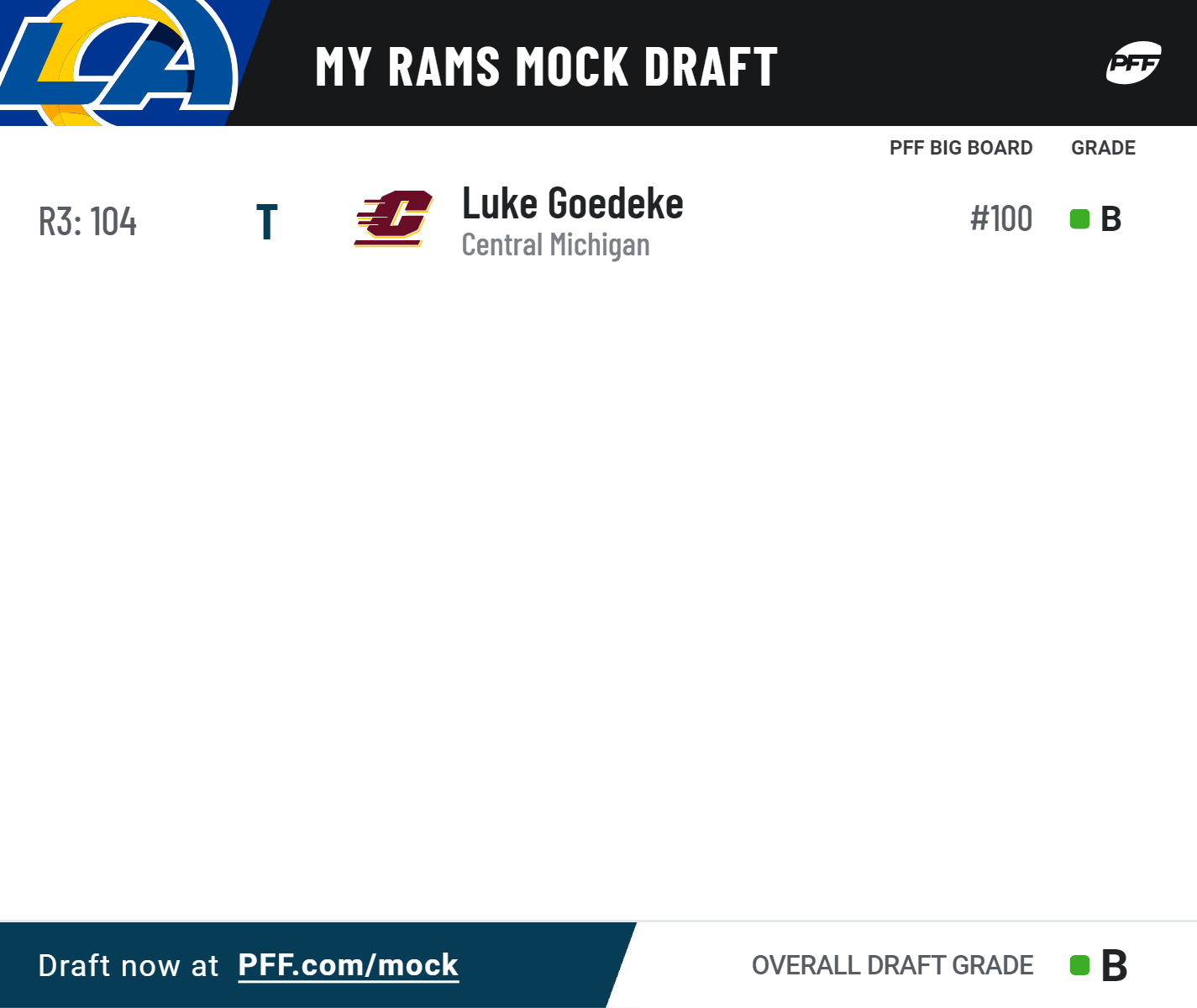 Since the Rams won't be on the clock until the third round, they could go in so many different directions. Their offensive line has become a bit of a weak spot since the end of last season after losing both tackle Andrew Whitworth to retirement and Austin Corbett to the Carolina Panthers, so Central Michigan's Luke Goedeke slots in and will battle Joseph Noteboom for Whitworth's vacant tackle spot. 
Goedeke is overshadowed by his teammate Bernhard Raimann, who has the physical traits to be a first-round pick. Goedeke isn't that, but he's a legitimate run blocker, placing in the 97th percentile in run-blocking grade on zone runs, 98th percentile in negatively-graded plays as a run blocker and 99th percentile in run-blocking grade on gap runs. He needs some refinement in pass protection but for a third round pick, he's a solid player.