Georgia's Roquan Smith is the best linebacker available in the 2018 draft class because he has already shown he is the prototypical NFL linebacker for the modern game.
Football has changed over time and the game now differs dramatically even from the first years of PFF grading. Passing the ball continues to be ever more prevalent than rushing is and over the past decade, we have seen a huge swing in personnel paralleling that change.

Linebackers used to be 250-pounds and able to hit a fullback in the hole like a Mack Truck but over the past 10 years, they have become smaller, quicker players to cope with the ever-increased coverage responsibilities placed on them. Brute force has given way to savvier forms of gap-control in the run game.
If Smith came out 10 years ago, his evaluation would be very different, but he is the perfect linebacker for 2018. Because of that, he remains higher on PFF's draft board than a couple of other talented linebackers that have body types of a more nostalgic variety.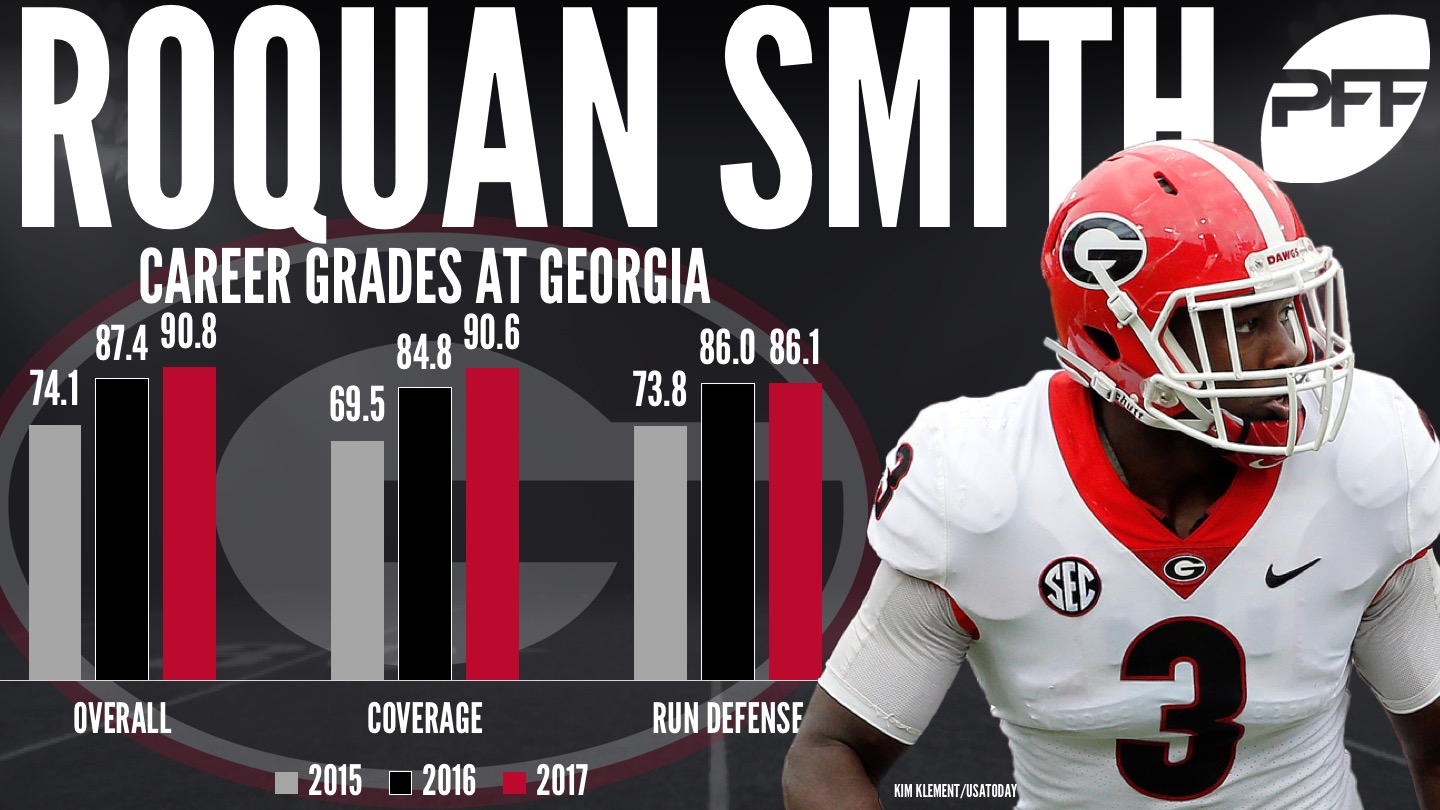 Smith's college career is the perfect developmental arc. He barely played in 2015 (just 78 snaps) but graded well in that small sample size before earning excellent grades in his first season of play and then bettering his numbers across the board in 2017.
His overall PFF grade was 90.8 and critically his coverage grade was 90.6. There are three other linebackers with a chance to go in the first round in April (Leighton Vander Esch, Tremaine Edmunds and Rashaan Evans), and neither of those three can better 85.2 in PFF coverage grade this past year.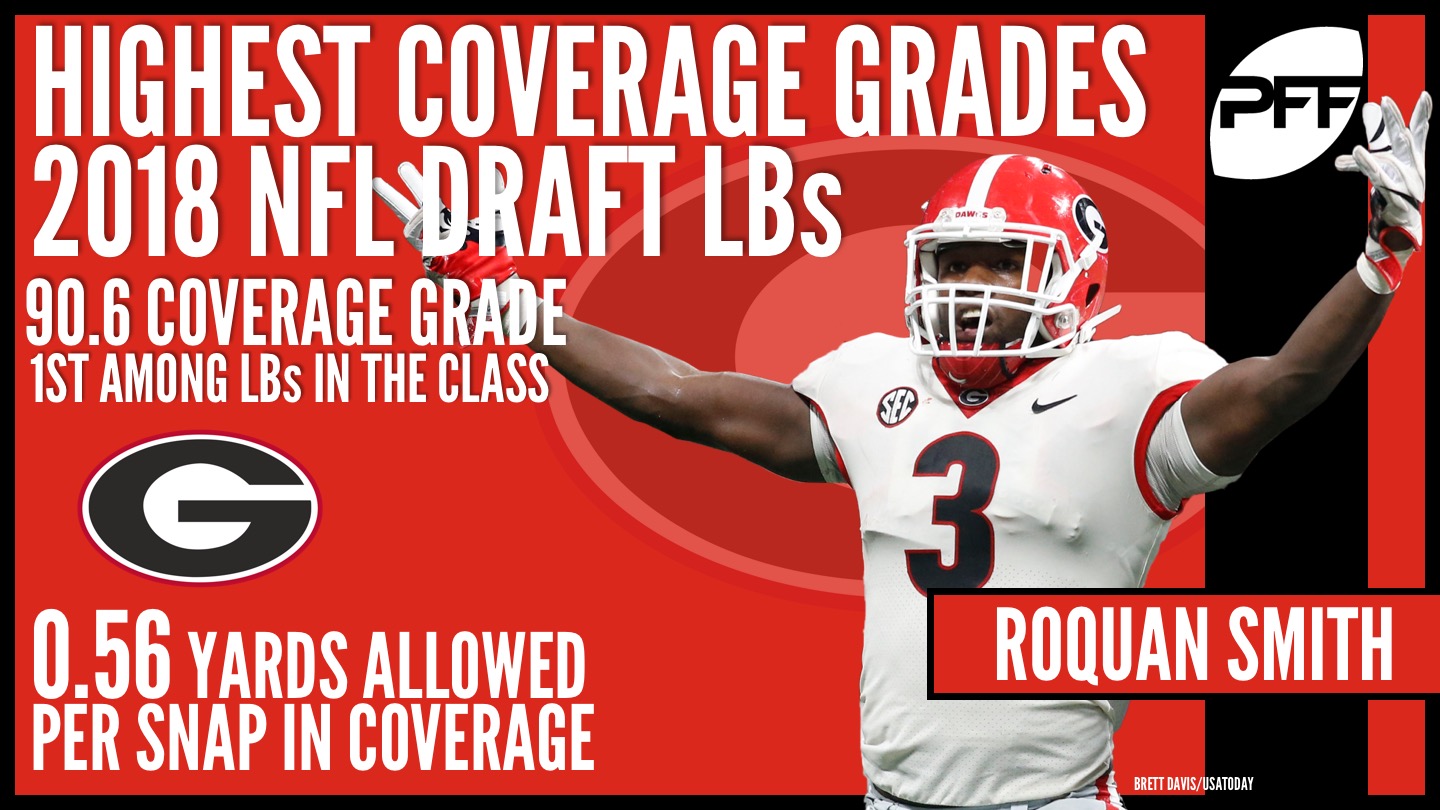 At the combine, Smith weighed in at 236-pounds and stood just under 6-foot-1 in height. He ran a 4.51 official 40-yard time, 0.2 faster than the typical position average at the combine. Only three linebackers this year posted faster 40 times at Indianapolis, and none of them were the three other potential first round players mentioned earlier. Edmunds and Vander Esch are carrying significantly more weight over those 40 yards than Smith is, but that won't matter to the running back they're all trying to close distance on at the next level.
The Run Game
Smith isn't the downhill-thumping linebacker of 10 years ago, but that isn't what the NFL is looking for anymore, so it's not really a black mark to hold against him. He still makes more than his fair share of plays against the run using his speed and explosion to attack gaps at the line of scrimmage or run sideline-to-sideline. Vander Esch led the nation in run-stop percentage this season (16.2), but Smith was in the top 15, ahead of Edmunds and Evans among others.
The angles Roquan takes to flow sideline to sideline are rarely anything but perfect pic.twitter.com/bdszTBSESh

— Sam Monson (@PFF_Sam) March 25, 2018
For a smaller linebacker, it's not like tackling was a problem and in fact, it may be a real strength of his game. He missed just two tackles in the run game all season for one of the best tackling efficiency scores in the nation, and his tackling technique is actually very impressive most of the time. The agility that comes from his smaller size allows him to mirror the cuts of players with the ball and secure tackles that bigger players would miss. There are several plays on tape where he is able to match an attempted cut back from a ball carrier he is running down and bring him to the turf without losing control as he runs him down. Smith's fundamentals are excellent in terms of breaking down and keeping control of his own body to avoid being exposed in those situations.
Coverage
Coverage is why Smith is a top talent in this draft. The last NFL season saw Atlanta's Deion Jones emerge as one of the game's best coverage linebackers, and do so in such a way as to hammer home that importance in a sequence of games in which he had one of the defining roles. Jones was able to become a matchup weapon on defense, shutting down players like Carolina TE Greg Olsen and the Rams RB Todd Gurley to give Atlanta's defense the necessary kryptonite to players that typically prove the difference for their offenses. Smith has that kind of tape at Georgia.
He doesn't need to be 250lbs, because he can use his speed to play at the line of scrimmage. Avoids a pick here to still kill this play in short yardage. pic.twitter.com/XCJifPeAO9

— Sam Monson (@PFF_Sam) March 25, 2018
Linebackers are asked to do a lot in today's NFL in coverage and being good at any one of those things isn't enough. Smith is good at all of them. He can cover man to man, shut down plays in front of him in zone, and – critically – make an impact on deeper zones and routes that develop behind him.
This last aspect of coverage may be the hardest to master but, move the needle the most at the next level. Luke Kuechly is one of the best linebackers in the game because he is more of a factor on those plays than anybody else, able to squeeze passing windows like few other players.
Roquan Smith has rare coverage skills for a linebacker. That's never been more important in the NFL. TV angle doesn't do this play justice, but it's elite-level coverage: pic.twitter.com/i4AitFDEMP

— Sam Monson (@PFF_Sam) March 25, 2018
A perfect example of this kind of playmaking from Roquan Smith came against Auburn this past season. On 3rd and 16, he was able to read the route combination quickly, spot the crosser and stay with it to the back corner of the end zone and deflect the pass away. This is elite level coverage and while it came early in this game when it was still a one-score encounter, this is the type of play that Jones was making last season to end games in victories for Atlanta.
Obviously, Smith isn't perfect, and you can find plays on tape where he gets beat, just as you can for any other player. The key question is how many are there and how often do they come? Smith's bad plays are few and far between, and the number of good in between them is what makes him such an excellent prospect. Also, the fact that the negatives don't appear to present any kind of specific pattern of weaknesses, rather simply represent the bad reps that every player has in his game somewhere.
Edmunds and Vander Esch may both top 250-pounds and stand at least 6-foot-4. They each have multiple inches on Smith when it comes to wingspan and all of those measurables have many people salivating over the potential that each player possesses. Both have graded well at PFF during their college playing time, but not in the same ballpark as Smith has. Some may have Smith below those players on their draft boards because of the potential that each player possesses, but the bottom line is that they would need to realize most of that potential to overcome the gap in production to Smith.
If they're lucky, both Edmunds and Vander Esch each have the potential to become as good as Smith, but if I was drafting I'd take the guy who already is Roquan Smith, and may quickly become one of the game's best coverage linebackers and a true mismatch weapon on defense.
2018 NFL Draft
---
Mock Drafts: 1 (Oct. 31, 2017) | 2 (Jan. 18, 2018) | 3 (March 8, 2018) | 4 (April 3, 2018)
Top 100 Draft Board | Top 10 WRs on the route tree | WR prospect fits | DI prospect fits | Underrated west coast prospects | 5 boom-or-bust prospects
Position ranks: QB | RB | WR | TE | OT | OG/C | EDGE | DI | LB | CB | S
Draft Quarterback Study: Lamar Jackson
Draft Corner Route Trees: Josh Jackson | Minkah Fitzpatrick | Denzel Ward | Donte Jackson | Isaiah Oliver | Carlton Davis 
Predictive Analytics: PFF College grades translation to NFL for pass-rushers | PFF College grades translation to NFL for QBs