[Editor's note: This article was originally published on March 21, 2017, and updated on April 25 to reflect PFF's final draft board.]
Arguably the deepest position group in the entire country, the PFF analysis team has listed 20 edge defenders below. It's a loaded field that could see double-digit names come off the board in Round 1.
[Editor's note: A player's ranking within the draft class for each particular category is noted in the corresponding box.]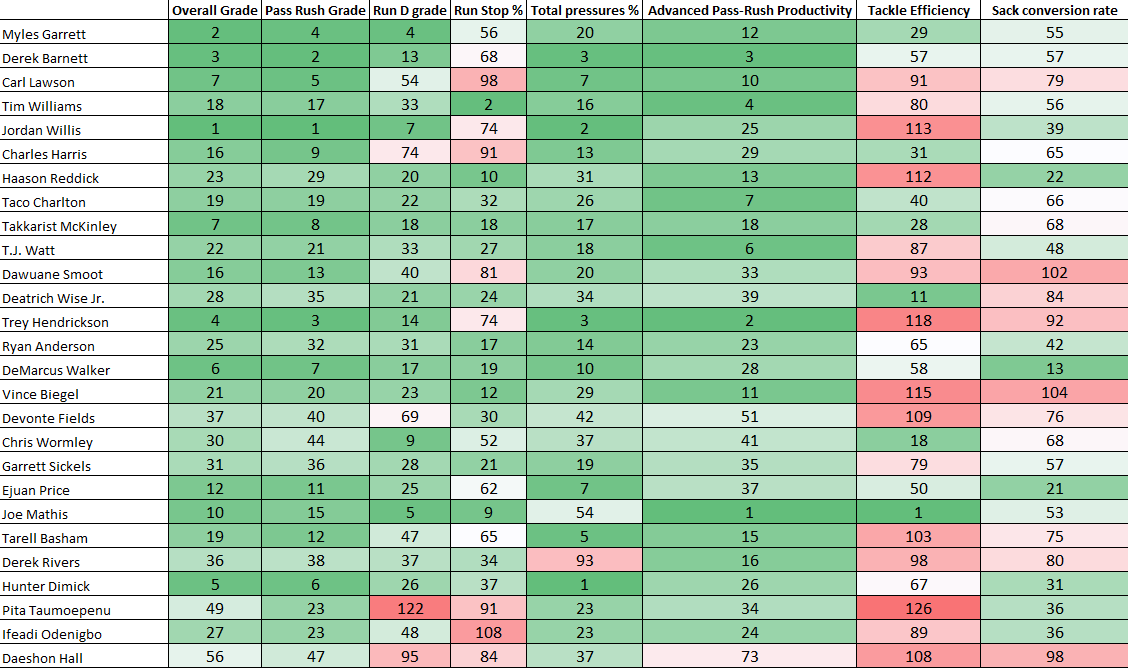 Rankings
Myles Garrett is the unquestioned top edge prospect in this class. The biggest criticism I've seen of Garrett is that he didn't record enough sacks in SEC play. If you don't think he was productive against the SEC the past three seasons, however, you simply didn't watch the games. Garrett is a freak of nature physically who is still only scratching the surface of his potential.
"If Michelangelo were sculpting the perfect edge rusher, he'd likely come up with something like Myles Garrett" https://t.co/YgOk70JMxO pic.twitter.com/wcoccyE2Sk

— PFF (@PFF) February 24, 2017
Athletically, Barnett is the antithesis of Garrett. Production-wise, he's the only player in the class that can compare to Garrett over the course of their careers. Barnett's 37 combined sacks and hits this past season were far and away the most in college football. He also has 20 total sacks in SEC play the past two seasons. The only concern is his top-tier athleticism, but with the way Barnett wins—with power and hands—that's not a big issue for me.
3. Solomon Thomas, Edge, Stanford
Thomas' true position in the NFL is still up in the air, and he could very well play a number of different techniques depending on the situation. He was most often utilized on the interior, with 90.6 percent of his snaps coming inside the tackles a season ago. But at 272 pounds, he might have to play on the edge in the NFL. Still, no player in college football graded out better against the run than Thomas. He also has the freakish athleticism at his size that could translate as a pass-rusher.
PFF scouting report: Solomon Thomas, DE, Stanfordhttps://t.co/3cJxLa2a6T

— PFF College (@PFF_College) March 6, 2017
The pass-rushers in the SEC last season kept a good number of quarterbacks up late on Friday nights. Lawson registered nine sacks, 13 hits, and 42 hurries in 2016 on only 364 pass-rushing snaps. Lawson wins the edge on offensive tackles as much as anyone in this class and makes them worry about getting out of their stance quickly with his first step. He pairs that up with some of the strongest hands I've seen in the class that keep him in control of interactions.
Auburn's Carl Lawson averaged a sack, hit or hurry once every 5.4 pass rushing attempts in 2016.

Scouting report:https://t.co/OHWp1ZW2Ji pic.twitter.com/GY1OOwhahn

— PFF College (@PFF_College) February 14, 2017
5. Jordan Willis, Kansas State
As owner of the highest overall grade of any edge player in the country a season ago, Willis absolutely dominated the Big 12. Then he went to Indianapolis and put up the most impressive combine performance of any edge prospect in the class. So if you're looking for a player who checks the production and athleticism boxes, Willis is your guy. His biggest issue was level of competition faced. The Kansas State defensive end looked far more pedestrian in one-on-one's at the Senior Bowl, but come actual game time in Mobile, and Willis registered two sacks and three hurries.
Haason Reddick is another player who may not end up on the edge at the next level, but this time for different reasons. Reddick's athleticism and size could end up moving him to an off-ball linebacker spot at the next level, where he would obviously be a devastating weapon as a blitzer. Reddick was utilized in a true 3-4 outside linebacker role at Temple, dropping into coverage on 74 of his 322 passing snaps last season. That means that his 43 QB pressures last season came on only 248 pass rushes, a ridiculous rate. Reddick is the ultimate Swiss Army knife for defensive coordinators in the NFL.
PFF scouting report for Temple LB Haason Reddick. https://t.co/kvkmyXR1tP

— PFF College (@PFF_College) March 14, 2017
On a snap-for-snap basis, Williams has been the most effective pass-rusher in the nation over the past three seasons. The issue is that even over those three seasons, he's only accumulated 685 snaps (485 as a pass-rusher). While he's notched a ridiculous 22 sacks, 19 hits, and 83 hurries on those plays, it's still concerning that he couldn't see the field more. While Williams looks like one of the most athletic edge rushers in the class on tape, his combine performance was lackluster.
"Tim Williams' raw speed off the edge is too much for many offensive tackles to match" https://t.co/xuKAchTjWZ

— PFF College (@PFF_College) March 6, 2017
Charlton is a physical specimen who simply overpowered college offensive tackles on the edge last season. Standing a legit 6-foot-6, 277 pounds, Charlton was a forced to be reckoned with as a bull-rusher and somehow had one of the most effective spin moves in the country at that size. He registered 18 combined sacks and hits last year, despite rushing the passer only 251 times.
PFF scouting report for Michigan edge defender Taco Charltonhttps://t.co/8Kbb32ZcUr

— PFF (@PFF) March 11, 2017
Harris is the undisputed king of the spin move in this class, and has some freakish balance for a 253-pound man. His 28 combined sacks plus hits in 2016 were the fifth-most of any edge player, and he has a penchant for winning quickly. His poor combine will drop him down some boards, but the pass-rushing production is there in spades.
"Consistently one of the nation's top pass-rushers in two years as a starter."

Charles Harris profile:https://t.co/MR8rnHycwR

— PFF College (@PFF_College) March 5, 2017
The biggest concern with Watt is whether or not he's a one-year wonder. Physically, though, there's not much he can't do. At 6-foot-4, 252 pounds, Watt put up fantastic explosive and change-of-direction numbers at the combine. That meshes with what we saw of him at Wisconsin, where he was arguably the most impressive of anyone in this class at closing on ball carriers in space. He's still raw as a pass-rusher, as a good deal of his 56 QB pressures a season ago came unblocked, but the ability is there.
"Closes extremely well in space. Great ability to finish plays."

T.J. Watt profile: https://t.co/kRCjwsIJkz

— PFF College (@PFF_College) March 14, 2017
11. Joe Mathis, Edge, Washington
Mathis is the wild card of this edge class. His games against Oregon and Stanford were of first-rounder quality, but a foot injury suffered in that Oregon game cost him the majority of his senior year. In those two games, Mathis racked up 14 QB pressures, which is more than he averaged in his previous two full seasons at Washington.
McKinley has some of the best straight-line explosiveness in this class, and was too much physically for many college offensive tackles. He was responsible for one of projected first-round OT Garett Bolles' three sacks allowed this season, and recorded 20 total sacks plus hits on the year. The biggest concern for the former Bruin was his disappearance in certain games. Stanford and Washington State both held McKinley in check for much of their games.
"UCLA ED Takkarist McKinley can rush the passer from either side, 24 pressures from the left & 32 pressures from the right."
– @PFF_Jordan pic.twitter.com/YmNSidbB6D

— PFF College (@PFF_College) February 16, 2017
13. DeMarcus Walker, Edge, Florida State
Walker likely fits better on the interior at the next level, but he moved around and was one of the most productive defensive linemen in the country in 2016. He used his good hands to pick up 17 sacks, 12 QB hits, and 34 hurries on 457 rushes last season, all while improving his work in the run game to grade at 83.1. He looks like one of the better interior pass-rushers in the draft.
14. Trey Hendrickson, Florida Atlantic
Hendrickson was by far the most productive pass-rusher outside the Power-5 conferences. His 20.5 pass-rushing productivity led the entire nation as he racked up 78 QB pressures, second-most in the nation. This comes a year after he finished second in the country with 15 sacks in 2015. Hendrickson's only knock is level of competition. That concern wasn't eased at all by an average showing in the Shrine game after the season.
15. Deatrich Wise Jr., Arkansas
Another "tweener," Wise's best position is likely as a 3-4 defensive end. He had some issues holding up to double teams at Arkansas that limited his playing time, but he was incredibly productive on the 488 snaps he saw see as a senior. Then at the East-West Shrine Game, he utterly dominated, racking up two sacks, a hit, and five hurries. He's still very raw, but Wise has some freakish tools to work with in the NFL.
Smoot is one of the few pass-rushers on this list with an already-refined rip move. He also has the bend that makes one think that will translate to the next level. It's a little concerning that his junior season—60 total QB pressures—greatly outshined his senior year (53 pressures). Smoot's two-year production as a pass-rusher, however, is still among the 10 best in this class.
17. Derek Rivers, Edge, Youngstown State
Rivers is an athletic freak who dominated small competition. We don't have a full season of data on him, but he was far from that same dominant player at the Senior Bowl. In Mobile, he was right around average in the one-on-one drills.
18. Ejuan Price, Edge, Pittsburgh
Most 5-foot-11 players simply can't hold up on the edge in the NFL. There's good reason to think Price is different. His balance and pass-rushing repertoire are both superb. His 29 combined sacks and hits were the second-most in the country last year.
Basham is a bull-rush aficionado with high-level production in the MAC. His 52 QB hurries were the fourth-most in the country last year.
20. Vince Biegel, Edge, Wisconsin
Biegel is a freakishly talented athlete, but unrefined football player at this point. He also packs very little punch, and may have to move to an off-ball role in the NFL. Still his movement skills make him intriguing, as he racked up 52 QB pressures on only 255 pass-rushing snaps last year.
Class superlatives
Best pure pass-rusher: Myles Garrett, Texas A&M
There's a reason why Garrett is nearly a lock to go No. 1 overall. He earned a top-three pass-rushing grade as a freshman and sophomore before injuries limited him this past season to only seventh-best in the country.
Best against the run: Solomon Thomas, Stanford
Thomas' 12.0 run-stop percentage was eighth-best among all defensive linemen in the country last year. I legitimately believe that even at 272 pounds, Thomas could be a full-time 3-technique if he wanted to be. That's how stout he is versus the run.
Best at winning outside: Derek Barnett, Tennessee
This one may surprise some, but there is far more to winning the edge as a pass-rusher than simply burst off the line of scrimmage. Barnett is excellent at pacing his attack at an offensive tackle and baiting his opponent into getting flat-footed at the top of his set. After Barnett swats away the blocker's hand, he has enough bend to consistently win the corner.
Best at winning inside: Haason Reddick, Temple
With the juice Reddick has off the edge, college tackles absolutely flew out of their stances against him. Any sort of inside counter or slant wreaked havoc for opposing offensive lines, as he possesses the ability to stop on a dime and duck inside.
Best bull-rusher: Myles Garrett, Texas A&M
272 pounds running a 4.64-second 40-yard dash with ridiculous burst off the line of scrimmage and 35¼-inch arms coming at you is a terrifying package. It's no surprise that Garrett is the biggest bull-rush threat in this class.
Best spin move: Charles Harris, Missouri
Harris executing his spin is akin to the running back spin move in NFL Blitz. It all happens in the blink of an eye, and while he's spinning, no one can touch him. No prospect in this class can rival the ease and frequency with which Harris pulled the move off.
For more positional prospect rankings and statistics, access PFF Draft Pass today.
Position ranks: QB | RB | WR | TE | OT | OG | C | EDGE | DT | LB | CB | S