[Editor's note: This article was originally published on March 28, 2017, and updated on April 26 to reflect PFF's final draft board.]
Compared to last year's offensive line draft class, the 2017 version looks barren. When it's all said and done, four O-linemen may end up going in the first round (but likely all four in the second half of the first round).
Offensive tackle rankings
[Editor's note: A player's ranking within the draft class for each particular category is noted in the corresponding box.]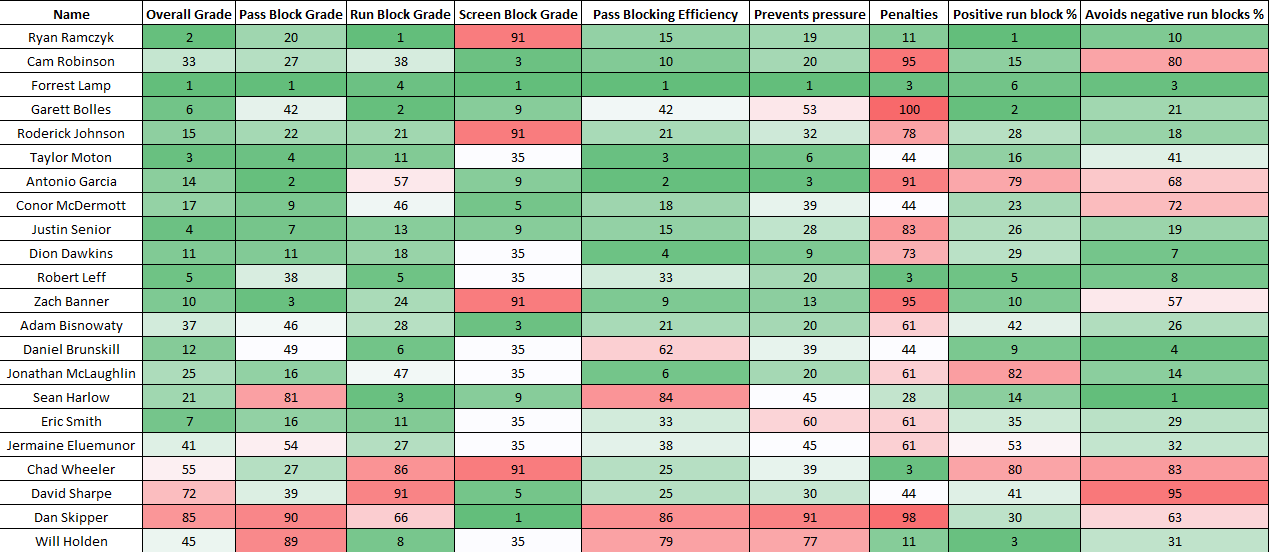 1. Ryan Ramczyk, OT, Wisconsin
As much as anyone in this class, Ramczyk has rare feet and movement skills for a big man. If he dropped 50 pounds, it wouldn't be a surprise if he could become an NFL-caliber tight end. The Wisconsin tackle also has the elite production to back up his hype; he was the highest-graded FBS tackle in 2016, allowing 12 QB pressures all season long.
Ryan Ramczyk's 84.6 run-blocking grade led all FBS offensive tackles in 2016.

Scouting report:https://t.co/OS48S5x2h8

— PFF College (@PFF_College) March 3, 2017
At a position defined by consistency, the number of mental lapses from Robinson are concerning. Whether it's penalties (23 the past two seasons), missed assignments, or lethargic reps, Robinson has a good deal of issues to shore up. That said, he has a blend of power and athleticism that resembles All Pro-caliber players at the position. Maybe the most encouraging sign for the true junior is that he went from seven sacks allowed in 2015 to only one in the 2016 season.
Could former Alabama OT Cam Robinson be a perfect fit for the Seattle Seahawks?

via @120Sports pic.twitter.com/0dMMWYxG5H

— PFF College (@PFF_College) March 1, 2017
Bolles, like Ramczyk, has only one season of FBS competition under his belt. In that season, however, he finished with the fourth-highest run-blocking grade of any FBS tackle. Pass protection was an issue, as Bolles finished with an average grade after allowing 20 total QB pressures last season on 472 pass-blocking snaps. It should also be noted that he led the country with 17 penalties last season.
Garett Bolles finished with the No. 2 run-blocking grade in the nation at 83.9.https://t.co/eEN0GqsbXB

— PFF College (@PFF_College) March 25, 2017
Johnson wins the "looks the part" award, measuring in at 6-foot-7 with 36-inch arms. He's also demonstrated the ability to utilize that length in pass protection and execute every block in the run game. That said, he's at No. 4 on this list because he's still very raw. Johnson has a bad habit of overextending, and he'll need a ton of work in pass protection.
What's the future look like for Florida State T Roderick Johnson? https://t.co/zAKEtt0kXG

— PFF College (@PFF_College) March 14, 2017
If you turn on McDermott's tape against Texas A&M and Myles Garrett, you might not even draft him. In that game, he allowed a ridiculous 11 total QB pressures, including four hits and a sack. He would only allow seven total QB pressures the rest of the season, but the damage was done. McDermott moves like an NFL tackle, but with how much he struggled against power, the former UCLA Bruin will still need to put on considerable strength to start in the NFL.
At left tackle, pass protection is the end-all-be-all, and Garcia has shown all the traits necessary to perform in that facet at the next level. This past season, he allowed all of one hit and six hurries in 506 pass-blocking snaps. He then went to the Senior Bowl, and after some early jitters, was arguably the most impressive tackle in pass protection, winning a third of his one-on-ones.
7. Justin Senior, OT, Mississippi State
Senior showed continued improvement at Mississippi State before allowing only 14 total QB pressures on 473 attempts in 2016. He has technique issues to iron out in both the run and pass game, but he's worth a look in a developmental role.
Leff put up solid grades in Auburn's scheme, particularly in the run game, where his 81.9 grade ranked 12th in the nation. There's a natural learning curve coming from Auburn's offense into the NFL, but Leff can make a roster on the back of his run-blocking potential as he develops in pass protection.
Banner has outstanding size and can create good movement at the point of attack in the run game. He struggles with speed rushers on the edge, perhaps limiting his potential, though he has the size and length to at least catch rushers and keep them off the quarterback. Banner allowed only 11 QB pressures on 442 attempts in 2016.
Smith progressed nicely at Virginia, topping out with an 81.2 overall grade in 2016 that ranked 17th in the nation. He showed the footwork to pass protect, and his pass-blocking efficiency on five-step drops ranked eighth in the draft class, at 97.8.
OT class superlatives
Best pass protector: Ryan Ramczyk, Wisconsin
It wasn't until Week 4 that Ramczyk allowed his first QB pressure of the season. He's also faced a slate of edge rushers that includes Arden Key, Malik McDowell, and Sam Hubbard—all early-round talents. At 6-foot-6 with 33¾-inch arms, Ramczyk has all the tools necessary to be elite at the next level.
Best run blocker: Garett Bolles, Utah
Bolles has the nastiness that offensive line coaches will fall in love with. He's never had a block that he didn't want to finish with the defender lying on the turf. With Bolles' raw power, that should continue in the NFL.
Interior offensive linemen rankings
[Editor's note: A player's ranking within the draft class for each particular category is noted in the corresponding box.]
Guard class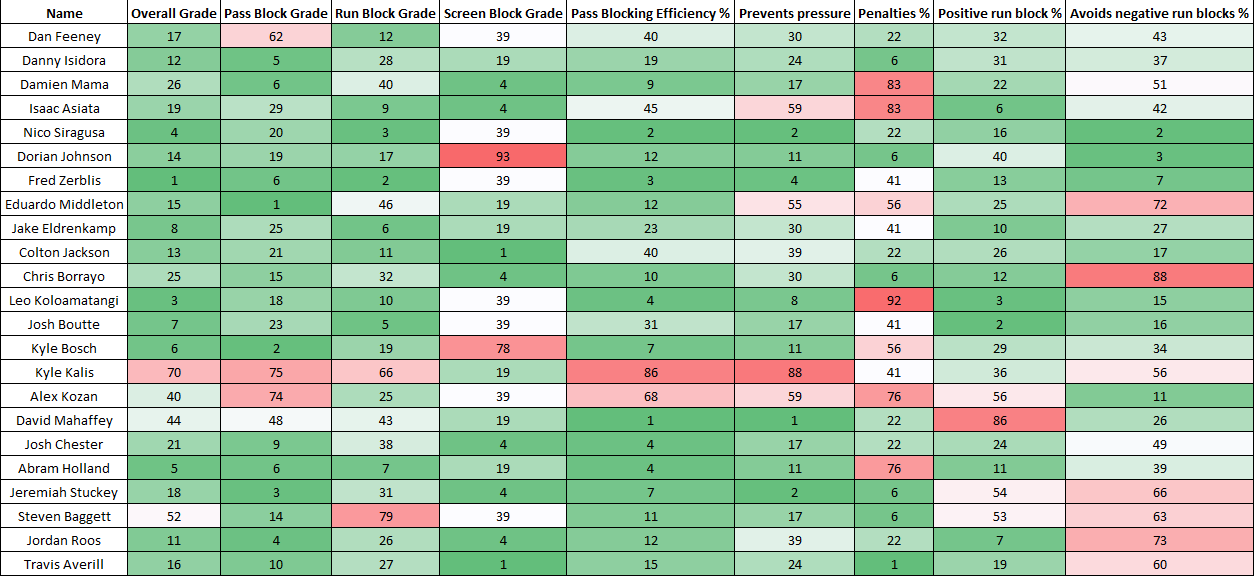 Center class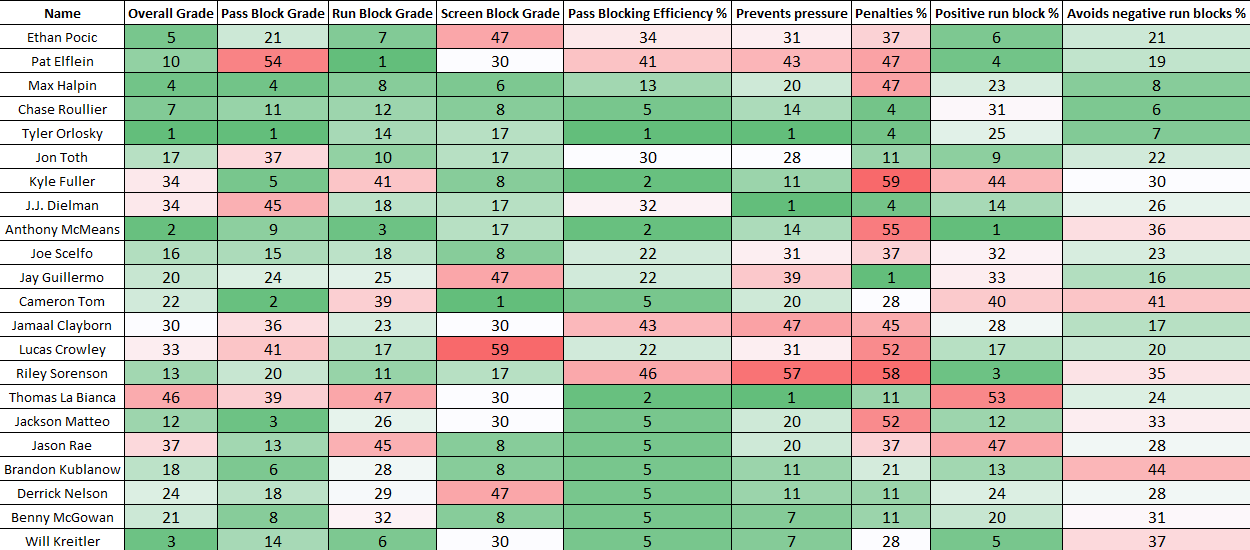 1. Forrest Lamp, G, Western Kentucky
Maybe the cleanest prospect in the draft, Lamp has multiple years of top-notch grading at left tackle to back it up. While level of competition is always a concern, Lamp allowed one total QB pressure against the ferocious pass-rushing threats from Alabama in Week 2.
"Shows good ability on backside cut blocks. Good fit for a zone-blocking scheme."

Forrest Lamp scouting reporthttps://t.co/nQ0UBOHUnv

— PFF College (@PFF_College) March 9, 2017
The highest-graded center on our board, Pocic is an oddity for the position at 6-foot-6. Even at that height, he still has the flexibility to consistently gain leverage on nose tackles. Pocic has scheme versatility and multiple years of quality play in the SEC to back up his ranking.
"Good balance getting to the second level and has the ability to lock onto blocks."

Scouting LSU center Ethan Pocichttps://t.co/EZKq1kJAOr

— PFF College (@PFF_College) March 17, 2017
3. Taylor Moton, G, Western Michigan
In 2015, it was Moton, not fellow teammate and fourth-round pick Willie Beavers, who was worthy of being an All-Conference offensive lineman in the MAC. Moton then made the switch from guard to tackle as a senior with stellar results. He didn't allow a single sack and only eight total QB pressures all year long. Some may still even see Moton as a tackle at the next level.
Taylor Moton had the ninth-highest grade among offensive tackles in 2016.

Scouting profile:https://t.co/O7y0wdaHhQ

— PFF College (@PFF_College) March 15, 2017
Feeney is likely the most accomplished pass-protecting guard in this class who actually played the position last season. He allowed only six QB pressures in 2015, and had allowed only one pressure through four games in 2016 before being forced to make the switch to right tackle. He then went to the Senior Bowl and dominated the one-on-ones more than anyone else that week, winning half of his reps.
Indiana G Dan Feeney looks like "a viable player in a zone-heavy scheme at the next level." https://t.co/LGRf8MZd0L

— PFF College (@PFF_College) March 14, 2017
Roullier, as much as any center in this class, has shown the ability to execute any block asked of him in the run game. Whether it's pulling to the edge, reaching a shade, or tracking down a linebacker on the move, Roullier did it all at Wyoming. The change in competition level will be drastic for Roullier, and it may take him awhile to develop into an NFL starter.
Dawkins has the power to excel in a power-blocking scheme, and he finished 2016 with only nine pressures allowed on 461 attempts while playing left tackle. He'll likely transition to guard at the next level.
Isidora played in a pro-style scheme at Miami and has already excelled in pass protection. He allowed fewer than 10 total QB pressures as a senior. Isidora has rare physical traits for the position, but needs to add strength, as evidenced by him repeatedly getting bull-rushed at the Senior Bowl.
Elflein is an interesting projection to the next level, as he was one of the highest-graded run-blockers at guard in 2015 and center in 2016, but struggled mightily as a pass protector. Elflein's 16 total QB pressures allowed this past season were four times that of WVU center Tyler Orlosky. The position versatility is intriguing, but the pass protection needs to be shored up.
PFF scouting report for Ohio State's Pat Elflein: https://t.co/19Iq6n7eqK

— PFF College (@PFF_College) March 13, 2017
Toth brings good size to the position, and he ran Kentucky's offense well, grading among the nation's top centers for three straight years. He took a slight step back in 2016, allowing 10 pressures and ranking 30th in the draft class in pass-blocking efficiency, but he's a solid option in a downhill run scheme.
10. Nico Siragusa, G, San Diego State
Siragusa's 83.9 run-block grade ranked 10th in the nation, and he's a good fit for a gap scheme at the next level, where he can use his power at the point of attack and on the move (he earned a positive grade on 23 percent of his pull blocks on "power," an excellent rate). He also improved greatly in pass protection, where he surrendered only three QB pressures on 340 attempts in 2016.
Interior O-line class superlatives
Best pass protector: Forrest Lamp, Western Kentucky
Lamp is so adept in pass protection that even at his size, it's not unlikely to think he could hold up at tackle in the NFL. It's a shame we didn't get to see more of him at the Senior Bowl as he won half of his reps on the first day before injury struck.
Best run blocker: Pat Elflein, Ohio State
The same nastiness that Garrett Bolles possesses is also present in the Ohio State lineman. Elflein may struggle to sustain blocks, but that doesn't matter if he already takes the opponent multiple yards off the line of scrimmage.
For more positional prospect rankings and statistics, access PFF Draft Pass today.
Position ranks: QB | RB | WR | TE | OT | OG | C | EDGE | DT | LB | CB | S