[Editor's note: This article was originally published on March 30, 2017, and updated on April 25 to reflect PFF's final draft board.]
Of all the positions in the 2017 draft class, the cornerback group looks to be the strongest in the past decade, with a wide variety of skill-sets available. Whether a team is looking for a physical corner on the perimeter, or a quick slot corner, the talent is there to get the player you need in the first round.
[Editor's note: A player's ranking within the draft class for each particular category is noted in the corresponding box.]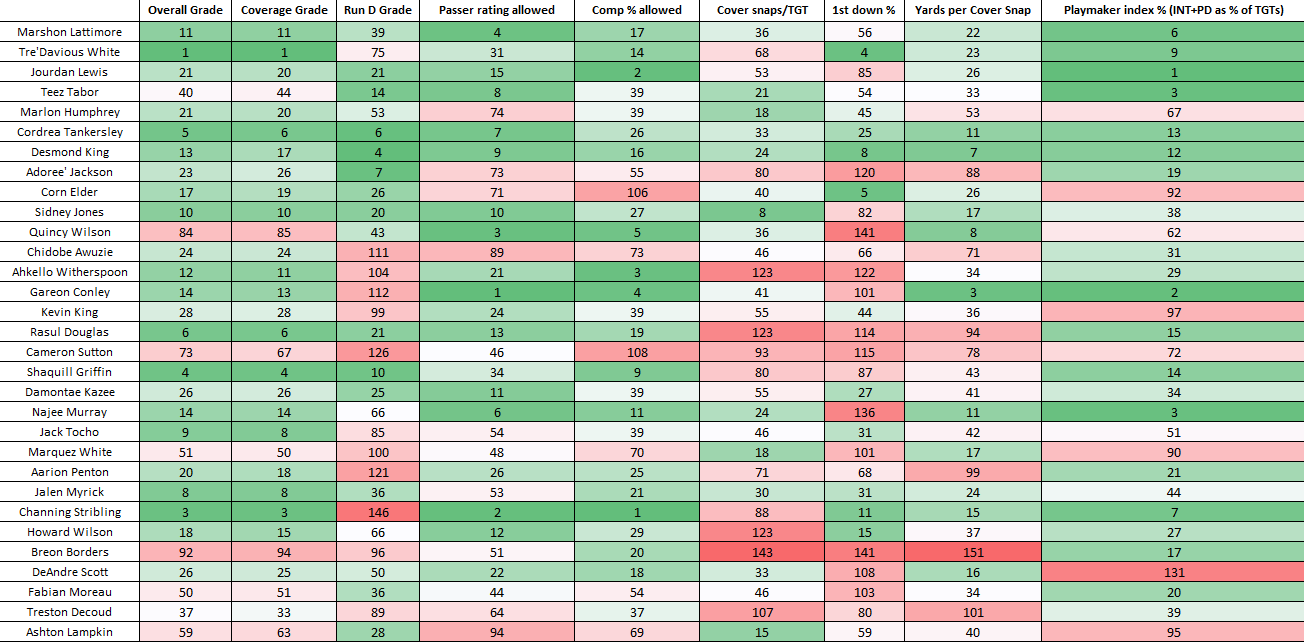 Rankings
1. Marshon Lattimore, CB, Ohio State
Whether we're talking measurables or on-field production, Lattimore has established himself as the top cornerback on our board in the 2017 draft class. 2016 may have been his only full season as a starter, but it was a season that saw him allow just 18 receptions, and an NFL passer rating on just 31.9.
PFF scouting report: Marshon Lattimore, CB, Ohio Statehttps://t.co/2HpkwotCYz

— PFF College (@PFF_College) March 4, 2017
One of the top playmakers among the defensive backs in this draft class, White is going to excite whichever team drafts him with his ability to contribute on both defense and special teams from Day 1. Coming off his best season in college, White racked up two interceptions and 12 pass breakups from the 61 passes thrown into his coverage.
Top-graded CBs in college football 2016

Tre'Davious White, LSU, 90.5
Michael Egwuagu, UTSA, 90.3
Arthur Maulet, Memphis, 89.6

— PFF College (@PFF_College) January 15, 2017
3. Jourdan Lewis, CB, Michigan
Regarded as undersized by a lot of people, Lewis has been one of the top cornerbacks in the nation over the past two seasons. Versatile enough to be a starter either on the outside or in the slot, he has allowed just four touchdowns from the 186 passes thrown into his coverage over the past three seasons, coming away with six interceptions and 28 pass breakups in that span.
4. Marlon Humphrey, CB, Alabama
An ideal fit in zone coverage, Humphrey is at his best when the play is in front of him. After allowing 16.3 and 17.4 yards per catch over the past two years, his big weakness is covering downfield. He does read and react very well, though, making him an outstanding coverage defender on underneath routes, and is still a likely first-round draft pick.
5. Sidney Jones, CB, Washington
Jones would be even higher on this list were it not for the injury that ruined his pro day. At his best in press man, Jones didn't allow a single touchdown on throws into his coverage in 2016. He plays the ball well in the air, too, with nine interceptions and 16 pass breakups over the past three seasons. While the injury will push him down draft boards, someone is likely to get a steal once he recovers.
6. Gareon Conley, CB, Ohio State
The pure stats are outstanding for Conley, who allowed a passer rating of only 14.0 on throws into his coverage, best in the nation. He was aided by some poor quarterback play, but he graded well and showed the ability to succeed in multiple situations, whether player press, off, man, or zone. He also showed well athletically at the NFL Combine, making him yet another impressive combination of size, speed, and production at the cornerback position.
Arguably the best athlete among defensive backs in this draft class, Jackson possesses the speed to chase plays down from the other side of the field if he has to. It's concerning that he allowed seven touchdowns in coverage last year, but his ability to contribute on defense and special teams from Day 1, and his ability to turn defense into offense, should excite plenty of teams.
8. Cordrea Tankersley, CB, Clemson
Allowing an NFL passer rating of 40.6 in 2016, Tankersley was one of the top-graded cornerbacks in football for the National Champion Clemson Tigers. Allowing just one touchdown and recording four interceptions and nine pass breakups, the only big concern with Tankersley is that he can be a little too physical in coverage, something he'll need to improve upon to avoid being heavily penalized in the NFL.
On-field production saw Tabor ranked close to Ohio State's Lattimore early in the pre-draft process, but few players were as disappointing as Tabor when it came to measurables. After recently clocking at 4.7 in the 40-yard dash at the Florida pro day, his stock appears to be on the way down, despite allowing NFL passer ratings of just 33.0 and 41.3 over the past two seasons, respectively.
Teez Tabor "has the size to play press man coverage and the movement skills to mirror receivers."https://t.co/En3a0C8iZU

— PFF College (@PFF_College) March 24, 2017
10. Ahkello Witherspoon, CB, Colorado
Yet another long, athletic cornerback, Witherspoon broke out with a productive 2016 before putting together a dominant NFL Combine at about 6-foot-3. He tied for the national lead with 13 pass breakups while allowing only 31.8 percent of his targets to be completed, third-best in the country. Witherspoon has the size and athleticism that press-man coverage teams covet, and that may push him even higher up the board come draft weekend.
11. Chidobe Awuzie, CB, Colorado
Part of a loaded Colorado secondary, Awuzie put together three strong years of grading, culminating with a playmaking 2016 effort that saw him break up nine passes and intercept another. He has experience playing both outside and in the slot, and he fits better in more of a zone-heavy scheme, where his quick closing ability will be on display.
12. Kevin King, CB, Washington
Few cornerbacks can dominate the movement drills at the combine at 6-foot-3, but that's just what King did. He turned quite a few heads with his performance, and when combined with some highlight-reel plays in coverage, the splash is definitely there to King's game. He has the size and movement skills to play press coverage, but also has a good feel for zone, making him a versatile option in the loaded cornerback class.
13. Quincy Wilson, CB, Florida
Wilson didn't grade as well as the stats would indicate, but he capped his Florida career allowing a passer rating of only 45.8 into his coverage over the last three seasons. He moves well for his size and knows how to play the ball in both press and off coverage. He'll get beaten at times when trying to press, but there's a lot to like about his game, and he's diverse enough to fit multiple schemes.
King was the victim of one of the most notable plays during Senior Bowl practice, with East Carolina wide receiver Zay Jones leaving him in the dust on a double move, but that one play shouldn't overshadow an outstanding college career. Impressive in coverage and one of the nation's best run defenders among defensive backs, he has recorded 14 interceptions and 24 pass breakups from the 182 passes thrown into his coverage since 2014.
Could CB Desmond King trade in the black and gold of Iowa for … more black and gold? https://t.co/fJSYtNIs59

— PFF (@PFF) March 20, 2017
Elder spent time at both outside and slot cornerback for the Hurricanes, but his skill-set transitions best as a slot corner in the NFL. He allowed a mere 0.33 yards per coverage snap from the slot last year, and missed just four of the 70 solo tackles he attempted, so he really shouldn't slip beyond Day 2 of the draft.
16. Rasul Douglas, CB, West Virginia
At 6-foot-2, Douglas is yet another cornerback to be coveted by press-man teams. However, at West Virginia, he played mostly off coverage and excelled in their system, with a nation-leading eight interceptions and 10 pass breakups that tied for 11th in 2016. He still has work to do to improve as a press corner, but he's a solid zone player who has the frame to develop in more of a man system.
17. Cameron Sutton, CB, Tennessee
Sutton has flashed his potential (2014 season and early 2016 season), but injuries and inconsistency make him a question mark. He's showed the skills to play zone effectively while dabbling in the slot and at safety at the Senior Bowl. At his peak, Sutton broke up 10 passes and intercepted three more on only 67 targets in 2014.
Griffin's production and athleticism are difficult to ignore, as his 87.2 coverage grade ranked 11th in the nation in 2016. He'll give up his fair share of plays, but he also got his hands on 15 passes in 2016 (11 pass breakups, four interceptions) and he has the size and movement skills to fit multiple schemes.
19. Damontae Kazee, CB, San Diego State
While size and speed are less than ideal, Kazee has a good feel for zone coverage and he excelled in San Diego State's scheme that had him playing off coverage the marjority of the time. He picked up seven interceptions and four pass breakups in 2016 while allowing a passer rating of only 43.7 into his coverage.
20. Howard Wilson, CB, Houston
Wilson broke out with a strong 2016 season, finishing with five interceptions and eight pass breakups on his 80 targets, good for an 85.4 overall grade that ranked 22nd in the nation. Opponents recorded a passer rating of only 44.6 when targeting Wilson.
Cornerback class superlatives
Best in press: Cordrea Tankersley, Clemson
If Tankersley can adapt at the NFL level and restrict his contact to within 5 yards from the line of scrimmage, he can be a top NFL cornerback. While he has been guilty of too much contact downfield, he can jam wide receivers very effectively at the line of scrimmage.
Best in man: Marshon Lattimore, Ohio State
Combining his ball skills, recovery speed and his ability to run with just about every receiver in the nation, Lattimore is the perfect cornerback in man coverage. Highlighted by his interception of QB Baker Mayfield in the game against Oklahoma, where he kept up with the Biletnikoff Award-winning Dede Westbrook before stepping in front of the pass, he most definitely look the part in man.
Best in zone: Marlon Humphrey, Alabama
He might have allowed some big plays downfield, but nobody can top his ability to read and react to plays in front of him at the position. Whether it was getting to a receiver on a slant, or reading a screen to take the receiver down in the backfield, Humphrey is at his best here.
Best against the run: Corn Elder, Miami
Elder rarely misses tackles, missing just one of the 70 solo tackles he attempted last year, but his work against the run is more than that. He gets himself into position often, and is more than willing to initiate contact with a running back.
Best ball skills: Jourdan Lewis, Michigan
If you go back and watch Jourdan Lewis' film over the past three seasons, you'll see two things that stand out. He can make highlight-reel catches that would make some NFL receivers envious, and he knows how to get a hand on the ball to break it up, with 28 pass breakups over the past three years.
For more positional prospect rankings and statistics, access PFF Draft Pass today.
Position ranks: QB | RB | WR | TE | OT | OG | C | EDGE | DT | LB | CB | S