It's been three years since an interior offensive lineman was taken in the top 10 of the draft, but there's a 99.9 percent chance that changes this year. Notre Dame guard Quenton Nelson leads a strong and deep interior offensive line class that could see multiple first-round selections.
Version 2 of the 2018 NFL Draft Guide is here! For PFF Edge & Elite subscribers, a comprehensive guide featuring player profiles of signature stats, grades and exclusive PFF content including position by position rankings. Find out more information here and join PFF now!
[Editor's note: These rankings were originally posted on February 27, edited on April 9 following the 2018 NFL Scouting Combine and various pro day workouts, these rankings have evolved one final time on April 23 as we are just days away from the 2018 NFL Draft.]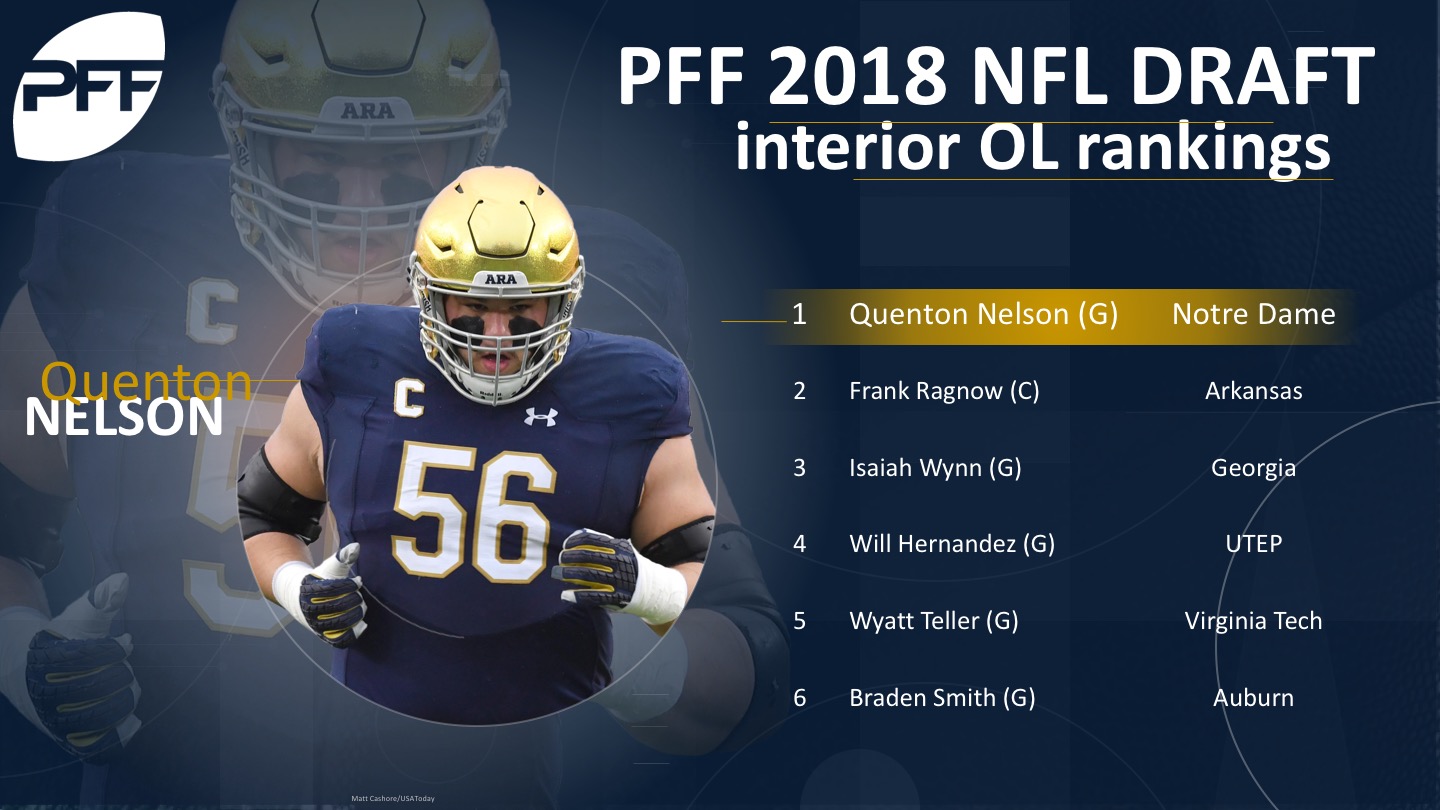 1. Quenton Nelson, Notre Dame – Guard
Nelson is the cleanest offensive line prospect in our four years of grading every snap of every game at the FBS level. His combination of flawless technique, athleticism and strength is beyond rare. You'll hear me throw around the term 'can't miss' almost never. Nelson is can't miss.
2. Frank Ragnow, Arkansas – Center
Ragnow doesn't have the rare physical traits that Nelson possesses, but he's been arguably as dominant when healthy over the past couple seasons. He's been PFF's top-graded center in back-to-back seasons despite being only limited to 415 snaps this past year. In 2,603 collegiate snaps, Ragnow did not allow a single sack.
3. Isaiah Wynn, Georgia – Guard
A tackle at Georgia, Wynn's height and length projects best inside at the next level. Wynn will give you déjà vu at times with how consistent he is technically. He allowed all of five pressures this past season, and only 26 in his 2,609 collegiate snaps.
4. Will Hernandez, UTEP – Guard
Hernandez may be limited to a straight-forward gap/inside zone scheme, but he should be a dominant run-blocker if he is put in one. The UTEP guard possesses an almost comically-thick build that makes him a people mover in the run game. He was PFF's highest-graded guard in 2016.
5. Wyatt Teller, Virginia Tech – Guard
Teller possesses about as much nastiness as any offensive linemen in this draft class when he wants to show it. He had some of the most dominant blocks we've seen this past season and that explosiveness will translate well to the NFL. Teller is a four-year starter with impressive grades each season.
6. Braden Smith, Auburn – Guard
Smith plays angry snap after snap, consistently playing to the whistle. He's not the most natural of athletes, but his power in a phone booth is special. He finished 2017 as PFF's third-highest graded guard.
7. James Daniels, Iowa – Center
Daniels finished this past season as PFF's third-highest graded center and improved every year of his career. He rarely 'wow's,' but he plays as under control as any center prospect in the draft.
8. Austin Corbett, Nevada – Center
The Nevada left tackle stepped onto the field as a freshman in 2014 and was already one of the better pass protecting left tackles in the nation. That season, he allowed all of 17 total pressures and has only gotten better since. Corbett is far more technically sound than most small school tackle prospects and could legitimately start in the NFL as a rookie. He likely profiles best to the interior at the next level.
9. Will Clapp, LSU – Center
Clapp has multiple years grading very well in the SEC at both center and guard. That's an impressive accomplishment in and of itself. Add in some of the best hands in this draft class, and Clapp is ready to start sooner rather than later.
10. Billy Price, Ohio State – Center
Price is one of the rare offensive line prospects who can claim starting experience at all three interior positions. Offensive line coaches will love that, as well as the fact that he plays every snap like he's out for blood. Price is as aggressive an offensive line prospect as there is in this draft.
11. Mason Cole, Michigan – Center
Cole played both tackle and center at Michigan, but never quite mastered either. He'll be on the interior in the NFL, where that cross-training could be seen as a positive. Cole also hails from a creative, pro-style run scheme at Michigan that should translate well at the next level.
12. Colby Gossett, Appalachian State – Guard
Gossett is a perfect fit for an outside zone scheme as he consistently makes difficult reach blocks. He must improve in pass protection after posting a 76.0 grade in that department last season, but he has four strong years of solid, 80.0-plus overall production.
13. Jeremiah Kolone, San Jose State – Guard
Kolone led the draft class with a pass-blocking efficiency of 99.7 last season, allowing only one pressure on 244 attempts. He has three strong years of grading, including a 90.7 overall mark in 2016.
14. Dejon Allen, Hawaii – Guard
Allen has been one of the top non-Power 5 tackles in the country for the past three seasons and has the requisite athleticism to kick in to guard at the next level.
15. Kyle Bosch, West Virginia – Guard
Bosch finished with three straight years of solid production including an 87.1 grade in 2016 and an 86.9 mark last season. He allowed only 23 pressures over the last three years.
16. Bradley Bozeman, Alabama – Center
Bozeman was very consistent over the course of his career at Alabama. His lack of strength and athleticism will be an issue heading into the league.
17. Brian Allen, Michigan State – Center
Allen hails from a pro-style running game at Michigan State that projects well to the NFL. Unfortunately, Allen is undersized for the position and power will give him issues at the next level.
18. Sam Jones, Arizona State – Guard
Jones is nothing special athletically, but still got the job done more often than not for the Sun Devils with back-to-back years of solid grading.
19. Antonyo Woods, FAU – Center
Woods had strong finish to his FAU career, grading at 86.4 overall. He can make the necessary blocks required in a zone scheme and he finished 11th in the draft class with a pass-blocking efficiency of 98.7 last season.
[Editor's note: These rankings were ever-evolving as we headed towards the draft. Comments, questions or for further information, follow @PFF_College.]
Position ranks: QB | RB | WR | TE | OT | OG/C | EDGE | DI | LB | CB | S