The 2023 NFL Draft came and went. The Carolina Panthers ended up picking Bryce Young, the Houston Texans drafted C.J. Stroud and Will Anderson Jr. and Will Levis landed with the Tennessee Titans … even if it took a little longer than anticipated. 
All that's left is to answer one not-so-simple question: Which NFL team had the best draft?
Here are PFF's 10 favorite drafts from the past weekend, starting with the Pittsburgh Steelers and the Philadelphia Eagles.
More PFF draft content:
LIVE Draft Tracker | Mock Draft Simulator | 2023 NFL Draft Guide
Top 200 Big Board | PFF Mock Drafts | Measureables & Workout Data
NCAA Premium Stats | Draft Rankings By Position | Prospect Superlatives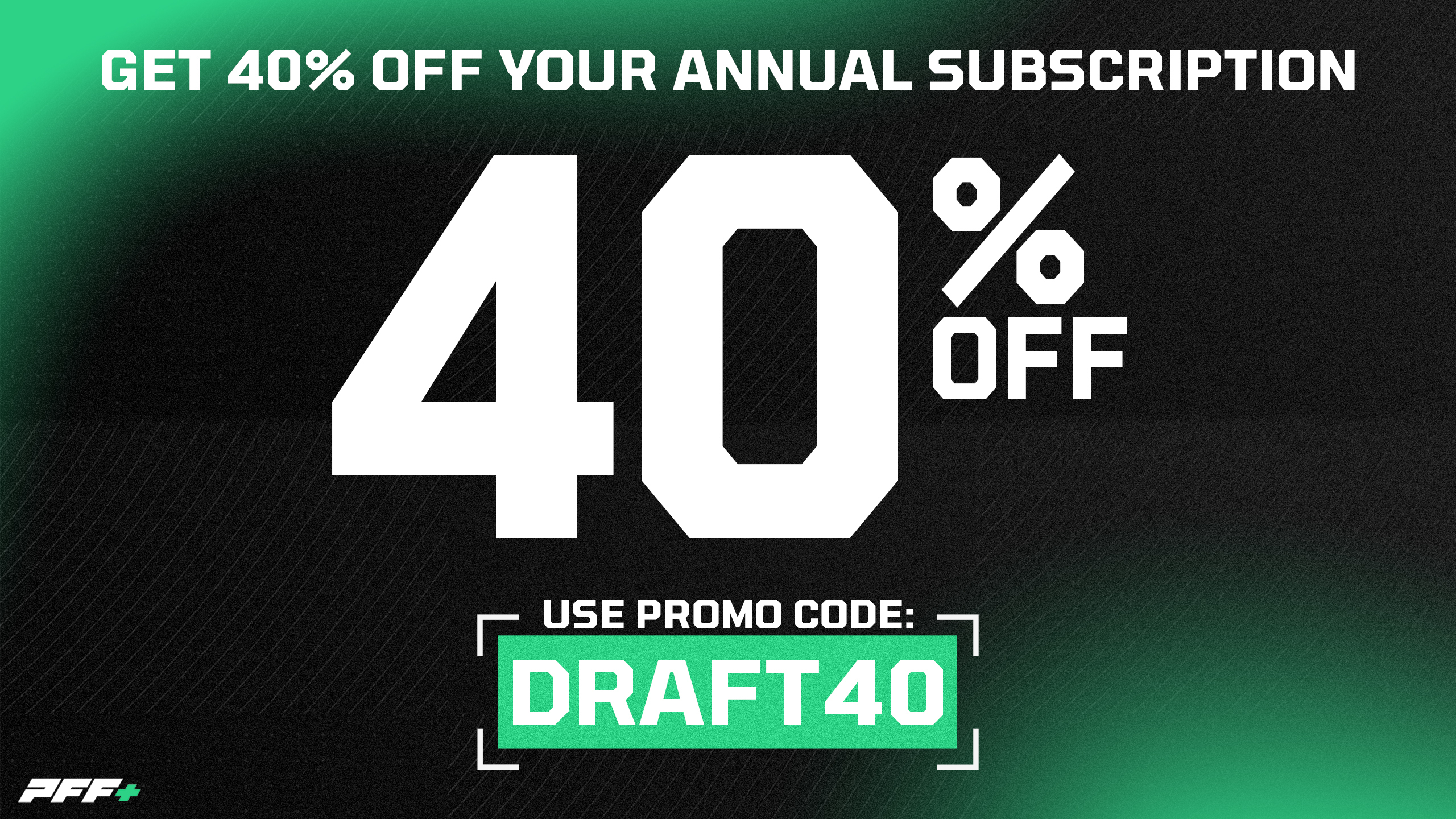 R1 (14): OT Broderick Jones, Georgia
R2 (32): CB Joey Porter Jr., Penn State
R2 (49): DI Keeanu Benton, Wisconsin
R3 (93): TE Darnell Washington, Georgia
R4 (132): EDGE Nick Herbig, Wisconsin
R7 (241): CB Cory Trice Jr., Purdue
R7 (251): OG Spencer Anderson, Maryland
Day 1: The Steelers jumped up three spots, giving up a fourth-round pick to make sure they land the offensive tackle they wanted. Jones impressed as a pass-blocker in 2022, earning an 84.1 PFF pass-blocking grade and allowing just nine total pressures from 470 pass-blocking snaps.
Day 2: Pittsburgh takes PFF's CB4 and 21st-ranked prospect to open up Day 2 of the 2023 NFL Draft. Porter wins with his length. The former Nittany Lion's 34-inch arms make it easy to disrupt his opponent at the catch point and line of scrimmage. Porter's 40% forced incompletion rate in 2022 led all Power Five cornerbacks.
The Steelers take a top interior defender that can line up in the A and B gaps, with the Steelers able to move Cameron Heyward, Larry Ogunjobi and Benton across the interior. Benton will help a Steelers run defense that struggled in 2022 up the middle, with a strong 10.5% run-stop win rate in 2022.
The freaky Georgia tight end's slide is over. Pittsburgh grabs the 6-foot-8, 272-pound Darnell Washington to continue their strong 2023 NFL Draft. He has a strong resume in the ground game, as his top-five finish among Power Five tight ends in run-blocking grade in 2022 proves, and is a mismatch weapon as a receiver.
Day 3: The Steelers' incredible draft continues. Herbig played on the edge at Wisconsin but figures to be more of a tweener in the NFL, and that's likely why he wasn't a higher pick. He knows how to rush the passer, though, as he won 23.9% of his pass-rushing snaps in 2022 and earned a 91.1 pass-rush grade.
Ranked 77th on PFF's big board. Price is a physically imposing corner at 6-foot-3 who is extremely aggressive at the line of scrimmage and tackles well.
Anderson is the only pick by the Steelers where the player has been outside the top 80 of the PFF big board. Anderson produced a 79.8 PFF pass-blocking grade in 2022 but struggled as a run-blocker.
R1 (9): DI Jalen Carter, Georgia
R1 (30): EDGE Nolan Smith, Georgia
R3 (65): OT Tyler Steen, Alabama
R3 (66): S Sydney Brown, Illinois
R4 (105): CB Kelee Ringo, Georgia
R6 (188): QB Tanner McKee, Stanford
R7 (249): DI Moro Ojomo, Texas
Day 1: Landing the No. 2 overall player on the  PFF big board at Pick 9 is a huge win for the Eagles. Carter played 392 snaps in 2022 and earned a 92.3 PFF grade that led all Power Five interior defenders. He registered 32 total pressures from 273 pass-rushing snaps. The Eagles had to give up just a 2024 fourth-round pick to make this happen.
The Eagles land the 13th overall player on the PFF big board with the 30th pick in the draft as Philadelphia retools its defensive line once again with elite talent. Smith might be undersized at 238 pounds, but he earned a 90.0 PFF run defense grade over the past two seasons and is an incredible athlete.
Day 2: Steen transferred from Vanderbilt to Alabama to finish his college career protecting No. 1 overall pick Bryce Young's blindside, and he earned a 74.4 pass-blocking grade over the year. Steen's arms are under 33 inches, a common NFL threshold required to play tackle, so he may move inside at the outset. Steen was a steady riser throughout the process and is the newest student at Stoutland University in Philadelphia.
Brown is the first true safety off the board — Alabama's Brian Branch is more of a tweener — and Philadelphia gets him right around his consensus ranking. Better yet, Brown fills a position of need, as Eagles starters Chauncey Gardner-Johnson and Marcus Epps left the team in free agency. Brown earned a stellar 89.4 coverage grade in 2022 as a rangy deep safety who can cover a ton of ground, and his testing was off the charts. His 10-yard split, vertical jump and broad jump were all above the 90th percentile among safeties.
Day 3: The Eagles continue in their quest to recreate the back-to-back National Champion Georgia Bulldogs defense, trading up for a straight-line athlete in a very young cornerback that showed inconsistency after a breakout 2021 season. Ringo is a bit stiff moving laterally, which may have caused his drop here, but at 6-foot-2 and 207 pounds he could line up out wide or perhaps transition to safety.
McKee isn't a great athlete and won't create much outside of structure, but his size and accuracy give him potential as a developmental backup who can win from the pocket. The scheme and supporting cast did him few favors, which contributed to his underwhelming production at Stanford.
The rich get richer in Philly. Ojomo is ranked 93rd on the PFF big board. He is an excellent run defender (91.4 in 2022) who can fill two gaps up front. An improvement to his pass-rush arsenal could make him a seventh-round gem.
---
R1 (4): QB Anthony Richardson, Florida
R2 (44): CB Julius Brents, Kansas State
R3 (79): WR Josh Downs, North Carolina
R4 (106): T Blake Freeland, BYU
R4 (110): EDGE Adetomiwa Adebawore, Northwestern
R5 (138): CB Darius Rush,  South Carolina
R5 (158): S Daniel Scott, Cal
R5 (162): TE Will Mallory, Miami (FL)
R5 (176): RB Evan Hull, Northwestern
R6 (211): EDGE Titus Leo, Wagner
R6 (221): CB Jaylon Jones, Texas A&M
R7 (236): OT Jake Witt, Northern Michigan
Day 1: The Colts stay at Pick 4 and swing for the high ceiling of Anthony Richardson. While Richardson was inconsistent as a passer, he is arguably the most incredible athlete at the quarterback position we have ever seen. He forced 39 missed tackles in 2022.
Day 2: Brents is in the group of long, athletic prospects that the Colts have gravitated to on defense over the past several years. There aren't too many cornerbacks out there at 6-foot-3 with 34-inch arms and a 42-inch vertical. Brents' production and grading profile don't overly impress, but he has traits worth betting on here for Indianapolis.
Downs was WR5 on both the PFF Big Board and the consensus big board but comes off the board here to Indianapolis as WR12. He is undersized, even for the slot, but he is one of the better underneath separators in this class and wins in contested situations over the middle of the field. Downs hauled in 13-of-18 contested targets for UNC in 2022.
Day 3: The Colts need reinforcements along the offensive line and land the 6-foot-8 Freeland, who tested off the charts with 95th percentile or better scores in the vertical jump, broad jump, short shuttle and three-cone. Freeland's athleticism will be best utilized as a run blocker in space, earning a 90.2 zone blocking grade in 2022, but he will need to improve as a pass protector at the NFL level.
One of the more puzzling fallers of the draft after a ton of buzz following a ridiculous combine performance that was truly one of the best we've seen, Adebawore needs refinement at the NFL level and can now develop behind a crop of good defensive linemen with the Colts. Adebawore earned an 80.3 pass-rush grade in 2022 but a lot of that production came from pure athletic advantages. He needs to improve his hand usage and counter moves beyond just speed to power.
Rush, a former high school quarterback and college wide receiver at the start, is an incredible athlete still learning the nuances of the cornerback position. At 6-foot-2 and 198 pounds, Rush ran a 4.36-second 40-yard dash and earned an 80.3 coverage grade in 2022. When he is in position, he has a knack for making plays on the ball, as well. This is the developmental type prospect you look for on Day 3.
Scott graded better in 2021 (81.8) than in 2022 (66.8) but finished strong in his last three games. He's a versatile and intelligent safety who is capable enough in the slot as well. He'll add depth to the Colts' secondary as well as a surefire contributor on special teams.
Mallory offers legitimate receiving ability and not much as a blocker. He'll give Richardson a threat up the seam and brings legitimate versatility in the slot. He just needs to become passable in the run game.
Jones is big, strong and young — a good combination of adjectives for a late-round cornerback. He fits best in a Cover 3 scheme and, fortunately, he lands with Colts defensive coordinator Gus Bradley, who runs more Cover 3 than any other defensive play-caller.
Witt is one of the rare prospects who PFF doesn't have data or grades on, but he came in at 211th overall on our final big board. He's an athletic tackle — shocking, given Indianapolis' strategy in this draft — who will be another developmental project for the Colts.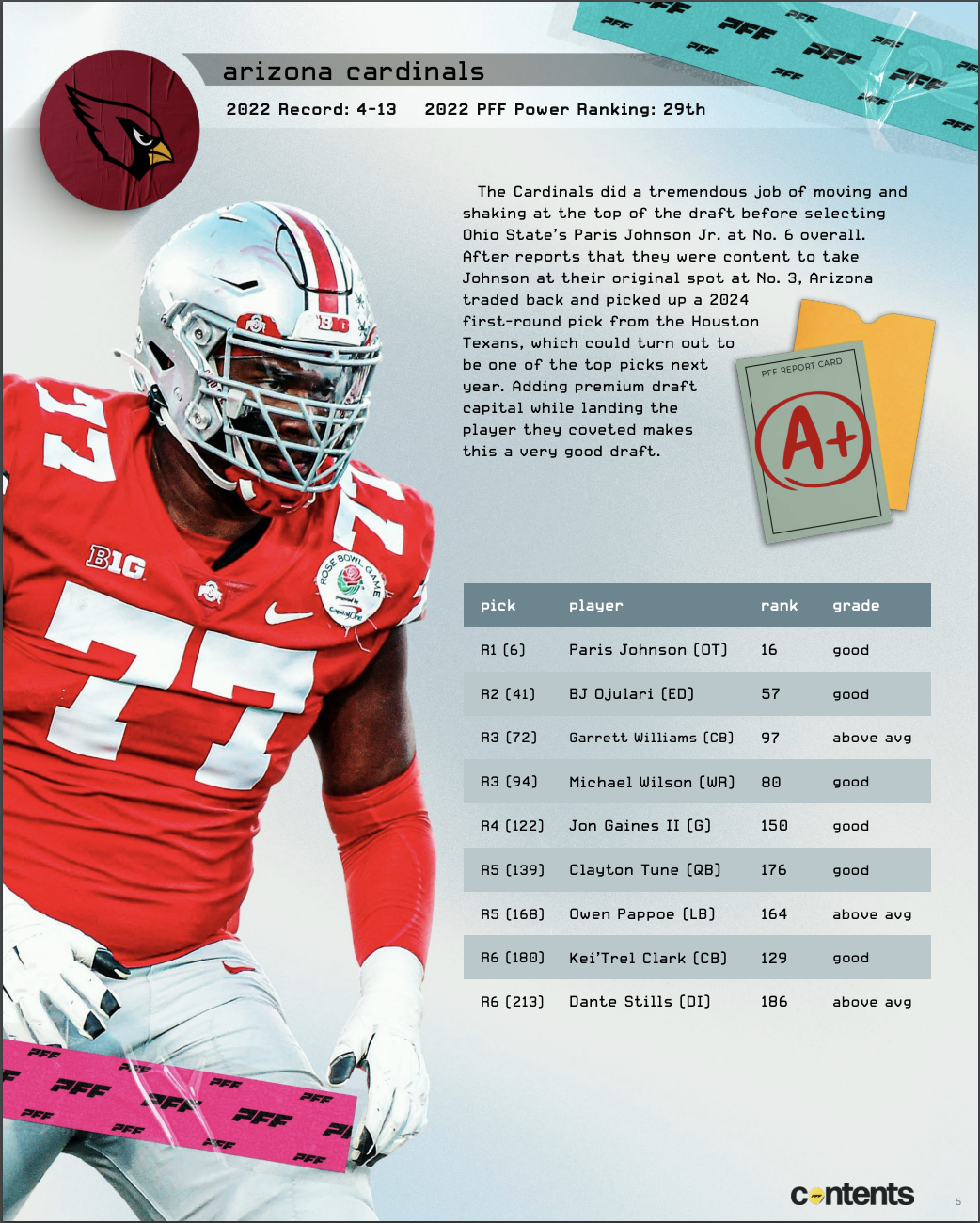 R1 (6): T Paris Johnson Jr., Ohio State
R2 (41): EDGE BJ Ojulari, LSU
R3 (72): CB Garrett Williams, Syracuse
R3 (94): WR Michael Wilson, Stanford
R4 (122): G Jon Gaines II, UCLA
R5 (139): QB Clayton Tune, Houston
R5 (168): LB Owen Pappoe, Auburn
R6 (180): CB Kei'Trel Clark, Louisville
R6 (213): DI Dante Stills, West Virginia
Day 1: After moving down from No. 3, the Cardinals move back up and select their left tackle in Paris Johnson Jr. He ticks all the boxes physically, coming in at 6-foot-6 and 310 pounds, and he allowed just 14 total pressures from 449 pass-blocking snaps last season, the best of his career. The wheeling and dealing by Arizona just makes this that much better.
Day 2: Pass rush was a clear need for the Cardinals entering this draft, and Ojulari was one of the better remaining options. He doesn't have elite traits, but he wins with a deep collection of pass-rush moves and a high motor off the edge.
If not for the injury he sustained in 2022, Williams would have come off the board much earlier. He boasts really good footwork as a smooth mover on the outside and was a three-year starter at Syracuse. Cardinals head coach Jonathan Gannon will love Williams' ability in off-zone coverage, the bread and butter of his defense as a former secondary coach.
Wilson played only 14 games over the past three seasons, and even when he did play, he didn't see many targets. But he has the frame to be a more-than-solid player in the NFL. He averaged 2.3 yards per route run and caught 50.0% of the contested targets he saw in his final season at Stanford.
Day 3: Gaines is a reliable asset in both the run and pass game, as he graded at 76.7 and 77.4 in those facets, respectively. He is one of only three guards in the class to grade at least a 76.7 in both the pass and run games. Gaines may not have any particular special skill, but his consistency and balance are much needed in Arizona.
Tune earned back-to-back grades above 90.0, and his 79.5% adjusted completion percentage ranked seventh in the country in 2022. Tune is a good athlete to boot, which adds some rushing upside and doesn't require a complete change of the playbook from what Kyler Murray runs. With Murray on the mend from a torn ACL, the Cardinals were smart to add a young, developmental piece to the room. He just needs to learn the NFL game where not everything is schemed open like it was at Houston.
Pappoe lit up the 40-yard dash at the NFL Scouting Combine in February, putting up a 4.38-second time. He struggled against the run, producing a 59.5 PFF run defense grade in 2022 but had a 77.2 coverage grade and missed just 6.9% of the tackles he attempted.
Clark projects to the slot at the next level, fitting his playing style well as a downhill attacker who new head coach Jonathan Gannon should have some fun bringing on the occasional slot blitz. At 22 years old, Clark also has a ton of experience, with over 2,000 college snaps.
---
R1 (5): CB Devon Witherspoon, Illinois
R1 (20): WR Jaxon Smith-Njigba, Ohio State
R2 (37): EDGE Derick Hall, Auburn
R2 (52): RB Zach Charbonnet, UCLA
R4 (108): G Anthony Bradford, LSU
R4 (123): DI Cameron Young, Mississippi State
R5 (151): EDGE Mike Morris, Michigan
R5 (154): C Olusegun Oluwatimi, Michigan
R6 (198): S Jerrick Reed II, New Mexico
R7 (237): RB Kenny McIntosh, Georgia
Day 1: The Seahawks surprise everyone and take Illinois cornerback Devon Witherspoon at No. 5. Witherspoon was the highest-graded cornerback in the Power Five last season. In press coverage for 107 snaps, he allowed just one yard in coverage on those plays.
The Seahawks finish Round 1 with two top-10 players on the PFF big board. With a 91.7 PFF grade in 2021, Smith-Njigba outproduced 2021 first-round draft picks Chris Olave and Garrett Wilson that year at Ohio State on a per-snap basis.
Day 2: Hall was one of the SEC's most productive pass-rushers throughout his time at Auburn, earning a pass-rush grade above 80.0 in each of the past three seasons. While his run defense is a bit of a concern at the next level, he works speed to power exceptionally well. He has the quickness, bend and length to sustain his pass-rush production in Seattle.
The grade is not for the player here, but for Seattle using the No. 52 overall pick on a running back after selecting Kenneth Walker III early in the second round previously. Charbonnet earned elite rushing grades in back-to-back seasons, racking up over 4 yards after contact per attempt and 24 carries of 15-plus yards, which ranked ninth in college football.
Day 3: Bradford fits well in a gap scheme by bringing strength in the run game to Seattle, filling a position of need with an athlete that tested very well for his size. However, Bradford will need to develop as a pass protector, as he finished with a 51.7 pass-blocking grade.
Young projects as a rotational, early-down run defender. He has the length to hold down two gaps in the run game, but it doesn't translate to the passing game, as he put up just a 55.5 true pass-rush grade in 2022. The hope is likely that he turns into something comparable to Folorunso Fatukasi.
Morris profiles as a powerful option on the edge who wins with strength and length. He never had an extensive role in the Michigan defense, given their talent along the defensive line, but put up 37 pressures and a career-high 86.6 PFF pass-rushing grade in 2022.
Oluwatimi is good value at this stage of the draft and fills an area of need at center for Seattle. He's a high-IQ, strong prospect with four years of starting experience — most recently anchoring the Joe Moore Award-winning Michigan offensive line in 2022. Oluwatimi put up PFF grades of at least 80.0 in each of the past two seasons.
Another strong safety/slot hybrid, Reed was a bright spot for the New Mexico defense. His consistency was evident as he only posted two game grades under 63 this past season. There also isn't a ton of high-end play, with just two game grades above 80 in his career. Reed played nearly 600 special teams snaps in his career, which may be his best path to playing time.
The Packers add another running back after drafting Kenneth Walker III and Zach Charbonnet in the second rounds of each of the past two drafts. McIntosh was a consistent producer in a rotational role in Georgia's backfield, averaging over 5.0 yards per carry and putting up 80.0-plus PFF rushing grades in each of the past three seasons.
---
R1 (24): CB Deonte Banks, Maryland
R2 (57): C John Michael Schmitz, Minnesota
R3 (73): WR Jalin Hyatt, Tennessee
R5 (172): RB Eric Gray, Oklahoma
R6 (209): CB Tre Hawkins III, Old Dominion
R7 (243): DT Jordan Riley, Oregon
R7 (254): S Gervarrius Owens, Houston
Day 1: The third-best cornerback on the PFF big board, Banks can fly and clocked a 4.35-second 40-yard dash at the scouting combine in Indianapolis. An elite athlete, he has proven that he can mirror wide receivers in college and has the size teams look for at the position. He produced a 72.0 PFF grade in his final season at Maryland, the best of his college career.
Day 2: If the Giants had made this pick in the first round, nobody would have really batted an eye. He led all centers with a 92.3 PFF grade in 2022 and had graded well both on zone and gap plays. He's a big guy but can really move and was a four-year starter at Minnesota. Simply put, he is one of the best run blockers at the position to enter the draft in recent years.
Hyatt won the Biletnikoff Award as the top wide receiver in college football, averaging 18.9 yards per reception and scoring 15 touchdowns. He is a burner on the outside that needs some refinement but has all the athletic ability necessary to excel at the next level. Hyatt's 40-yard dash, vertical and broad jump were all above the 85th percentile. The Giants add a much-needed outside weapon for QB Daniel Jones.
Gray was really impressive in his final season of college, producing an elite 90.6 PFF grade in 2022. He graded well on both zone and gap plays, and while he's a little on the small size, he moves really well, posting a 96.2 elusive rating that was one of the best marks in this running back class.
Another likely special teamer, Hawkins produced PFF run-defense grades of 82.9 and 90.1 in each of the past two seasons. He wasn't great in coverage, but that strength against the run should give him a route to the field on special teams as a rookie.
Riley is a huge inside presence at 6-foot-6 and 325 pounds but has never graded above a 65.7 in his college career.
Owens produced an 87.6 PFF coverage grade in his most productive season this past year. He did, however, miss 17.8% of the tackles he attempted.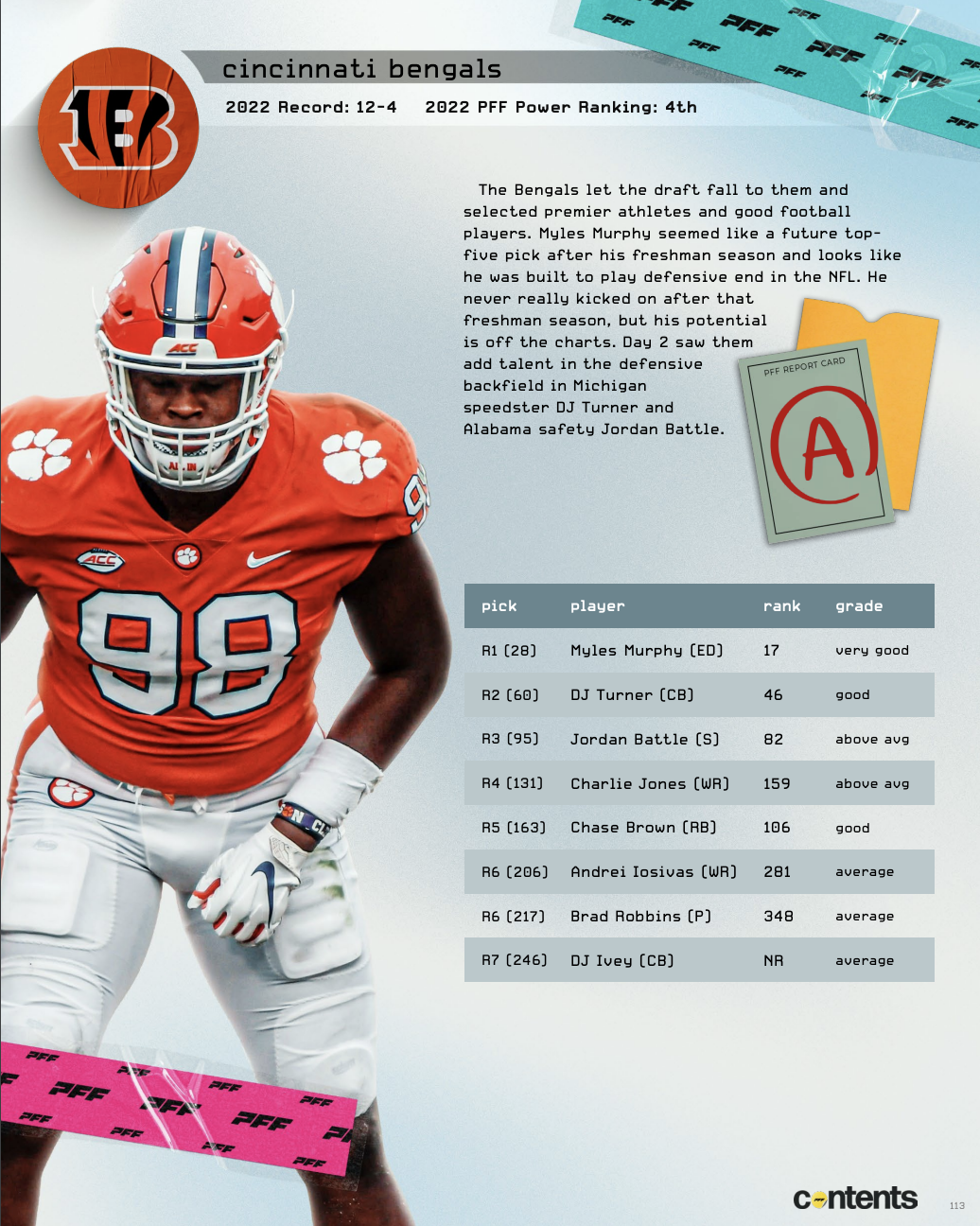 R1 (28): EDGE Myles Murphy, Clemson
R2 (60): CB DJ Turner, Michigan
R3 (95): S Jordan Battle, Alabama
R4 (131): WR Charlie Jones, Purdue
R5 (163): RB Chase Brown, Illinois
R6 (206): WR Andrei Iosivas, Princeton
R6 (217): P Brad Robbins, Michigan
R7 (246): CB DJ Ivey, Miami (FL)
Day 1: Murphy looked like a future top-five pick after a freshman season that saw him produce an 85.2 PFF grade, but we never really saw him progress beyond that. However, he has produced a PFF grade of at least 79.0 in each of the past three seasons and racked up 76 pressures over the past two years.
Day 2: Turner can flat-out fly, clocking a 4.26-second 40-yard dash at the scouting combine in Indianapolis. He did get picked on a little at Michigan, and there's still a fair amount of development needed, but he allowed just 46.5% of the passes thrown into his coverage to be caught in 2022 and forced 14 incompletions in the process.
The Bengals lost both starting safeties in free agency, so Battle could be a long-term replacement for Vonn Bell. He was one of the most consistent defensive backs in college football, earning 80.0-plus PFF grades in each of the past three seasons while playing more than 800 snaps in each.
Day 3: If the Bengals are looking to find a long-term replacement for Tyler Boyd in the slot, Jones could be just what they are looking for. He dropped just 2.7% of the catchable passes thrown his way in 2022 and averaged 2.70 yards per route run over the season.
Brown was a workhorse at Illinois with big-play speed, as his 83 forced missed tackles are second in the class behind Bijan Robinson. He's not a great receiver and, at times, has fumbling issues. Brown profiles as a useful RB2, which is exactly what the Bengals will be looking for after losing Samaje Perine in free agency.
Ivey carried a career-high 76.2 coverage grade across from Tyrique Stevenson at Miami, but only had six combined interceptions and pass breakups all year.
---
R3 (74): WR Cedric Tillman, Tennessee
R3 (98): DI Siaki Ika, Baylor
R4 (111): T Dawand Jones, Ohio State
R4 (126): EDGE Isaiah McGuire, Missouri
R5 (140): QB Dorian Thompson-Robinson
R5 (142): CB Cameron Mitchell, Northwestern
R6 (190): C Luke Wypler, Ohio State
Day 2: In a draft class of undersized wide receivers, Tillman was among the few top prospects with prototypical X measurables. He has good size, he is physical and he attacks the football in the air. With the additions of Tillman and the trade for Elijah Moore, Deshaun Watson will have more options in the passing game entering his second season with the team.
The Browns have made it a priority to improve the interior of their defensive line this offseason, and they continue that with the addition of Ika here. A mountain of a man at 358 pounds, he isn't just a run defender, registering a 76.4 PFF pass-rushing grade in 2022.
Day 3: There were questions about Jones' conditioning/commitment that likely contributed to his slide down boards, but there's a lot of reason to bet on Jones' talent at this stage of the draft. His size and length afford him room for error, and he has enough movement ability at his size to have success as a starter. Jones earned 80-plus PFF grades as the Buckeyes' starting right tackle in each of the last two seasons.
Cleveland adds a good power rusher to complement Myles Garrett. He has NFL size and power with the potential to be a plus run defender. Despite average burst off the edge, he put up an 84.5 true pass-rush grade in 2022.
Thompson-Robinson is the definition of a "gamer," a classic football cliche, with the desire to make something out of nothing on seemingly every snap. This can work against him, of course, with a lot of turnover-worthy plays as a result. However, his 77.4% adjusted completion percentage ranked 15th in college football and he offers great rushing ability.
Cleveland adds another Northwestern cornerback on top of 2021 first-rounder Greg Newsome II. Mitchell did well to match wide receivers stride for stride in trail technique in college, and he's a willing tackler with a 76.0 run-defense grade.
Wypler was the 54th-ranked player on the PFF big board, making this one of the better value selections in the draft in our eyes. He earned 79.0-plus PFF grades in each of his seasons as a starter for the Buckeyes, excelling as a zone run blocker (89th percentile over the last two seasons) specifically. Pair that with plus athleticism, and this looks like a steal for Cleveland.
---
R2 (36): G Steve Avila, TCU
R3 (77): EDGE Byron Young, Tennessee
R3 (89): DI Kobie Turner, Wake Forest
R4 (128): QB Stetson Bennett, Georgia
R5 (174): OT Warren McClendon, Georgia
R5 (175): TE Davis Allen, Clemson
R5 (177): WR Puka Nacua, BYU
R5 (161): EDGE Nick Hampton, App State
R6 (182): CB Tre'Vius Hodges-Tomlinson, TCU
R6 (189): EDGE Ochaun Mathis, Nebraska
R6 (215): RB Zach Evans, Ole Miss
R7 (223): P Ethan Evans, Wingate
R7 (234): S Jason Taylor II, Oklahoma
7 (259): DI Desjuan Johnson, Toledo
Day 2: Avila was the model of consistency in pass protection during TCU's Cinderella run in 2022. He averaged less than one pressure allowed per game last season and surrendered just one pressure to a vaunted Georgia defensive line in a blowout national championship loss.
The Rams have quickly become really thin along the defensive front around Aaron Donald. Young projects as a good fit in Los Angeles' defense, and he's one of the most explosive edge prospects in this class off the edge. He is by no means a finished product, as he falls into the 25th percentile in PFF pass-rush grade over the last two seasons, but he has traits worth betting on at this stage of the draft.
The Rams grab one of the most underrated players in the class. After producing at an elite level in the FCS for Richmond, Turner transferred to the Demon Deacons and earned a 92.2 PFF grade in 2022 — the second-best mark in the Power Five, behind only Georgia's Jalen Carter. Turner plays with excellent leverage and possesses strong hands and quicks.
Day 3: Stetson Bennett comes off the board in the fourth round after helping Georgia win back-to-back national championships in college. He put up an elite 90.9 passing grade when he was kept clean from pressure, and he now lands in a situation where he can develop. This gives him one of the best chances to succeed in the NFL, whether as a future starter or backup.
McClendon wasn't much of a run blocker in college, though he did grade far better on zone plays than gap plays. He did post 70.0-plus PFF grades in each of the past three seasons while seeing at least 595 snaps on the field in all three years. The intriguing developmental point here is that he recorded an 82.1 PFF pass-blocking grade in 2022.
A solid athlete on the edge at just 236 pounds, Hampton is likely ticketed for a rotational pass-rusher role. He'll need to add 10-15 pounds even for that role. He is explosive enough to disrupt quarterbacks though, as evidenced by his three sacks and 82.8 grade against North Carolina this past year.
The Rams needed reinforcements in their secondary, and they've done well to get the most out of smaller defensive backs like Darious Williams over the years, and Tomlinson can hopefully be the next in line, falling because of his 5-foot-8 stature. The TCU product earned a 78.4 grade in 2022 with five interceptions and has three years of starting experience, projecting as a solid slot option for the Rams. He plays like he's 6-foot-2 and if he can overcome the lack of size in a zone-heavy Rams scheme this could be a steal.
Mathis is an experienced prospect with four seasons with at least 500 defensive snaps in his college career — three at TCU and one after transferring to Nebraska. Mathis is a long edge rusher at 6-foot-5 with 35-plus inch arms and is coming off a career-high 77.6 PFF pass-rushing grade in 2022.
A former five-star recruit, Evans never quite lived up to that billing in college. He was still productive, though, and earned an 84.5 PFF rushing grade on gap plays in 2022. He averaged at least 6.5 yards per carry in each of the past three seasons.
Evans is a Division II punter, although he was the top punter on PFF's big board.
This is the stage of the draft where it makes sense to take chances on athletes. Taylor fits into that bucket with 90th percentile results or higher in the 10-yard split, vertical jump and broad jump as a 204-pound safety. And Taylor pairs that with a decent grading profile, including 72.0-plus PFF grades in each of the past two seasons as a starter.
Mr. Irrelevant of the 2023 NFL Draft! Johnson was on the field for 726 snaps in 2022 and produced PFF pass-rushing and run-defense grades above 85.0. A little undersized, he won 17.6% of his pass-rushing attempts and registered a tackle resulting in a defensive stop on 8.7% of his snaps in run defense.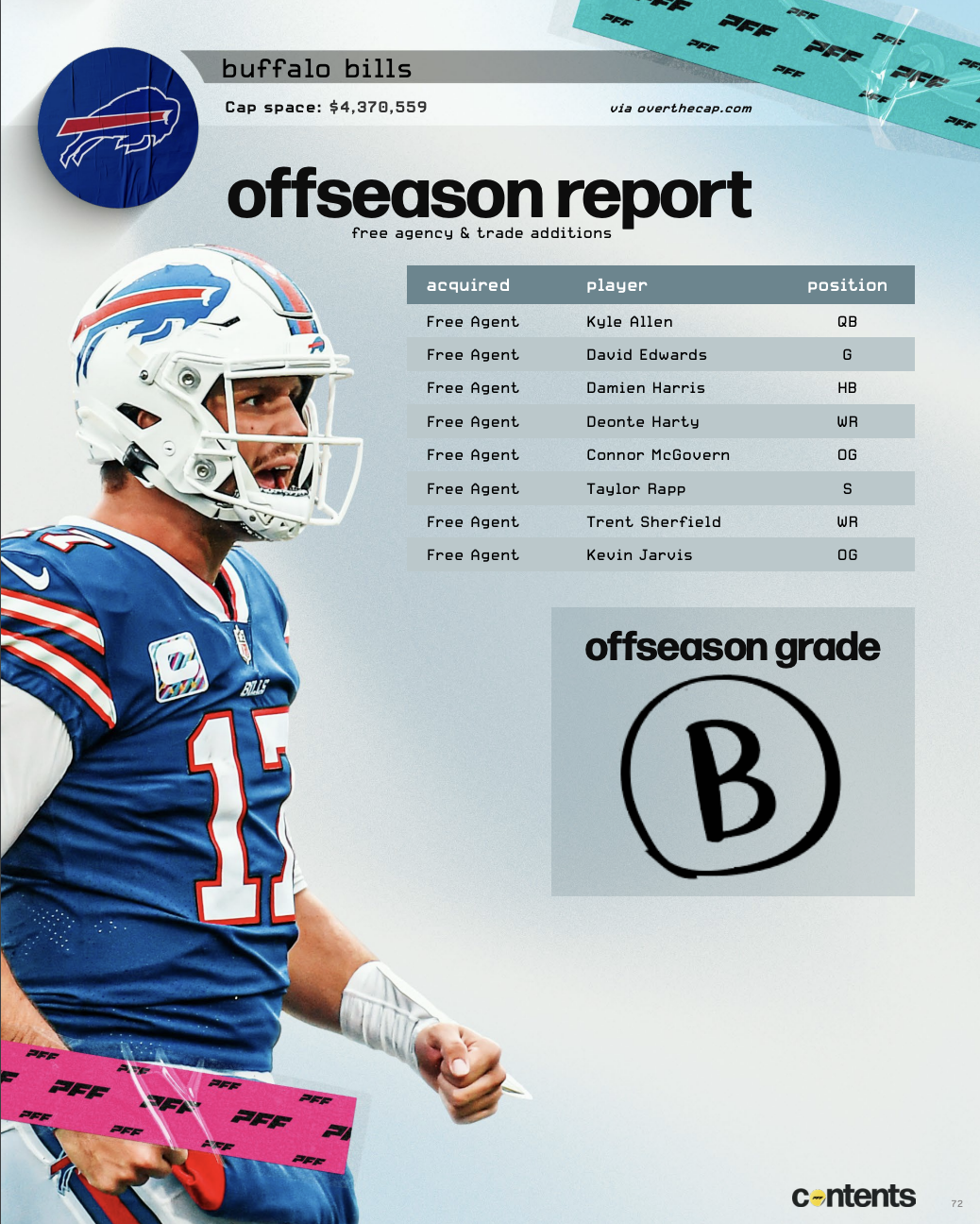 R1 (25): TE Dalton Kincaid, Utah
R2 (59): G O'Cyrus Torrence, Florida
R3 (91): LB Dorian Williams, Tulane
R5 (150): WR Justin Shorter, Florida
R7 (230): OG Nick Broeker, Ole Miss
R7 (252): CB Alex Austin, Oregon State
Day 1: The Bills make a small jump but land the premier pass-catching tight end in the draft in Kincaid. The 10th overall player on the PFF big board, this is a huge value pick. Kincaid was the focal point of the Utah offense and led all players at the position with a 91.8 PFF receiving grade.
Day 2: Like the Giants just a few picks ago, this could have easily been the Bills' first-round pick. A mountain of a man at the position, he can still move better than his size would suggest. After starting his career at Louisiana, he made the move to the SEC with ease, finishing 2022 with an 89.9 PFF run-blocking grade, which was the best in the Power Five last season.
The Bills trade up to secure Williams, a player with legitimate range and a huge wingspan. Those traits helped him morph into one of the most impactful players at the position against the pass throughout his college career. Williams produced a top-10 coverage grade among FBS off-ball linebackers in two of his last three seasons at Tulane.
Day 3: Shorter is one of the bigger wide receivers in this class, coming in at 6-foot-4 and 234 pounds with nearly 34-inch arms. He was a big-play threat for the Gators and averaged 19.9 yards per reception in 2022 without a dropped pass. He'll likely fill a similar role for Buffalo and compete to be on the receiving end of Josh Allen bombs.
Most of Broeker's 3,323 offensive snaps at Ole Miss came at left tackle, but he kicked inside to left guard in 2022. He was a reliable pass protector for the Rebels with 70.0-plus PFF pass-blocking grades in each of the past two seasons.
Austin produced 70.0-plus PFF coverage and run defense grades in his final season in college. On the field for 476 coverage snaps, he allowed 42 receptions for 529 yards in 2022.