All eyes are on Mobile, Alabama, as the nation's top seniors start Senior Bowl practice. And as always, the quarterbacks will garner plenty of attention. This year's crop has a group of prospects who have flashed plenty of potential during their prospective careers, but all six also have plenty of questions to answer during the week of practice. The passing game has some ugly reps throughout the week as new offensive systems present a challenge for passers and receivers, but there's still plenty to glean from one-on-ones, 7-on-7, team drills and, of course, Saturday's game. Here's a look at the six Senior Bowl quarterbacks.
[Editor's Note: All EDGE and ELITE subscribers have access to three-page profiles on every FBS player in attendance at the 2020 Reese's Senior Bowl inside PFF's latest 2020 NFL Draft Guide. Subscribe today to download your copy!]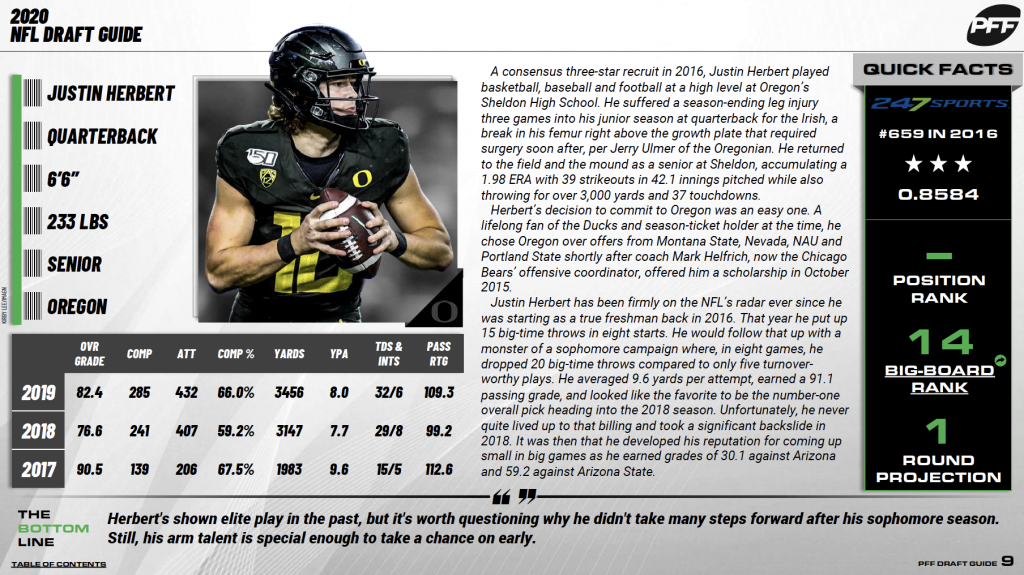 | | | | | |
| --- | --- | --- | --- | --- |
| Player | 10+ Yard Grade Rk | Clean Pocket Grade Rk | Big-Time Throw % Rk | Turnover-Worthy Play % Rk |
| Justin Herbert | 4 | 2 | 2 | 1 |
| Jalen Hurts | 1 | 1 | 4 | 2 |
| Jordan Love | 5 | 3 | 1 | 6 |
| Anthony Gordon | 2 | 4 | 5 | 5 |
| Shea Patterson | 2 | 4 | 3 | 4 |
| Steven Montez | 6 | 6 | 6 | 3 |
Justin Herbert, Oregon
The Good:
Herbert will win the "looks the part" bowl in Mobile, as his height and velocity will be the first things that stand out. Velocity is overrated when it's the first thing mentioned about a quarterback, but Herbert does have the zip to make 15-plus yard throws look easy. He's a good fit in a play action-heavy scheme that creates longer developing plays where he can drive the ball down the field on deep crossers and seam routes. Herbert is also athletic enough to be a part of the run game, either on designed runs or as a scrambler, and that will be important in order to maximize his value at the next level.
Room to Improve:
Herbert misses far too many throws, ranking just 89th in the nation at avoiding negatively graded throws. He has the lowest PFF grade among all Senior Bowl quarterbacks on "quick-game" concepts, and his inaccuracy is usually tied to clunky footwork. We saw some improvement from Herbert in using his athleticism outside the pocket in 2019 after previously struggling in that area, but it's another place where he can add big-play value with another step forward.
What we want to see at the Senior Bowl:
It's easy to wow scouts with velocity in person, but Herbert's footwork and short-area accuracy should be the focus this week. If he can cut down on the misses and play more efficiently, then we can start talking about the downfield passing and velocity he brings to an offense.
Key stat from PFF Draft Guide:
Despite the big arm, Herbert's average depth of target registered at just 8.8, tied for 65th in the draft class.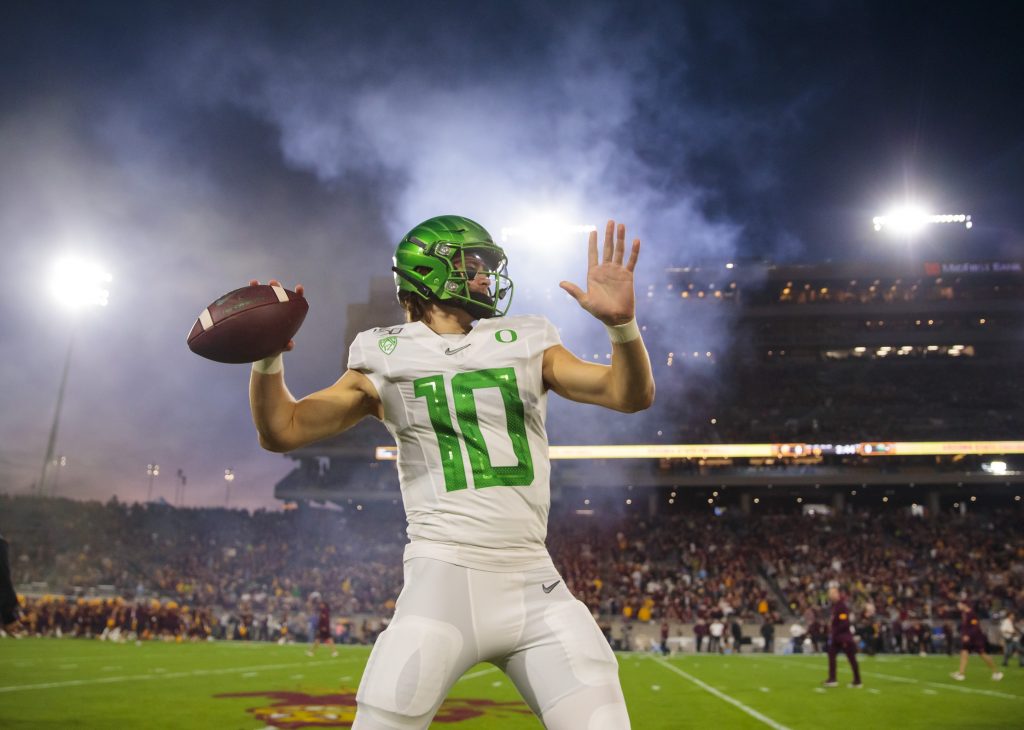 © Mark J. Rebilas-USA TODAY Sports
Jalen Hurts, Oklahoma
The Good:
The tradition of excellent quarterback production at Oklahoma continued this season with Hurts, who transferred from Alabama and put himself right into the Heisman Trophy discussion. Hurts has intriguing dual-threat ability, as he's been used effectively as a designed runner while also flashing accuracy on the open throws afforded to him in Alabama and Oklahoma's loaded offenses. Hurts takes care of the football — though there were lapses in this department down the stretch — and he can steal cheap yards with his legs, both traits that can be used to create offense at the next level.
Room to Improve:
Hurts doesn't play with great timing, often holding the ball and inviting pressure. This leads to too many sacks and many of his turnover-worthy plays as he tries to create late in the down. While tight-window throw success is less stable than the ability to hit open throws, Hurts has struggled in this area, lacking velocity when trying to squeeze the ball into tight windows.
What we want to see at the Senior Bowl:
It's difficult to work on timing throws at the Senior Bowl in a three-day practice period while running a new offense with new receivers, but it'd be great to see Hurts increase his internal clock during the practices.
Key stat from PFF Draft Guide:
Hurts' stats benefited from a fantastic group of playmakers, as he finished with the second-lowest drop rate in the draft class (1.8%).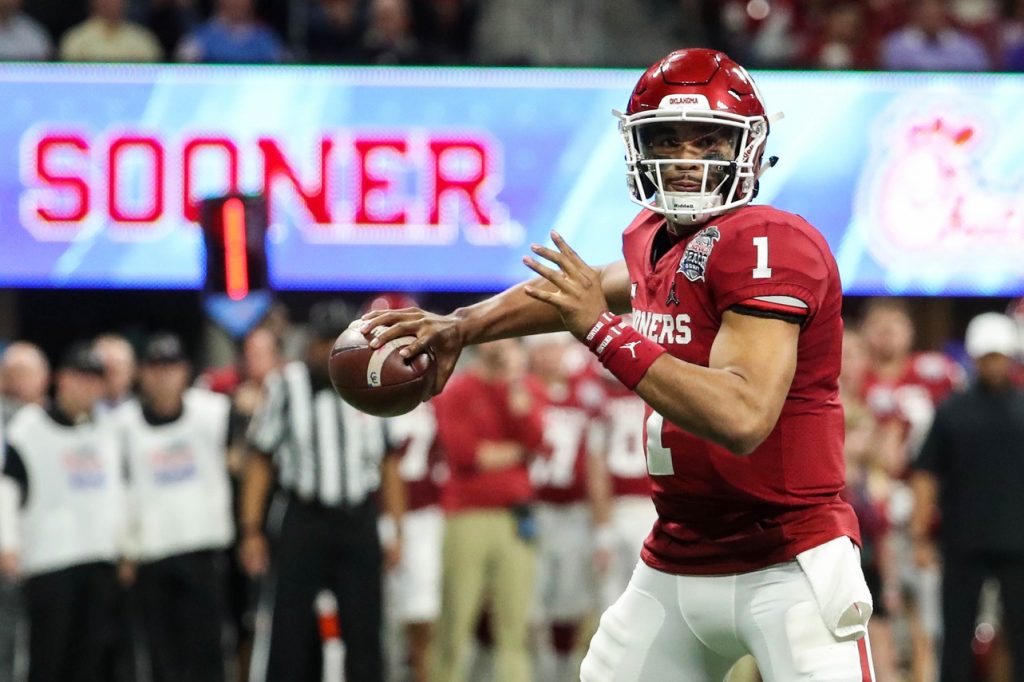 © Jason Getz-USA TODAY Sports
Jordan Love, Utah State
The Good:
Love's highlight reel is as good as it gets for Senior Bowl quarterbacks. He has the most big-time throws, and they come in every variety — from pinpoint bucket shots to off-platform, Mahomes-like tight-window lasers. He throws with good touch, often around defenders (or to them), while playing an aggressive style that gives receivers opportunities to make plays down the field.
Room to Improve:
As great as Love's highs are, he also leads the Senior Bowl group in percentage of turnover-worthy plays. There were several dangerous throws outside the numbers and a blatant disdain for nearby defenders on many passes against zones. Love also regressed from an accuracy standpoint, finishing with one of the lowest rates of catchable passes to all levels of the field.
What we want to see at the Senior Bowl:
It's tough to decipher decision making at the Senior Bowl, so we'd like to see Love get back to the accurate thrower we saw in 2018. This is a chance to show off the touch and zip that has made him a first-round caliber prospect.
Key stat from PFF Draft Guide:
Love's 70.6% adjusted completion rate ranked just 58th in the nation in 2019.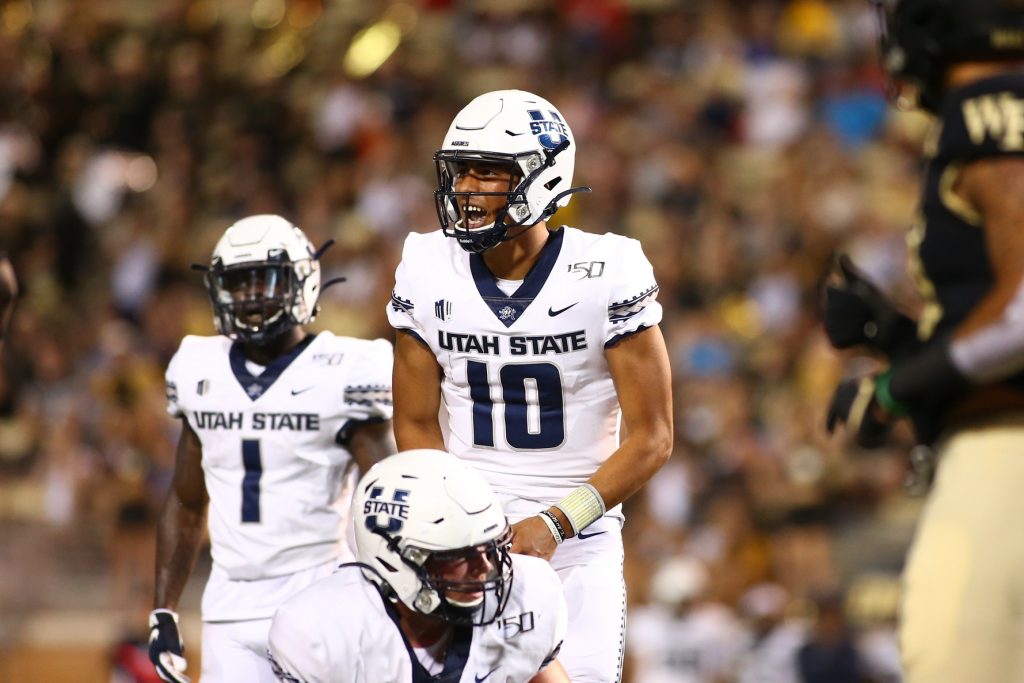 © Jeremy Brevard-USA TODAY Sports
Anthony Gordon, Washington State
The Good:
Next in line for a big season under Mike Leach, Gordon put up the usual gaudy stats, but with his own flavor compared to previous Leach proteges. He has some whip in his arm and a fearlessness throwing over the middle, leading to a wide array of outcomes and plenty of big-time throws. Gordon was one of the most accurate passers in the short game in 2019, and his velocity plays well there, too, getting the ball to receivers in a hurry.
Room to Improve:
Sometimes that middle-of-the-field fearlessness goes awry, and Gordon finds linebackers as often as he finds his receivers. He had 28 turnover-worthy plays on the season — far too many, even in a pass-happy attack. He's also quirky mechanically, as he'll often come to a stop in the pocket or drift backward on a slow-developing nine-step drop. Gordon provides little outside-the-pocket playmaking and even with the strong arm, his accuracy ranking and PFF grades continue to drop the further he throws it down the field.
What we want to see at the Senior Bowl:
Gordon has a chance to make the biggest splash in Mobile, as his velocity and aggressiveness will stand out in an event that usually isn't the cleanest for the passing game due to unfamiliarity.
Key stat from PFF Draft Guide:
As is usually the case with Leach quarterbacks, Gordon led the nation with 738 yards coming on screens.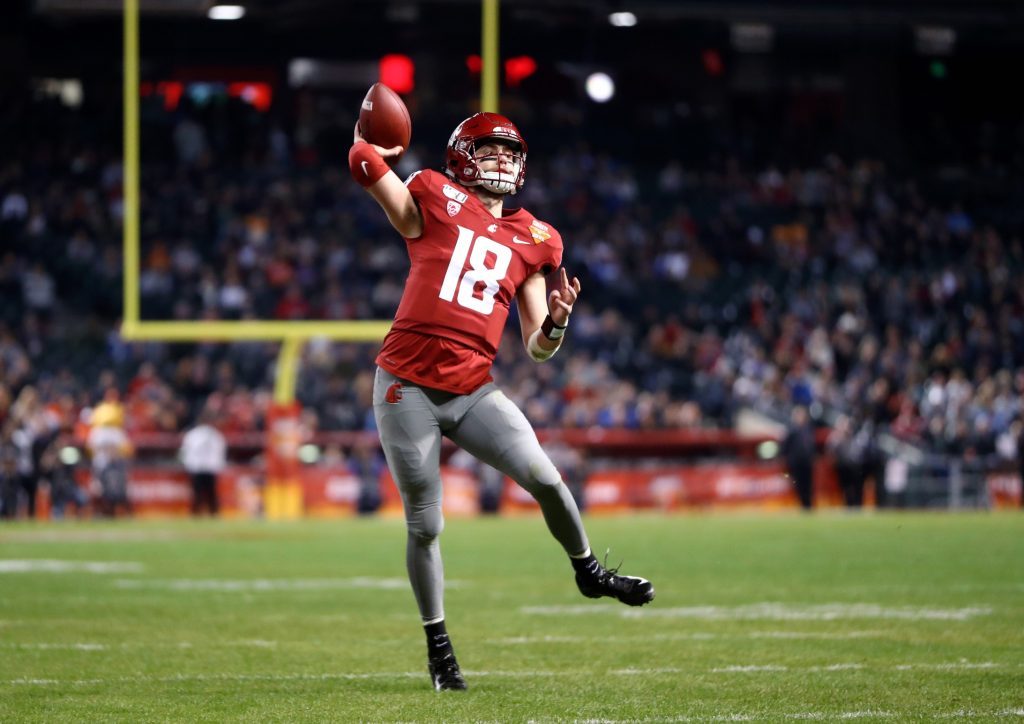 © Mark J. Rebilas-USA TODAY Sports
Shea Patterson, Michigan
The Good:
Patterson makes plays outside the pocket and with his legs, two traits that he will need at the next level. He'll uncork some beauties from the pocket, especially against man coverage where he can fire away from the leverage of the defender. Patterson has some stretches where he looks fantastic, especially when throwing downfield from a clean pocket.
Room to Improve:
Many of Patterson's worst plays come late in the down, and he's struggled with taking too many sacks that were his own doing while fumbling too often when it could have been avoided. His short-area accuracy is another concern, as Patterson ranked among the nation's worst in catchable pass rate on throws up to 20 yards. Overall, Patterson ranked just 97th in the nation at avoiding negatively graded throws, a difficult number to overcome.
What we want to see at the Senior Bowl:
The last time we saw Patterson in a controlled 7-on-7 environment, he was excellent and went on to share the Elite 11 trophy. He has the tools to have a good showing in Mobile, but his timing and accuracy will be under the microscope.
Key stat from PFF Draft Guide:
Patterson's 65.3% adjusted completion percentage ranked just 89th in the nation in 2019.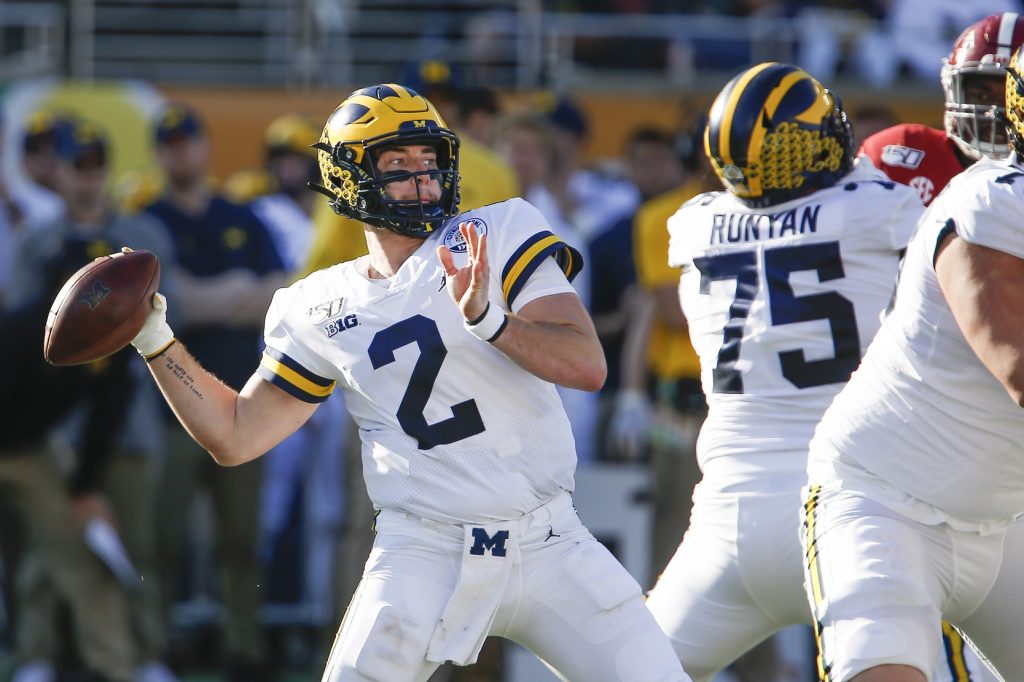 © Reinhold Matay-USA TODAY Sports
Steven Montez, Colorado
The Good:
The Senior Bowl will feature plenty of strong-armed quarterbacks, and Montez is right there with the best. The ball flies out of his hand and carries well through the receiver. He's shown a feel for the back-shoulder game and excels on stick throws.
Room to Improve:
Even with the big arm, Montez had only 14 big-time throws this season and he graded below-average on the most important projectible metrics, including clean-pocket grade and on passes at or beyond the sticks. He ranked just 98th in the nation in positively graded throws, and we'd like to see him attack down the field more often to take advantage of his tools.
What we want to see at the Senior Bowl:
Montez didn't develop as we hoped after an intriguing debut in 2016, but he has the tools to make an impact during practice week. It will be all about downfield accuracy, as that will determine if there's a future for Montez as a backup who can create chunk plays.
Key stat from PFF Draft Guide:
Montez earned a 75.4 grade on 20-plus yard throws, 94th in the nation.