Keenen Brown opted for Oklahoma State amidst 15-plus Power-5 offers coming out Alief Taylor High School (Houston, Texas) as a four-star wide receiver recruit in 2014. Then 6-foot-2, 205 pounds, Brown was well on his way to an illustrious career playing wide receiver for the Cowboys in Stillwater, Okla.
Plans changed.
After his redshirt season in 2014 and a Lisfranc injury in 2015, Brown added more than 40 pounds to his frame and was moved away from wide receiver and over to Oklahoma State's "Cowboy back" position – a hybrid role split between fullback and tight end.

Brown played just 198 offensive snaps in the following two years at Oklahoma State (2016-17), running a mere 108 routes, seeing eight targets and catching six passes for 103 yards (four first downs) in the process. The team's four-star wide receiver turned Cowboy back saw more time in the stable than the field.
"I really just kept on going one day at a time," Brown said of his final two years at Oklahoma State. "I knew my day was going to come. I just needed to keep working and working.
"I just came into work, put my head down."
Opportunity struck in 2018, but it wasn't with the Cowboys.
Brown transferred to Texas State prior to the 2018 season and soon after became the focal point of the Bobcats' offense. He led the team in targets (73) by a considerable margin, played over 250 offensive snaps at slot receiver and inline tight end. He was also the primary target on a bevy of screens both in and away from the backfield and a number of jet sweeps.
"I really attribute that to the coaching staff," Brown said. "They kept on believing in me at Texas State, so they kept on giving me a lot of opportunities to showcase my skills and my talents.
"I feel like whatever team drafts me can use me in a lot of different ways because they used me in a lot of different ways at Texas State."
Texas State made a clear-cut effort to get the ball in Brown's hands early in the snap and as often as possible largely because of his yards-after-the-catch ability and knack for forcing missed tackles.
Brown finished the 2018 season ranked first in forced missed tackles (24), third in total yards after the catch (427) and sixth in yards after contact (107) among qualifying tight ends in 2018.
It's no surprise that Brown prioritizes forcing missed tackles.
"All tight ends should be able to [force] missed tackles, but I feel like I want to just [force] more than one missed tackle," Brown said. "I want to [force] two missed tackles. Every time I touch the ball, I want to at least try to get a first down or try to go for a touchdown. So, that was my mentality going into every play."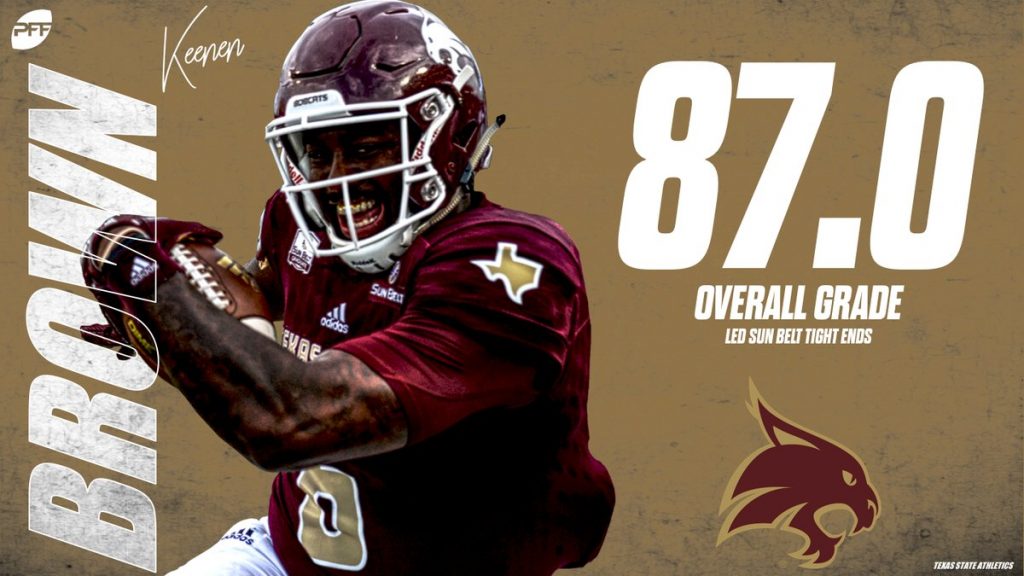 Brown played the fourth-most offensive snaps of any Texas State player and earned the highest single-season overall grade (87.0) we've ever recorded for a Bobcat in the PFF College era (2014-Present). His 87.0 overall grade also ranked tied for second among all FBS tight ends in 2018.
With his lone year of notable experience and production coming with Texas State in the Sun Belt Conference, Brown knows his stellar production and high overall grade are tagged with an asterisk. His invite to the 2019 NFL Scouting Combine presents an opportunity for him to make a name for himself among big names in this class on a level playing field.
"I just want [NFL teams] to see that I can do as well as other guys that played in the Power 5," Brown said. "The only thing different was the school. So, I really feel like showcasing my talent will show them that it doesn't matter what school I went to. I'm still going to put in the same work and be as good as I can."
Brown can silence critics and do away with concerns tied to his experience (or lack thereof) with a strong performance in Indy. And if recent history tells us anything about Brown, he'll take advantage of the opportunity.