So you didn't make the playoffs. It happens. Last year it happened to five of the 12 teams that are in the playoffs this season. Turnover happens quickly in the NFL, and there's no more sustainable avenue towards winning than the NFL draft. Here, we look at two perfect draft fits — one early-round pick and one late-round pick — who could immediately turn around the fortunes of all the teams that have already been sent home for the year.
Earlier — QB Joe Burrow, LSU
He's a dude, plain and simple. With any reasonable performance in the national championship game, Burrow will finish the season with the highest grade we've ever given to a quarterback.
Later — RT Jack Driscoll, Auburn
The Bengals desperately need NFL-ready pass protection. Driscoll — a four-year starter between UMass and Auburn — allowed only eight pressures all season on 410 pass-blocking snaps.
Earlier — Edge Chase Young, Ohio State
Young capped off his record-breaking season with a seven-pressure outing against Clemson. His 96.5 pass-rushing grade shattered the previous single-season PFF record of 94.4 that was set by Josh Allen last year.
Later — OL Calvin Throckmorton, Oregon
With young a no-brainer at No. 2, fixing the offensive line may be difficult without a second-rounder. A four-year starter with production like Throckmorton's could do the trick, though. He's earned pass-blocking grades over 87.0 in each of the past three seasons at right tackle, although guard may be his best position in the NFL.
Earlier — CB Jeffrey Okudah, Ohio State
They need pass-rushing help, but the value won't be there at No. 3 with Young gone. Pairing Okudah with Darius Slay could make Matt Patricia far more comfortable about 'faking' a pass-rush via blitz with how good a man-coverage duo that would be.
Later — Edge Terrell Lewis, Alabama
Edge makes far more sense for Detroit at the top of the second round, and Lewis could very well be staring them in the face there. After multiple injury-shortened seasons, Lewis put together an 85.8 pass-rushing grade this year with 48 pressures.
Earlier — OT Jedrick Wills, Alabama
Nate Solder's contract looks primed to come off the books this offseason, leaving Daniel Jones' blindside unaccounted for. In a class full of freak athletes at the tackle position, Wills looks like the freakiest after posting a 91.6 run-blocking grade this year.
Later — WR Tyler Johnson, Minnesota
Johnson may not have prodigious size or athleticism, but he just gets open again and again. He has finished in the top 10 in yards per route run in each of the past two seasons.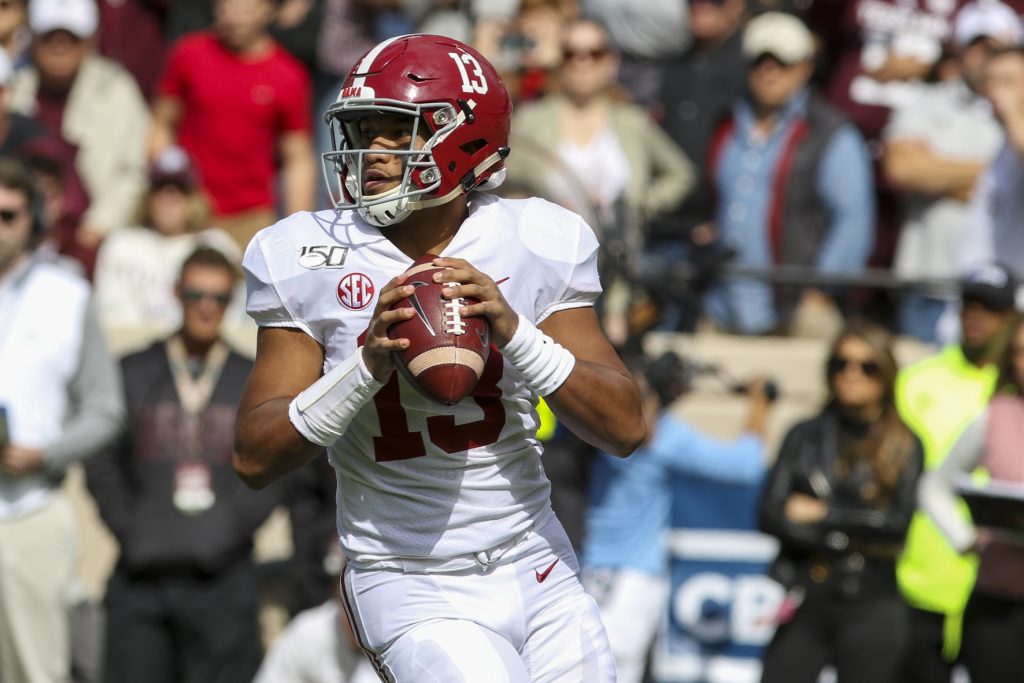 © John Glaser-USA TODAY Sports
Earlier — QB Tua Tagovailoa, Alabama
Take away the hip injury and Tagovailoa is a slam dunk here. Unlike Burrow, we never saw Tagovailoa play bad football, with grades over 90.0 in each of the past two seasons.
Later — OT Trey Adams, Washington
Adams would have likely been a first-round pick a couple of years back had it not been for a series of injuries that derailed his career. The Dolphins are in a rebuilding position and have the draft capital to swing at players with those types of red flags.
Earlier — OT Andrew Thomas, Georgia
[Insert offensive tackle here] The name really doesn't matter here, as it's a very deep tackle class at the top. What matters is that they take advantage of it.
Later — DI Leki Fotu, Utah
Brandon Mebane has been a placeholder at the nose for a couple of years now. The 335-pound Fotu has the chance to be a real playmaker at the position after earning an 83.8 run-defense grade this past season.
Earlier — DI Derrick Brown, Auburn
With Gerald McCoy and Dontari Poe likely on the way out, Brown could fill the defensive tackle position across from Kawann Short admirably. Brown almost never lost in the run game and earned a 90.6 pass-rushing grade as a senior.
Later — IOL Matt Hennessy, Temple
The Panthers have to be having some buyer's remorse after Matt Paradis allowed 47 pressures this season. Some young depth on the interior is necessary, and Hennessy allowed only 14 pressures in three years at Temple.
Earlier — WR Jerry Jeudy, Alabama
While they could easily address the offensive line, for my money, Jeudy is as sure a thing to be a No. 1 WR as we've seen since 2014. Giving that guy to Kyler Murray will make more of an impact than any offensive lineman could.
Later — OT  Lucas Niang, TCU
If they're not going tackle Round 1, it's going to be a developmental pick, and Niang fits that bill. While he's got a ways to go from a technical standpoint, it's encouraging that he earned pass-blocking grades of 84.8 and 86.3, respectively, in the past two seasons.
Earlier — DI Derrick Brown, Auburn
Keep that strength a strength. Brown has every-down potential at the nose tackle position, which is a rare commodity. His presence would go a long way towards shoring up the Jaguars' run defense, and he would allow their linebackers to worry about what they do best — cover.
Later — WR Jauan Jennings, Tennessee
If they pass up on receiver in the first, Jennings' after-the-catch ability could come in handy on Day 2. He broke an absurd 29 tackles on 57 receptions this year.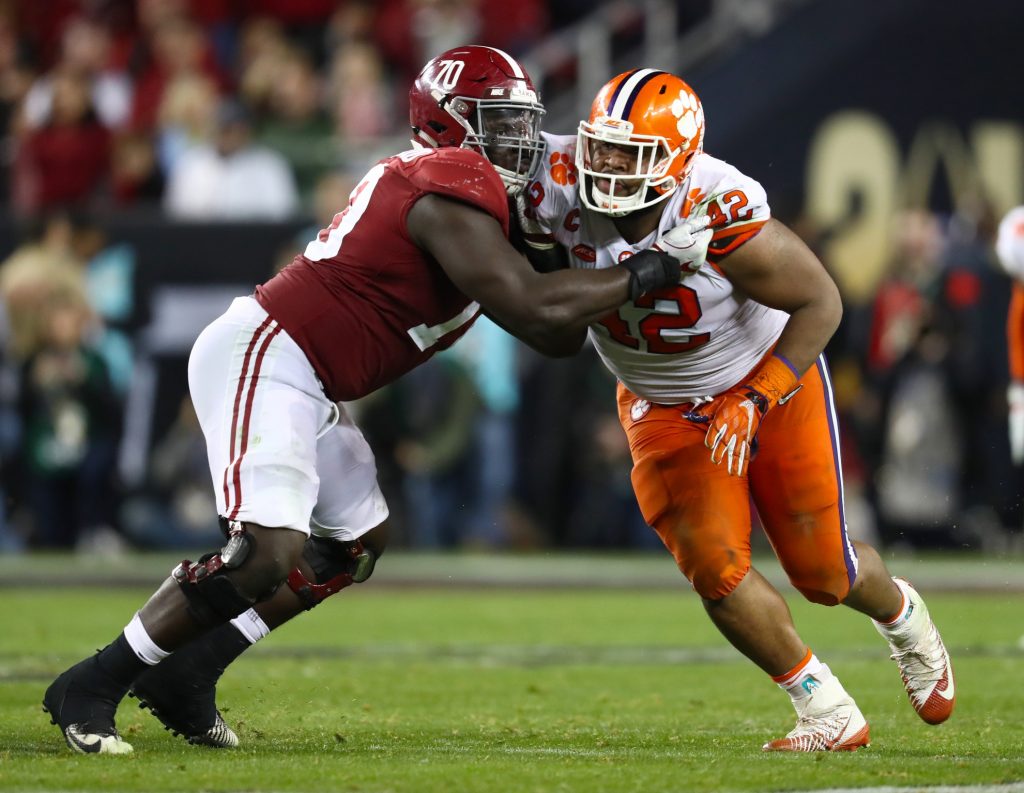 © Matthew Emmons-USA TODAY Sports
Earlier — OT Alex Leatherwood, Alabama
There are no guarantees when it comes to rookie offensive linemen in pass protection, but Leatherwood has the traits you bet on. His smooth pass sets allowed only 10 pressures on 410 pass-blocking snaps this year.
Later — S Hamsah Nasirildeen, FSU
The Browns struggled to fill the hole that was left by Jabrill Peppers this year, but Nasirildeen fits the mold. He can even fill in at linebacker if need be and earned grades over 80.0 in run defense and coverage this year.
Earlier — WR Ceedee Lamb, Oklahoma
Even though their late-season surge cost them a top-10 pick, the Jets still could be sitting pretty when it comes to the wide receiver position. They need a true No. 1, and Lamb fits that bill.
Later — Edge Zack Baun, Wisconsin
They wanted Anthony Barr last offseason as an edge/off-ball hybrid, and Baun has been that for Wisconsin all season. He earned one of the highest pass-rushing grades in the country at 90.9.
Earlier — WR Jerry Jeudy, Alabama
Pipe dream? Yes. But with so many talented receivers in the class, they could get pushed down in the draft as they did in 2019. Jeudy has the route-running chops to excel in Jon Gruden's offense.
Later — LB Francis Bernard, Utah
Bernard has consistently been an impact player in coverage dating back to his freshman year at BYU, where he earned an 87.8 coverage grade. The Raiders have needed coverage ability at linebacker for a while.
Earlier — WR Tee Higgins, Clemson
Higgins can be what they wanted Devin Funchess to be in their offense — a receiver with a massive catch radius to move the chains. Higgins has added big-play ability, though, as he averaged nearly 20.0 yards per catch this year.
Later — QB Jordan Love, Utah State
Owning the Redskins' pick at the top of the second round is going to pay off in a big way. It could very well net them their quarterback of the future if Love's disappointing junior campaign causes him to slip out of the first round.
Earlier — OT Josh Jones, Houston
Demar Dotson's run at right tackle looks as if it might be coming to an end, as he's set to be a free agent. Jones can step in right away after allowing only four pressures all season long at Houston.
Later — S Ashtyn Davis, California
While the Bucs don't have a ton of obvious holes, the secondary is still underperforming. Adding talent there could go a long way. The former Cal track standout has the kind of range at the safety position that the Bucs don't currently possess.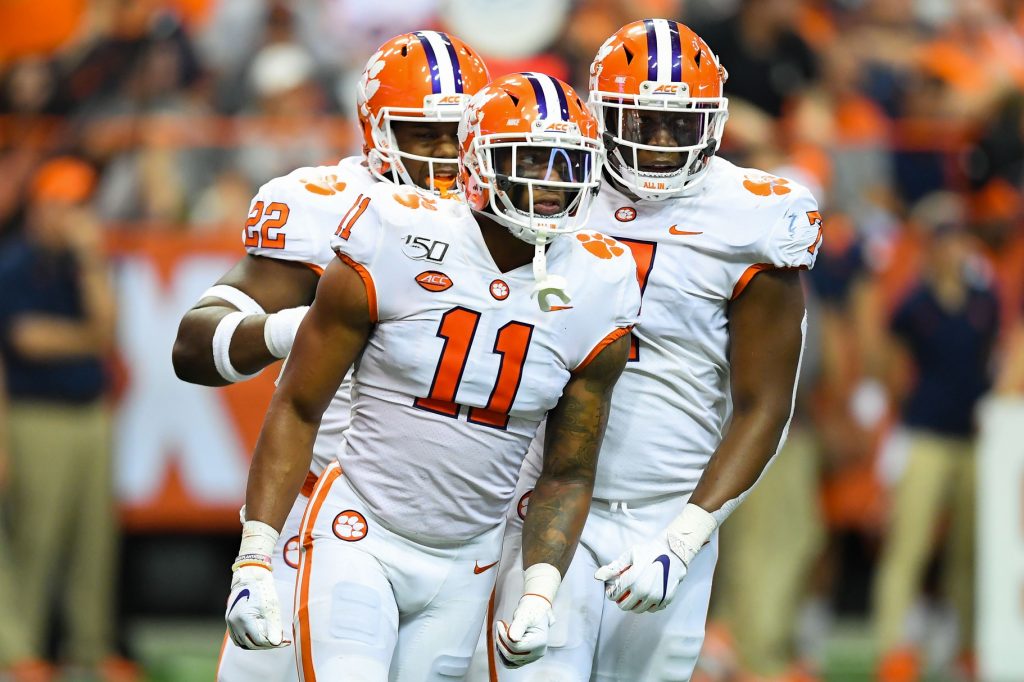 © Rich Barnes-USA TODAY Sports
Earlier — LB Isaiah Simmons, Clemson
Simmons' coverage prowess in a Vic Fangio defense should be a dream come true for any football fan. Simmons just made a pick as a deep middle safety against Ohio State in the playoff semi-finals — you can't coach range like that at linebacker.
Later — CB Paulson Adebo, Stanford
Adebo won't fit in every scheme, but a zone-heavy team like the Broncos could fully utilize Adebo's exceptional instincts. He's had 32 combined picks and pass breakups in his two years as a starter.
Earlier — CB Kristian Fulton, LSU
While they invested some draft capital in Isaiah Oliver, the former second-rounder allowed the seventh-most yards of any cornerback this season (794). Fulton, on the other hand, allowed all of 609 yards over the past two seasons (24 games) for the Tigers.
Later — IOL Trey Smith, Tennessee
They tried to fix the offensive line last year in the first round, but saving that line was beyond the capability of two rookies. They need to keep investing there, and Smith took a massive step forward down the stretch this season.
Earlier — S Grant Delpit, LSU
They'll have to cross their fingers and pray Delpit falls to No. 17, but it's not unprecedented, as that's where Derwin James ended up falling to in 2018. Delpit allowed all of 10 catches this season.
Later — TE Brycen Hopkins, Purdue
Hopkins' field-stretching ability might be too much of a shock to the system for Cowboys fans after having to watch Jason Witten in 2019. Hopkins produced 832 receiving yards this season, but his eight drops are a concern.
Earlier — LB Troy Dye, Oregon
Mark Barron was consistently the weak link in the Steelers' defense. Dye's length and coverage ability paired with Devin Bush's speed would be the perfect combo in the middle of their defense.
Later — Edge Josh Uche, Michigan
The Steelers have a handful of big-name impending free agents, including Bud Dupree. Uche may not replicate Dupree's one-on-one pass-rushing out the gate, but he can be a weapon on stunts and in coverage.
Earlier — Edge Bradlee Anae, Utah
Let's face it, whatever quarterback they're taking in the second round isn't likely to be the one to fix the Bears. But they do need anyone across from Khalil Mack to step up after Leonard Floyd turned in yet another 39-pressure campaign on 442 pass-rushing snaps. Anae has a full pass-rushing toolbox already and racked up a 90.0 pass-rush grade this year.
Later — IOL Logan Stenberg Kentucky
Kyle Long's injury issues have hampered the Bears' offensive line, and it's likely he won't be back next season. Stenberg can step in at guard, where he allowed all of one pressure in 2019.
Earlier — IOL Tyler Biadasz, Wisconsin
No offensive line in football stepped back more than the Rams in 2019. With no first-rounder, fixing the tackle position seems unlikely. However, if Biadasz is still on the board in Round 2, he'd be a perfect fit for the Rams' zone-heavy scheme.
Later — Edge Darrell Taylor, Tennessee
Taylor offers the kind of pocket-pushing ability that the Rams have struggled desperately to find. The bull-rush is his go-to, and it's a big reason why he earned an 86.9 pass-rush grade this season.