The NFL Scouting Combine doesn't carry the same amount of weight in the evaluation process for every NFL Draft prospect in attendance. For players with solid tape and evident physical tools, game tape can stand on its own. For those who are "projects" in some type of way, having measurables to compare historically can be massively helpful. Whether that's a player bulking up to play a different position or a supposed athletic freak who's still figuring out a position, finding out precisely what type of athlete they are can be a crucial part of their evaluation. These are the prospects who fit that bill this week in Indianapolis.
---
Click here for more PFF tools:
Draft Guide & Big Board | Mock Draft Simulator
Dynasty Rankings & Projections | Free Agent Rankings | 2022 QB Annual
Player Grades
---
OFFENSE
Beware of those peddling "risers" and "fallers" at the quarterback position over the course of combine week. These dudes are throwing against air to receivers they've probably never worked with For Ridder, though, it's the athletic testing. He was utilized as a runner far more early in his career before scaling that back a touch with only 61 and 76 designed carries the past two seasons. A good day of testing will get NFL teams buying into him as a rushing threat in their offense.
Cook can fly. Like his brother Dalvin, speed isn't a question. Unlike Dalvin, though, size is a question. James was listed at 5-foot-11, 190 pounds by Georgia. That's about 10 pounds below even the baseline for an NFL back that you'd expect to be anything other than a scatback. It's why even at Georgia he never had more than 12 carries in a single game. If he comes in heavier than he's listed and maintains his speed, he could crack the top five among running backs on the PFF draft board.
Burks is quite evidently a size-speed freak. But just how freaky are we talking? Is he a D.K. Metcalf type (6-foot-3, 228 pounds, 34 ⅞" arms, 4.33-second 40-yard dash), or is he more like Donte Moncrief (6-foot-2, 221 pounds, 32 ⅜" arms, 4.4-second 40-yard dash)? The former has been freaky enough to get by on a limited route tree, while the latter decidedly did not. 
It's easy to see why the combine will be big for Dulcich. He was listed by UCLA at 210 pounds back in 2018. At the Senior Bowl, Dulcich checked in at a cool 248 pounds. He's gone from looking like a big wide receiver to an NFL tight end in a matter of a few years, but has he maintained that receiver athleticism required to make an impact in the league? 
Raimann made a similar transformation to Dulcich's, but just a whole lot more insane. The dude put on over 60 pounds in two years to go from tight end to offensive tackle. In that same span, his technique has improved by similar leaps and bounds en route to him finishing as the second-highest graded tackle in the country this past year. If he tests like a glorified tight end, he'll lock in his first-round draft status.
Green is somewhat of a forgotten man in this year's offensive line class. After receiving plenty of hype heading into 2021 as he was rumored to be moving from guard to tackle, Green didn't have quite the season he had hoped. In a tragic bit of irony, his draft stock was likely hurt because of his versatility. Six weeks into the 2021 season, Green had already made starts at four different offensive line positions. Unsurprisingly, he didn't grade out too well over that span, but he wasn't terrible, either. Green has a chance to prove that his versatility is no fluke if he measures and tests like a guy who can play both tackle and guard in the NFL.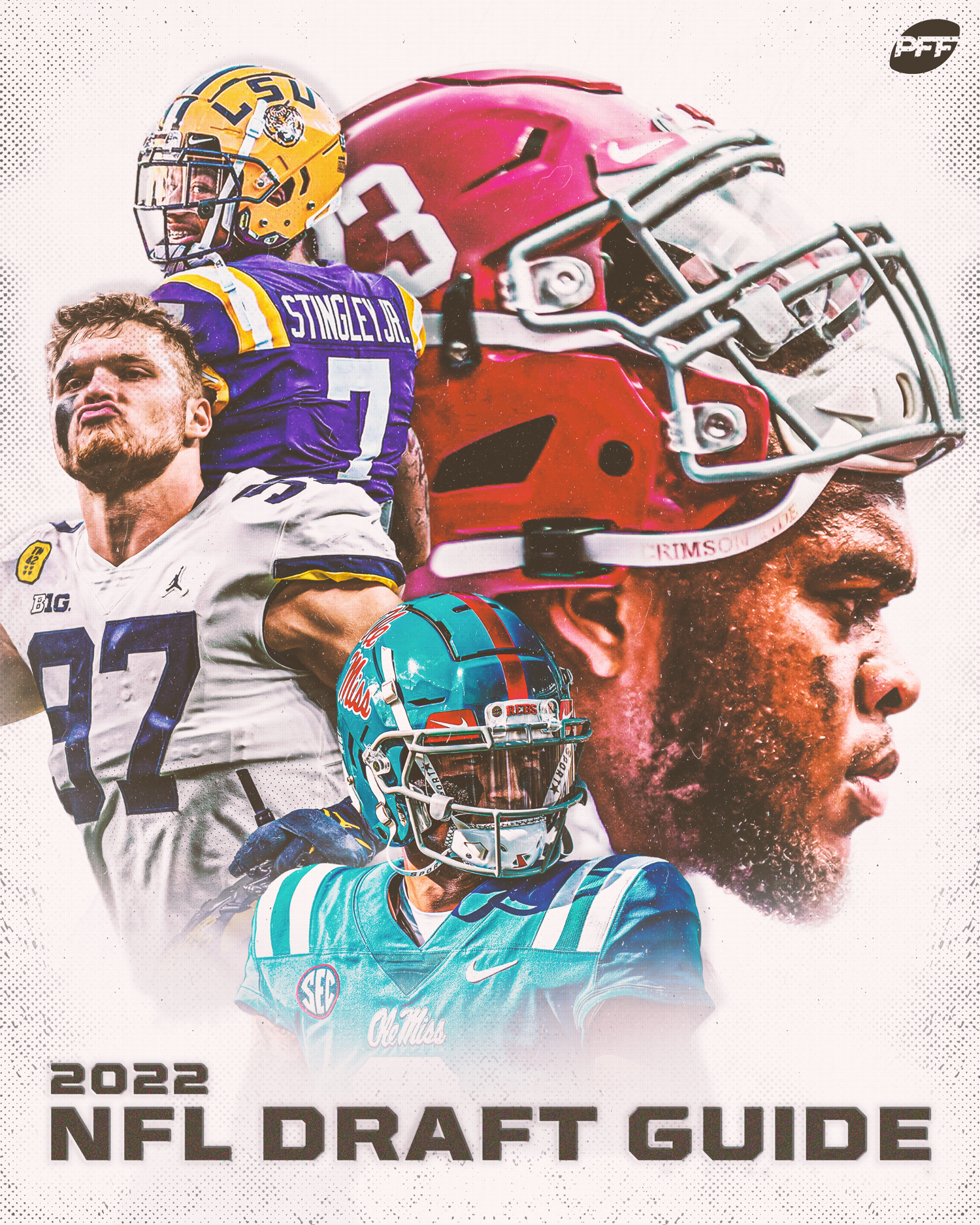 DEFENSE
Go look at the list of the highest-graded pass-rushing defensive tackles in the NFL, and you'll notice one thing they all have in common: high-end athleticism. This year's defensive tackle class is woefully short on that outside of Wyatt. When there's a shortage of a certain type of player, it usually pushes those who do meet the criteria up draft boards. Wyatt could put his stamp on DT1 status by blowing away the field with his athletic testing at the combine.
Walker is billed as a physical freak in the mold of someone like Rashan Gary coming out of Michigan. Georgia, however, had the 275-pounder making run reads and holding gaps instead of attacking. It's why he earned only a middling 71.4 overall grade in 2021. What he could be a few years from now in a role that is conducive to his strengths is anyone's guess. That will be much more of an educated guess should he excel at the combine in Indianapolis.
Chenal hasn't seen a ton of hype despite a monster 2021 season at Wisconsin that saw him earn one of the highest run-defense grades from a college linebacker in the PFF College era. The problem is that he was asked to do little more than stare down quarterbacks in coverage. That doesn't mean he won't be able to at the next level, but we simply didn't get to see how smooth of a mover the 250-plus pound linebacker was in space. That will 100% be tested at the combine, and we'll then have a better handle on his capabilities.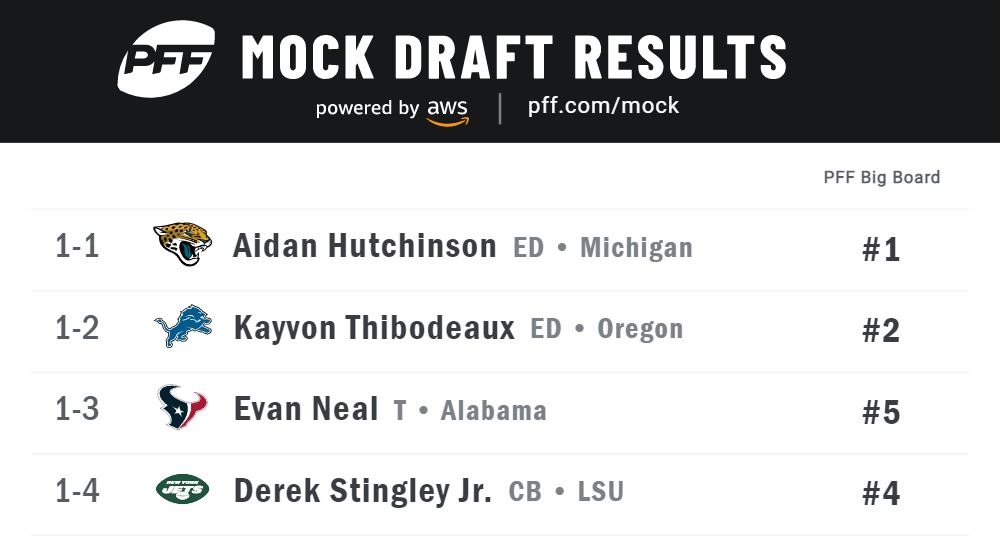 McDuffie is seen as a solid first-rounder at the moment, although still a clear ways behind the likes of LSU's Derek Stingley Jr. and Cincinnati's Ahmad Gardner at the top of the class. That could be changing after this week. He's never going to have the frame that everyone desires, but he makes up for it with some serious athletic ability. I'm not sure there's a drill at the combine he won't knock out of the park. Speed, strength, agility, change of direction, explosiveness — you name it, McDuffie has it. And if he proves that, he can sneak his way toward the top 10.
Hill is very much a modern safety. He has the kind of range and man coverage ability that plays in the wave of two-high defenses that take safeties out of run fits. Hill looks poised to test exceedingly well across the board. If he does so head and shoulders above the rest of the safeties after Notre Dame's Kyle Hamilton, he can lock himself in as the best option for those types of defenses.