The 2021 NFL Draft came and went, as have the major waves of free agency. We have a pretty good idea of what each team's roster is going to look like now, allowing us to analyze which teams' positional units improved the most and which teams failed to address serious needs in the draft.
The Vikings looked to help their big-money quarterback, while the Titans replaced a ton of lost snaps in their secondary. The Broncos and Panthers, however, will be linked at the hip because neither selected quarterback Justin Fields despite both teams having a clear need at the position.
[Read more: PFF grades all 32 teams after the 2021 NFL Draft]
Most improved units
A perpetual, never-ending need for the Vikings was finding good players to play in front of Kirk Cousins to ease his pocket fears. They've cycled through so many below-average players in free agency or the draft over the past few seasons. And they went all-in again this year, selecting Virginia Tech tackle Christian Darrisaw and Ohio State guard Wyatt Davis.
The Vikings traded back from Pick 14 in Round 1 with the New York Jets to drop nine spots, adding Picks 66 and 86 while losing Pick 143, and still got their guy at Pick 23. Then, with Pick 86, they drafted Wyatt Davis. Both players have a great shot at starting in Week 1.
Darrisaw was PFF's No. 3 -ranked tackle on the Big Board and the 15th-best player overall. That's how you win the draft. Darrisaw absolutely dominated the ACC in 2020, posting a ridiculous 95.6 PFF grade. He still needs to learn some technical aspects of pass blocking, but he's a bull in the run game and defenders find it hard to latch off him when he gets his paws on them.
In Wyatt Davis, the Vikings got a player who didn't have the greatest 2020 season, which is why he slipped to Pick 86. He was still the 61st overall player on PFF's  Big Board, so we like the value. There were some schematic issues with the Ohio State offensive line this past season, which led to blatant communication errors that Davis was a part of. That shouldn't be a concern at the next level. Davis can really block people. That's the main deal here. In one-on-one situations, he's as good as anyone; we just would have liked to see him bully people a little more in 2020. He was a great pick at that draft slot, nonetheless.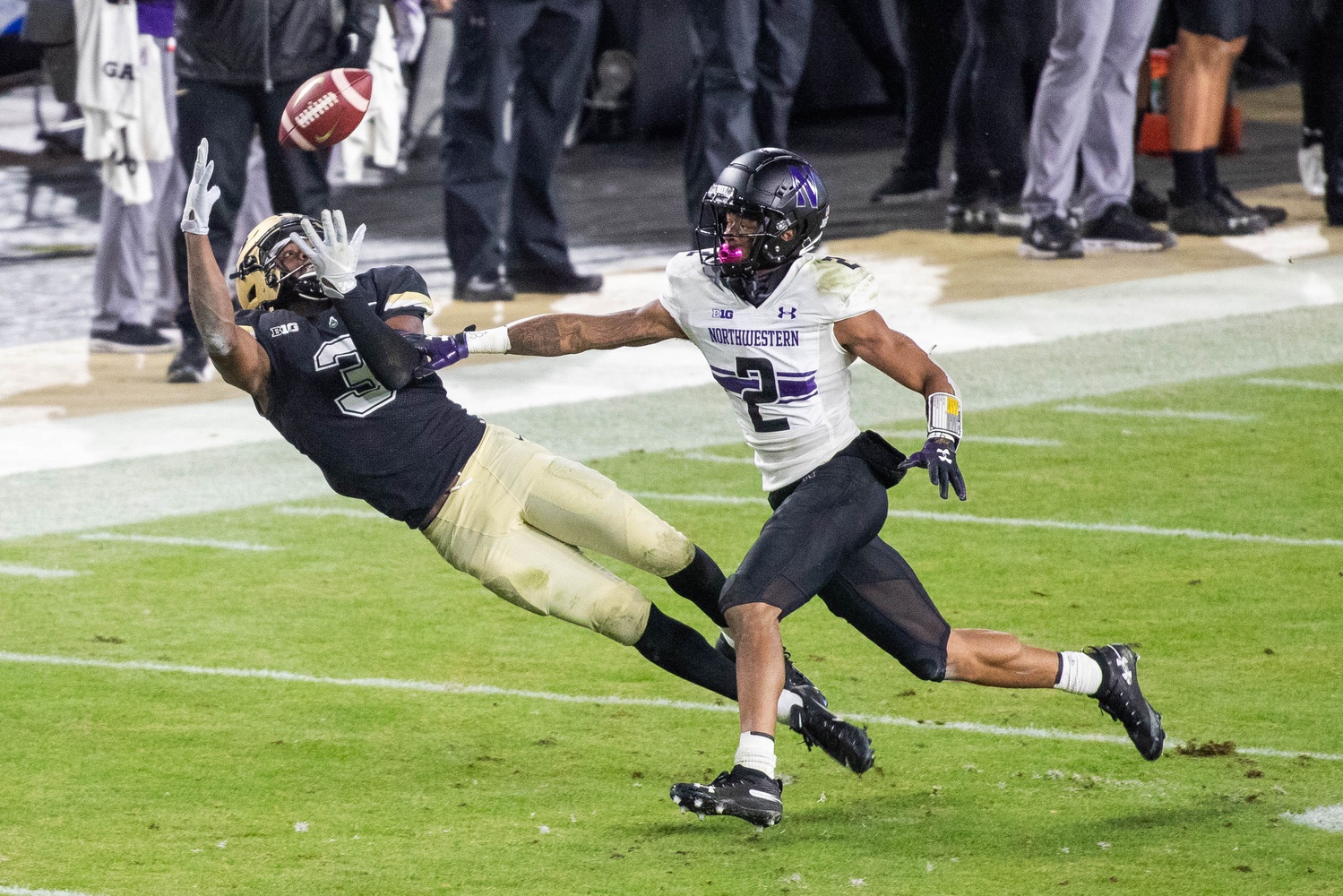 The Browns started the process of improving a bottom-third pass-defense unit in free agency and then continued that in the draft. They unloaded Kevin Johnson and Karl Joseph and replaced them with two former Rams in cornerback Troy Hill and safety John Johnson III. Those additions alone put Cleveland in the top echelon of coverage units.
The Browns didn't stop there though.
They took Northwestern's Greg Newsome II at Pick 26 and then Notre Dame's Jeremiah Owusu-Koramoah at Pick 52. Newsome's small sample size shouldn't worry Browns fans because his tape shows an elite shutdown cornerback. He allowed only 12 catches on 34 targets in six games in 2020. He's a technical master who might need to show a little bit more in straight man-to-man coverage, but his upside is incredibly high.
Where the Browns struggled the most in coverage last season was covering receivers inside the numbers. Against slot receivers, inline tight ends and players out of the backfield, the Browns' cumulative coverage grade ranked 30th in the NFL. That's where the Notre Dame product comes in. It will be interesting to see where JOK lines up for the team.
At Notre Dame, he was a hybrid Nickel/Sam linebacker. He could slide to inside linebacker for Cleveland, though. Owusu-Koramoah should be able to come in and cover any tight end and running back, and if he proves capable of covering slot receivers, the sky's the absolute limit for him. The Browns continued to add in coverage in the later rounds with Tony Fields II out of West Virginia and Richard LeCounte out of Georgia, both in the fifth round.
The Titans lost Desmond King II, Malcolm Butler and Adoree' Jackson to free agency, which represents 1,859 individual snaps from their defensive backfield. They signed Kevin Johnson and Janoris Jenkins but really hit the nail on the head by taking Virginia Tech's Caleb Farley in Round 1 and Washington's Elijah Molden in Round 3.
Farley has injury concerns but is an athletic freak. He didn't have to play much press-man coverage in Bud Foster's defense, but he still played a lot of man coverage — much of which was without safety help — and held up at an elite level. His recovery speed is top-notch, and he finds the ball very well.
With Molden, the Titans are getting a high-level slot cornerback to replace King. Molden played a bunch of different positions for the Huskies, but mostly the slot, where he posted elite grades — a 90.8 mark in 2019 and an 85.2 mark in the Huskies' shortened 2020 season. Molden has first-round talent, so getting him at Pick 100 is incredible value. One of the worst pass defenses in the league last season got younger and better in the draft.
The Ravens' biggest need in the draft was a true outside receiver who could win one-on-one battles and keep defenses honest. NFL defenses did not care about who they put on the outside last season, choosing to instead allocate an enormous amount of resources to stopping the slot receivers, tight ends and run game.
Throwing to outside receivers was wasteful last season in Baltimore. They were a bottom-quarter team in both yards per route run and contested-catch percentage for players lined up outside. In comes free agent signing Sammy Watkins, first-round pick Rashod Bateman and fourth-round pick Tylan Wallace. Seeing Bateman fall to Baltimore at Pick 27 represents incredible value. He's a top-20 talent. Wallace provides some insurance later in the draft at a similar position.
The Lions' interior defensive line was continually pushed around in the run game last season and didn't put up much of a fight when rushing the quarterback, either.
They lost Danny Shelton and added Michael Brockers this offseason, but that wasn't going to move the needle much. In the draft, the Lions added both a nose tackle and a 3-technique with their second and third picks.
Washington product Levi Onwuzurike, their second-rounder, posted two really productive seasons in 2018 and 2019 before not playing in 2020. He's the 3-technique who will compete with Brockers for starting reps. And there's a good chance he wins the starting job by Week 1. He is an explosive player, although he needs to develop more pass-rushing moves.
To solidify their nose tackle position, the Lions took North Carolina State's Alim McNeill. He is the modern nose tackle, as teams don't necessarily want their nose tackles to be big-bodied run stuffers. He stops the run with quickness and agility. He doesn't have the pass-rush moves right now, but with the physical profile, you would think he can become an above-average pass rusher at the position to go along with being an elite run defender.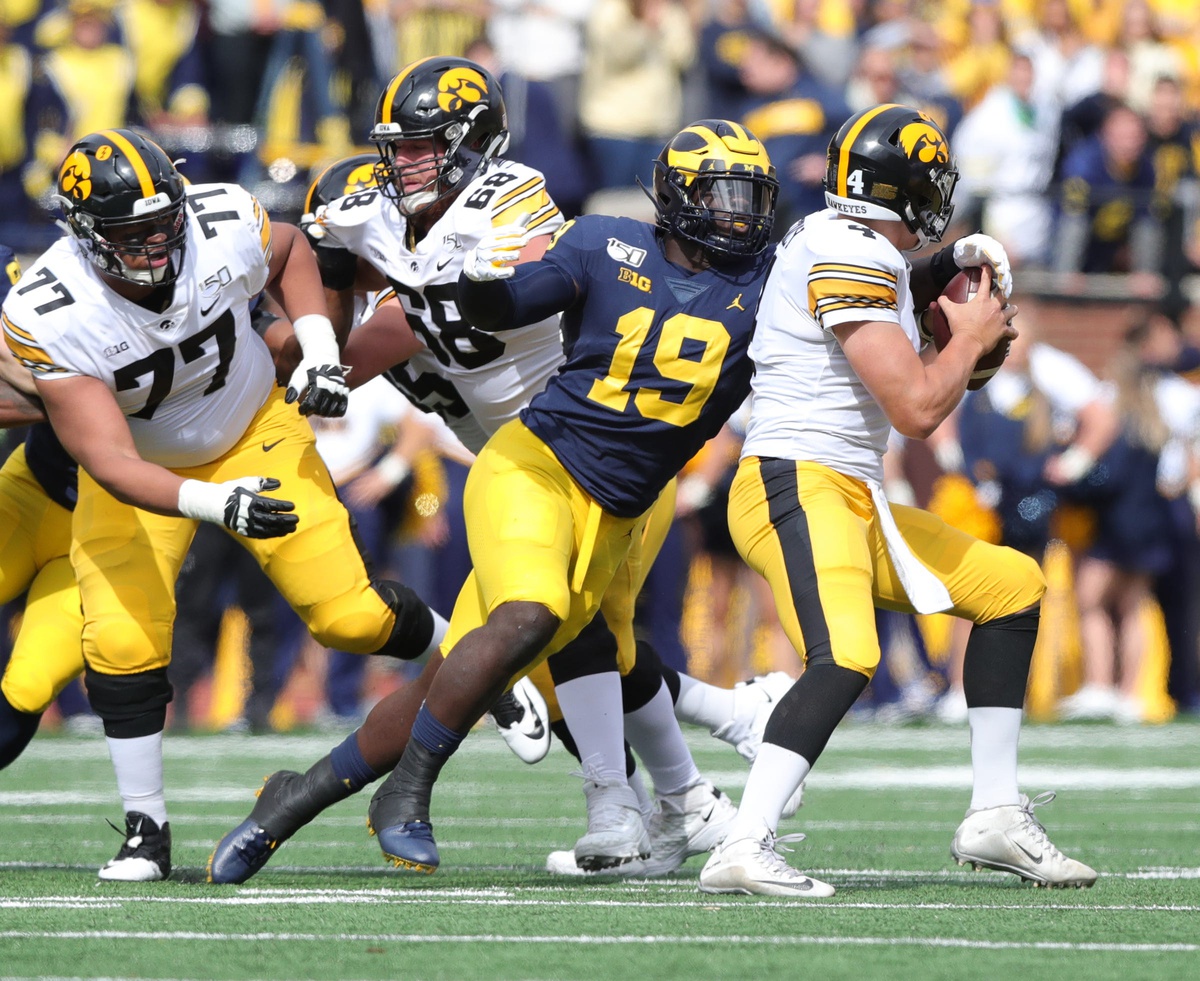 The Colts were a below-average pass-rushing team in 2019, propped up by elite interior defensive line play from DeForest Buckner and his 90.1 pass-rushing grade. Their edge group was abysmal, and they then lost edge rushers Justin Houston and Denico Autry, who led the team in snaps at that position. Both earned sub-70.0 pass-rush grades last season.
The Colts didn't sign anyone in free agency, so they needed to make a splash in the draft. And they did. At Pick 21, they selected the top edge rusher on the PFF Big Board in Michigan's Kwity Paye before doubling up at Pick 54 with Vanderbilt's Dayo Odeyingbo. They needed pass rushers, and they got them.
Paye is the ultimate upside pick with freaky athleticism. He posted 36 bench reps, good enough for a 99th percentile performance at his position, and a 4.52-second 40-yard dash, a 97th percentile performance. He boasts a potentially deadly combination of size and speed. Paye has yet to learn the nuances of the position, which is why someone that freaky can fall all the way to Pick 21, but his upside is tremendous.
Odeyingbo was a bit of a reach at Pick 54, but the Colts obviously felt the need to go and get a versatile player at the position. The Vanderbilt product has played a ton of snaps all over the defensive line, seeing time outside at edge as well as inside as a 4i-technique in the Commodore defense. He's a quick-twitch athlete who didn't produce quite as much as someone with his physical stature should have. If he adds some muscle, he can be a solid pro.
The Bills were not a bad edge-rushing team but still felt the need to get better there, so they took two defensive ends with their first two picks. Between Miami's Gregory Rousseau at Pick 30 and Wake Forest's Carlos Basham Jr. at Pick 61, the Bills are hedging their bets on two different types of players.
Basham was a highly productive player at Wake Forest, posting an 82.7 "true pass-rush grade." He has a great jump with really good agility for his size. He played a little too big in 2020, and his production suffered a bit, but he's a player who doesn't come off the field and projects as a solid player at the next level.
With Rousseau, whose box-score production came mostly from free rushes and clean-up sacks, Buffalo is getting a high-upside player. He is a former wide receiver who was moved to defensive end — and he was even pushed down to interior lineman at times. They don't make edge players like Rousseau. If he figures out how to play the position at the technical level needed to succeed in the NFL, he will be a huge steal. He's already willing to use his long arms to create separation between himself and offensive linemen; he just lacks power and moves.
Least improved units
The Broncos have such an incredible roster even without first-round pick Patrick Surtain II. They could have drafted Justin Fields in the first round, and even though they have Drew Lock and Teddy Bridgewater, their stellar roster might be wasted without a real quarterback.
Drew Lock ranks 35th in PFF grade over the past two seasons among the 42 quarterbacks with over 300 dropbacks in that span. And Bridgewater won't unlock this receiving corps. The Broncos did not improve at quarterback nearly enough this offseason, so unless they go out and trade for Aaron Rodgers, they will struggle again this season.
This is a similar deal to the Broncos above. The Panthers had a chance to accelerate their rebuild by taking Justin Fields, but they instead went with a cornerback who doesn't fit their scheme. It was a very odd move for a team that can't possibly believe trading for Sam Darnold is nearly enough for them to turn the corner. Darnold produced a lowly 60.4 passing grade in his first three seasons with the Jets. That ranks 40th in the NFL among quarterbacks with over 500 dropbacks over the past three seasons.
The Cardinals do not have anyone who can play inside and deal with the division's formidable rushing attacks. With Christian Barmore on the board at Pick 16, they had a chance to take a player who is solid against the run and elite as a pass rusher. They took an edge rusher late, Duke's Victor Dimukeje, but haven't addressed the need with a good player. The Cardinals are set to open the season with Jordan Phillips and Leki Fotu on the inside.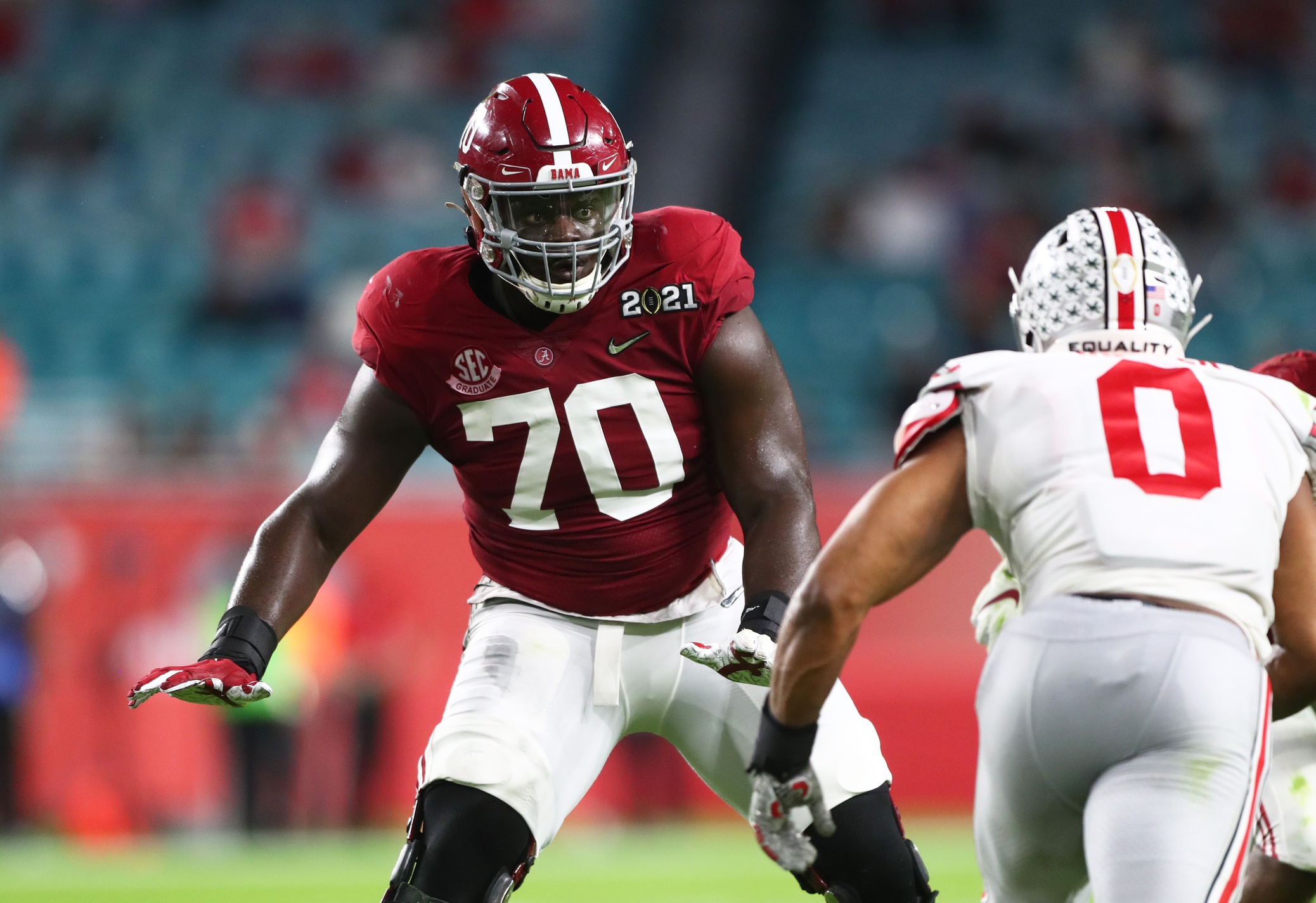 Alex Leatherwood could end up being a productive player in the NFL, but the Raiders could have gotten him in the second or even third round after taking more of a sure thing in the first round — such as tackle Christian Darrisaw.
Leatherwood's 73.4 pass-blocking grade in 2020 was not good enough for him to be taken this high in the draft. Las Vegas could have even waited for a guy who we've already seen play guard at the college level. The team didn't address the line again until selecting Jimmy Morrissey, an undersized center, in the seventh round. The Raiders lost a lot of players on the line and didn't replace them with valuable picks.
---
More of PFF's 2021 NFL Draft tools here: 
2021 NFL Draft Big Board | 2021 NFL Draft Guide | 2021 NFL Draft Stats Export | NFL Mock Drafts | NFL Mock Draft Simulator