• Cowboys use their first-round pick to shore up run defense: Mazi Smith is incredibly strong and posted an 81.3 run-defense grade last season.
• Eagles get a steal at Pick 9: Jalen Carter is coming off a season in which he produced a PFF grade of 92.3, leading all Power Five players on the defensive interior.
• Packers draft a potential impact player in Round 1: Iowa's Lukas Van Ness won 18.8% of his pass-rushing snaps and posted an 80.9 PFF run-defense grade in his final season in college.
Estimated reading time: 8 minutes
---
In last week's NFL draft, numerous teams drafted upgrades or replacements for their defensive line. Here's a list — in alphabetical order — of the 10 teams that improved the most up front.
More PFF draft content:
LIVE Draft Tracker | 2024 Mock Draft Simulator | 2023 NFL Draft Guide
Top 200 Big Board  | PFF Mock Drafts | Measureables & Workout Data
NCAA Premium Stats | Draft Rankings By Position | Prospect Superlatives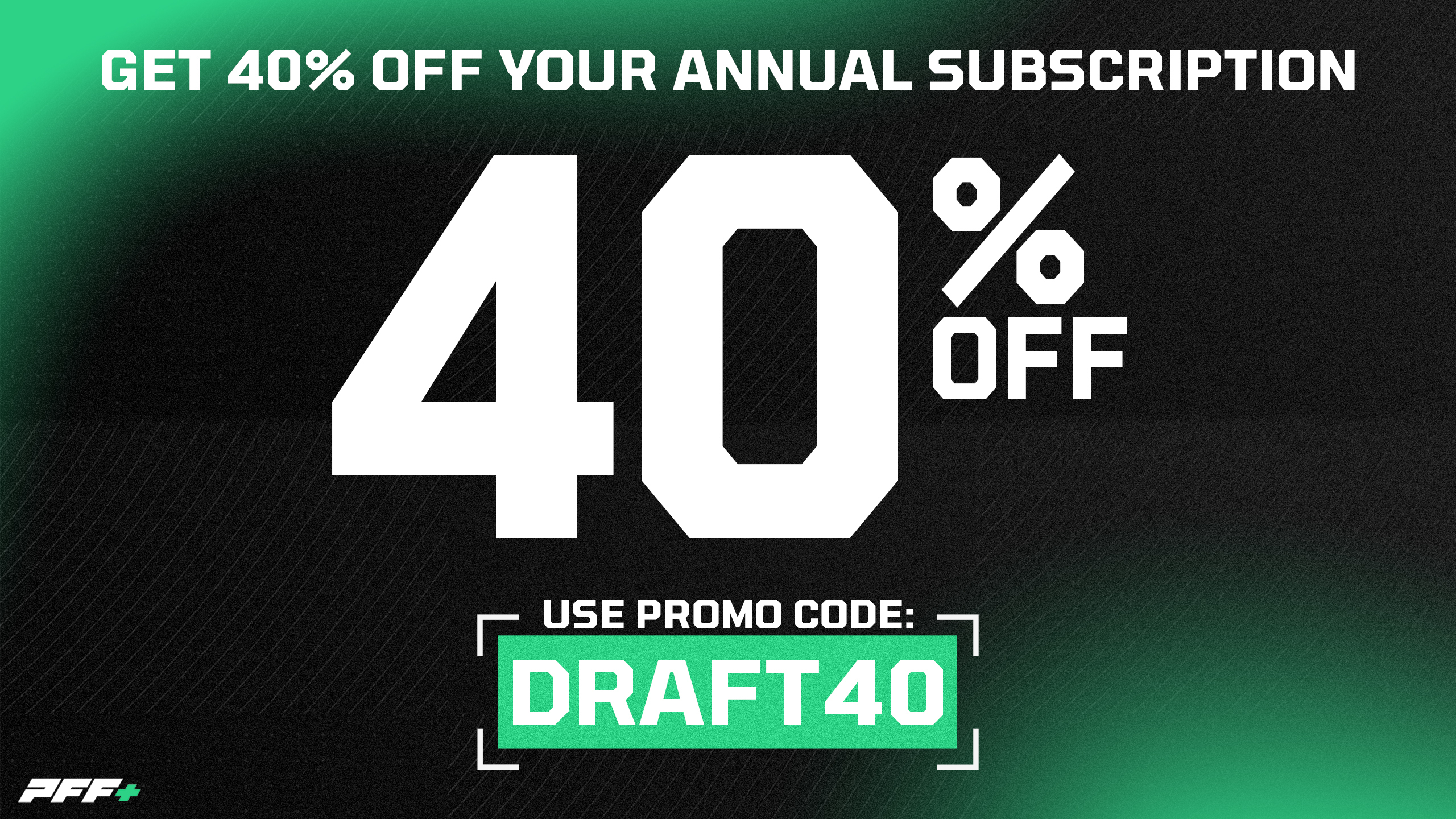 R1 (10): T Darnell Wright, Tennessee
R2 (53): DI Gervon Dexter Sr., Florida
R2 (56): CB Tyrique Stevenson, Miami (FL)
R3 (64): DI Zacch Pickens, South Carolina
R4 (115): RB Roschon Johnson, Texas
R4 (133): WR Tyler Scott, Cincinnati
R5 (148): LB Noah Sewell, Oregon
R5 (165): CB Terell Smith, Minnesota
R7 (218): DI Travis Bell, Kennesaw State
Gervon Dexter Sr. and Zacch Pickens were reaches, according to the PFF big board, but they are still reinforcements for the Bears defensive line.
Dexter clocked a 4.88-second 40-yard dash so has the athleticism teams look for, while Pickens produced a 75.0 pass-rush grade and won 11.5% of his pass-rushing snaps in 2022.
In the seventh round, Chicago added Travis Bell, a former Kennesaw State standout who earned 80.0-plus run-defense grades in each of the past three seasons.
---
R3 (74): WR Cedric Tillman, Tennessee
R3 (98): DI Siaki Ika, Baylor
R4 (111): T Dawand Jones, Ohio State
R4 (126): EDGE Isaiah McGuire, Missouri
R5 (140): QB Dorian Thompson-Robinson
R5 (142): CB Cameron Mitchell, Northwestern
R6 (190): C Luke Wypler, Ohio State
The Browns struggled against the run in 2022. To help improve the defensive front for 2023, they added Dalvin Tomlinson in free agency and drafted Baylor's Siaki Ika in the third round.
While Ika is a nose tackle, he is a better pass-rusher than you'd expect for a 358-pounder. He registered a 76.4 pass-rush grade in 2022, a top-25 mark among interior defenders from the Power Five.
Drafting edge rusher Isaiah McGuire in the fourth round was another smart move by the Browns, as the former Missouri standout won 17.6% of his pass-rush snaps and registered a defensive stop on 9.8% of his run-defense snaps this past season.
---
R1 (26): DI Mazi Smith, Michigan
R2 (58): TE Luke Schoonmaker, Michigan
R3 (90): EDGE DeMarvion Overshown, Texas
R4 (129): EDGE Viliami Fehoko, San Jose State
R5 (169): OT Asim Richards, North Carolina
R6 (178): CB Eric Scott Jr., Southern Mississippi
R6 (212): RB Deuce Vaughn, Kansas State
R7 (244): WR Jalen Brooks, South Carolina
The Cowboys needed to find a way to stop the run, and they opted to address that need in the first round with the addition of Michigan's Mazi Smith. Incredibly strong, he immediately gives Dallas a presence in the middle of their defensive line, coming off a season where he posted an 81.3 run-defense grade.
They followed that selection with San Jose State's Viliami Fehoko, an edge defender with the versatility to kick inside. Fehoko registered a 90.2 pass-rush grade and 87.4 run-defense grade in 2022.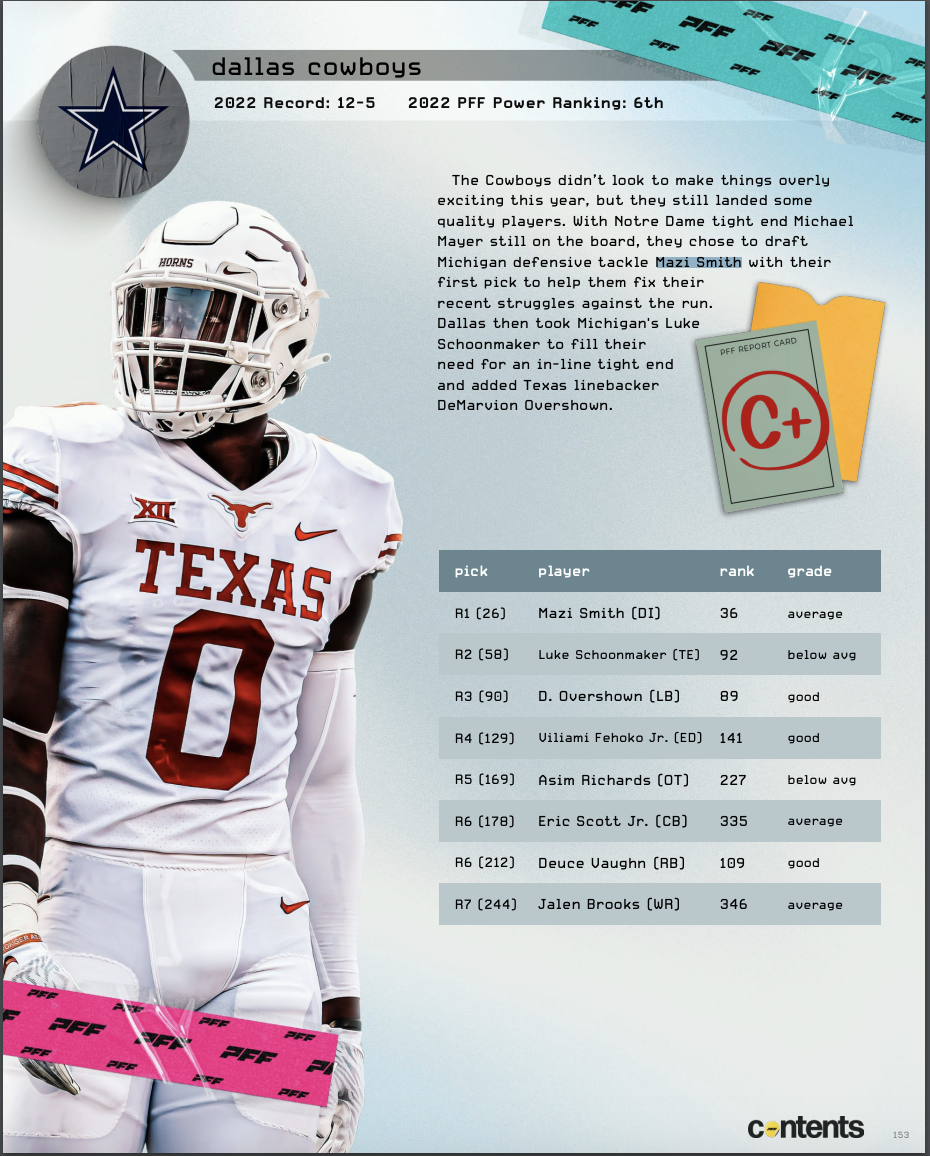 R1 (13): EDGE Lukas Van Ness, Iowa
R2 (42): TE Luke Musgrave, Oregon State
R2 (50): WR Jayden Reed, Michigan State
R3 (78): TE Tucker Kraft, South Dakota State
R4 (116): EDGE Colby Wooden, Auburn
R5 (149): QB Sean Clifford, Penn State
R5 (159): WR Dontayvion Wicks, Virginia Tech
R6 (179): EDGE Karl Brooks, Bowling Green
R6 (207): K Anders Carlson, Auburn
R7 (232): CB Carrington Valentine, Kentucky
R7 (235): RB Lew Nichols III, Central Michigan
R7 (242): S Anthony Johnson, Iowa State
R7 (256): WR Grant DuBose, Charlotte
Not only did the Packers draft three edge defenders in this draft, but they also drafted three players who offer the ability to kick inside and line up over or outside the tackles.
Iowa's Lukas Van Ness won 18.8% of his pass-rushing snaps and posted an 80.9 PFF run-defense grade in his final season in college.
Colby Wooden played on the interior at Auburn, but his 278-pound frame suggests he's unlikely to be an every-down interior player in the NFL. Still, he earned a 74.4 pass-rush grade on true pass-rush snaps last season.
Karl Brooks is likely a three-tech in the NFL. At almost 300 pounds, he was one of the best defensive players in college football in 2022, producing a 92.0 pass-rush grade and 90.3 run-defense grade.
---
R1 (31): EDGE Felix Anudike-Uzomah
R2 (55): WR Rashee Rice, SMU
R3 (92): T Wanya Morris, Oklahoma
R4 (119): S Chamarri Conner, Virginia Tech
R5 (166): EDGE BJ Thompson, Stephen F. Austin
R6 (194): DI Keondre Coburn, Texas
R7 (250): CB Nic Jones, Ball State
The Chiefs closed out the first round with edge defender Felix Anudike-Uzomah, who racked up 21 sacks, 14 hits and 54 hurries over the past two seasons. In the fifth round, the Chiefs turned their attention to a more developmental edge prospect in BJ Thompson out of Stephen F. Austin. In his final season in college, Thompson posted a 92.7 pass-rush grade, winning 18.6% of his pass-rush reps.
They then added Texas interior defender Keondre Coburn in the sixth round. At 336 pounds, he will instantly compete for snaps on the interior of that defensive line and is coming off a season where he recorded 31 total pressures and earned a 74.8 PFF run-defense grade.
---
R1 (7): EDGE Tyree Wilson, Texas Tech
R2 (35): TE Michael Mayer, Notre Dame
R3 (70): DI Byron Young, Alabama
R3 (100): WR Tre Tucker, Cincinnati
R4 (104): CB Jakorian Bennett, Maryland
R4 (135): QB Aidan O'Connell, Purdue
R5 (170): S Christopher Smith, Georgia
R6 (203): LB Amari Burney, Florida
R7 (231): DI Nesta Jade Silvera, Arizona State
Both Tyree Wilson and Byron Young were reaches, according to the PFF big board, but Wilson was still among the 32 best prospects in this class. He looks the part, and while the consistency wasn't there at Texas Tech, he did win 22.3% of his pass-rush snaps in 2022. Young produced a 74.6 pass-rush grade and a 75.6 run-defense grade a season ago.
Las Vegas closed out its draft with Nesta Jade Silvera out of Arizona State, an interior defender who recorded a defensive stop on 7.5% of his run-defense snaps last season.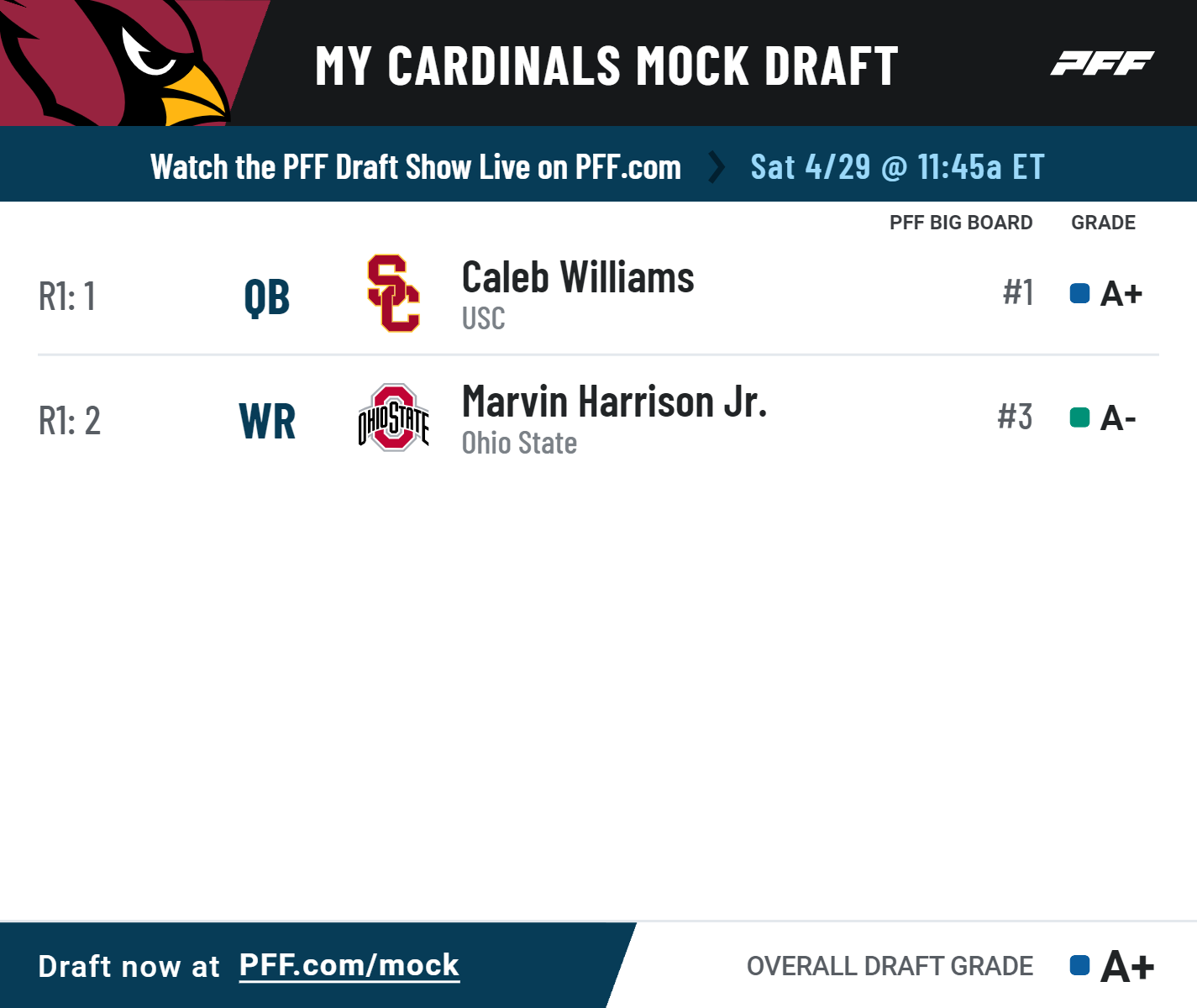 R2 (36): G Steve Avila, TCU
R3 (77): EDGE Byron Young, Tennessee
R3 (89): DI Kobie Turner, Wake Forest
R4 (128): QB Stetson Bennett, Georgia
R5 (174): OT Warren McClendon, Georgia
R5 (175): TE Davis Allen, Clemson
R5 (177): WR Puka Nacua, BYU
R5 (161): EDGE Nick Hampton, App State
R6 (182): CB Tre'Vius Hodges-Tomlinson, TCU
R6 (189): EDGE Ochaun Mathis, Nebraska
R6 (215): RB Zach Evans, Ole Miss
R7 (223): P Ethan Evans, Wingate
R7 (234): S Jason Taylor II, Oklahoma
7 (259): DI Desjuan Johnson, Toledo
The Rams came into this draft needing reinforcements around Aaron Donald on the defensive line, and that's exactly what they got. Tennessee edge defender Byron Young ran a 4.48 40-yard dash at the combine, and while there is still some development needed, he did produce a 70.7 PFF pass-rushing grade on his true pass-rush reps last season.
They followed up that pick with Wake Forest interior defender Kobie Turner, who dominated for Richmond at the FCS level before continuing that level of play in the ACC in 2022. His 92.2 PFF grade was the second-best mark in the Power Five, trailing only Georgia's Jalen Carter.
In Rounds 5 through 7, they continued to add to the group, with edge defenders Nick Hampton out of Appalachian State and Nebraska's Ochaun Mathis and Toledo's Desjuan Johnson on the defensive interior.
---
R1 (29): DI Bryan Bresee, Clemson
R2 (40): EDGE Isaiah Foskey, Notre Dame
R3 (71): RB Kendre Miller, TCU
R4 (103): OT Nick Saldiveri, Old Dominion
R4 (127): QB Jake Haener, Fresno State
R5 (146): S Jordan Howden, Minnesota
R6 (195): WR A.T. Perry, Wake Forest
The Saints used their first two selections in the draft on defensive linemen, and while both were slight reaches against the PFF big board, both players do fit the type of players they like on their defensive line.
Clemson's Bryan Bresee produced a career-high 82.0pass-rushing grade in 2022 and can play multiple spots across the unit.
Notre Dame's Isaiah Foskey has the size and speed that the Saints seem to love on the edge and can dominate tight ends from the alignment. He racked up 23 sacks, seven hits and 35 hurries across 595 pass-rush snaps over the past two seasons.
---
R1 (9): DI Jalen Carter, Georgia
R1 (30): EDGE Nolan Smith, Georgia
R3 (65): OT Tyler Steen, Alabama
R3 (66): S Sydney Brown, Illinois
R4 (105): CB Kelee Ringo, Georgia
R6 (188): QB Tanner McKee, Stanford
R7 (249): DI Moro Ojomo, Texas
The Eagles used their two first-round picks on defensive linemen, landing Georgia's Jalen Carter with Pick 9 and Nolan Smith with Pick 30.
Carter is coming off a season in which he produced a PFF grade of 92.3, leading all Power Five players on the defensive interior. Smith might be undersized, but he was still productive enough to be the 13th-ranked player on the PFF big board. He earned a 90.0 PFF run-defense grade over the past two seasons.
Philadelphia closed out its draft with Texas' Moro Ojomo, another top-100 player on the PFF big board. Ojomo was tremendous against the run at Texas, producing a 91.4 PFF run-defense grade in 2022. Even if he never develops as a pass-rusher, this was still a worthwhile selection in the seventh round.
---
R1 (19): DI Calijah Kancey, Pittsburgh
R2 (48): OT Cody Mauch, North Dakota State
R3 (82): EDGE YaYa Diaby, Louisville
R5 (153): LB SirVocea Dennis, Pittsburgh
R6 (181): CB Josh Hayes, Kansas State
R5 (171): TE Payne Durham, Purdue
R6 (191): WR Trey Palmer, Nebraska
R6 (196): EDGE Jose Ramirez, Eastern Michigan
R7 (232): CB Carrington Valentine, Kentucky
If the Buccaneers' goal in this draft was to land athletic pass-rushers, they absolutely nailed it. Calijah Kancey posted a 92.4 PFF pass-rushing grade this past season and is simply too much for opposing blockers to deal with one-on-one. Third-round edge defender YaYa Diaby won 16.1% of his pass-rushing attempts in 2022 and clocked a 97th-percentile 40-yard dash.
In Round 6, they took Jose Ramirez out of Eastern Michigan. He's undersized but was incredibly productive in college, earning a 90.5 PFF pass-rush grade and winning 21.5% of his pass-rushing reps last season.