We've made it! It's finally draft week and time to see where all of the chips will land in three days of action. Months of evaluation and speculation are winding down and it's time for the final mock draft of the season. The story of this draft is depth at a number of key positions – cornerback, safety, edge rusher, and tight end – and question marks as to where a talented group of quarterbacks fit in best at the next level. The QBs may lead to a lot of movement on Thursday night as teams look to secure their guy, or we may see a fall as teams play it patiently and look to maximize their value.
As always, this mock draft is what I would do as GM of each team, not a prediction of what the NFL is thinking.

1. Cleveland Browns
Myles Garrett, Edge, Texas A&M
Not much has changed at the top through the many iterations of the draft — Garrett is the top option as he has a perfect blend of production and athleticism. He finished with 31 sacks, 35 QB hits, and 98 hurries on his 978 rushes at Texas A&M and he improved against the run in all three years at Texas A&M. The Browns can secure a potentially elite edge rusher at No. 1 overall while seeing how the draft plays out as they look to find a quarterback of the future.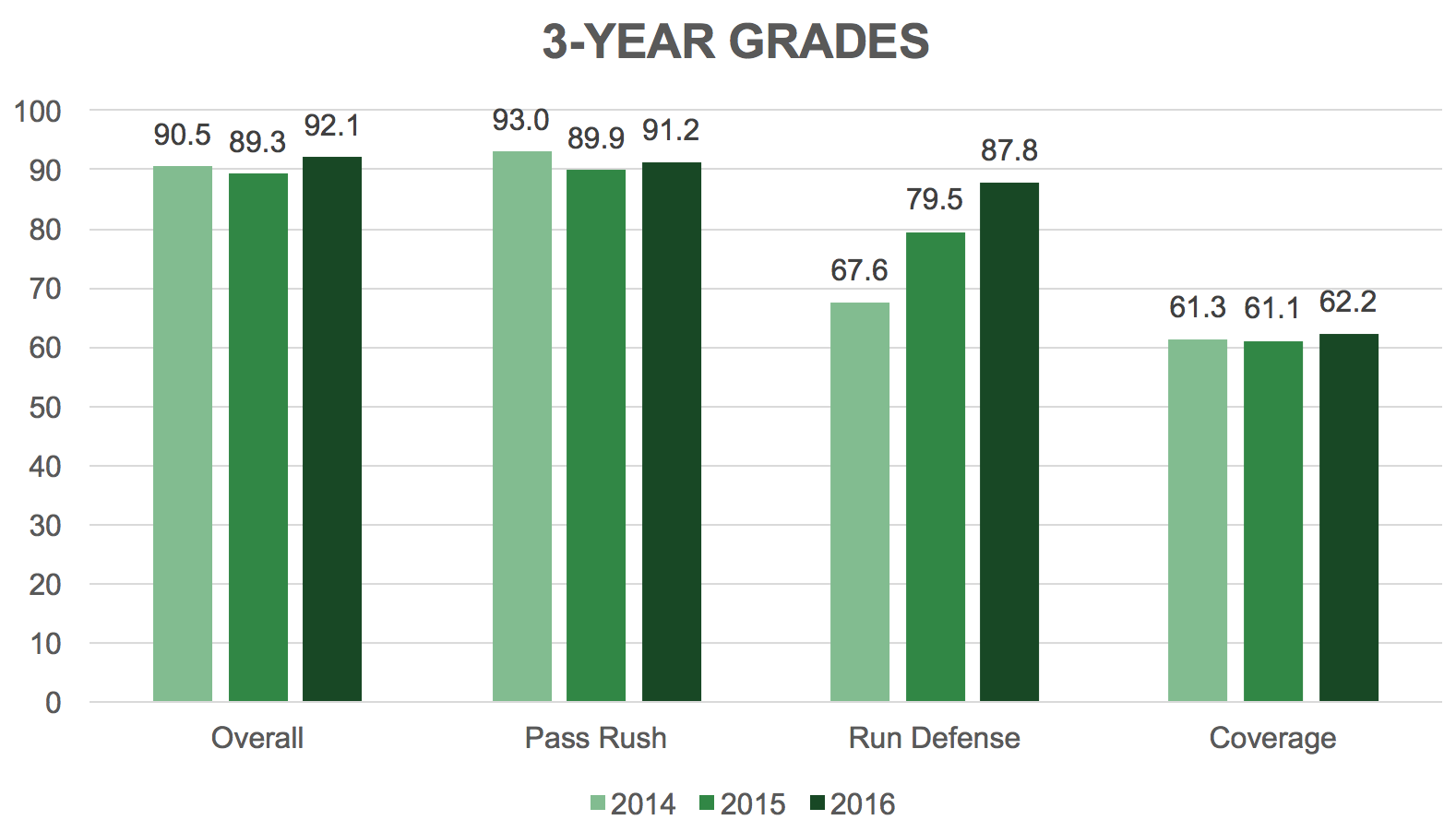 2. San Francisco 49ers
Marshon Lattimore, CB, Ohio State
One of the toughest decisions of the draft, the 49ers don't have to force a quarterback and a trade down is certainly the most preferred outcome as there is not a clear No. 2 player in this draft. If the 49ers have to stay, securing Lattimore is a good option as his size and movement skills make him a versatile outside cornerback in San Francisco's new defensive scheme. Opponents had a passer rating of only 30.2 when targeting Lattimore, good for fourth in the nation in 2016.
3. Chicago Bears
Jonathan Allen, Defensive Interior, Alabama
Quarterback is still in play at No. 3 for the Bears but they go the patient route to bring in Allen, the most productive interior pass-rusher in the draft. He went from part-time to more of a full-time role in 2016 for Alabama and he finished the season with more pressures than any interior defensive linemen with 67 while staying strong against the run in an every-down role. Despite a subpar NFL combine, Allen has three-down potential at the next level.
4. Jacksonville Jaguars
Derek Barnett, Edge, Tennessee
Another spot in the draft that is difficult to lock in, I'm going with another piece along the defensive line for the Jaguars. Barnett may not be an athletic freak, but his on-field production has been right on par with Garrett's during their three years in the SEC and he's finished as a top-three edge defender in each of the last two seasons. Barnett is strong against the run and he's continued to improve as a pass-rusher, finishing his career with 34 sacks, 43 QB hits, and 110 hurries on his 1,126 rushes.
5. Tennessee Titans (from Los Angeles Rams)
Adams capped a strong career at LSU with the nation's top grade among safeties at 89.2 overall. He has the versatility to play in the box as a run defender while showing the coverage ability to playing short, deep, or in the slot. Adams can fill numerous roles on the defense, and he shows good open-field balance as he missed only 24 tackles on 191 attempts in his three years at LSU.
6. New York Jets
Mitchell Trubisky, QB, North Carolina
Trubisky certainly comes with his question marks after only one year as a starter at North Carolina, but he showed all of the necessary tools including good pocket presence, decision-making, and short-area accuracy. There's still work to be done on a deep ball as he ranked 18th in the draft class in adjusted completion percentage at 42.3 percent, but he has the tools to develop into a solid starter in the league.
UNC QB Mitch Trubisky rushing TD pic.twitter.com/2pgPmJNJyO

— Steve Palazzolo (@PFF_Steve) October 1, 2016
7. Los Angeles Chargers
One of the draft's most perfect fits remains the same in this mock as Hooker goes to the Chargers to fill the center field role in new defensive coordinator Gus Bradley's system. He lit up the highlight reel with his seven interceptions, often showing exceptional reads and range on the back end to force the turnovers. The question for Hooker is his tackling as he missed one out of every 6.5 attempts, good for 135th among the nation's safeties, but his range and playmaking is too much to pass up for San Diego's single-high safety system.
8. Carolina Panthers
Solomon Thomas, Edge, Stanford
The Panthers need an influx of youth along the defensive line and Thomas is a good fit as a versatile piece along the defensive front. He played mostly on the interior for Stanford, where he was exceptional against the run with a 92.0 grade that led all interior defensive linemen. His work as a pass-rusher continues to improve, finishing seventh at 86.5, and the big question is if he can continue that growth curve at the next level. His best fit is likely as a defensive end on early downs who can kick inside to rush the passer in subpackages.
9. Cincinnati Bengals
Corey Davis, WR, Western Michigan
Another of the draft's perfect fits, Davis' route-running will complement the downfield threat that WR A.J. Green provides on the other side. Davis is smooth against man coverage and savvy against zone, making him a potential high-volume option at the next level who can win at every level of the field. At the very least, he has the ability to get open at the short and intermediate ranges and his 8.1 yards after the catch over the last three years show his playmaking ability.
These are @JeffRatcliffe's top 100 rookies for fantasy football
1. Corey Davis
2. Mike Williams

Full list ⬇️https://t.co/Il2TkL2osb

— PFF (@PFF) April 21, 2017
10. Buffalo Bills
Watson has been a difficult evaluation as he should have been even more dominant given his supporting cast in 2016, but his season was marred by a step back in accuracy and too many poor decisions. Despite that, it's his ability to bounce back from mistakes that makes him potentially special and he's shown the ability to work the ball to all levels of the field with touch. He's been one of the nation's top-graded quarterbacks the last two years for a reason, and sitting behind Tyrod Taylor may be the right situation as he works to clean up parts of his game.
11. New Orleans Saints
There are holes all over the defensive side of the ball in New Orleans, but linebacker has been a particularly sore spot in recent years. Foster brings a three-down playmaker as he was the nation's top-graded linebacker at 93.3 overall in 2016. He has the aggressiveness to take on blocks in the run game and the athleticism to hang with running backs and tight ends in coverage, and aside from his off-field concerns that have popped up during the draft process, Foster is an excellent fit for the Saints defense that is in need of playmakers.
12. Cleveland Browns (from Philadelphia Eagles)
Patrick Mahomes, QB, Texas Tech
The draft starts to get interesting, as the Browns roll the dice on Mahomes' potential. Mahomes could develop into one of the league's best quarterbacks behind a talented arm that can get the ball to all parts of the field with accuracy and touch from any imaginable angle. The key will be finding the balance between getting Mahomes cut back on the poor decisions (second in the nation in turnover-worthy throws in 2016) while not taking away the natural playmaking that led to the second-most big-time throws. Cleveland has so many picks in the draft, this one is worth the risk to try to tap into Mahomes' big-time potential.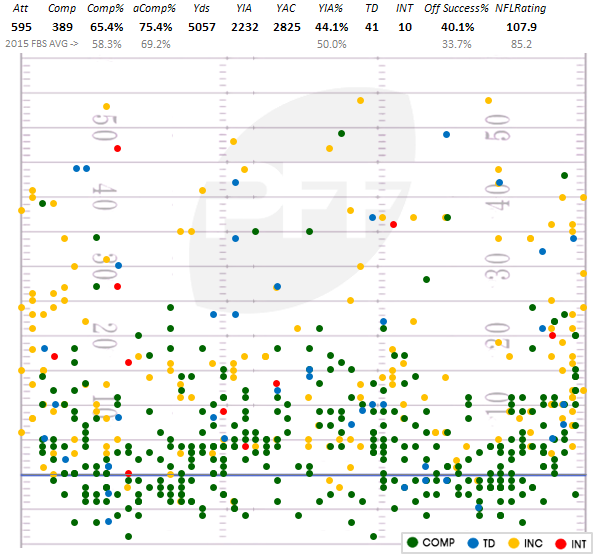 13. Arizona Cardinals
Despite injury concerns, Ross brings a big-play threat to Arizona's vertical passing attack as his 4.22 speed shows up on the field. Whether running deep routes to get behind the defense or short routes that get the ball in his hands early, Ross must be accounted for by opposing defensive coordinators. He ranked 12th in the nation with 3.04 yards per route last season.
14. Philadelphia Eagles (from Minnesota Vikings)
New wide receiver Alshon Jeffery is only locked in for one year, so upgrading the receiving corps is still a priority for the Eagles. Williams adds a big-bodied option for the Eagles as he can move the chains on slants and posts and he has the ball skills to make plays down the field and in the back-shoulder game. His 85.0 overall grade ranked third among Power-5 receivers in 2016.
15. Indianapolis Colts
Haason Reddick, Edge/LB, Temple
Reddick had excellent production at Temple, then turned plenty of heads in his move to linebacker during Senior Bowl practice. He has the versatility to play off the ball or rush the passer, perhaps even as a movable chess piece to isolate on running backs in passing situations. The Colts need to continue their defensive overhaul and Reddick gives them plenty of options after notching 10 sacks, four QB hits, and 29 hurries on 248 rushes in 2016.
Five non-Power 5 edge prospects to watch:

1. Haason Reddick, Temple
2. Derek Rivers, Youngstown State
3–5. ⬇️https://t.co/bU64qJkFiE

— PFF College (@PFF_College) March 28, 2017
16. Baltimore Ravens
The Ravens have work to do on the edge and Lawson is a good fit after finally showing his potential in 2016. He had an injury-riddled career at Auburn, but he capped it with nine sacks, 13 QB hits, and 45 hurries on his 364 rushes in 2016 and he will be a key piece for the Ravens as they look to replace OLB Elvis Dumervil and eventually OLB Terrell Suggs on the other side.
17. Washington Redskins
Dalvin Cook, RB, Florida State
While Washington doesn't have to draft a running back in the first round, Cook is a good fit as he brings big-play potential that consistently showed up on tape despite a subpar showing at the combine. He led the nation with 90 missed tackles forced in 2016 and his game speed makes him a weapon in the passing game. Cook's game is a good combination of big-play ability and short-area feel that allows for maximizing his run blocking on any given play and he should have an immediate impact behind Washington's ever-improving offensive line.
18. Tennessee Titans
While adding a receiver would be great for QB Marcus Mariota, Howard is a fine addition here. He can work with Delanie Walker in two-TE sets before taking the reins full-time in the future, but in the meantime, Howard adds a necessary playmaking option for the Titans' offense. He had the best run-blocking grade in the nation in at 81.5 in 2016, and he's the best all-around tight end in the draft.
19. Tampa Bay Buccaneers
Jordan Willis, Edge, Kansas State
Willis may not have been on the first-round radar before the combine, but his exceptional workout simply backed up his on-field play that led to a 94.3 overall grade that led the nation's edge defenders in 2016. He picked up 15 sacks, eight QB hits, and 57 hurries on his 524 rushes, all while playing strong run defense, and he has the burst to challenge the edge at the next level.
20. Denver Broncos
Even with a poor offensive line class at the top this year, need and value match up as Ramczyk can step in and compete for a starting spot right away. He had an excellent 2016 season in his only year of FBS action, leading all offensive tackles with an 84.4 run-blocking grade and allowing only 12 total pressures on the year. Ramczyk can make all of the necessary blocks in the run game, and that's a good fit for a Denver rushing attack that is looking to add more versatility to their previous zone-heavy scheme under former head coach Gary Kubiak.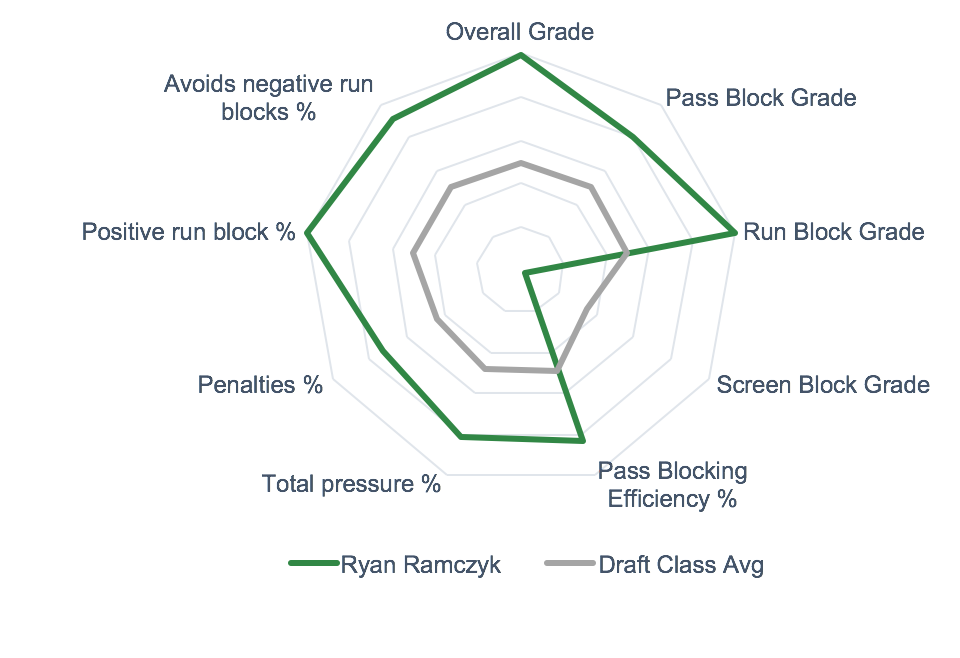 21. Detroit Lions
Bouncing back from a subpar 2015, White led all cornerbacks with a 90.5 overall grade in 2016. He has the versatility to play both on the outside and in the slot and he brings a playmaking component on the back end as evidenced by his 12 pass breakups (tied for third in 2016) and two interceptions. White can compete immediately for playing time on the outside while bringing the versatility to move around the defensive backfield in subpackages.
22. Miami Dolphins
Forrest Lamp, T/G, Western Kentucky
Lamp has graded as a top-five offensive tackle in each of the last three years at Western Kentucky as he's shown athleticism and power in the run game while allowing only 31 pressures on 1,621 attempts in pass protection. His mini arms will likely have the NFL kicking him inside to guard — though giving him a shot at offensive tackle seems like a low-risk proposition — and he can immediately upgrade the interior of the Dolphins' offensive line that has had issues in recent years.
23. New York Giants
Christian McCaffrey, RB, Stanford
While McCaffrey's playmaking should see him coming off the board even earlier, it's all about finding a fit that will maximize his talents. New York's 11-personnel heavy scheme will allow him to run in space, and he now adds a movable playmaker to an offense already loaded with options. McCaffrey brings wide receiver-like skills to the backfield, but he also has the patience and cutting ability to excel in any scheme as a running back. His 94.5 overall grade in 2015 is the second-best we've seen in three years of college grading.
Best fits for Christian McCaffrey, including the 49ers, Saints and … https://t.co/xpVRsIsLAJ

— PFF (@PFF) April 19, 2017
24. Oakland Raiders
There's no denying Fournette's talent, but he's not a fit for every team's rushing attack. This landing spot may allow him to maximize his potential as Oakland's strong offensive line excels in a downhill attack that fits Fournette's style. His 2015 season was exceptional as he forced 83 missed tackles to lead the nation and a return to that form makes him a scary proposition for opposing defenses, even if there are question marks as to how much he can contribute in the passing game at the next level.
25. Houston Texans
Melifonwu dominated the workout process, showing incredible athleticism for a 6-foot-4, 224-pound safety. He has excellent range in coverage and he even excelled in his Senior Bowl experiment at cornerback as he showed the ability to press and run with opposing receivers. Houston's defense already gave opposing offenses fits last season and Melifonwu adds yet another chess piece to better match up with big receivers and tight ends.
26. Seattle Seahawks
Seattle gets their long cornerback in Humphrey who is equally proficient playing in press man or off coverage. He moves well for a big cornerback and those skills translate nicely to Seattle's scheme. The big question for Humphrey is at the catch point where he loses far too often, leading to his giving up an average of 16.9 yards per reception over the last two seasons.
Marlon Humphrey ranks better than the draft class average in every major category.https://t.co/lZrCruGskr

— PFF College (@PFF_College) March 24, 2017
27. Kansas City Chiefs
Conley's size and movement skills translate well to man coverage and that's just what Kansas City loves to employ more than only a handful of NFL teams. He can slot in opposite CB Marcus Peters after allowing a passer rating of only 13.6 into his coverage in 2016, best in the nation. While Conley got beat more than those numbers would indicate, he got his hands on 11 passes (seven pass breakups, four interceptions) while allowing only 14 receptions in 2016.
28. Dallas Cowboys
The draft shapes up well for the Cowboys, who would love to add to their defensive front and secondary. Charlton ranked as the No. 4 edge defender in the nation down the stretch, showing just what he's capable of in the future. He notched 17 sacks, 19 QB hits, and 66 hurries on what amounts to about a season-and-a-half's worth of action between 2014 and 2016.
29. Green Bay Packers
Zach Cunningham, LB, Vanderbilt
Even though Green Bay may not go the linebacking route, I love Cunningham's fit for the middle of their defense. He attacks blockers in the run game and usually finds his way to the ball carrier as his 56 solo run stops led all Power-5 linebackers in 2016. Cunningham also brings range and athleticism in coverage, with his only major question mark being his tackling as he's missed 34 attempts over the last two seasons.
30. Pittsburgh Steelers
While edge defender or cornerback is very much in play for Pittsburgh, there is talent to be had at both positions later in the draft. Njoku adds another playmaker to the offense as he can line up all over the formation as a mismatch option in the pass game. He averaged 11.2 yards after the catch per reception in 2016 and he dropped only seven of 113 catchable targets over the last two years.
Top TE draft prospects of 2017:

1. O.J. Howard
2. David Njoku
3. Gerald Everett
4–10. ⬇️https://t.co/T4AXbvRWOA

— PFF College (@PFF_College) April 19, 2017
31. Atlanta Falcons
Charles Harris, Edge, Missouri
It's a good draft to continue to add pass-rushers to the mix in Atlanta, and Harris brings perhaps the draft's best spin move to their defensive front. He emerged as one of the nation's top pass-rushers over the last two years, and his 88.7 rush grade ranked 12th in 2016. He's picked up 20 sacks, 37 QB hits, and 77 hurries on 877 rushes over the last three years and he'll step in as a situational rusher while he continues to develop as a run defender.
32. New Orleans Saints (from New England Patriots)
Williams hasn't been great during the draft process, but it's hard to argue with how often he got after the quarterback at Alabama. He created pressure on 26 percent of his rushes (NCAA average is 10 percent), and in his limited opportunities against the run, he used his length and explosiveness to make plays (12.7 run stop percentage ranked second among draft class edge defenders in 2016). At the very least, he fills a situational pass rush role, just as he did at Alabama, with hopes of evolving into an every down player on the edge.