As a society, no one cares about average. We want to see the best, or we want to see the worst. Superlative, by definition, means 'of the highest quality or degree.' These are the prospects that fit that bill in the following categories.

Most Outstanding Player
Chase Young, edge, Ohio State
It's almost boring to talk about Young at this point — it's like debating how good Michael Jordan was. Young is the best we've ever seen along the defensive line, as his 97.1 pass-rushing grade is shattering the current PFF record of 94.4 (Josh Allen, 2018).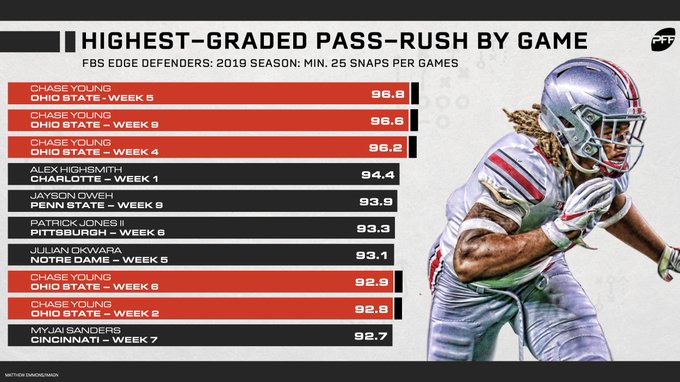 Honorable Mentions:
Joe Burrow, QB, LSU
Any other year and this would be Burrow's to lose. Only two of his eight games have earned grades below 80.0, and not a single game he's played has earned a grade below 70.0. And Burrow isn't racking up fake yards the way some college quarterbacks do. His 1,735 yards on throws targeted 10-plus yards downfield is the most in the country.
Josh Jones, LT, Houston
We've seen some small school offensive linemen dominate in our six years of grading college football players. Northern Illinois' Max Scharping (85.9), Western Kentucky's Forrest Lamp (92.4), Western Michigan's Taylor Moton (83.8) and Nevada's Austin Corbett (83.3) were all small school Day 2 picks who graded well in PFF's system. However, none were quite at the level that Jones has been at this season. Jones' 93.6 overall grade would be the highest we've ever seen from a Group of Five tackle, as he's working his way towards first-round consideration.
Best Performance
Chase Young, edge, Ohio State vs. Wisconsin
Young took over the game this past weekend with four sacks and two forced fumbles. Basically anytime he was single blocked, he was in the quarterback's lap in the blink of an eye. And truthfully, he's had a handful of performances that could be in consideration for this superlative.
Honorable Mentions:
Joe Burrow, QB, LSU vs. Florida
This was the game that put Burrow at No. 1 in a bunch of mock drafts the following week. It's one thing to carve up Vanderbilt, and another altogether to bury a Florida secondary that has two legit corner prospects. Our ball placement charting had 91.7% of his attempts in that game as accurate — the highest in any game with at least 20 attempts in college football this year. Only 14 other games have been over 80% (and Burrow has two of those as well).
Jauan Jennings, WR, Tennessee vs. South Carolina
This might not be the receiver you expected to be on this list, but it's hard to watch Jennings this past week and not come away extremely impressed. He caught 7-of-8 targets for 174 yards and two scores. All seven went for either a first down or touchdown, and he broke four tackles after the catch. He added three broken tackles on five handoffs for good measure. The 6-3, 208-pounder has been one of the most elusive receivers in college football with 17 broken tackles on only 42 catches this year.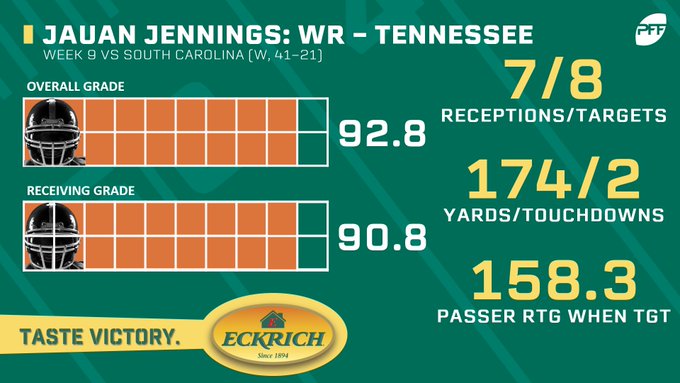 Most Forgettable Performance
Alaric Jackson, LT, Iowa vs. Penn State
Jackson has struggled to return from the ankle injury he suffered in Week 1. In this one, Jackson allowed four pressures and had four more losses in pass pro that didn't go down as pressure. After a stellar sophomore campaign, Jackson has only a 58.2 pass-blocking grade this season.
Honorable Mentions:
Jordan Love, QB, Utah State vs. Nevada
We knew it would be tough sledding for Love against LSU, so we'll give him a pass for that one, but we can't say the same about his performance the next week. He went 13-of-31 for 169 yards with two big-time throws and four turnover-worthy plays against Nevada. That's going to be tough tape for evaluators to get through. Love's playing his way to a 'return to school' grade this fall.
Kalija Lipscomb, WR, Vanderbilt vs. UNLV
It really couldn't get much worse for Lipscomb against UNLV. He was targeted three times on 20 routes and didn't haul in a single one while dropping two in the process. He's been fantastic after the catch this year, with 17 broken tackles, but this is tape he'll want to burn.
Biggest Risers
Joe Burrow, QB, LSU
No surprise here. Burrow wasn't even one of the 10 QBs included in PFF's preseason draft guide. Now he's in the conversation for the top spot on our board. His overall grade went from 79.5 last season to now 92.7 this year.
Marvin Wilson, DI, FSU
Wilson was on the outside looking in for the top defensive tackle in the 2020 class heading into the year. Now he's DT1. We've seen his pass-rushing grade jump from 81.3 as a sophomore to 91.5 this season.
Alex Leatherwood, LT, Alabama
It's fairly clear that Leatherwood is far more comfortable out on the edge than he was on the interior. Last season he allowed 21 pressures at right guard, where theoretically, it should be easier to pass protect. Through eight games this year, he's allowed only five pressures, including no sacks or hits.
Biggest Fallers
K.J. Costello, QB, Stanford
We had Costello tagged for a nice leap heading into 2019 — he threw for more yards into tight windows than any other QB in 2018. The leap, though, turned out to be more of a tumble. He was sidelined with injuries and had three straight game grades below 55.0 to start the season before looking like his old self against Arizona this past weekend.
Honorable Mentions:
Kenny Willekes, edge, Michigan State
It's worth wondering if Willekes still isn't recovered from breaking his leg in the bowl game last year. He's had only five pressures on 130 pass-rushing snaps over the past four weeks. For an edge without much athleticism to begin with, production is paramount.
Darnay Holmes, CB, UCLA
After starting the season on the sidelines with an ankle injury, Holmes has returned to look like a shell of the player we saw in 2018. He's earned a 60.2 coverage grade through six games.
Best Play
Tylan Wallace, WR, Oklahoma State vs. Iowa State
Wallace is a nightmare after the catch, and his speed will play nicely at the next level.
Tylan Wallace.

Oh my god pic.twitter.com/AJDCpGPHAF

— Cam Mellor (@PFF_Cam) October 26, 2019
Honorable Mentions:
Cheyenne O'Grady, TE, Arkansas vs. Colorado State
O'Grady's after-the-catch ability has put him in the top-three of our TE rankings.
No one was stopping Cheyenne O'Grady ???? ????

NO. ONE. pic.twitter.com/o1bfJQXdER

— SEC Network (@SECNetwork) September 14, 2019
Jedrick Wills, RT, Alabama vs. Ole Miss
In a tackle class filled with maulers, Wills has been the most impressive run-blocker in the country this year for my money.
What Jedrick Wills did to that Ole Miss defender is illegal in at least 17 states.

(via @GriffinTSmith) pic.twitter.com/8HB8Bc7YCv

— Clint Lamb (@ClintRLamb) September 28, 2019
Kellen Mond, QB, Texas A&M vs. Texas St
It hasn't been a banner season from Mond by any means, but this throw against Texas State couldn't have been placed any better.
What a 3rd down toss by QB Kellen Mond last night.

Yes, it came against Texas State, but there's isn't a CFB defense that can defend that placement. pic.twitter.com/ZBSOe5BR67

— Dane Brugler (@dpbrugler) August 30, 2019
Underclassmen we'd let into 2020
Derek Stingley Jr., CB, LSU
I feel confident in saying Stingley will be the best cornerback prospect since Patrick Peterson. He's currently leading the FBS in coverage grade as a true freshman. Back in high school, he ran a 4.30s 40 and had a 42" vertical at 6-1, 190 pounds. He's special.
Honorable Mentions:
Penei Sewell, LT, Oregon
Sewell looks every bit the special prospect that Stingley will be. The Oregon left tackle not only leads the country in pass-blocking grade (91.3) but also leads in run-blocking grade (95.4). He's dominating his position the way Chase Young is, and Sewell is only a sophomore.
Justin Fields, QB, Ohio State
In the battle of the sophomore QBs, it's Fields, not Clemson's Trevor Lawrence, who gets the nod here for his play this season. His 92.5 passing grade is actually higher than Joe Burrow's at the moment, as Fields leads the country in that regard. His decision making has been off the charts with 17 big-time throws compared with only three turnover-worthy plays.