The NFL Draft season is upon us and player evaluations are in full swing. A common theme in player evaluation is to compare a prospect with a previous NFL player with similar traits. However, with more than a decade of PFF's data at hand, we can go a little deeper with our player comparisons.
Comparing University of Washington interior defender Vita Vea with former Baltimore Raven and current Detroit Lion Haloti Ngata is a going to be a common occurrence this spring, and the comparison has merit. While comparing Ngata's rookie NFL stats to Vea's 2017 stats at Washington is seemingly apples-to-oranges, examining the numbers can still shed light in comparing that the two players won in similar fashion.

Both are in the same weight class
The two men possess similar builds coming out of college, as Ngata measured  6-foot-4, 338-pounds when he left Oregon in 2006. Vea is expected to measure approximately 6-foot-4, 340-pounds himself when he officially gets measured at the 2018 NFL Scouting Combine. In addition to the rare size, both players possess unnaturally light feet and quickness for someone of their weight which makes them highly coveted NFL draft prospects.
Positional versatility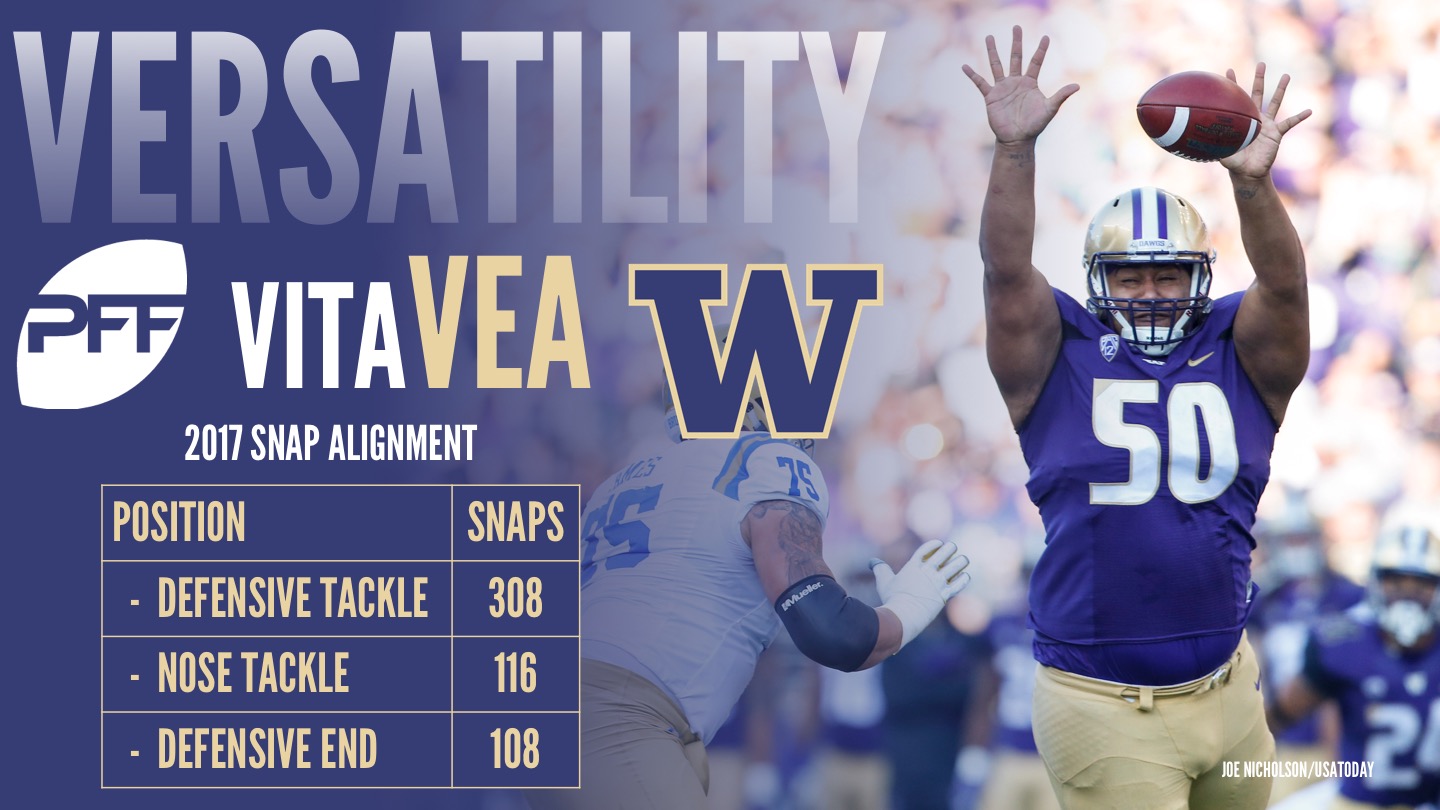 As a rookie, Ngata immediately began to plug in at multiple positions along the Ravens' defensive line, seeing 364 snaps at defensive tackle, 231 snaps at defensive end and 110 at nose tackle, showing he could play multiple spots along the line at a high level. In 2017 for the Huskies, Vea played 308 snaps at defensive tackle, 116 snaps at nose tackle and 108 snaps at defensive end. His ability to produce at multiple positions is extremely similar to Ngata's and a highly-coveted skill-set.
As a run-defender
Ngata and Vea were both elite run-defenders their final year of college. Both of these players are difficult for one blocker to move at the line of scrimmage due to their size and ability to hold their ground, and both possess the raw strength to toss an offensive lineman quickly aside to make a tackle. As a rookie, Ngata piled up 33 run stops, which ranked No. 2 among NFL 3-4 defensive ends and Ngata's run-stop percentage of 9.6 ranked No. 9 among the same group. Vea had 25 run stops in 2017 for the Huskies, and his run-stop percentage of 12.0 ranks No. 4 among all draft-eligible FBS defensive tackles. Vea's 91.6 run-defense grade ranks No. 2 among all FBS draft-eligible defensive tackles.
As a pass-rusher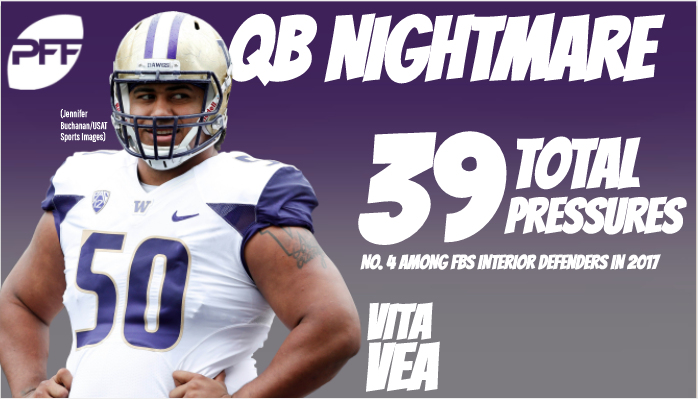 As prospects, Ngata and Vea could both be viewed as capable of generating pass-rush production from different spots along the defensive line. They both won as college pass-rushers with a devastating bull-rush to collapse the pocket. They both also used that strong bull-rush to set up a push-pull move when they felt their opponent sinking their weight.
In his rookie season, Ngata contributed three sacks, seven QB hits and 12 hurries on his 389 pass-rush snaps. This past season, Vea racked up three sacks, eight QB hits and 28 hurries on his 273 pass-rush snaps and his pass-rushing productivity rating of 11.0 ranks No. 3 among all FBS draft-eligible defensive tackles.
In summary
With similar builds, foot quickness, playing strength, run-defense prowess, ability to generate an interior pass-rush and to line up at different spots on the defensive line, the Haloti Ngata-to-Vita Vea comparison is a fair one. It would be well within reason to expect a similar type of rookie production from Vea as we saw from Ngata in his rookie season in 2007.
[All PFF Elite & Edge subscribers will have access to in-depth scouting profiles on all the top prospects in PFF's 2018 NFL Draft Guide, on February 26, 2018]