Jamal Adams and Derwin James, two of the NFL's young, up-and-coming safeties, don't play a ton of safety. Adams played 140 defensive snaps at the line of scrimmage, another 175 at slot cornerback, 502 split between linebacker and strong safety in the box and 283 at free safety.  James did much of the same, playing 208 defensive snaps along the defensive line, 173 at slot cornerback, 430 in the box and 221 at free safety.
Versatility has gone from novelty to prerequisite for modern safeties, and potential first-round pick Taylor Rapp more than qualifies for the gig in today's NFL.
"I think I'm very versatile, the most versatile safety in this draft," Rapp said in a February interview with Pro Football Focus. "I think I can do it all. I think I can play in the deep third. I can run the alley. I can tackle. I have a high football IQ. I can rush the passer. I can blitz. I can cover. I think I'm the full package. I can do everything."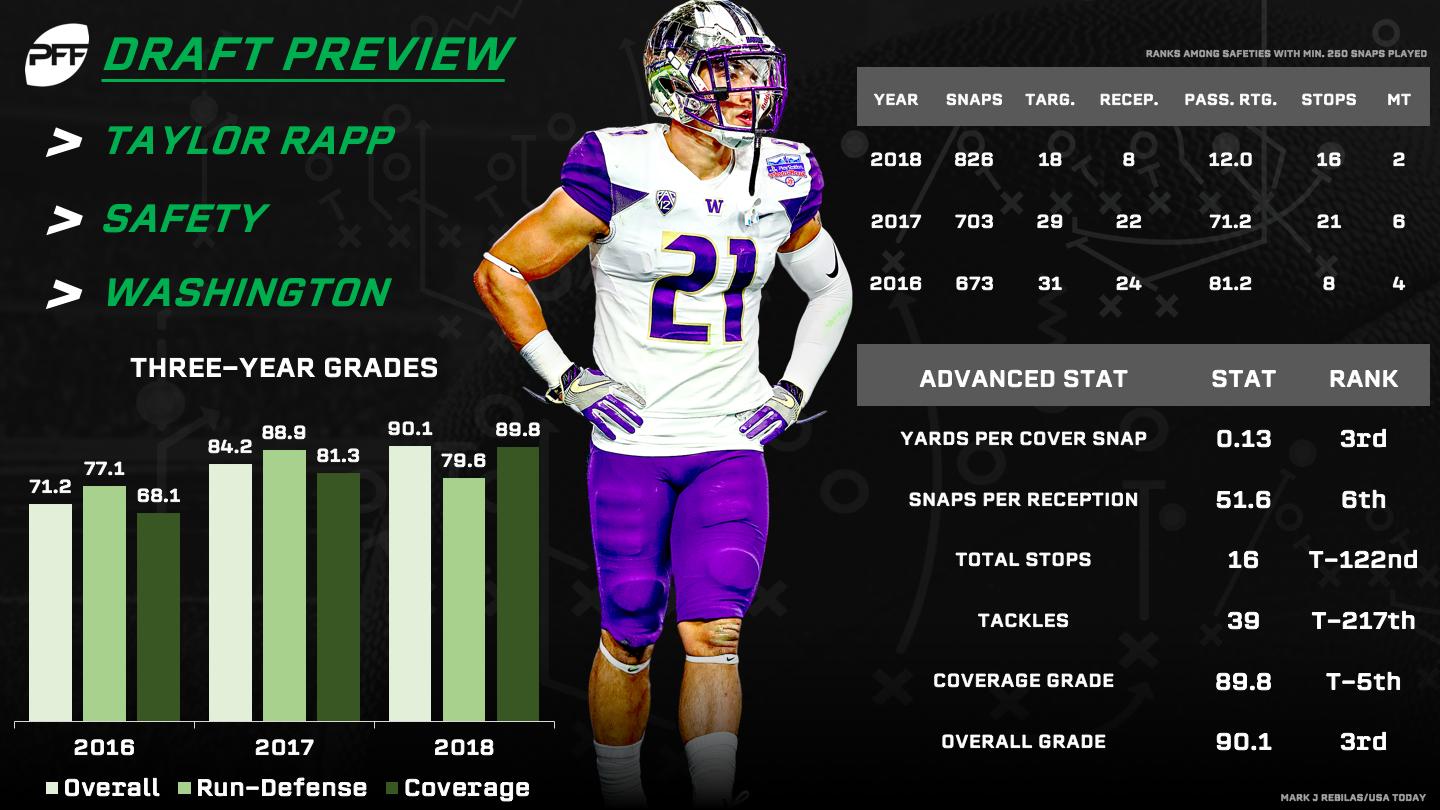 Rapp doesn't just talk the talk, either.
The three-year Washington product played 79 defensive snaps at the line of scrimmage, 364 in the box, 528 at slot cornerback and 1,271 at free safety in his collegiate career. His combined grade over the past two seasons (2017-18) is 91.9, ranking tied for third in the FBS, and he earned the fourth-highest overall grade (90.1) among safeties in just his banner year in 2018.
Diving deeper into just his play at slot corner, Rapp led all primary safeties with at least 200 slot cornerback snaps over the last three years in passer rating allowed (41.5) and yards allowed per coverage snap (0.57).
Rushing the passer, Rapp recorded 15 total pressures across 72 pass-rush snaps in his career, all leading to a top-10 pass-rush grade (69.2) among qualifying FBS safeties. He also ranked sixth on the list in pass-rush win percentage (15.3%).
Rapp's three-year run-defense grade (90.7) ranks tied for fourth among FBS safeties with 500-plus run-defense snaps in the last three years.
Slot coverage, pass-rush, run defense, Rapp's ranging skillset mirrors that of James and Adams at the next level, but while he does see the duo as role models, he pulls bits and pieces from the games of many safeties to refine his craft.
"[James and Adams are] big role models, but I don't model my game after one specific player," Rapp said. "I try to take a little tad bit from all the players I look up to… I think I take a little bit from everyone, for sure."
Rapp also credits his Dawgs for a lot of his successes, as he spoke highly of former Washington superstars Budda Baker, Kevin King, Sidney Jones, and Byron Murphy.
"They taught me how to prepare like a pro and how to practice like a pro," Rapp said. "They pretty much taught me everything in terms of preparation before a season, preparation before an opponent every week, just stuff like that. Their influence on me was tremendous."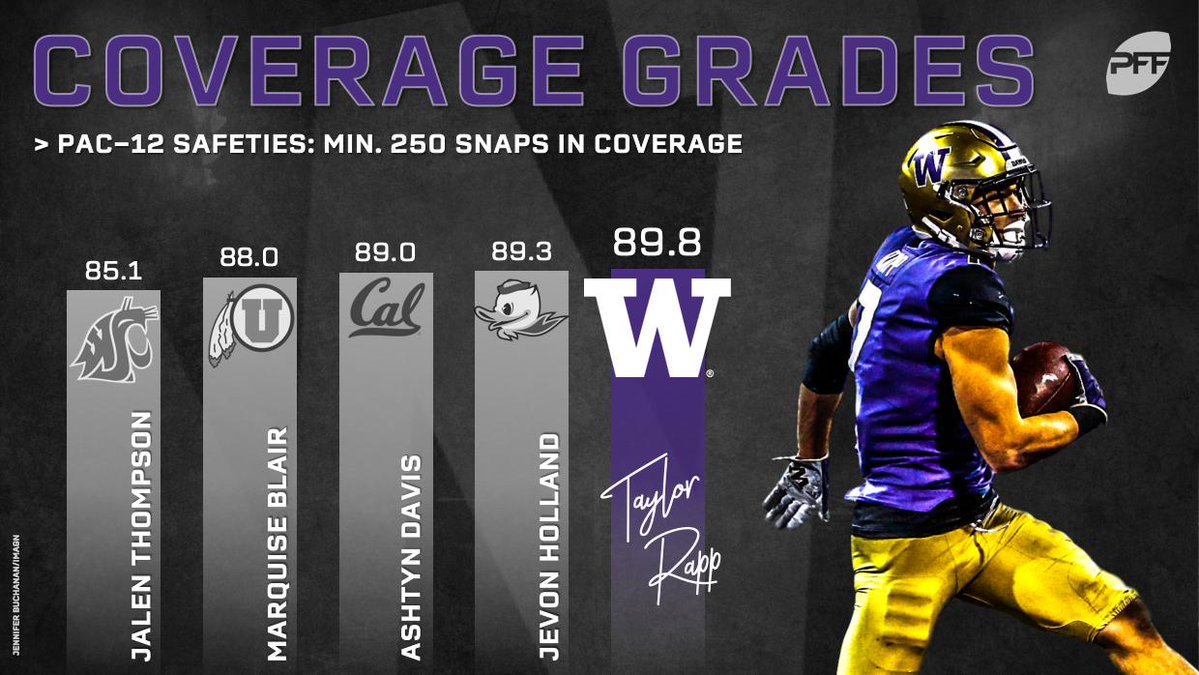 Whether it was his teammates doing or his own, Rapp is quite the prospect now entering the 2019 NFL Draft. His versatility – both from an alignment and assignment standpoint – is outstanding, and his tackling is right there with it.
Rapp missed just 12 tackles while recorded 164 combined tackles in his three-year career with UW, giving him the seventh-best tackling efficiency (14.7) among all qualifying safeties since 2016. He's learned to secure tackles without losing power, as well. He plays the game with a mean streak and takes pride in that.
"Football is meant to be played violently," Rapp said. "When you tackle someone, I always take pride in how you take that ball carrier down… I always thought I was overlooked, so when I stepped on the football field, I think I had to be unusual, be different and stand out. So, I think that's where it came from."
The laundry list of positives tied to Rapp's game doesn't seem to have an end. It all starts with his versatility and high-end coverage ability, and it continues as you analyze his tackling, leadership, football IQ, etc. The experience he has from different alignments and assignments is astounding, as is his coverage ability (89.8 coverage grade in 2018). Expect teams to jump at the opportunity to add Rapp, the NFL's next Swiss Army Knife, come April's draft.