The Detroit Lions are in a strong position heading into the 2023 NFL Draft, coming off a season where they narrowly missed the playoffs and having two of the first 18 selections and four of the first 55 picks in the draft. This is the type of event that could set the team up for success for the next five years if they get it right.
We used PFF's Mock Draft Simulator to dig into the best options for restoring the roar in the first round.

Option 1: Address CB and DI needs early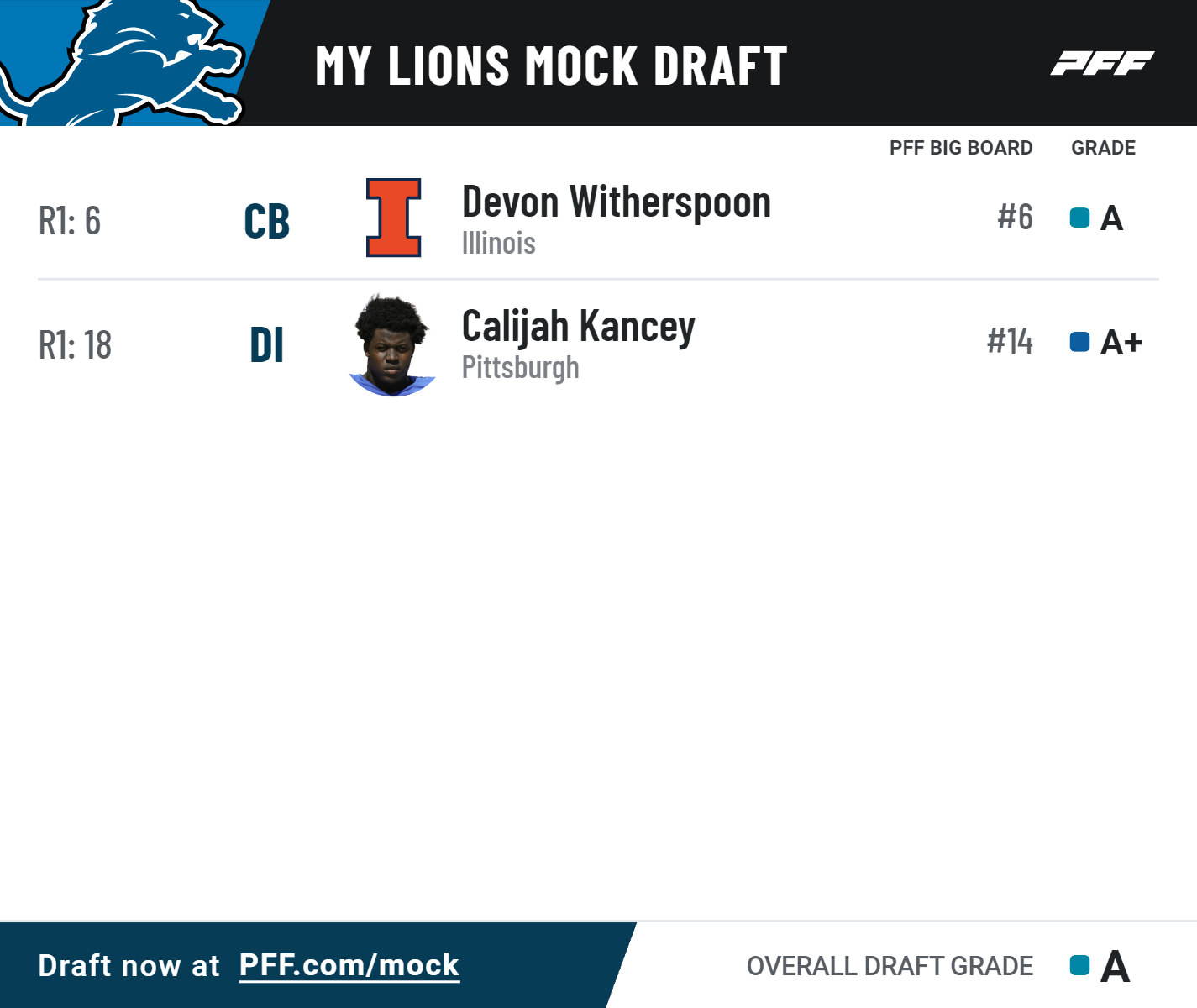 Devon Witherspoon led all cornerbacks with a 92.5 PFF coverage grade in 2022, allowing just 22 receptions while recording three interceptions and 14 pass breakups.
Calijah Kancey led all interior defenders with a 92.4 PFF pass-rush grade last season, racking up eight sacks, nine hits and 30 hurries from 275 pass-rushing snaps. 
---
Option 2: Find an impact DL at No. 6, CB at No. 18
The Lions could form a dangerous edge trio by adding someone like Tyree Wilson in the top 10. He registered eight sacks, 10 hits and 32 hurries from 258 pass-rushing snaps during the 2022 college football season.
Joey Porter Jr. was a force in coverage for Penn State last season, allowing just 15 receptions on 275 coverage snaps and breaking up nine passes.
---
Option 3: Will Anderson or Jalen Carter falls to No. 6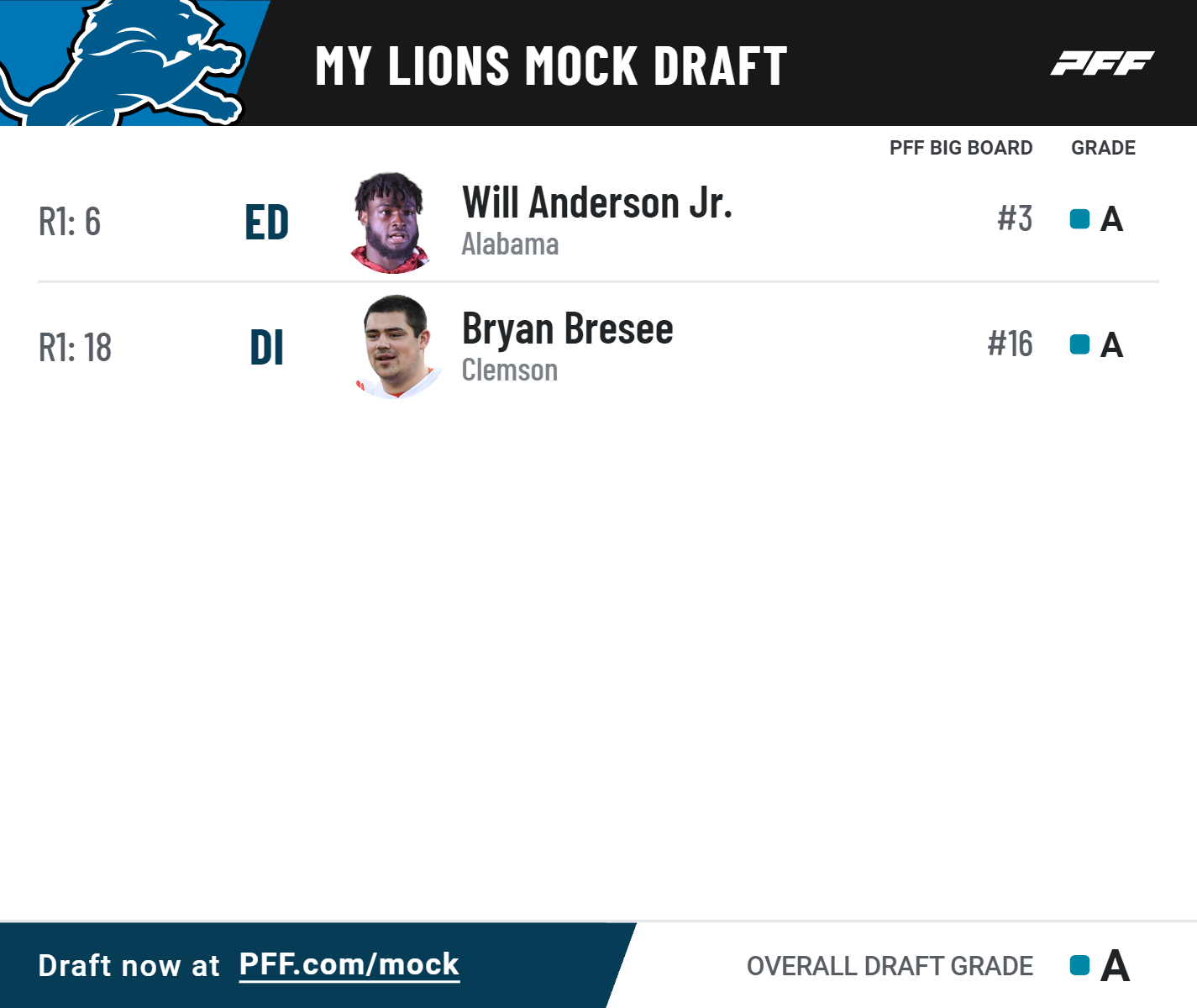 For one of the top two defensive players to fall to Pick No. 6, four quarterbacks likely need to go in the top five. A few trade-ups from quarterback-needy teams would be required, but it is possible. Will Anderson Jr. produced 207 total pressures on 1,223 pass-rushing snaps across his three seasons at Alabama.
Bryan Bresee would then allow them to address the need on the defensive interior, coming off a season where he produced an 82.0 PFF pass-rushing grade, registering 24 total pressures on 203 pass-rushing snaps.
---
Option 4: Build for the future with a QB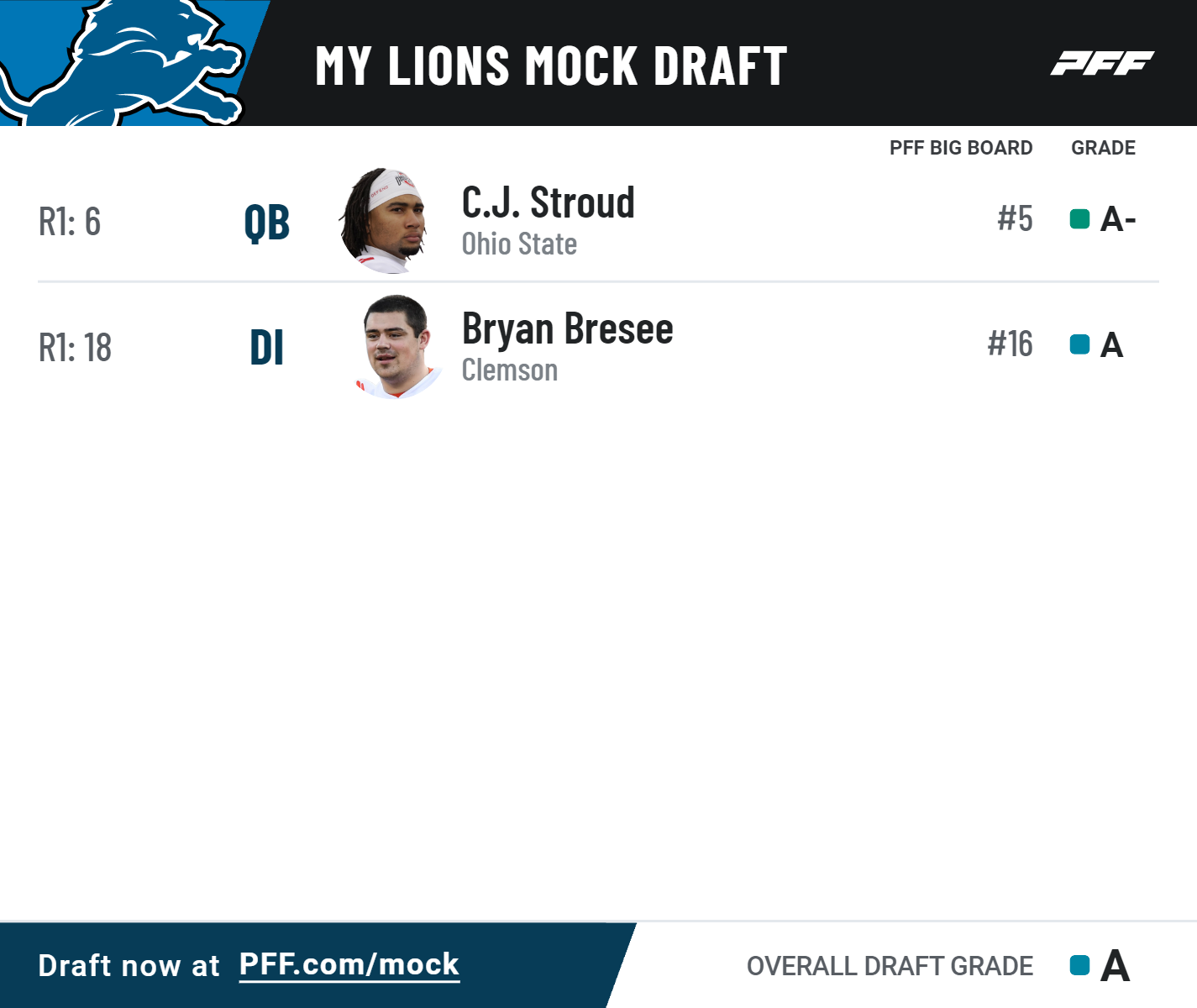 If I learned anything from the reaction of Lions fans to a suggestion of a trade for Lamar Jackson, it's that they are big fans of Jared Goff. The reality, though, is that the 2016 No. 1 overall pick has just one season in his NFL career with an 80.0-plus PFF passing grade.
Getting the right quarterback on a rookie deal significantly boosts a team's chance of success, and we only need to look back to Super Bowl 57 to see the team the Eagles were able to build around Jalen Hurts on his rookie deal.
C.J. Stroud started for two seasons at Ohio State, producing PFF passing grades of 91.5 and 89.0 in 2021 and 2022, respectively.