Last week, our analytics team led by data scientists Eric Eager and Geroge Chahrouri, broke down what we've learned to translate best from four years of college pass-rusher grading into the NFL. Using that combination of career pass-rushing grades and combine athleticism, here are the pass-rushers that met our analytical thresholds and what makes them grade so high in the PFF system.
Ogbonnia Okoronkwo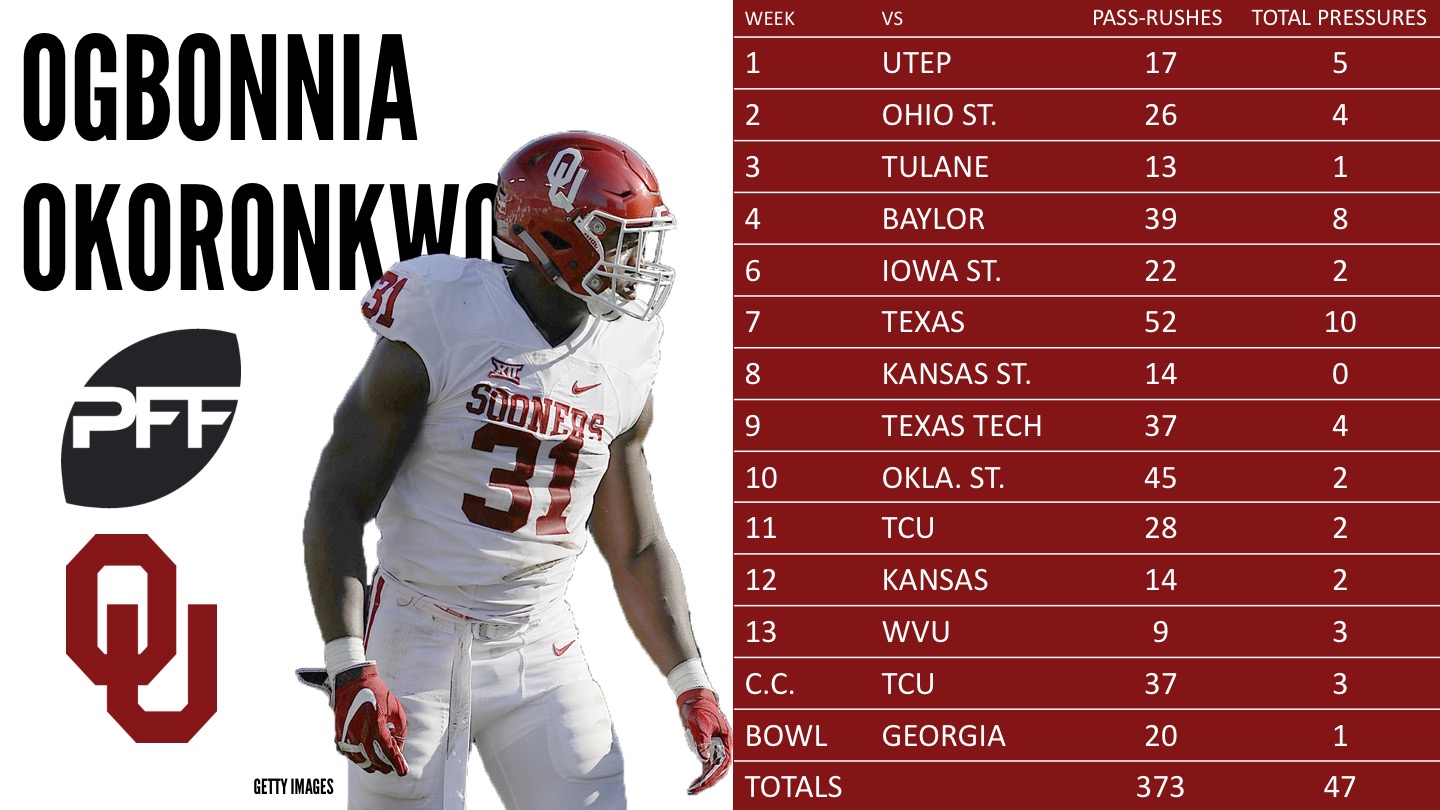 When Okoronkwo was on the field at Oklahoma, he did nothing but dominate as a pass-rusher. He notched 134 career pressures on 781 pass-rushing snaps, including 52 combined sacks and hits. The latter is largely due to his ability to consistently win on first contact. Because of his size (6-foot-1, 252-pounds), that's who he's going to have to be and what he's going to have to do in the NFL. Okoronkwo backed up his career numbers at the combine where he broad jumped 10-foot-1 and posted a 38-inch vertical – both excellent figures for an edge rusher.
Kemoko Turay
The key with Turay in our system is not the raw stats, but rather the rate at which he accumulated his stats. Turay may have only put up 110 pressures in his four-year college career, but those came on only 548 pass-rushes. Utah's Hunter Dimick rushed the passer 525 times in 2016 alone and the majority of full-time starters fall somewhere around 400 for a season. Now, translating the production of a designated pass-rusher to that of a full-time starter is impossible, but it at least shows how productive he's been in that role. The much bigger reason for concern with Turay production-wise comes with the fact that he was so much more effective as a freshman (39 pressures) and sophomore (30 pressures) than as junior (seven pressures) and senior (34 pressures).
Maurice Hurst
Hurst is the crown jewel of the PFF case study in terms of production versus traditional scouting methods. From a scouting perspective, he's too short, too small and too inconsistent. From a PFF perspective, he's had the most dominant college career of any interior player we've ever graded. He obviously didn't work out at the combine because of a heart condition, and that will have to be further vetted by teams, but from an on-field perspective, we have zero doubts about his ability.
Marcus Davenport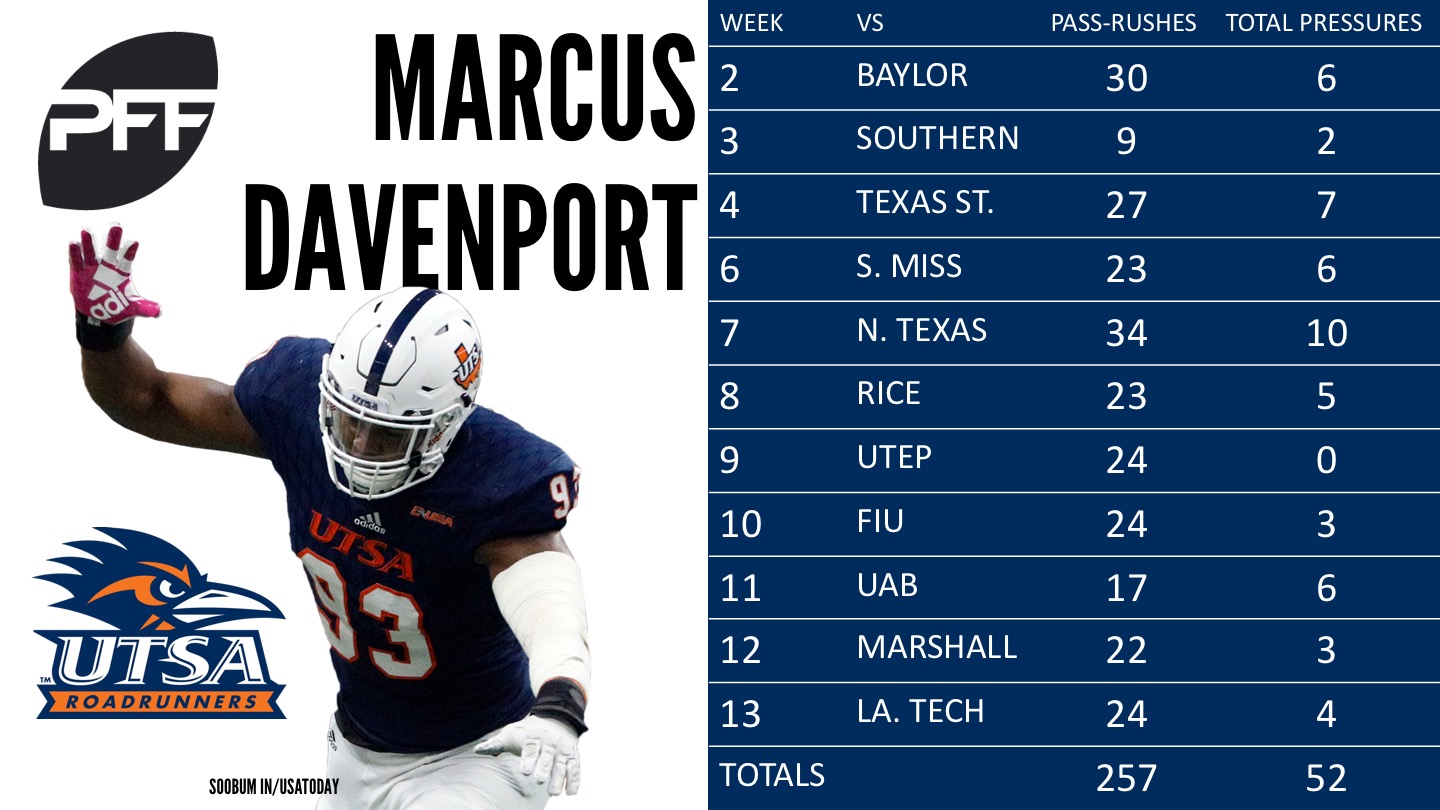 PFF started fueling the Davenport train prior to the 2017 season on the backs of strong grading the prior two seasons. He made us look smart (a rarity) by delivering a monster senior season in which he collected 57 total pressures – 18 more than his previous career high. Tons of guys produce at a high-level at Group of 5 schools but won't sniff this list because they lack athleticism. That's not the case with Davenport however, as he ran a 4.58 40 at 264-pounds and broad jumped 10-foot-4 in Indy.
Genard Avery
Teams have already moved Avery to off-ball linebacker because of his height (6-foot-1) and the fact that he moved around quite a bit at Memphis, but he has the production and athleticism to stay at edge if he is presented with the opportunity. This past season, he notched 23 combined sacks and hits as well as 57 overall pressures on only 276 pass-rushes. Avery then lit up the combine with a 4.59 40-yard dash, a 10-foot-4 broad jump and a 6.9-second three-cone. Maybe the most important measurement in Indy for his sake, Avery had no control over. His 31-inch arms are seen as a death knell for most edge rushers in the league.
Shaquem Griffin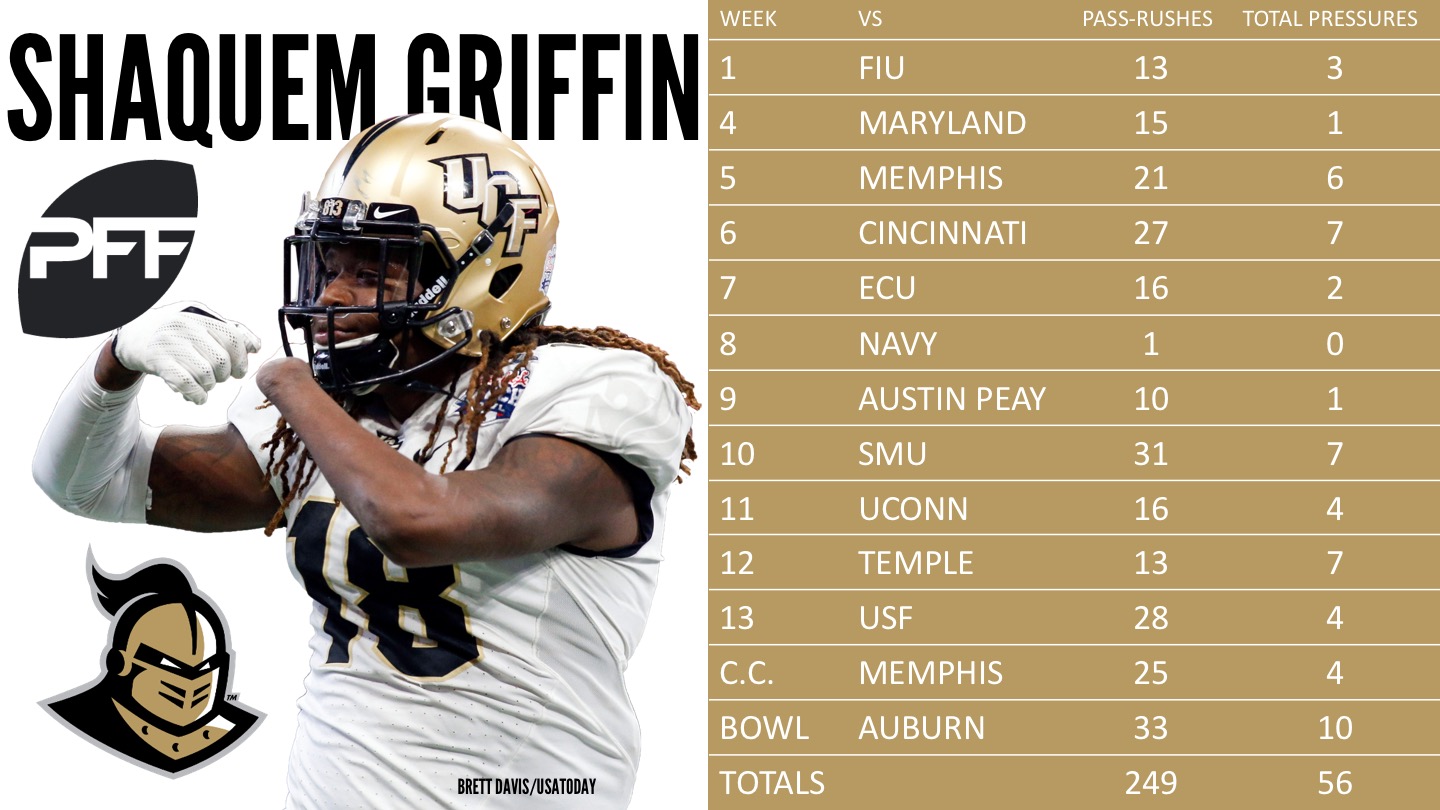 Yet another player who will likely end up somewhere other than edge at the next level because of his size. At 6-foot-1, 227-pounds, this one is completely valid. Still we'd expect, with how productive Griffin was against college tackles, that he'll be a nightmare on blitzes wherever he ends up at in the NFL.
Harold Landry
I've written before about Landry's underwhelming 2017 season and how it still won't stop me from putting him atop PFF's big board. The reason being, the rest of his career – and combine performance – were so dominant. He didn't have a single below average athletic test in Indy and checks all the boxes you'd want from an edge rusher.
Arden Key
Much like Landry, Key makes this list on the backs of a solid career and not necessarily what he did in 2017. In his first two years at LSU, Key averaged 56 pressures a season before limping his way to the barn with a measly 28 this past year. There are a ton of red flags with him both off-field (leaving the team last spring), and on-field (weighing only 238-pounds at the combine). His first two seasons in the SEC though were at a Myles Garrett/Derek Barnett level pace. That's rare production that can't be overlooked.