While the season is winding to a close, there's still ample opportunity for players to alter their draft stock: both good and bad. We've seen players fly up draft boards in recent years with big stretch run performances. That's the beauty of draft evaluation, especially for us here at PFF. Every game counts.
[Editor's Note: All EDGE and ELITE subscribers have access to PFF's 2020 NFL Draft Guide. Subscribe today to download your copy!]
Tua Tagovailoa
The hip dislocation injury is heartbreaking. Make no mistake, when healthy Tagovailoa was a franchise quarterback prospect. It's in the hands of the doctors now, but even if he'll miss some or all of his rookie season, we'd still be willing to take him at the top of the draft with assurance he'll return with a clean bill of health. For now, though, he'll be ranked with an asterisk by his name. Tagovailoa in all likelihood finished his Alabama career with a 91.7 passing grade across three seasons.
Biletnikoff Ballot
The semi-finalists for the Biletnikoff award were announced this week and they are the following:
Rashod Bateman, Minnesota
Omar Bayless, Arkansas State
Ja'Marr Chase, LSU
Antonio Gandy-Golden, Liberty
Isaiah Hodgins, Oregon State
Justin Jefferson, LSU
Jerry Jeudy, Alabama
CeeDee Lamb, Oklahoma
Michael Pittman Jr., USC
James Proche, SMU
DeVonta Smith, Alabama
Sage Surratt, Wake Forest
Seeing as how I'm one of the selection committee members (sick humble brag), I thought I'd break down my thoughts heading into the final vote. I don't think the winner of the award should be simply who is the most productive, nor do I think it should be who I think is the best prospect. It needs to be a combination of the two. For that reason, my picks for the three finalists that will be announced November 25th in order are:
1. CeeDee Lamb (6th on latest Big Board)
He's the FBS leader in yards per route run by a good margin (4.44 vs. 4.01 for second place). He's also broken 18 tackles on 44 catches. That's the definition of unstoppable.
2. Michael Pittman Jr. (53rd on latest Big Board)
Pittman has put up eye-popping numbers as 1/3 of a talented USC receiving corps with a quarterback situation that's been less than ideal. He's also only dropped two passes on 84 catchable all season.
3. Ja'Marr Chase (Only a true sophomore)
While Justin Jefferson has put up big numbers working the middle of the field from the slot, Chase has had to get his beating coverage on the outside. He's also forced 16 missed tackles on 57 catches this season.
Jeudy doesn't have the production and has six drops. Hodgins simply isn't the talent others on this list are. Gandy-Golden has racked up numbers against questionable competition. Surratt would have been in the conversation, but he will miss too many games. Bateman will get his turn next year.
Small School Watch
WR John Hightower, Boise State
We here at PFF love speed and separation ability down the field – Hightower possesses both. He was one of our sleeper picks heading into the season after earning an 86.9 overall grade in a limited role last year. Now he's gone over 100 yards in four of Boise State's last six games. A whopping 12 of his 37 catches this season have been on targets of 20-plus air yards. Still a little slightly built, Hightower won't be everyone's cup of tea, but we believe in his deep ability translating.
Stock Report – Up
WR Michael Pittman Jr., USC
It was yet another big day for the senior wideout, who has had 10 or more catches and 100-plus receiving yards in back-to-back weeks now. On his score in this one, he showed once again that his size and body control presents massive problems for opposing corners. He should be one of the best intermediate threats in the draft class.
CB A.J. Terrell, Clemson
Terrell had had a quiet junior campaign up until this past weekend against Wake Forest. He started the year just outside our top-30 players and had firmly been planted their the majority of the season. He's moving up after allowing only 1-of-3 targets for five yards and easily picking off a go-route at the end of the second quarter this past week.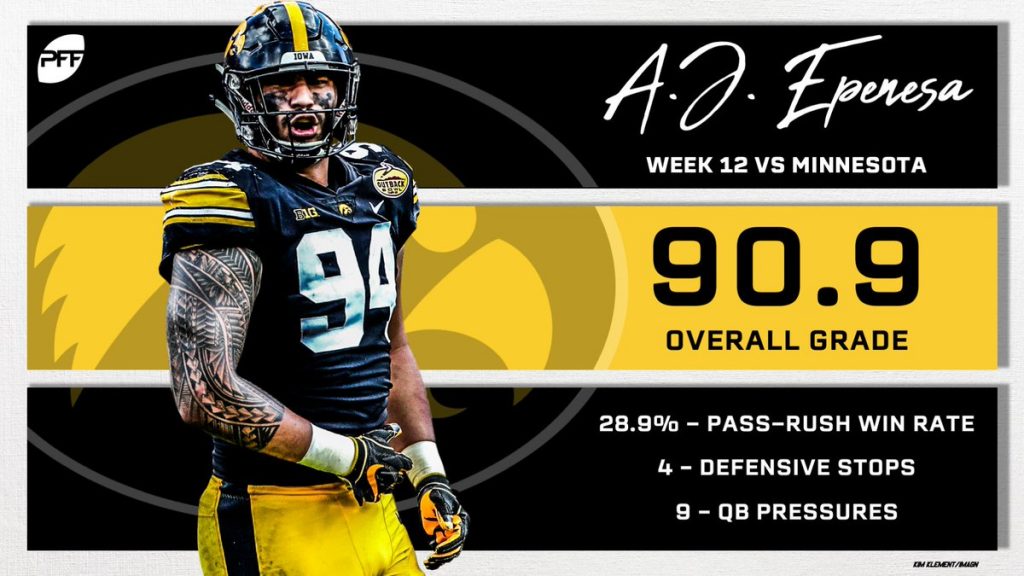 Edge A.J. Epenesa, Iowa
I don't want to take full credit for Epenesa's turn around, but ever since I openly wondered after Week 6 where the dominant Epenesa was that we saw in 2018, the Iowa edge defender owns the highest pass-rushing grade among all Power 5 edge defenders in the country (90.4). This past week he abused Minnesota left tackle Sam Schlueter for three sacks, three hits and three hurries in Iowa's big upset victory. He also flashed his versatility with a crucial sack rushing from the interior.
A.J. Epenesa, ladies and gentlemen. pic.twitter.com/L55WzeBvuk

— Iowa On BTN (@IowaOnBTN) November 17, 2019
Stock Report – Down
QB Jamie Newman, Wake Forest
This was one went south from the rip. Newman's first pass attempt was terribly late to a wheel route and got picked off by Tanner Muse. Newman simply couldn't get anything going after that, and they took the ball out of his hands completely down the stretch. He finished 6-of-14 for 41 yards with two picks against Clemson (although only one was a turnover worthy play). We really hadn't seen him face adversity like that all season, and his response was eye-opening in terms of how far he has to go as a prospect.
LT Prince Tega Wanogho, Auburn
Against Georgia, it was another rough day at the office for the Auburn left tackle. Tega Wanogho allowed three pressures and added two more losses in pass pro that didn't result in pressure. Recovering after he loses his first punch has been an issue for the senior this year. His feet stall on contact and he can't regain control of the block.
S Grant Delpit, LSU
It's fair to question whether Delpit is even healthy enough to be on the field at this point. He suffered an ankle injury at the end of October in LSU's win over Auburn, but it was described as non-serious at the time. He's played the two lowest-graded games of his career since, though, so it's not too difficult to put the dots together.
2021 Watch List
S Trevon Moehrig, TCU
It's hard not to love a safety with ball skills, and that's precisely what the TCU sophomore possesses. He's tops among all safeties in the FBS with 10 pass breakups this year and ranks fourth with four picks, as well. At 6-foot-2, 208 pounds, he has great length for the position and a large radius within which he can make plays. Moehrig has allowed only 21-of-40 targets for 255 yards on the season.