The game of the year lived up to the hype for the most part. We'll dive into all the notable performances from the loaded LSU/Bama matchups and then top it off with the usual segments.
[Editor's Note: All EDGE and ELITE subscribers have access to PFF's 2020 NFL Draft Guide. Subscribe today to download your copy!]
'Bama vs. LSU – The Good
QB Joe Burrow, LSU
No mistakes with the football. Lights out accuracy once again. Burrow is your QB1. It was far from a perfect performance, but we haven't seen many better against the Alabama defense in our six years of grading.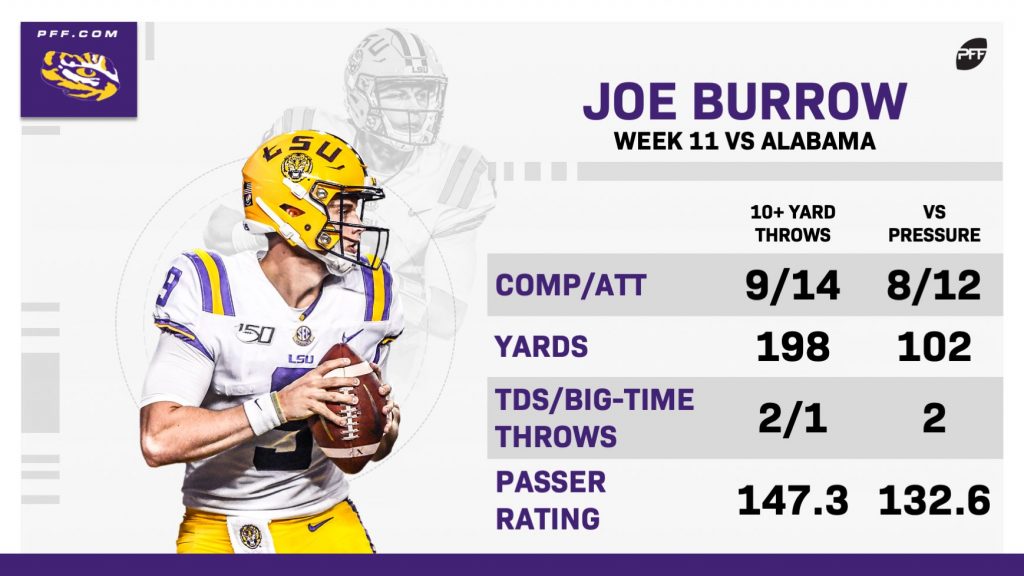 QB Tua Tagovailoa, Alabama
He'll be remembered for the ghost forced fumble, but Tagovailoa played excellent football against the most talented secondary in college football. Tua's 415 yards and 10.9 yards per attempt could have looked even better were it not for five drops from his receiving corps. Tagovailoa's five big-time throws were the most of any game in his career. 
WR DeVonta Smith, Alabama
Yes, he had a drop, but he also hauled in six catches for 215 yards and two scores. One of those scores came on a purely busted coverage where Alabama cleverly lulled the LSU defense into checking their sideline for the play call. The other, though, was Smith simply Mossing the freshman phenom Derek Stingley for an 85-yard score. Smith's speed and ball skills will play at the next level.
RB Clyde Edwards-Helaire, LSU
As a runner, he broke eight tackles on the day and had nine of his 20 carries result in either a first down or score. As a receiver, Edwards-Helaire hauled in all nine of his targets for 77 yards and a score. It was a career day for a back who's broken out in a big way as a junior. 
'Bama vs. LSU – The Bad
WR Jerry Jeudy, Alabama
Jeudy has been one of the most reliable wide receivers in the country over the course of his career, but he let two touchdowns slip through his hands in this one. He still got open pretty much at well, but it was far from his best.
The eyes tell lies via @jerryjeudy ????➡️ pic.twitter.com/ww3WyWdobc

— Receiver School (@ReceiverSchool) November 9, 2019
CB Trevon Diggs, Alabama
While his interception that got called back will get lost on the stat sheet, there was still far more bad than good from a grading perspective. He allowed 9-of-13 targets for 133 yards and a touchdown on the day. He had only allowed 11 catches for 166 yards all season going in.
Here's the Joe Burrow touchdown to Ja'Marr Chase — a 33-yarder that had Alabama's star corner Trevon Diggs way out of sorts

This route's almost identical to the one Utah State ran, but Stingley got a highlight INT. Difference is Chase drives to the ballpic.twitter.com/KN1Q3EJmtm

— Jeff Nowak (@Jeff_Nowak) November 9, 2019
'Bama vs. LSU – The Ugly
S Grant Delpit, LSU
The missed tackles have gone from worrisome to downright terrifying for Delpit. He missed four in this one on only six attempts. On the season he now has 17 misses on 60 attempts including at least two in seven of LSU's nine games.
Grant Delpit… not having a good game.

Najee Harris is. pic.twitter.com/IFJvFNGLdZ

— Cam Mellor (@PFF_Cam) November 9, 2019
Small School Watch
Edge Quincy Roche, Temple
Roche has impressed ever since his redshirt freshman season when he earned a 76.3 pass-rushing grade and collected 30 pressures on 182 pass-rushes. Now a redshirt junior, Roche has taken his game to another level with a 92.0 pass-rushing grade and 50 pressures already. Against USF this past week, he posted four sacks on the day and had two other plays where he missed tackles on the USF QB. At 6-foot-4, 235 pounds, Roche wins with his quicks and is as comfortable bending around the edge as he is hitting the breaks on an inside move. He'll have to add considerable strength to his frame, though, and is likely a candidate to return for his redshirt senior year.
Stock Report – Up
QB Tanner Morgan, Minnesota
Gophers fans have this man to thank for their biggest victory in years. He played near-flawless football to unseat No. 4 Penn State at home. He went 18-of-20 for 339 yards, three touchdowns, zero interceptions, two big-time throws and zero turnover-worthy plays. Those are monster numbers. His 94.0 passing grade was easily the highest of his short career. The redshirt sophomore is highly unlikely to declare this year, but looks to be a rising prospect in the coming years.
Edge A.J. Epenesa, Iowa
Epenesa showed his rare blend of power and flexibility once again. He earned a 91.4 pass-rushing grade on 23 pass-rush snaps and had a crucial sack/forced fumble against Wisconsin. He literally threw left tackle Cole Van Lanen to the turf on a bull-rush towards the end of the first quarter. It was a nice reminder of how freaky the Iowa junior can be.
OT Trey Adams, Washington
After one of the worst outings of his career against Utah's Bradlee Anae, Adams bounced back with a career-high 90.4 overall grade against Oregon State. He pitched a shutout on 35 pass-blocking snaps and earned an 85.9 run-blocking grade. The biggest thing Adams can prove down the stretch this season is that he's healthy going into the 2020 draft.
Stock Report – Down
QB Jalen Hurts, Oklahoma
The stat line still ended up looking good – it always does in the Oklahoma offense – but the throws were not. He made three utterly disastrous throws, two of which could have ended up as pick-sixes. Luckily for him, only one was picked, but from a scouting perspective, those were unacceptable mistakes with the ball.
WR Jalen Reagor, TCU
In a loaded receiver class, Reagor is looking more and more like a candidate to return to school for his senior year. Against Baylor this past week, he hauled in only one of seven targets for eight yards while adding two drops. Even if TCU were to make a bowl (they're 4-5 right now), Reagor is still only on pace for 667 yards on the year. While his quarterbacks haven't done him any favors, there are valid concerns about Reagor's catch radius and contested ability after this year.
Edge James Smith-Williams, NC State
By now I'm sure you've seen the incredible transformation photos of Smith-Williams over his college career. If not, see for yourself.
This is the transformation of N.C. State DL James Smith-Williams while in college (c/o @TheAthletic). This is insane. pic.twitter.com/xU622PcqTE

— Ryan Mink (@ryanmink) July 12, 2019
Unfortunately, those immense physical tools have gone for naught on the football field. He's got all of 11 pressures on 159 pass-rushing snaps this season. He managed only two pressures on 27 pass-rushes against Clemson this past week – one of which was of the clean-up variety. 
2021 Watch List
QB Trevor Lawrence, Clemson
Lawrence finally makes his appearance on this list after utterly dicing up N.C. State. He put up three big-time throws with a stat line that read 20-of-27 for 276 yards and three touchdowns. Lawrence didn't quite have the start most expected, but he's been cooking as of late. He's got the second-highest PFF passing grade in college football from Week 4 on.