With the 10th selection of the 2018 NFL Draft, the Arizona Cardinals have selected Josh Rosen. The former UCLA star was selected 10th overall after finishing the 2017 season with an 85.8 overall grade and after Arizona traded up with Oakland. Rosen's selection marks the first time four quarterbacks have been taken in the first 10 picks of the NFL draft.
Oakland traded their Round 1 (10) to Arizona in exchange for Round 1 (15), Round 3 (79) and Round 4 (152).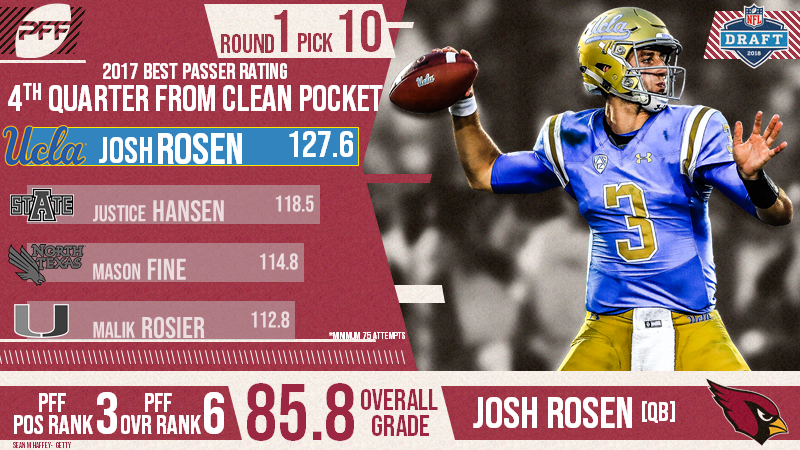 Rosen ranked 16th among draft-eligible quarterbacks in adjusted completion percentage from a clean pocked in 2017 (76.9).
He ranked 12th among draft-eligible quarterbacks in deep pass adjusted completion percentage in 2017 (50.0).
2018 NFL Draft – Round 1: 1 | 2 | 3 | 4 | 5 | 6 | 7 | 8 | 9 | 10 | 11 | 12 | 13 | 14 | 15 | 16 | 17 | 18 | 19 | 20 | 21 | 22 | 23 | 24 | 25 | 26 | 27 | 28 | 29 | 30 | 31 | 32