The 2022 NFL scouting combine has officially come to a close. While the most important aspects of the week happen behind closed doors (i.e. the long medical evaluation process, player-team interviews and chatter in Indianapolis' restaurants and bars), the on-field drills and tests aren't completely useless. With a combination of those on-field tests and everything happening behind closed doors, we have a good idea of some of the risers and fallers in the 2022 NFL Draft after one of the most important events of the pre-draft process.
Let's highlight some of those more notable risers and fallers and analyze whether the climb or drop was warranted by placing a buy or sell tag on the player.
Click here for more PFF tools:
Draft Guide & Big Board | Mock Draft Simulator
Dynasty Rankings & Projections | Free Agent Rankings | 2022 QB Annual
Player Grades
---
RISERS FROM THE COMBINE
With Malik Willis not doing any on-field tests, Ridder stole the show. His 4.52-second 40-yard, 1.59-second 10-yard, 36-inch vertical and 10-foot-7 broad jump all eclipsed the 92nd percentile among quarterbacks at the combine historically. While the main reason why Ridder is the most pro-ready quarterback in this class has to do with his high-level processing, his athleticism is a huge strength in the run game. Ridder recorded a 75.0-plus rushing grade in each of his last three seasons at Cincinnati and racked up 104 explosive runs (10 or more yards) throughout his career. The former Bearcat also interviewed well with teams and is striving to improve on his flaws this offseason with renowned quarterback coach Jordan Palmer. 
While Ridder may not be QB1 like I think he should be, he no doubt has been climbing up boards as of late.
Watson ranked third in the FCS in receiving grade and first in yards per route run playing for the run-first Bison in 2021. He then went on to be a top-three graded player during Senior Bowl practices and then recorded a 91st percentile 40-yard dash (4.36), 99th percentile 10-yard split (1.46), 83rd percentile vertical (39) and 99th percentile broad jump (11-foot-4) at the combine. The 6-foot-4, 208-pound wide receiver is now rumored to be a top-40 pick in the 2022 NFL Draft, and understandably so.
Ekwonu is an easy top-10 prospect in the 2022 NFL Draft class and could possibly go first overall to the Jacksonville Jaguars, which was widely rumored at the NFL scouting combine. There was buzz all week that the Jags are higher on Ekownu than any other prospect in the class.
Nonetheless, his pass sets are still a concern. It's likely going to take some time for him to be a quality pass protector in the NFL ranks. Ekwonu made strides in that department this past season by raising his pass-blocking grade year-over-year from 55.3 to 78.3, but there's still a big hill to climb.
There's no denying Ekwonu has the run blocking down pat, though. He was one of the nastiest run-blockers of the PFF College era and boasted a 93.8 run-blocking grade for the 2021 season — the highest mark in the Power Five. North Carolina State's offense made his job easier at times, but he has the potential to be great in the NFL. It just may take some time and comes with a lower floor than others, weakening the case for him to go first overall.
It's understandable why Walker is skyrocketing after the 2022 NFL scouting combine, as he has the blend of size and athleticism teams want on the edge. The 6-foot-5, 272-pound edge defender measured in with 35.5-inch arms and clocked a 4.51-second 40-yard dash (97th percentile historically among edge defenders), 36-inch vertical (75th percentile), 10-foot-3 broad jump (84th percentile), 4.32-second pro agility (69th percentile) and 6.89-second three-cone (93rd percentile). The issue is he lacks the collegiate production to match his elite tools and has a long way to go before becoming a refined pass-rusher. He earned a 65.8 pass-rush grade in 2021 and has never earned a single-game pass-rush grade above 80.0. Some will argue that Walker was never put in a position to receive favorable pass-rush opportunities by playing inside or over the offensive tackle, but even when aligned outside the tackle, he still earned a poor pass-rush grade in 2021. 
Taking a swing on Walker's tools is understandable, but doing so over Kayvon Thibodeaux, Jermaine Johnson II and George Karlaftis is unjustified. There's a good chance Walker goes top 10, but I'm not in that camp. 
Davis confirmed that he is a rare freak athlete at the combine, as the Georgia interior defender turned in one of the best combine performances regardless of position: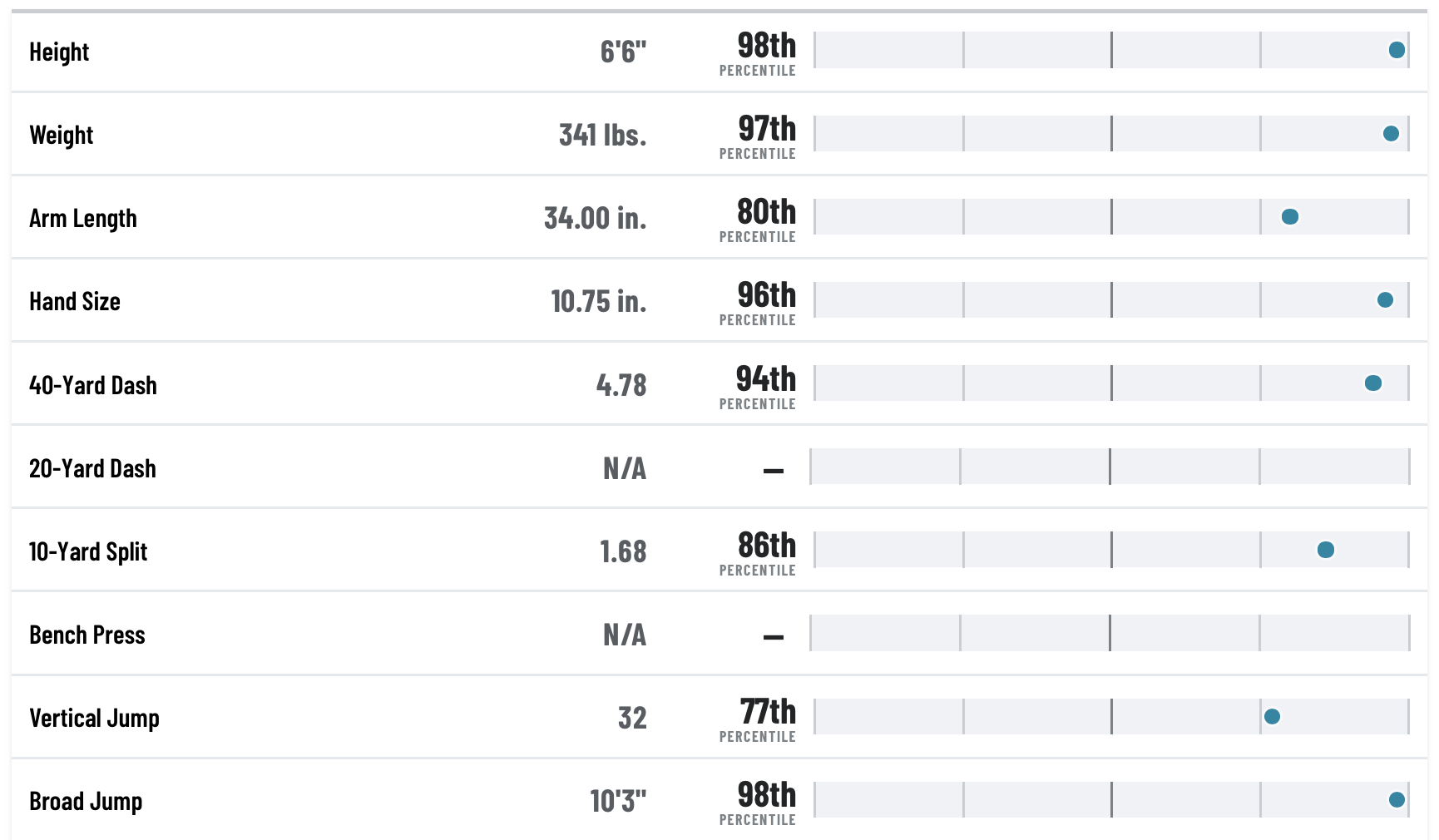 Davis is a fit for a two-high-safety team in need of a dominant run-stuffer. He has been a force against the run since he stepped foot in Athens in 2018. Davis has earned an 89.2 run-defense grade while collecting 47 run stops and 17 tackles for loss or no gain over the last three years and missed just four of his 75 tackle attempts against the run over that span.
The problem is Davis is far from a refined pass-rusher and not an every-down player. Davis played just over a third of the team's snaps this past season and turned in a lackluster 69.0 pass-rush grade for the season. 
Run stuffing interior defensive linemen are valuable pieces in the NFL, but Davis' ceiling is only going to be so high if his playstyle remains. For that reason, the earliest Davis should come off the board is the late 'teens of Round 1 — not the top 10.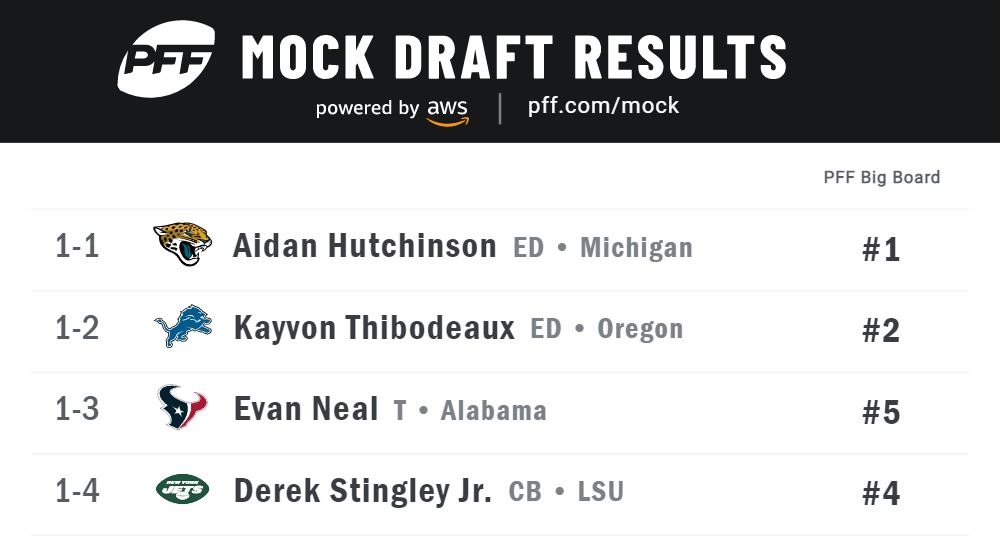 Subscribe to PFF Edge to continue reading
Already have a subscription? Sign In