At this point, there seems to be a "Group of Five" top quarterbacks in the 2022 NFL Draft class, a handful who have cut themselves off from the pack in terms of the likely first five off the board. And each has a shot to be the first signal-caller selected. Kenny Pickett, Desmond Ridder, Malik Willis, Sam Howell and Matt Corral have all at one point been talked about as the "QB1" in this year's draft.
All five have shown moments of greatness on the field but still come with a number of question marks. That means finding the best schematic fit for them is of utmost importance. The teams that draft these quarterbacks will have to fit their schemes around them — not the other way around. We could see the NFL's overall RPO rate skyrocket just because of the quarterbacks who will be drafted this season alone. 
2021 Team RPO Rates, FBS
| | | |
| --- | --- | --- |
| Team | Rate | FBS Rank |
| Ole Miss | 40% | 5th |
| North Carolina | 39% | 6th |
| Cincinnati  | 30% | 22nd |
| Liberty | 29% | 24th |
| Pittsburgh | 17% | 79th |
Most of these quarterbacks were living in these types of offenses, and even the Pittsburgh Panthers' 17% rate would've been the fifth-highest in the NFL last season.
---
Click here for more PFF tools:
Draft Guide & Big Board | Mock Draft Simulator
Dynasty Rankings & Projections | Free Agent Rankings | 2022 QB Annual
Player Grades
---
Like most quarterbacks on this list, you could plop Ridder into the 2021 Miami Dolphins' scheme with their heavy RPO use — especially downfield RPOs — and feel good about it.
We can go a step further with Ridder, however, and see the Dolphins' use of full-field pass concepts as a good fit for the Bearcat quarterback, as well. Ridder is able to tie his feet and eyes to each progression in the concept and scan through a progression in a linear manner as well as anyone in the class. His eyes can find intermediate horizontal crossing routes on time with a clear picture of when they are or aren't open.
Ridder comes with accuracy concerns, but he can at least consistently find the routes, and if his accuracy doesn't improve a touch, it doesn't matter what scheme he plays in anyway.
It's hard to find a specific area where Willis excels as a passer schematically. There was an inconsistency to what he saw and felt he could throw — or just flat out didn't see. Obviously, to maximize his skill set, he'll need to be given quarterback-designed run schemes.
The Baltimore Ravens' offense with Lamar Jackson and what the San Francisco 49ers did when Trey Lance played in 2021 would work for Willis, but for an entire offense, what the 2021 Philadelphia Eagles did with Jalen Hurts fits the best. The Eagles tried to keep routes away from the middle of the field. Considering his inconsistent process when reading out concepts, this would help Willis.
The Pittsburgh Steelers' passing attack designed by offensive coordinator Matt Canada will be interesting to watch. With an aging Ben Roethlisberger at the helm last year, they didn't try to overcomplicate things. Even if there is to be a shift in what Canada ran while he was a college coach, his use of defined half-field reads could help.
Jalen Hurts Route Heatmap, 2021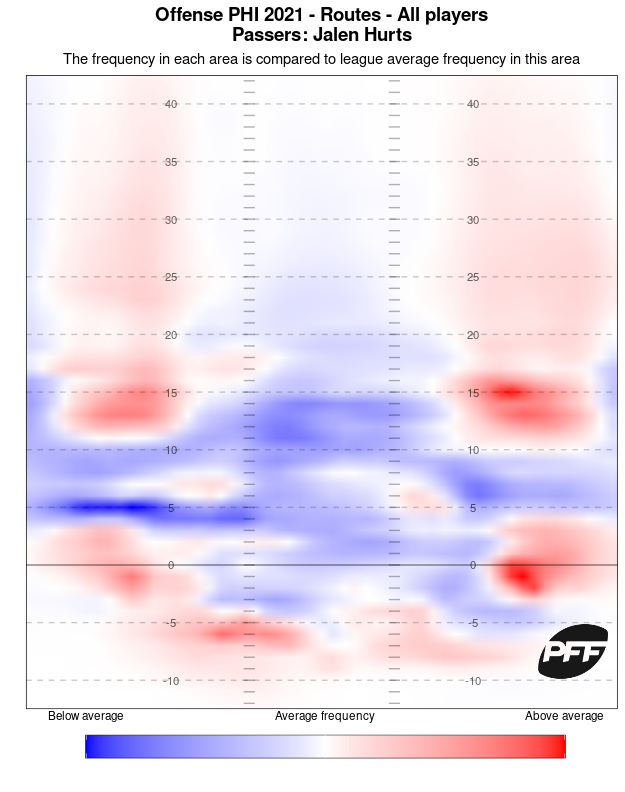 The proliferation of the Shanahan-McVay system helps Corral here. Ole Miss created a lot of defined reads for Corral — not necessarily half-field reads — that included crossing routes from condensed formations. The 2017-2020 Los Angeles Rams scheme would help him in the same way.
Creating deep crossing routes off play action where Corral knows where to go with the ball after the run fake would do him well. Considering the heavy-RPO system he operated in at Ole Miss, finding dropback concepts that work for him in the NFL is important. He threw the ball well when "4 Verts" style concepts were called, something he can hang his hat on. Finding different ways for him to throw in the seam while still basing out of RPOs and under-center play action is where you want to put him.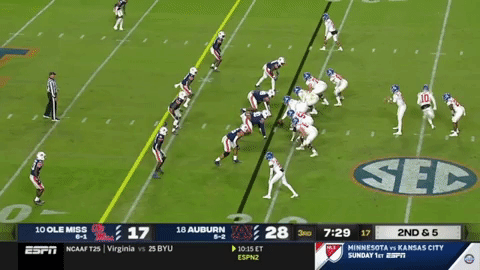 If Pickett is the player we saw in 2021 and not the one from his earlier seasons at Pittsburgh, then letting him drop back a lot and make plays is the way to go. There are some inconsistencies with the process and his composure in the pocket at times, but he was able to mitigate that with some incredible play outside the pocket and outside of structure in 2021.
To a certain degree, what Kliff Kingsbury does with the Arizona Cardinals could work. Letting Pickett drop back from shotgun while using a lot of no-huddle, up-tempo pace — with a slightly less elaborate playbook compared to other dropback schemes —would allow him to use his athleticism to make plays if he can't find anything down the field.
From a macro perspective, this works. But conceptually, a team from the Andy Reid tree with a heavy usage of 3-by-1 (trips) formations would help Pickett have a clear view of how the defense reacts to those formational stressors pre-snap.
Most Straight Dropbacks in the FBS (no play action, RPOs, screens), 2021
| | | |
| --- | --- | --- |
| Player | Dropbacks | Grade |
| Will Rogers, MSU | 583 | 87.5 |
| Bailey Zappe, WKU | 464 | 86.0 |
| Brennan Armstrong, UVA | 457 | 85.1 |
| Carson Strong, Nevada | 444 | 86.3 |
| Kenny Pickett, Pitt | 434 | 92.8 |
As is the case for Willis, the Pittsburgh Steelers' offense would work really well for Howell. One of Matt Canada's base pass concepts as a college offensive coordinator was "snag/spot," which Howell saw a lot in Phil Longo's North Carolina offense for three years. Canada's RPO schemes with the Steelers would also fit Howell.
In that offense, the quarterback is given a pre-snap RPO read and a post-snap RPO read. With the way Howell is willing to operate in closing pockets, he can handle pulling the ball late on an RPO throw and still getting an accurate throw off to most areas of the field.
Downfield (3+ yards beyond LOS) RPO throws, 2019-2021
| | | |
| --- | --- | --- |
| Player | Attempts | Grade |
| Dustin Crum, Kent State | 212 | 85.5 |
| Sam Howell, UNC | 199 | 88.8 |
| Drew Plitt, Ball State | 143 | 62.4 |