Now that the 2020 NFL Draft is less than one month away, let's roll through the best-case scenario for all 32 teams in this year's draft, whether it's a player falling into a given team's lap or a bold decision made on the clock.
[Editor's note: Check out PFF's 2020 Mock Draft Hub, NFL Draft Big Board and NFL Mock Draft Simulator. PFF Elite subscribers can also download the 1,100-page 2020 NFL Draft Guide.]
ARIZONA CARDINALS — REUNITING KYLER MURRAY WITH CEEDEE LAMB
Arizona may have robbed the Houston Texans for one of the NFL's best wide receivers in DeAndre Hopkins, but they could still use another weapon for Kyler Murray — and what better pairing than former college teammate CeeDee Lamb. The Cardinals' team receiving grade ranked 27th in 2019, with Larry Fitzgerald being the only receiver to produce at an above-average level in regard to PFF grade. Lamb is the sixth-best prospect overall in this class, and the duo of Lamb and Murray in college in 2018 were among the best we have seen. The duo produced a 145.2 passer rating that year, which ranked behind two other pairings — Dwayne Haskins to Terry McLaurin and Tua Tagovailoa to DeVonta Smith — for the best in the FBS.
ATLANTA FALCONS — THEY IMPROVE THE SECONDARY WITH THE 16th OVERALL PICK
Instead of improving their already poor secondary in free agency, the Falcons cut their best cornerback in Desmond Trufant and signed edge rusher Dante Fowler Jr. and running back Todd Gurley with the minimal cap space they had. Even with Trufant — who was the only Atlanta defensive back to produce at an above-average level in PFF coverage grade — the Falcons ranked 24th in team coverage grade in 2019. Florida cornerback C.J. Henderson makes too much sense here. He owns top-notch man coverage skills and would fit right into the Falcons' scheme. Over the past two years when playing outside corner, Henderson has allowed only five first downs on 20 man coverage targets while forcing a contested target 45% of the time (leads the 2020 draft class).
BALTIMORE RAVENS — LAVISKA SHENAULT FALLS TO THEM AT PICK 28
The Ravens' offense was clearly a massive headache for opposing defenses last year, and the addition of Laviska Shenault would make the headache continue in 2020. Outside of Marquise Brown, the Ravens' wide receiver unit is incredibly weak. Brown produced a respectable 70.6 receiving grade, but his counterparts on the roster all posted poor receiving grades that were below the 25th percentile. Shenault had a unique usage at Colorado (e.g., screens/jet sweeps, quick hitches and outs) that Greg Roman could certainly take advantage of in his offense. Shenault just needs the ball in his hands to make something happen. Since 2018, Shenault has produced a top-five PFF receiving grade while breaking an FBS-high 44 tackles and averaging 7.7 yards after the catch per reception in the process. Injury is causing Shenault to slide, and this could really benefit Baltimore if he falls to them.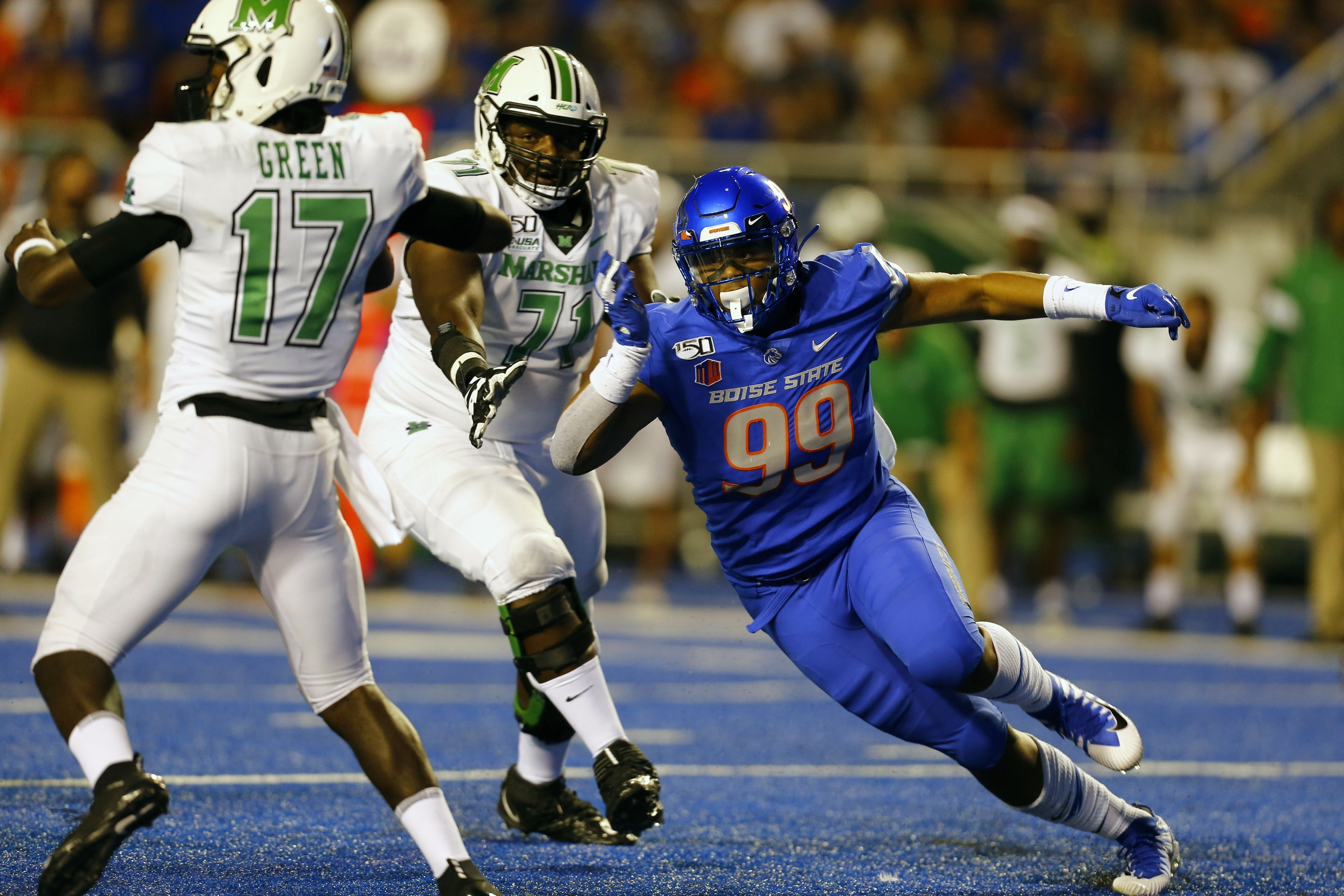 BUFFALO BILLS — CURTIS WEAVER FALLS TO THEM AT PICK NO. 54
With  Shaq Lawson's departure in free agency and Lorenzo Alexander's retirement, Buffalo has to beef up its pass-rush unit. And 32-year-old Mario Addison, whom they signed to a three-year, $30 million deal, isn't going to be enough. Boise State edge rusher Curtis Weaver has had incredible production the past two years, posting back-to-back elite pass-rush grades and a combined win rate over three percentage points higher than anyone else.
CAROLINA PANTHERS – THE CHARGERS FALL FOR JUSTIN HERBERT, LEAVING ISAIAH SIMMONS AT PICK NO. 7
Carolina is in a really interesting spot and could benefit from the Giants and Chargers drafting on potential way too early. If the Giants take Becton at pick No. 4 and the Chargers roll the dice on Justin Herbert, that leaves defensive playmaker Isaiah Simmons right there for the Panthers. Drafting Simmons and using him like Derwin James in Los Angeles and Jamal Adams in New York is a dream scenario. Simmons was one of three FBS players to play at least 100 snaps on the line, in the box, in the slot and at free safety — and he was the only of the trio to find success. Out of all the off-ball linebackers last year, he was the lone one to produce 80.0-plus grades against the run, when rushing the passer, in tackling and when in coverage. There's a lot to love with the versatile, athletic prospect.
CHICAGO BEARS — THEY DON'T TAKE AN INTERIOR OFFENSE LINEMAN OVER A DEFENSIVE BACK WITH THEIR TWO SECOND-ROUND PICKS
Almost every non-PFF mock draft has the Bears in pursuit of an interior offensive lineman to compete with Germain Ifedi and Rashaad Coward for the starting job at right guard in the wake of Kyle Long's retirement. This, however, is not a good idea at all considering the other holes on the roster. The Bears had to cut Prince Amukamara, who was the NFL's 13th-most valuable corner since he joined the team three years ago, and failed to re-sign safety Ha Ha Clinton-Dix, who was one of the 20 most valuable safeties in the league in his lone season as a Bear. To make up for those losses, the Bears signed Artie Burns to compete for the other outside corner starting role and re-signed Deon Bush to perhaps be the other safety alongside Eddie Jackson. This isn't enough at all, and the Bears need a cornerback and safety with their No. 43 and No. 50 overall picks. PFF Lead Draft Analyst Mike Renner thinks safety Antoine Winfield Jr. is a perfect fit for the Bears at one of those two picks, and considering he forced as many incompletions and interceptions combined than total first downs allowed in coverage (nine each), the Bears should want him.
CINCINNATI BENGALS — THEY DON'T REACH ON A LINEBACKER AT PICK NO. 33
The Bengals are going to hit a home run by taking Joe Burrow first overall, and they can do the same at pick Nos. 33 and 65, but it's going to involve some risk and patience. They made the right decision by letting Nick Vigil walk in free agency, but they now have a glaring need at linebacker. LSU's Patrick Queen will likely be off the board by the end of Round 1 and could force Cincinnati into over-drafting a linebacker to kick off Round 2, such as Kenneth Murray, whom we feel isn't even a top-60 prospect in this class largely due to his limitations in coverage. Instead of reaching on Murray at pick No. 33, the Bengals should go all-in on Willie Gay at pick No. 65. Gay may have off-the-field issues, but what he has done when on the field is remarkable. On his 293 career coverage snaps at Mississippi State, Gay produced a 93.9 coverage grade, allowing only 183 yards with seven plays made on the ball.
CLEVELAND BROWNS — BAKER MAYFIELD GETS THE LEFT TACKLE HE DESPERATELY NEEDS
Cleveland made a great move by signing right tackle Jack Conklin, but the other tackle position is a big question mark right now. It just so happens that it's looking like the Browns will be in a position to snag one of the top tackle prospects in this draft class 10th overall — Georgia's Andrew Thomas. Going up against stiff competition, Thomas posted an elite 92.5 overall grade in 2019 that ranked third in the entire FBS. Thomas thrived as a blocker in both the pass and run games, ranking ninth and third in grade, respectively, in both of those facets of play.
DALLAS COWBOYS — THEY GET DAK PRESCOTT A SLOT WEAPON
Amari Cooper was a must to bring back, and Michael Gallup had a nice sophomore campaign, producing a receiving grade that ranked 32nd. But Dak Prescott could certainly use another weapon in the slot with the departure of Randall Cobb, and the Cowboys could probably wait until they pick in the second round to do that in this loaded class. Penn State's K.J Hamler has been a separation-getter in the slot the past couple of years and produced the fourth-most plays of 15-plus yards at the alignment in that span. In 2019, specifically, he generated a step or more of separation on targets 10-plus yards downfield 64% of the time, which also ranked fourth in the FBS.
DENVER BRONCOS — COMMITTING EARLY TO GETTING DREW LOCK RECEIVING HELP
Courtland Sutton had a breakout year in 2019, raising his overall grade from 63.8 as a rookie in 2018 to 83.1 in 2019 — the latter of which ranked 10th in the NFL. Drew Lock has a legit receiving weapon with Sutton, but after him, it's not so hot. DaeSean Hamilton saw the second-most targets among Denver wideouts and came away ranking 90th of 96 qualifiers in PFF grade. Obviously, the ideal scenario would be either Jeudy, Lamb or Ruggs falling to the Broncos at pick No. 15, but that's a bit unrealistic. TCU wide receiver Jalen Reagor is a bit more realistic and would be a great addition. His production was incredibly poor in 2019, but that was largely due to poor quarterback play. He saw a catchable target just 61.4% of the time, which ranked 118th among 120 wideouts to see at least 80 targets. When thrown an accurate ball, though, his talent was apparent. Over the past two years, Reagor generated an explosive play of 15-plus yards on 51.6% of his catches — the second-highest rate in college football and nearly 20 percentage points above the FBS average. The best part is that Denver can probably trade down into the back half of the first round and still have a shot at Reagor.
DETROIT LIONS – MIAMI OFFERS A HUGE TRADE PACKAGE THAT MOVES DETROIT DOWN TO PICK FIVE, AND THEY STILL GET JEFF OKUDAH
Jeff Okudah is almost certainly going to be a Detroit Lion, and the fit could not be more perfect. We all know Matt Patricia has followed in Bill Belichick's footsteps with his man-heavy defensive scheme in Detroit, and Okudah has been an elite press-man corner for the Ohio State Buckeyes. In 2019, Okudah played 184 coverage snaps in press coverage and didn't allow a single explosive play. In fact, he was targeted 29 times and his longest reception allowed was just 12 yards, en route to surrendering just 3.1 yards per target in press coverage, which is over three and a half yards fewer than the FBS average. Miami trading up and throwing another early draft pick Detroit's way to secure Tua Tagovailoa would just be the cherry on top.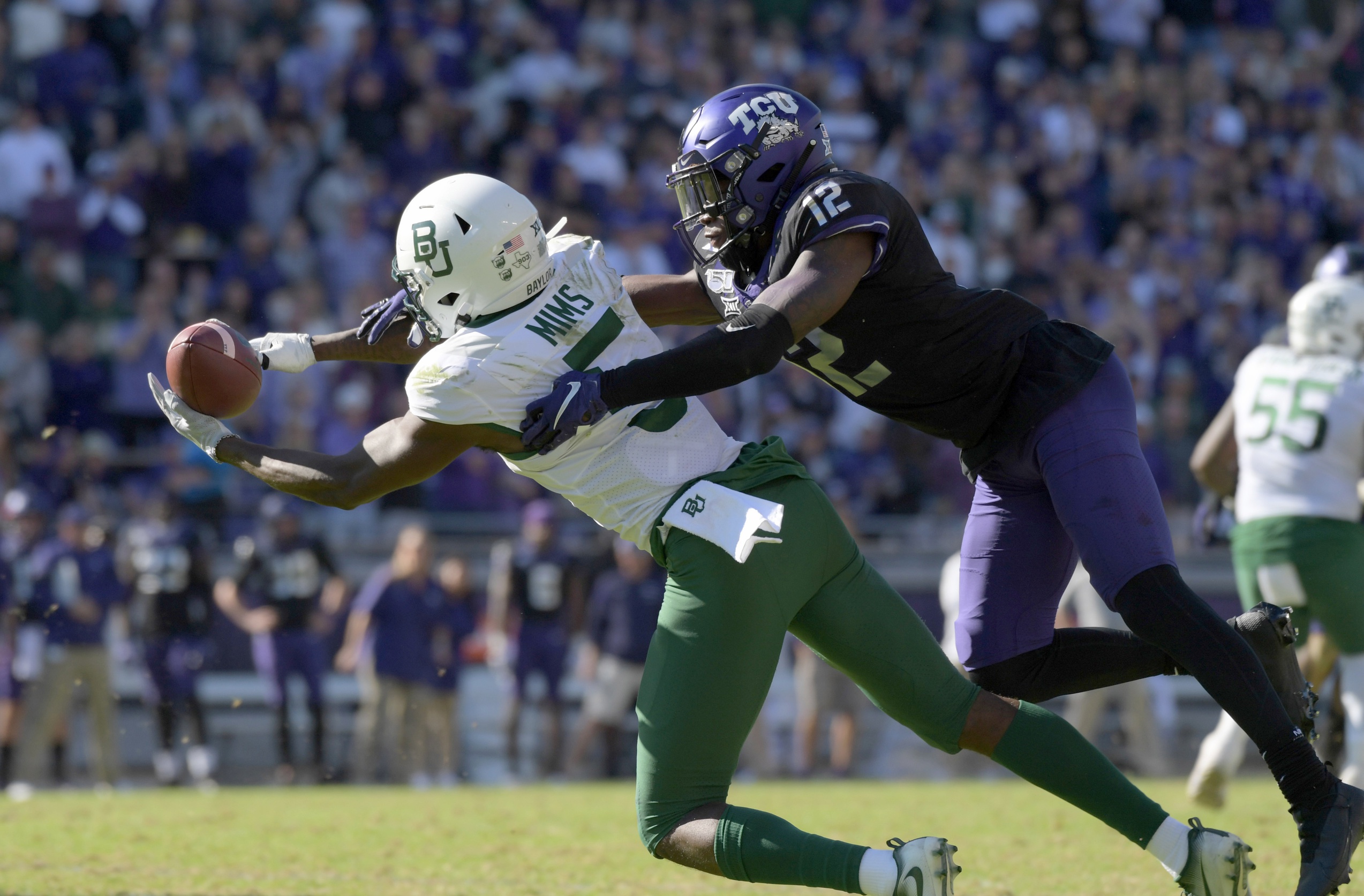 GREEN BAY PACKERS – AARON RODGERS GETS SOMEONE NEW TO THROW TO IN THE FIRST ROUND
Davante Adams is one of the NFL's best wide receivers — he has ranked eighth and fourth in PFF receiving grade in the last two seasons. After him, Rodgers has had a difficult time finding a reliable receiver to target. Allen Lazard, Marquez Valdes-Scantling and Geronimo Allison all produced below-average PFF receiving grades, with Valdes-Scantling and Allison ranking in the bottom 10. They own the 30th pick in the draft and, luckily for them, you typically wouldn't find the receiving talent that will be available this year. Denzel Mims, who tore up the Senior Bowl and NFL Scouting Combine, could very well be there for the taking. You can force tight coverage on Mims all you want, but more often than not, he'll win with his 6-foot-3 frame. Since 2018, Mims ranked second among FBS receivers in PFF grade against tight coverage.
HOUSTON TEXANS – THEY ATTACK THE CORNERBACK PROBLEM
Houston is in a tough spot with no first-round pick and won't have the opportunity to make a selection until pick 40. With that pick, though, or even picks 57 or 90, they have to do something about their cornerback unit. They re-signed Bradley Roby to a reasonable deal, and Gareon Conley performed relatively average after the trade, but their next two cornerbacks on the roster, Lonnie Johnson Jr. and Vernon Hargreaves, ranked 113th and dead last among 118 qualifying cornerbacks in PFF coverage grade. They lack depth and, most importantly, a reliable slot corner. Roby saw some action in the slot, but he is far better suited on the outside. One to watch is Amik Robertson of LA Tech, who is destined to transition to the slot. He's only 5-foot-9 but plays like he's bigger than any receiver he faces. Robertson was a physical player for LA Tech and had insane ball production for his size, with 51 combined interceptions and pass breakups during his three seasons.
INDIANAPOLIS COLTS – PHILIP RIVERS GETS ANOTHER RECEIVING WEAPON EARLY
Indy made a great move in bringing in Philip Rivers but might regret trading the 13th overall pick for DeForest Buckner down the road. The Colts receivers had a bad injury bug last year, but Rivers will have a solid option in T.Y. Hilton, who produced a top-10 year in PFF grade in his 2018 season when he was healthy. They also have 2019 second-round pick Parris Campbell, who was limited to only seven games due to injury. But Rivers could use another weapon. USC's Michael Pittman Jr. makes a lot of sense. At 6-foot-4, Pittman owns a massive catch radius and has some surefire hands — he dropped only five of his 176 catchable targets in his career at USC — and owns impressive route-running for his size.
JACKSONVILLE JAGUARS – MINSHEW GETS A GENERATIONAL WIDE RECEIVER IN JERRY JEUDY
D.J. Chark Jr. was among the group of second-year breakout wide receivers, as he posted a receiving grade that ranked 25th, but Dede Westbrook, Marqise Lee and Keelan Cole all underwhelmed. Fortunately for the Jags, they'll likely be in the position to select the second-best wide receiver prospect we have ever seen in Jerry Jeudy of Alabama. Jeudy is fifth on the PFF big board and is a near-perfect route-runner. He can generate separation better than anyone and is dangerous in an open field. Over the last two years, Jeudy picked up 53 explosive plays of 15-plus yards when he had at least a step of separation, eight more plays than any other FBS receiver in that span. In that same time period, Jeudy produced a two-year receiving grade better than any SEC wide receiver in the PFF College era. I'm sure Gardner Minshew would be thrilled to have that guy to throw to.
KANSAS CITY CHIEFS – COMMITTING HIGHWAY ROBBERY BY TAKING BRYCE HALL 63RD OVERALL
It's no secret that the Chiefs are in need of depth at the cornerback position, and they could get a pretty big steal if Bryce Hall falls to them at pick 63. Prior to the start of the 2019 season, Hall was being viewed by some as a first-round pick in this draft class. Then an injury midseason knocked him out for the rest of the year, dropping his draft stock significantly. From 2017 to 2018, Hall was one of the best cornerbacks in college football, recording a two-year PFF grade that was fifth in the FBS. Opposing quarterbacks clearly recognized how great of a player he was in 2019, as his coverage snaps played per target went from 5.7 to 8.2. He's a perfect fit in the Chiefs' press-zone defense with his length and the clinic he put on when playing press at Virginia.
LAS VEGAS RAIDERS – KRISTIAN FULTON IS THERE AT PICK 19
Eli Apple backing out of his verbal agreement with the team really hurt a Raiders secondary that was already in rough shape. Trayvon Mullen is the best cornerback on the roster at the moment, and he was average at best in his 2019 rookie campaign, ranking 64th of 118 qualifying cornerbacks in PFF coverage grade. Kristian Fulton has been sliding down boards as of late, but not in PFF's eyes. He's easily CB2 and one of the top 15 prospects overall. Going up against the stiffest competition in the SEC the last two seasons, Fulton has been one of college football's best cornerbacks, posting a combined PFF coverage grade when lined up at outside corner that was the best in college football as well as a forced incompletion rate that was over four percentage points higher than anyone else at 30.5%.
There have been rumors of the Chargers being interested in Oregon signal-caller Justin Herbert, but picking him No. 6 overall is a massive stretch. Sure, he's got a cannon of an arm, but there's not much else to get excited about. Out of all the top quarterbacks in this class, Herbert posted the highest rate of attempts resulting in a QB-fault incompletion in 2019, according to PFF's ball-charting process. He looked panicky whenever he was knocked off rhythm and never came up clutch in the big games this past year. Overall in 2019, Herbert produced a wins above average total (WAA) that ranked 41st among FBS quarterbacks — that would be the second-lowest total by any first-round quarterback drafted in the PFF College era (only better than Josh Allen). He's got a lot of potential, but drafting early based on potential is where you can hurt yourself.
LOS ANGELES RAMS – CESAR RUIZ IS RIGHT THERE FOR THEM AT PICK 52
The Rams desperately need help on the interior of the offensive line, especially at center where they combined to produce the third-lowest pass-block grade in the NFL. While they might not own a first-round pick, they may get lucky and have the best center available to them 52nd overall in Cesar Ruiz. At just 20 years old, Ruiz posted the second-highest pass-block grade among all FBS centers. His run-blocking isn't polished, but there are few flaws in his pass-pro. Ruiz is precisely what the Rams need.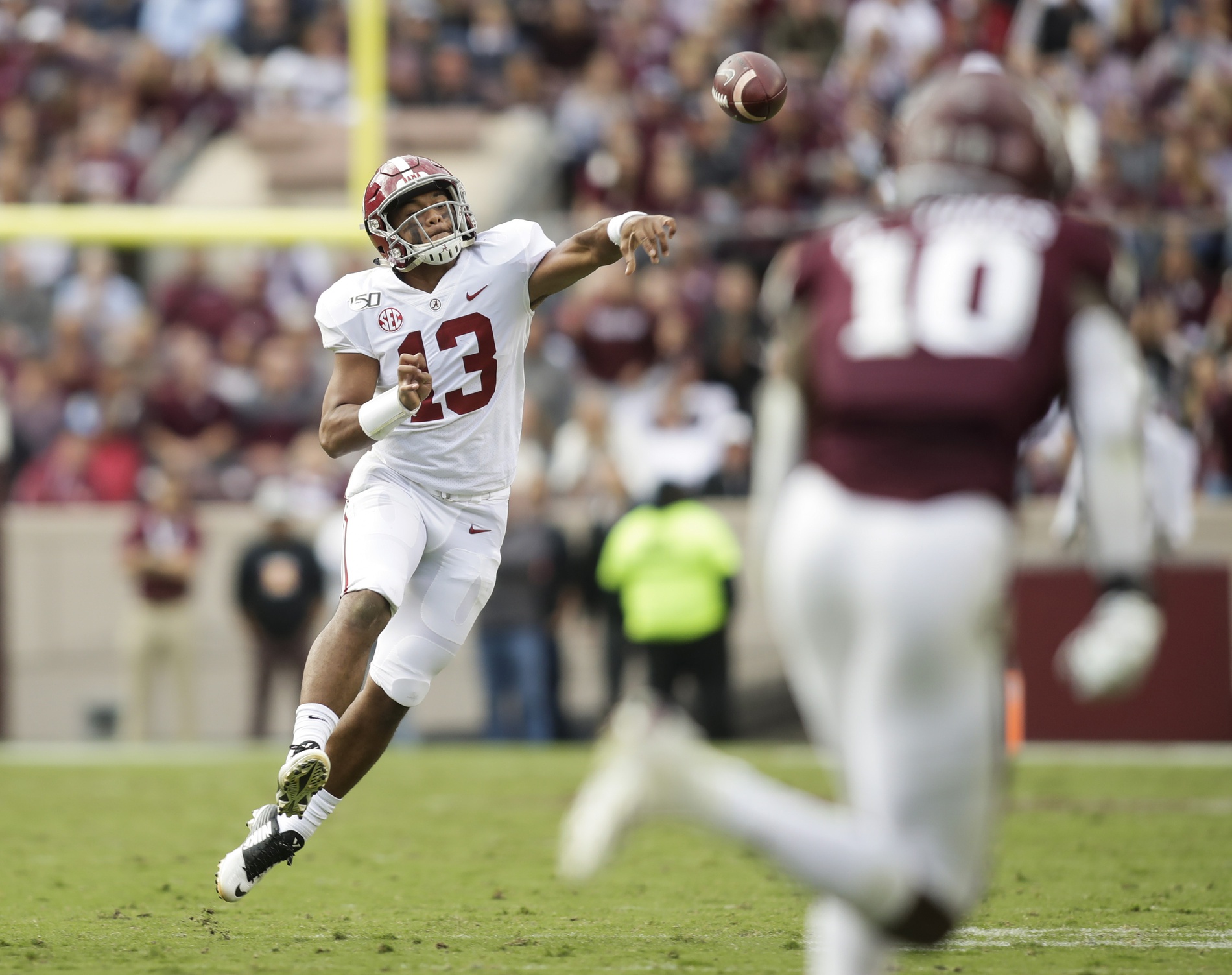 MIAMI DOLPHINS – THEY DON'T HAVE TO MOVE UP AND STILL GET TUA AT PICK 5
Some rumors have been floating around that suggest that the Dolphins like Justin Herbert more than Tua Tagovailoa. For Miami's sake, let's just hope this is a smoke screen. Others say Miami might be in the market looking to trade up to ensure they get their guy to avoid being leapfrogged by the Chargers. In an ideal world, they don't have to do that and get to keep their 18th and 26th overall picks while sitting still at five and getting Tua Tagovailoa. Injuries aside, Tagovailoa is an elite-level prospect and one of the best quarterbacks we have ever evaluated — behind Burrow, Baker Mayfield and Kyler Murray. His accuracy, decision making and pocket presence are hands down in the elite category. Among quarterbacks to take at least 600 dropbacks in the last two years, Tagovailoa ranks first in percentage of throws to receive a positive PFF grade and 11th-best in percentage of throws to receive a negative PFF grade.
MINNESOTA VIKINGS – DEVOTING ROUND 1 TO IMPROVING THEIR DEPLETED CB UNIT
Cutting Xavier Rhodes and letting Trae Waynes walk were great decisions by Minnesota, but not doing anything to replace the two and letting Mackensie Alexander walk for next to nothing were all bad decisions. Now their top cornerbacks are Mike Hughes (who produced a poor 59.6 coverage grade in 2019), Nate Meadors (11 career snaps) and Holton Hill (who performed well in a small sample size in 2018 but poor in a small sample size in 2019). The Vikes have two first-round picks this year, so one of them, at the very least, has to be used on a corner. Utah's Jaylon Johnson is one to watch here — he posted an 84.4 coverage grade that ranked 12th among Power-5 cornerbacks in 2019, and he forced tight coverage on 69% of his total targets last year, the sixth-highest rate in the FBS and over 20 percentage points higher than the FBS average.
NEW ENGLAND PATRIOTS – STAY AWAY FROM HERBERT AND LOVE IN THE FIRST ROUND
Justin Herbert will likely be off the board by the time New England picks at No. 23, but there's a real chance Jordan Love is there, so they have to be careful not to buy into the potential hype. No quarterback in this class had a higher rate of QB-fault incompletions than Love; his overall accuracy is suspect, and he fell short of the 25th percentile among FBS quarterbacks in the percentage of uncatchable passes thrown 10 or more yards downfield. Jalen Hurts or Anthony Gordon on Day 2 are far better options than Herbert or Love in the first round.
NEW ORLEANS SAINTS – FILLING THEIR ONE VOID IN ROUND 1 WITH PATRICK QUEEN
After signing wideout Emmanuel Sanders and letting linebacker A.J. Klein leave in free agency, the Saints' focus in the draft went from wide receiver to off-ball linebacker. There isn't a better option for New Orleans in this class than Patrick Queen of LSU. After being named the starter in Week 4 this past season, Queen posted a coverage grade that ranked seventh in the FBS. He allowed just half a yard per coverage snap overall, which is a remarkable number for an SEC linebacker.
NEW YORK GIANTS – DON'T TAKE MEKHI BECTON FOURTH OVERALL
Taking Mekhi Becton fourth overall might be the biggest draft reach in recent memory. He certainly looks the part at 6-foot-7, 360-plus pounds with monster 35 5/8-inch arms, but his on-field performance just didn't scream top-five pick. Becton had a "breakout" year in 2019 to some scouts, but he was protected by a Louisville offense that emphasized play-action passing and a high rate of screens. True pass sets (standard quarterback dropbacks with no screen, play-action or quick passes) are the best way to project offensive linemen, and in Becton's case, it doesn't look good. He only saw 73 of those plays in 2019 — which is a concern in and of itself — but the fact he let up eight pressures on those doesn't bode well for his NFL future. In our eyes, he's a mid-second-round pick at best.
NEW YORK JETS – FINALLY COMMITTING TO GETTING SAM DARNOLD SOME HELP EARLY IN THE DRAFT
Sam Darnold has had a rough first few seasons in the NFL, ranking 30th and 25th among quarterbacks in PFF passing grade. However, the Jets have done very little to surround him with talent in the receiving unit as well as on the offensive line. The Jets offensive line and wide receivers have actually produced below-average grades relative to the rest of the league in each of the last two years. Now armed with the 11th overall pick, they are in a prime position to grab one of the three top-tier wide receivers, whether it be Jerry Jeudy, CeeDee Lamb or Henry Ruggs III. With their next pick, No. 48, they have to pick up a tackle. George Fant, whom they signed for three years, $30 million, is not the answer. On true pass sets in his career (since 2016), Fant ranks 86th of 99 qualifying tackles in PFF pass-blocking grade and 96th in pressure rate allowed.
PHILADELPHIA EAGLES – FILLING THE OBVIOUS NEED OF WIDE RECEIVER IN THE FIRST ROUND
There wasn't a bigger disappointment of the 2019 season than the Eagles' wide receivers. DeSean Jackson got hurt, Alshon Jeffery had his worst season as an Eagle in terms of PFF grade, Nelson Agholor posted one of the lowest grades at the position at 54.4 overall and J.J. Arcega-Whiteside generated a poor 53.3 receiving grade on his limited reps. The good news is they can fix this problem in this loaded draft class. Justin Jefferson is an intriguing option for Philadelphia at the 21st overall pick. While we aren't as high on Jefferson as some, he is a solid route-runner with tremendous ball skills and can create after the catch.
Pittsburgh doesn't have many holes to plug on their roster, nor do they have much draft capital in 2019 — they don't pick until 49th overall, then they don't pick again until 102. What they should do, though, is add some depth along the interior of their offensive line. With B.J. Finney leaving for Seattle, they are left without a reliable backup option in the event of an injury, assuming Stefen Wisniewski starts at left guard and Matt Feiler stays at right tackle. Not to mention, Maurkice Pouncey is coming off the lowest-graded season of his career and isn't getting any younger.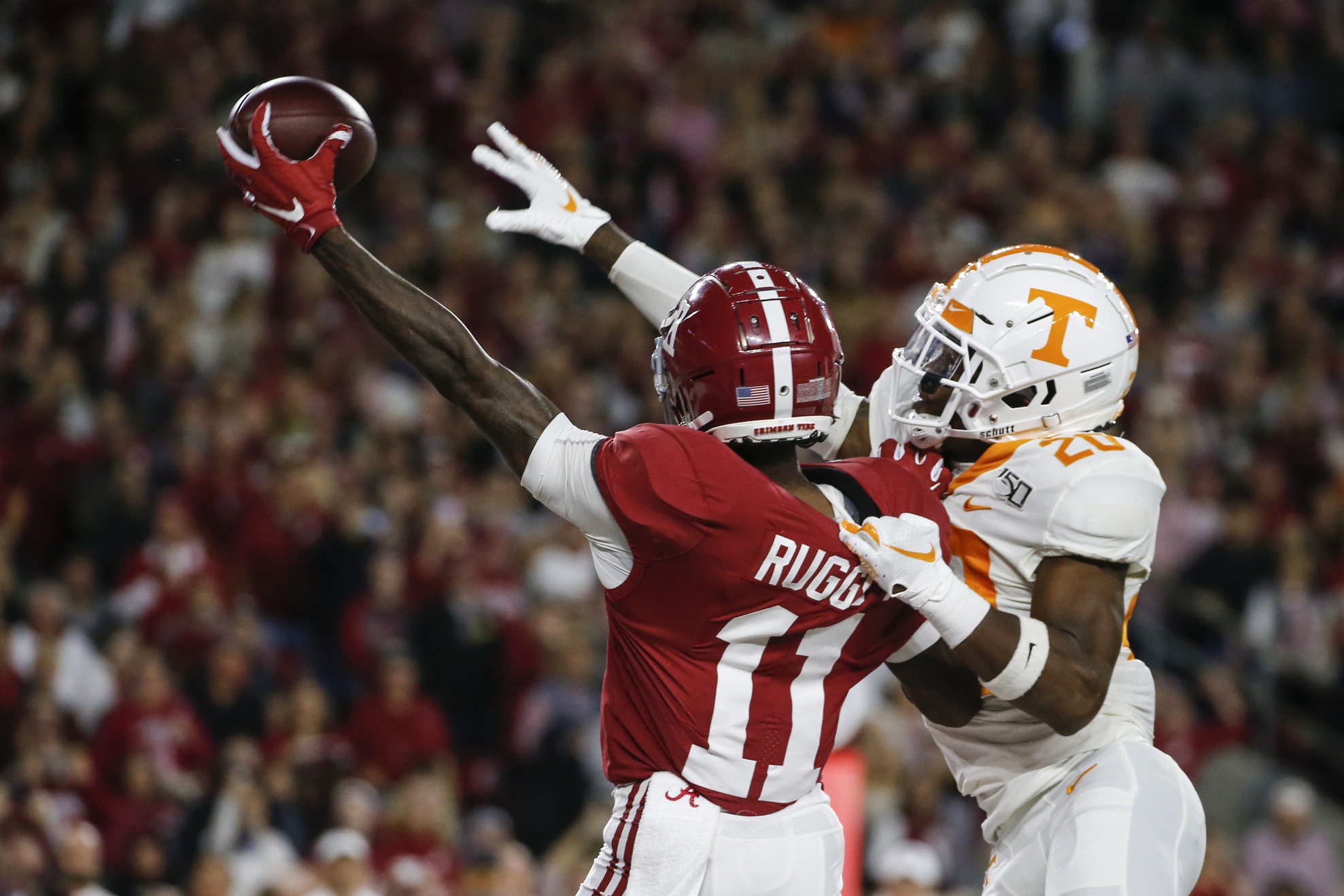 There are really only two glaring needs on this Niners roster: Another wide receiver to replace Emmanuel Sanders and another cornerback to compete with Ahkello Witherspoon and Emmanuel Moseley. The latter is something they can address with their 31st overall pick. They are in a good position to possibly snag either Jeudy, Lamb or Ruggs 13th overall thanks that great trade with Indianapolis. The most likely scenario is them getting Ruggs, who would be a perfect fit in Kyle Shanahan's offense. Ruggs' most targeted routes, excluding screens, over the last two seasons were the in, slant and crosser (Jimmy Garoppolo led the NFL in target percentage to those routes). The success Ruggs had on those routes this past year is pretty insane — on 20 such targets in 2019, Ruggs caught 15 and averaged 26.5 yards per catch and 15.2 yards after the catch per reception, generating 11 explosive plays in the process.
SEATTLE SEAHAWKS – KEEP TRYING TO IMPROVE AT TACKLE EARLY
Seattle tried to improve their bottom-three offensive line by letting George Fant, Mike Iupati and Germain Ifedi walk and signing B.J. Finney, Brandon Shell, Cedric Ogbuehi and Chance Warmack, but Finney is really the only one who can be considered an upgrade. Everyone else is a lateral move at best. Seattle has to keep swinging the bat at offensive tackle, especially, and the athletic Ezra Cleveland is a good player to pursue. In all three of his season's at Boise State, Cleveland has posted pass-blocking grades above 81.0. He's been a top-25 FBS tackle in each of the last two seasons.
TAMPA BAY BUCCANEERS – ONE OF THE TOP THREE TACKLES FALL TO THEM AT PICK 14
Tampa Bay has a roster that makes them Super Bowl contenders, but they desperately need an upgrade at tackle to prevent Tom Brady from getting hit on a consistent basis. The Bucs signed Joe Haeg to possibly be that starter at right tackle, but I wouldn't bank on that long-term considering he has surrendered 13 sacks and a 9.1% pressure rate when at right tackle in his 788 career snaps at the alignment. The best-case scenario for Brady and the Bucs would be one where either Andrew Thomas, Jedrick Wills or Tristan Wirfs (PFF's top three offensive tackles) fell to them at 14th overall. If that doesn't work out, they ought to consider Ben Bartch with the 45th overall pick. Bartch posted a 97.3 pass-block grade and allowed only four pressures on 541 pass-block snaps against Division-III competition.
TENNESSEE TITANS – THEY TAKE A CORNERBACK IN ROUND 1
Outside of Adoree' Jackson, the Titans are hurting at the cornerback position. Malcolm Butler produced a career-low PFF coverage grade last year before being placed on the Injured Reserve midseason. Logan Ryan, who manned the slot for the Titans, also remains unsigned on the free agent market, and it would be a good idea for the Titans to keep it that way considering Ryan gave up 1,098 yards last year and posted a 60.1 coverage grade that ranked 71st among 118 cornerbacks. TCU's Jeff Gladney is a great candidate here. Gladney has forced tight coverage on nearly 80% of his targets 10-plus yards downfield the last two years and allowed a 24.4% catch rate on all those 10-plus yard targets, forcing more incompletions (23) than catches allowed (19).
WASHINGTON REDSKINS – TRADE DOWN WITH MIAMI AND STILL GET AN ELITE PROSPECT
Washington is in a really good spot in the 2020 NFL Draft. By owning the second overall pick, they can stand still there and snag Chase Young, who set the record for the highest PFF overall grade ever earned by a defensive player (96.1), or they can move back with one of the teams that is set to pursue Tua Tagovailoa and still get an elite-level prospect like Isaiah Simmons or Jerry Jeudy, which is obviously the best-case scenario here.