We're six weeks into the college football season, and only a few weeks removed from the first PFF Draft Board for the 2019 NFL Draft. Of course, every week adds more information to the mix and we already have a number of players making their move when it comes to draft stock.
This list of draft board risers is brought to you by Eckrich, the Official Smoked Sausage of the College Football Playoff.
Here's a look at just a few of the players who have caught the eye as we close in on the halfway point of the college football season.
Edge Josh Allen, Kentucky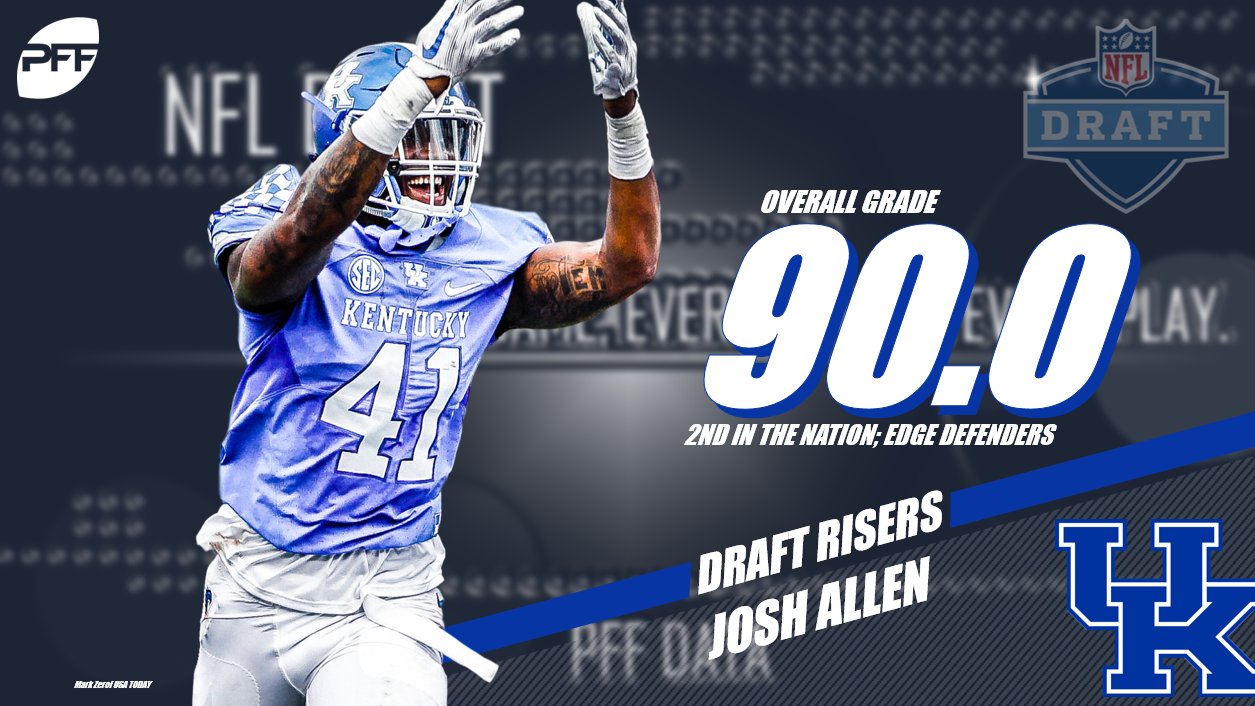 Kentucky's incredible start to the season has coincided with Allen's breakout as he went from good SEC player to one of the best edge defenders in the nation. He's improved as a pass-rusher, grading at 91.5 to go with 33 pressures, second-most in the country. Perhaps most intriguing about Allen's game is his versatility as he's dropped into coverage on 79 snaps this season and he's grading at a solid 73.0, only adding value as a player that can move around the defense at the next level.
Edge Jachai Polite, Florida
Another breakout edge defender in the SEC, Polite had a solid 2017 season, grading at 73.5 overall on 254 snaps but he's taken his game to the next level as a pass-rusher in 2018. He currently ranks right behind Allen in our pass-rushing grades among edge defenders at 91.5 as he's notched five sacks, four QB hits and 12 hurries on only 118 rushes. His emergence has been crucial for a Florida defense that appeared to lack known star power coming into the season. Polite has put himself into first-round conversations with his play in the early going this year.
LB Te'von Coney, Notre Dame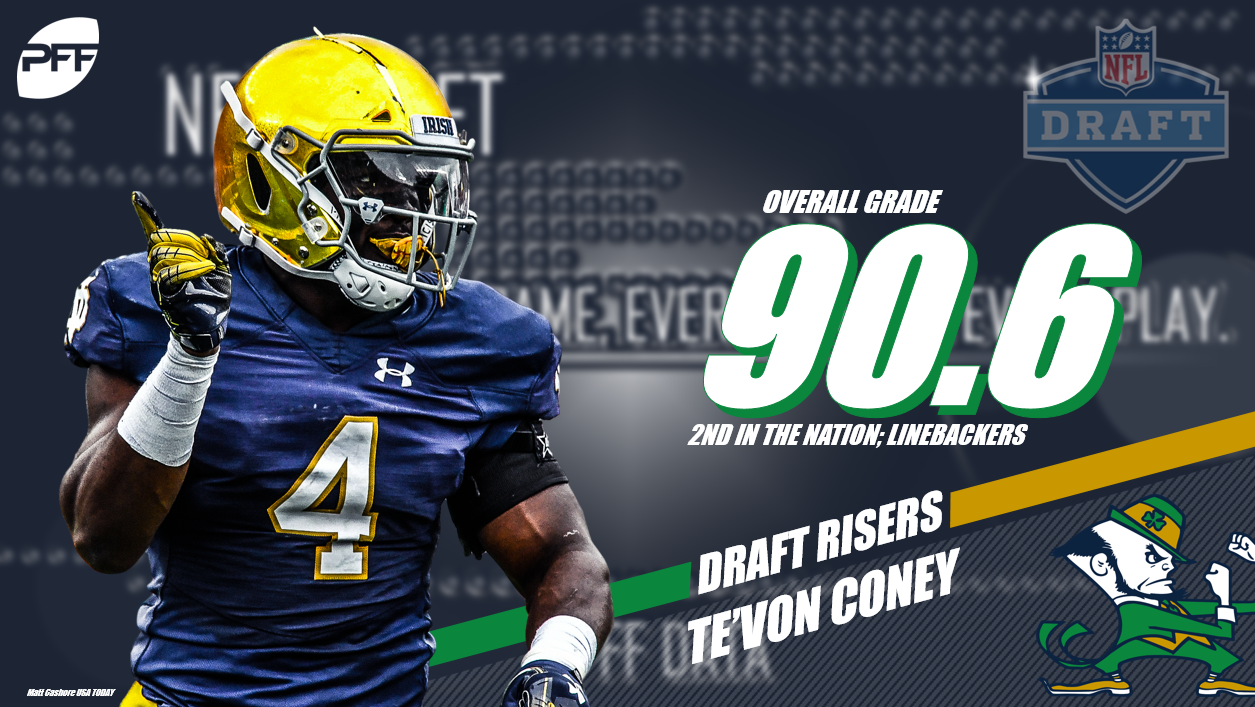 Coney had a breakout season in 2017 as he was a hammer in the run game with an 89.5 grade. This season, he's continued his strong work against the run while improving in coverage, grading at 91.1 and allowing only eight catches on 19 targets for a paltry 29 yards into his primary coverage. Coney's big step forward while playing in space bodes well for his next-level projection.
Edge Zach Allen, Boston College
Coming into the season, Allen received some top-round hype, but we were hoping to see more pass-rush production out of him after he graded at 85.5 against the run in 2017, but only 71.6 as a pass-rusher (41 total pressures on 470 rushes). This season, he's improved greatly as a rusher, posting a 90.6 grade with 29 pressures on only 205 rushes. Allen has the size to hold up as an every-down edge at the next level.
DI Gerald Willis III, Miami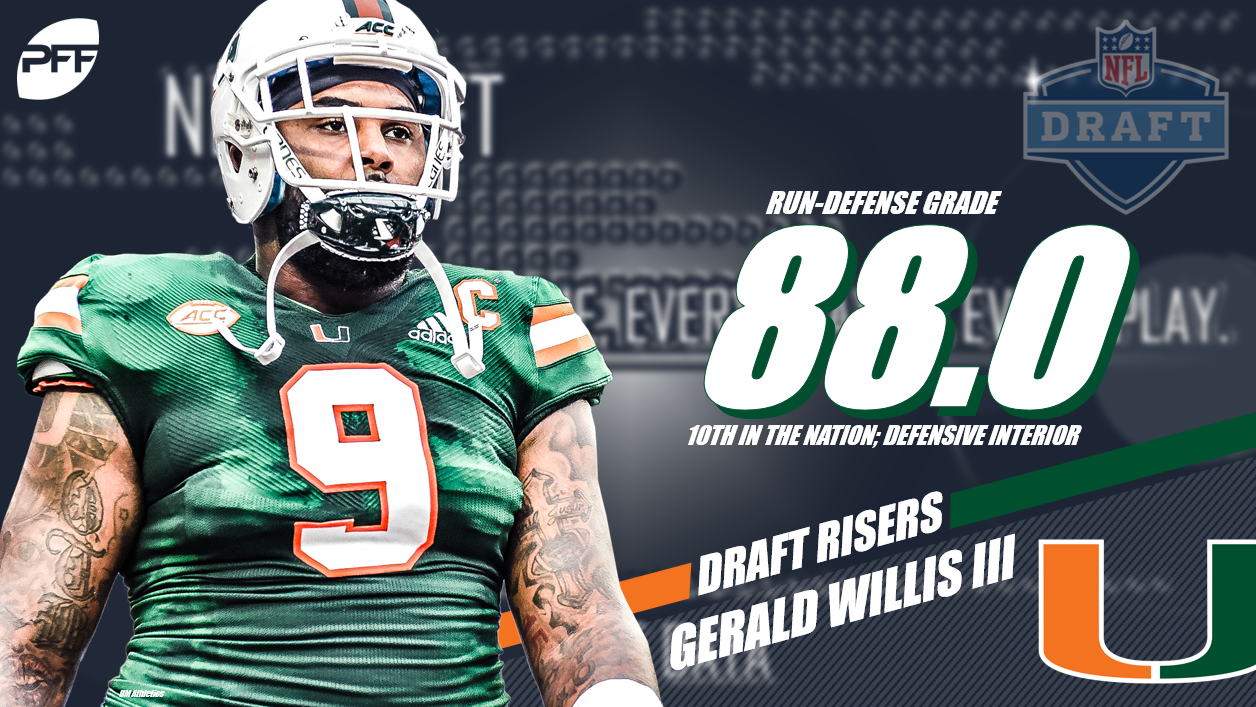 It's been a long time coming for Willis who first took a college snap back in 2014 and had only 368 snaps in his career coming into the season, but the former Florida recruit has finally started to show the ability that made him a coveted high school player. He kicked off the season with a dominant pass-rush performance against LSU, and he's since improved in the run game, grading at 88.0 overall, good for 10th in the nation. Willis has the No. 7 pass-rush grade in the country with 14 pressures on 136 rushes.
OT Calvin Throckmorton, Oregon
Throckmorton has plenty of experience, but he continues to improve after posting strong seasons in both 2016 and 2017. This year, he's allowed only two pressures on 161 pass-blocking attempts, good for an 88.7 pass-blocking grade that ranks ninth in the country. He's improved his run-blocking grade to 75.5 this season and his natural power at the point of attack allows him to create impressive movement for Oregon's run game.
Edge Brian Burns, Florida State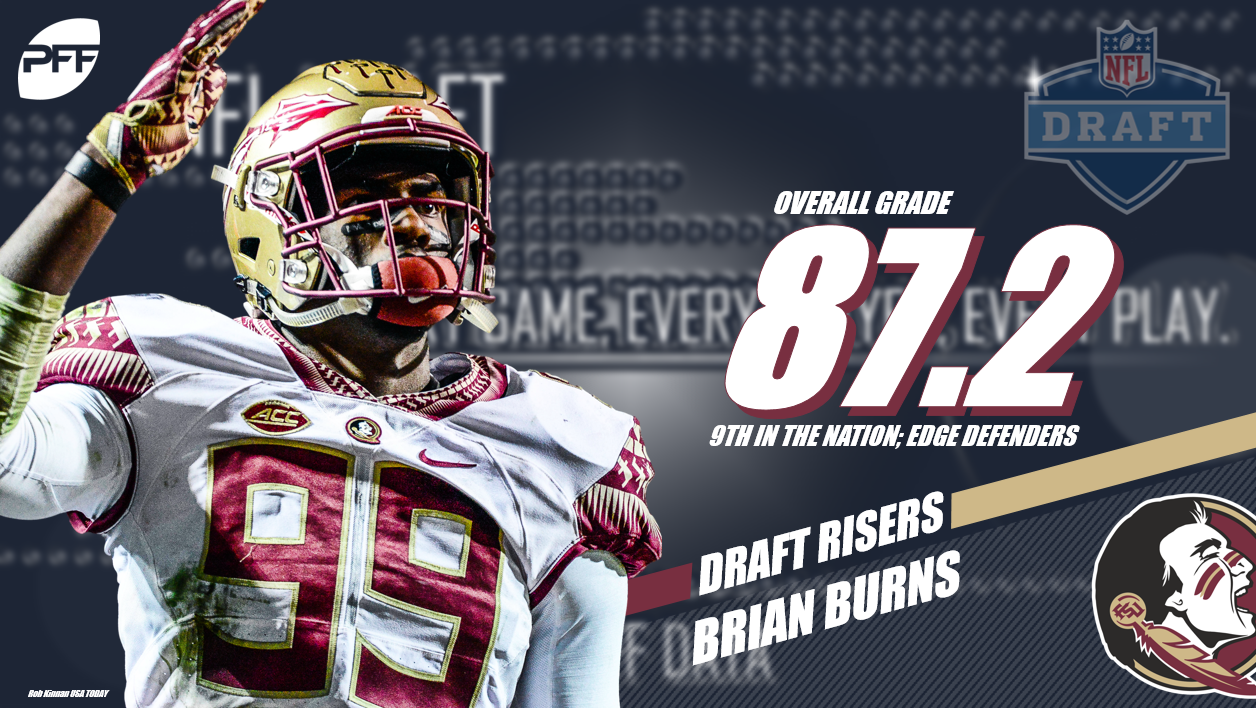 Coming into the season, we pegged Burns as an athletic freak who had yet to produce at an elite level but Burns' production has started to match up to his traits this season. He's posted an 87.2 overall grade and an 86.8 mark as a pass-rusher behind a nation-high 37 pressures on 248 rushes. The NFL will like him as a potential first-round pick on athleticism alone while a spot on the PFF Top 32 will depend on continued production for the rest of the season.
CB Rock Ya-Sin, Temple
With only 242 career snaps to his name coming into the season, the 6-foot-2, 190-pounder has emerged as one of the nation's top cornerbacks through six weeks of the season. Ya-Sin has a strong 79.2 coverage grade, allowing 22 catches and 189 yards on 43 targets, to go with two interceptions and four pass breakups. It hasn't been perfect for Ya-Sin who has been charged with two touchdowns and five penalties, but he's come out of nowhere to put himself on the NFL draft radar.
TE Keenen Brown, Texas State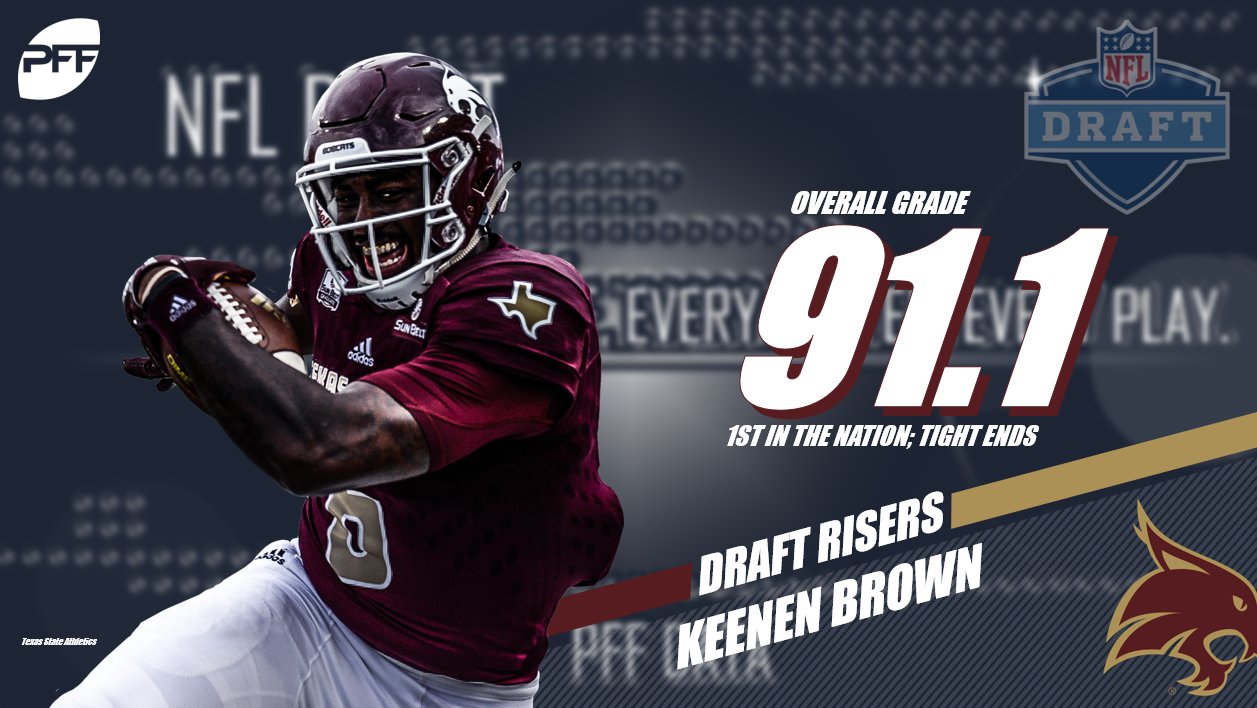 Brown has the top receiving grade in the nation at 91.4 due mostly to his work after the catch where he's averaged 9.0 YAC/reception this season. Brown's open-field athleticism has made him one of the nation's best playmakers, but he's also been excellent as a run-blocker, ranking sixth in the country at 74.7. It's been a breakout, all-around performance who should now have the eye of scouts with regard to the NFL draft.
QB Daniel Jones, Duke
Coming into the season, Jones was already getting a look from NFL scouts due to his 6-foot-5, 220-pound frame and NFL tools, however, with a 65.7 grade in 2016 and a 61.8 grade last season, there was plenty of work to be done before he looked like a proper NFL prospect. We're only 83 dropbacks into Jones' season, but it's been night and day compared to the first two years of his career as he's graded at 92.0, good for fourth among draft-eligible signal-callers. Jones has been outstanding throwing the ball down the field, ranking second in adjusted completion percentage on 20-plus yard throws at 72.7% as he's completed 6-of-11 attempts with two of his five incompletions being dropped. Jones has gone from 'toolsy' projection to intriguing prospect, though there's still plenty of work to be done from a week-to-week consistency standpoint.
RB Darrell Henderson, Memphis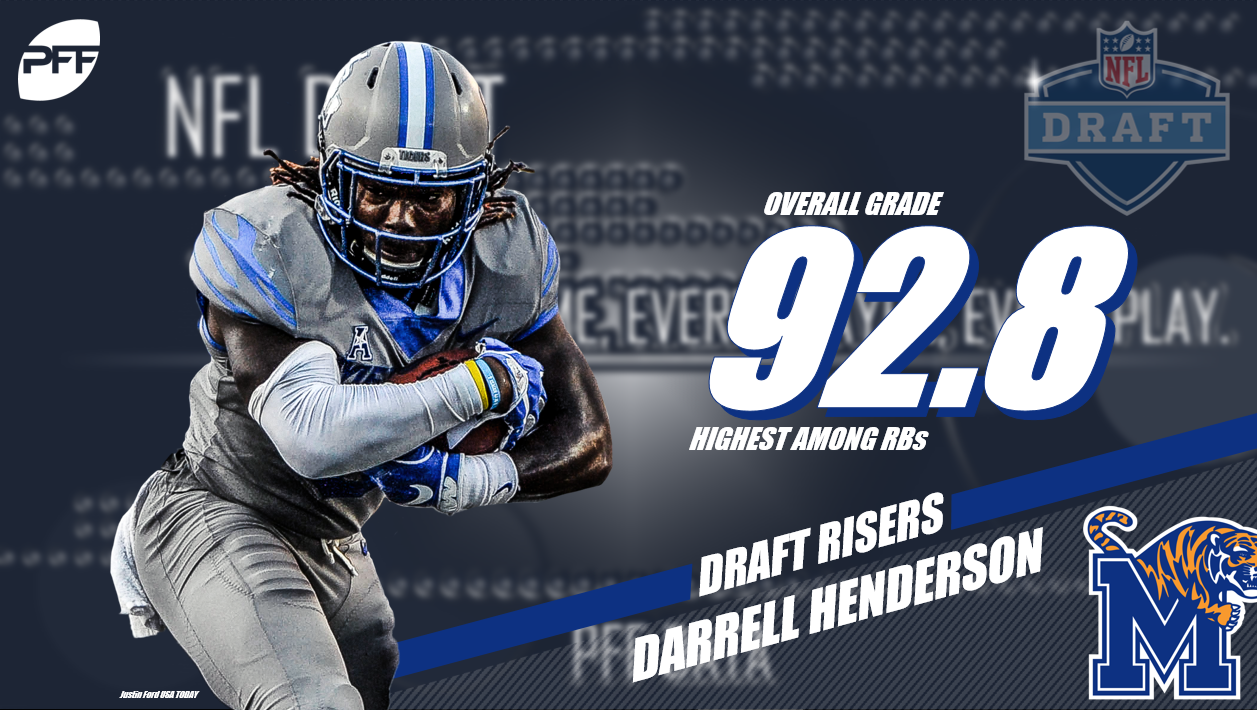 The raw numbers look like they're straight from a video game as Henderson has rushed 79 times for 934 yards, good for a gaudy 11.8 yards per attempt average and a ridiculous 7.8 yards after contact per rush. He's also averaged 19.8 yards on his nine receptions as he's emerged as one of the best big-play threats in the country. Henderson's 92.8 overall grade leads all running backs and his ability to make defenders miss (24 forced missed tackles on 79 carries) paired with his breakaway speed and receiving ability have vaulted him toward the top of any running back discussion with regard to the 2019 NFL Draft.