I'm here to extend an olive branch: Bijan Robinson is absolutely worth a first-round draft pick — and potentially quite a high one.
PFF is anti-running back. Analytics as a whole has been at the forefront of the push to devalue the position in the NFL and hasn't often made that case in tremendously subtle terms. "Running backs don't matter" became a slogan, and teams have been lambasted for drafting a running back in the second round with their fourth selection. This was an overcorrection.
PFF is not a monolith, so I'm not speaking for everybody who works here, but I think some of the discussion surrounding running back value went too far.

Everyone likes to talk in absolutes, but the various factors at work make the decision far too complicated for that. To me, the debate about a running back essentially comes down to three questions at any draft spot:
1. What will his contract look like at this pick number?
2. What is the opportunity cost? Who are we leaving on the board?
3. Do I need this player to fix a misfiring run game or add value to one that's already functional?
The third question is the easiest one to address: If your running game is non-functional, do not draft a running back in the first round to fix it because he probably won't.
All the things we learned about the dependency of the position remain true. And so a running back — almost no matter how good he is — will not overcome a bad situation and fix the run game by himself. He needs a viable offensive line. He needs a functional passing game. He probably needs an offense that will threaten defenses in ways to take defenders out of the box. So, if my team already has a good offensive line and a viable offense overall, we can talk.
The Pittsburgh Steelers had the worst rushing offense in the NFL in 2020, gaining 1,351 yards on the ground at a miserable 3.6 yards per carry. They drafted all 232 pounds of Najee Harris in the first round to fix that and improved to 3.8 yards per carry the following season because they didn't address the root cause of the problem — the blocking.
The Contract
In a world of salary cap and roster limits, contracts are everything. Rookie contracts are now aligned to draft position and so potentially provide incredible value relative to veteran alternatives.
The true value of the contract differs depending on position. For example, the No. 5 overall pick will receive a contract worth around $34 million over four years (with a fifth-year option). That contract would make a running back the league's highest-paid player at the position in terms of average per year (APY), but it would be just 18th for a wide receiver and 16th for an offensive tackle.
Bijan Robinson could be the best running back in the NFL the second he steps foot on a professional field. But if he's drafted in the top five, the team that drafts him will have to pay him as if he is, so they will get nothing in terms of surplus value. If he isn't the best running back in the NFL, they will still be paying him as if he is.
If a team drafts him at No. 10 overall, that contract would make him around the 16th-best-paid back in the league, so there's a much easier case to be made for surplus value. And, obviously, the later he is drafted, the better the case is from a financial point of view.
The flip side is that the position has become devalued largely because of a surplus of talent. Good backs are available in the NFL and later in the draft for a relatively inexpensive sum, but in Robinson, we are focusing specifically on a player with special credentials as a prospect.
To me, you can make a financial case to draft Robinson anywhere after Pick No. 7.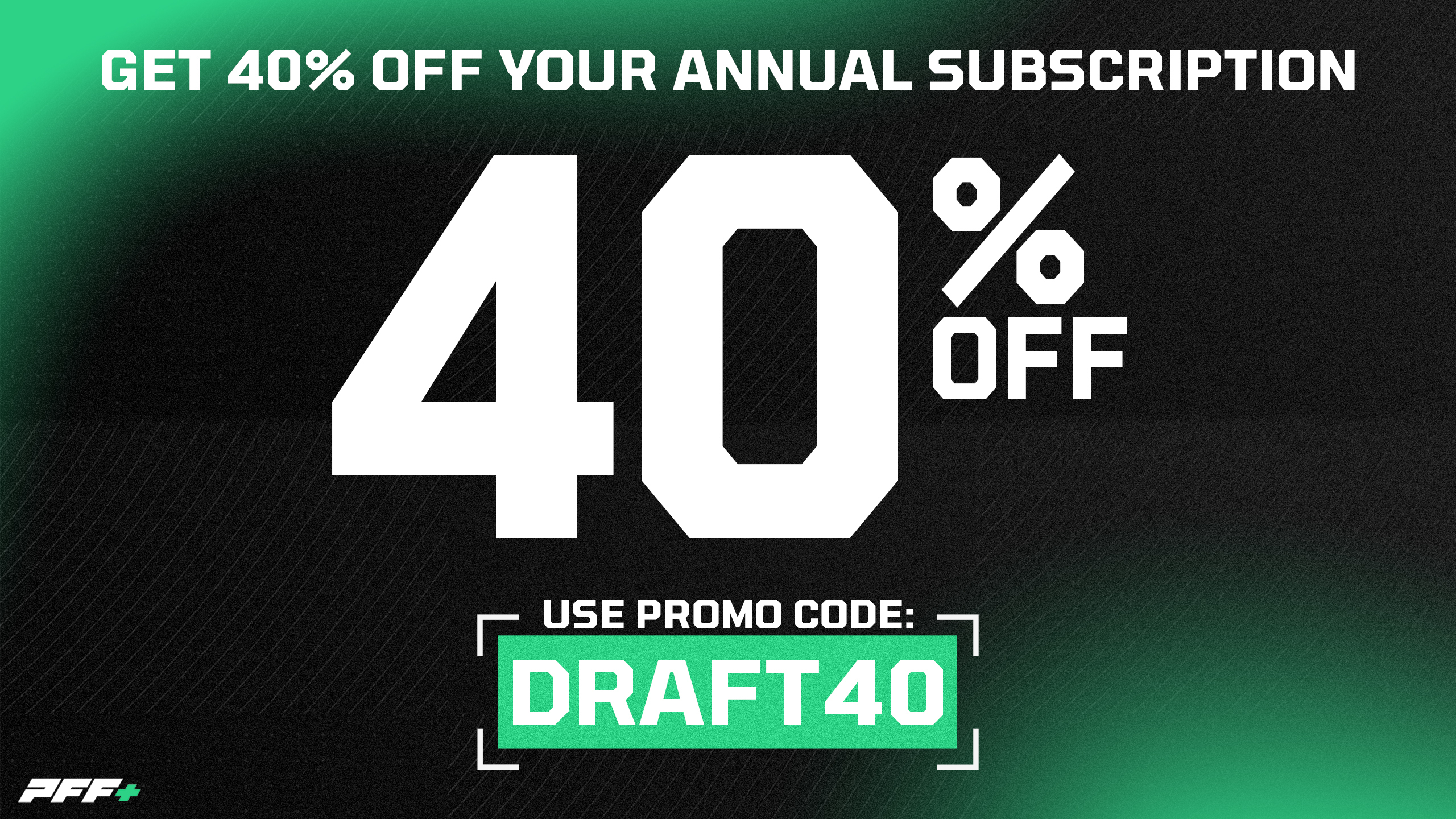 The Opportunity Cost
The final decision to be made is whether drafting a back is worth the opportunity cost of passing up a player at a more valuable position. This is the most complicated question to answer because the balance is between a higher grade and a more valuable position.
For years, teams have been lambasted for drafting for need — "reaching" for players instead of just drafting the best player available — but the other extreme is to take the highest-graded prospect on the board and come out of the draft having addressed the least valuable positions.
There is a necessary trade-off between how good a player is and how valuable the thing is that he is good at, and it's one the NFL already recognizes — otherwise, kickers and punters would go in the first round all the time.
Running backs are less valuable than wide receivers, pass-rushers or cornerbacks, but at some point, the best running back prospect to enter the draft in years has a better average outcome than the fourth- or fifth-best player at one of the other positions. The problem is that identifying that sweet spot isn't easy because it's almost entirely based on the imprecise and nebulous idea of certainty and confidence in the projection and evaluation of each prospect.
You could certainly model the hit rate of running backs and other positions and make a rule of thumb based on those numbers, but Robinson falls into the category of an outlier — and that's where we get into trouble.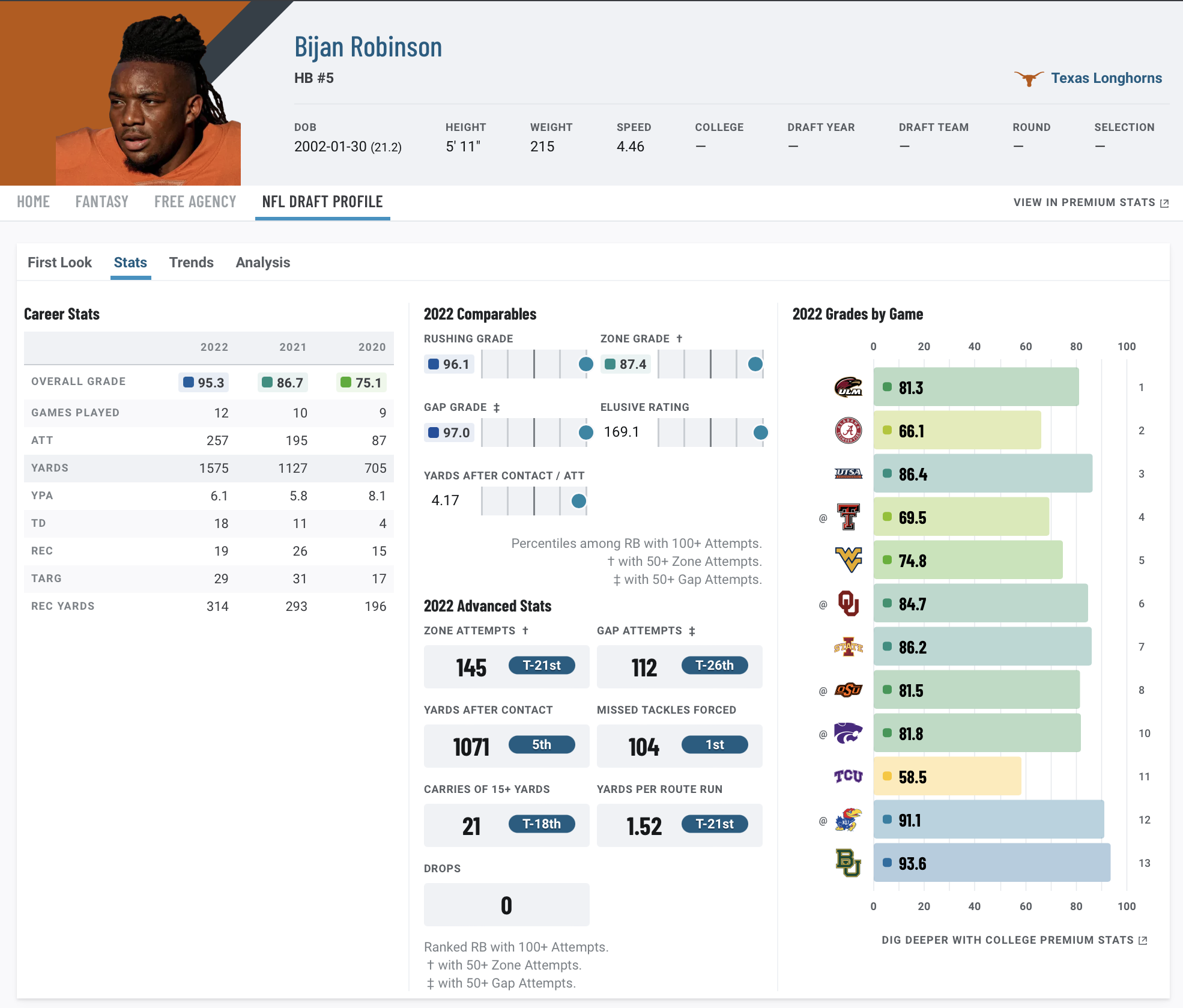 In 2018, Quenton Nelson was so good as a prospect that it changed the rules. Guard is another position with relatively low value, and so you'll hear a lot about how "you can't draft a guard that early," but the degree of certainty everybody had that not only would Nelson be good but that he would be elite changed the math.
Nelson went on to be the single most valuable offensive lineman in the league over his first three seasons, according to PFF Wins Above Replacement (PFF WAR). He was so good that it changed the norms of value by position in the NFL and consequently justified doing the same thing in the draft.
The equation when it comes to Bijan is similar and rests on that "special" status as a prospect. But the NFL is constantly talking itself into exceptions and typically making mistakes because of it. Given the uncertain nature of the draft and player evaluation, simply playing the percentages is likely the best way to go at all times, but exceptions are exceptions for a reason, and knowing the right moment to break the rules will pay off in a big way. Picking the wrong moment to do so, however, will simply bust.
When it comes to this particular draft, it's difficult to make a compelling case that Robinson should be drafted ahead of the top players at more valuable positions, but things get murkier quite quickly.
Will Anderson Jr. should absolutely be drafted over Robinson as the top edge rusher available, but is the same true for Myles Murphy or Will McDonald IV? In a year nobody seems to love the top receiver prospects, should teams definitely draft Jordan Addison or Zay Flowers over Robinson? If either player hits the high end of their range of outcomes, they will be more valuable NFL players, but the certainty attached to that is significantly weaker.
The Bottom Line
To this point, we have skated over the credentials that make Robinson such a quality prospect. He earned a 95.3 PFF grade last season, averaging 6.1 yards per attempt and over 4.1 yards after contact per attempt, and he broke 104 tackles to set a PFF single-season record. He has a smoothness of movement that can only remind you of the elite, Hall of Fame-caliber NFL running backs, and he has receiving chops, as well.
He is the complete package as a running back prospect, and using this three-pronged checklist, several teams will find value in selecting him in the first round.
In the late 20s, the value is a no-brainer. There are compelling cases to be made in the teens, but how early could he be selected without violating one of these conditions? Depending on how the board lands, Philadelphia at No. 10 overall could convince themselves that Robinson is so good that it is worth passing on the remaining talent to select him, particularly as the team has another pick later in the first round.
That's probably the highest a team could justify drafting Robinson without sacrificing a more likely higher-impact move in selecting a lesser prospect at a more valuable position.