NFL draft season is nearly upon us. And with that comes the PFF NFL Draft Guide, which comes loaded with scouting reports and advanced data on the class' top draft prospects.
Very few draft prospects are perfect and come with a collection of pros and cons, crucial evaluation points when it comes to projecting the players to the NFL.
Here are the strengths, weaknesses and NFL roles for PFF's top draft prospects.
Subscribe today to download the 2023 NFL Draft Guide
for as low as $9.99.

Where he wins: Playmaking 
Young has that creative mindset that we're seeing take over the NFL at quarterback. He's good in structure, but when Young breaks the pocket, he's capable of special plays.
What's his role: Creator
Young is the kind of talent that you turn the keys over to as an offensive coordinator. You can trust him to make the necessary adjustments to the called concepts for them to be successful. He just sees the game so well.
What can he Improve: Size
While his height isn't changing, Young could stand to add some muscle to his frame simply for injury avoidance. He's never going to have Josh Allen's risk aversion when it comes to contact, but taking some big hits is unavoidable at the position.
---
Where he wins: Completeness
Robinson has answers for everything. He can run with power, speed or elusiveness. He set the PFF single-season broken tackle record this past fall with 104.
What's his role: Feature back
Robinson is more than just a bell cow. He's a back that you make the focal point of your offense. Whether that's 15-plus carries a game or scheming up targets as a receiver, you want the ball consistently in his hands.
What can he Improve: Fumbles
This is about the only thing that really moves the needle negatively with Robinson. His six fumbles on 539 carries could stand to get cleaned up.
---
Where he wins: Explosiveness
Johnston looks like a wind-up toy coming off the line of scrimmage with his high knees kicking into high gear. He challenges corners every snap to be on their A-game or strode away from.
What's his role: X receiver
Johnston has the most prototypical X-skillset in the draft class. Plant him on the outside and make safeties have to account for him every snap.
What can he Improve: Physicality
If he can tap into his size just a little more, Johnston could be one of the most feared receivers in the league. We've really only seen his play strength in flashes.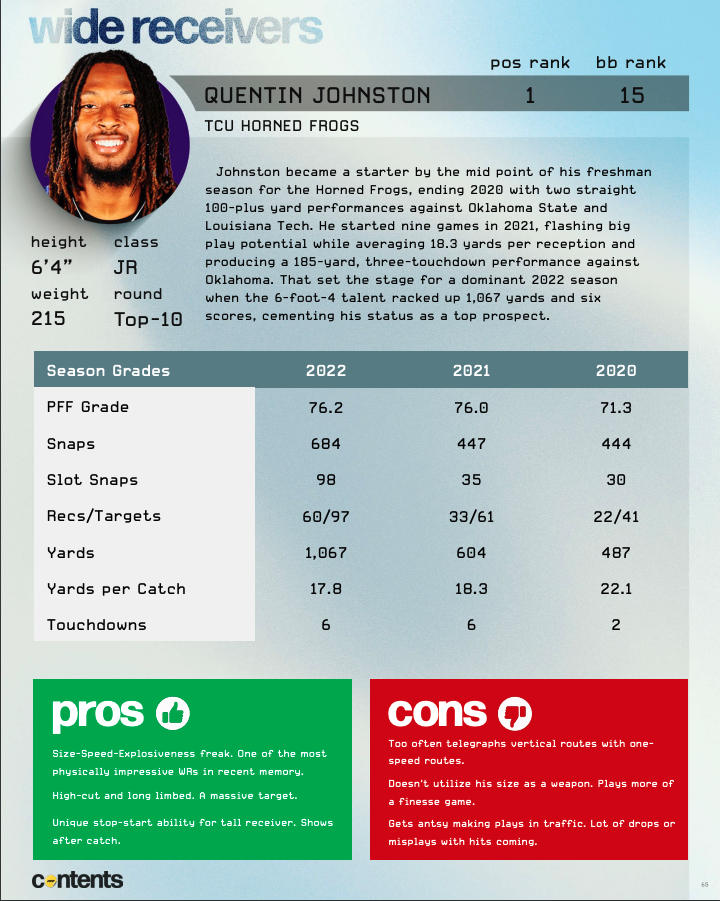 Where he wins: Natural receiving ability
Kincaid has all the uncoachable aspects of being a receiver in spades. Whether it's adjusting to balls, setting up defenders, or subtle movements after the catch, Kincaid has all of it.
What's his role: Move tight end
I know that "move" tight ends were a relative fad that has been phased out in recent years, but Kincaid has enough ability to make an impact if he were qualified as a receiver alone. That should be the bar for the "move" tight end designation.
What can he Improve: Muscle mass
We don't have to harp on it too much, but it's worth noting that there were only three tight ends in the NFL last season listed at 240 pounds or below. It's not unheard of, but he's a relative outlier.
---
Where he wins: Tools
You want someone who can cut off the backside, displace a three-technique, mirror an athlete off the edge and lead out on a screen? Johnson is your man. It's all there for him to be a high-end NFL tackle.
What's his role: Left tackle
Sure, Johnson could flip over to right tackle, as well, but that would be three position switches in three years. He just needs the reps at this point, so keeping him on the left side would be best for his development.
What can he Improve: Hand usage
The truth is that there are a lot of areas where Johnson could stand to improve — independent hand usage being chiefly among them. That's almost a good thing considering how well he's performed already.
---
Where he wins: Easy power
Torrence makes moving people against their will look like child's play. He can move defensive tackles off the line with his lower body or torque them out of the hole with his upper body.
What's his role: Guard
There's never been a more "guardy" guard prospect. Torrence was built in a lab to play guard.
What can he Improve: Very little
Physical limitations are the biggest thing holding Torrence back at this point. There's not much else on tape that I'd call a glaring issue.
---
Where he wins: Power
Carter puts out teaching tape every week on how to explode into contact, and the results speak for themselves. He can really jolt an offensive lineman on contact.
What's his role: Versatile DT
Carter's frame trends more toward a three-technique, but he's more than capable of lining up anywhere between the tackles and making plays.
What can he Improve: Very little
Anything I put here will be a minor gripe, so I'm not going to quibble. Carter has the goods.
---
Where he wins: Bend or burst
It's a deadly combination. You won't find too many edge rushers who can match him in both, and the ones who can are the elite players at the position.
What's his role: Every-down edge
Plug him in and don't worry about subbing him out. Anderson is reliable as can be and will likely have to be accounted for with chips off the edge in time.
What can he Improve: Pass-rush diversity
Anderson didn't have to be a technician to win at the collegiate level. He showed great hand usage already, but refining it into a complete pass-rushing package will make him nearly unblockable.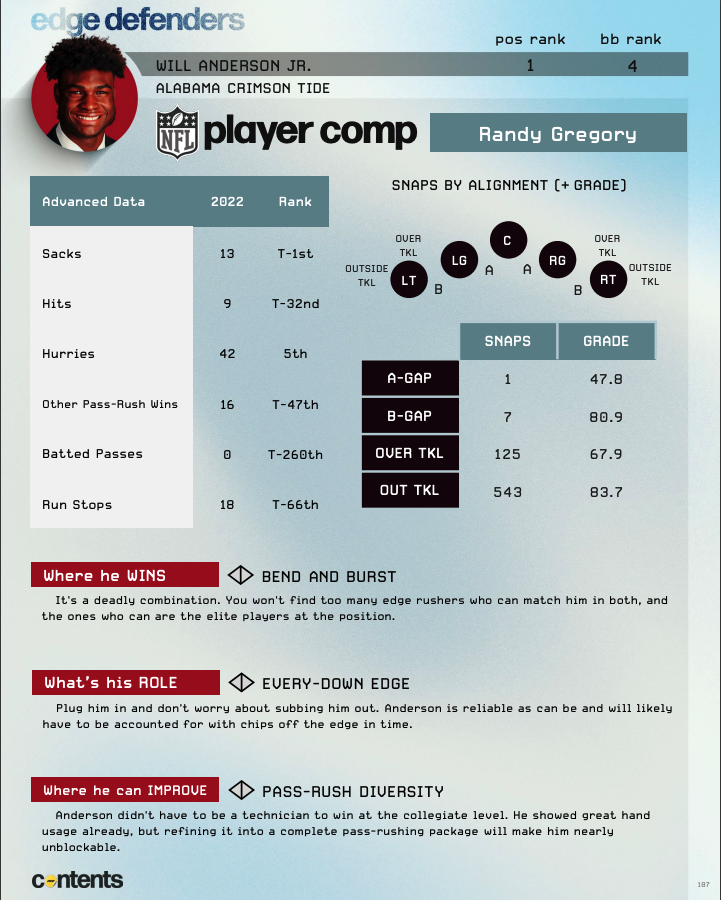 Where he wins: Twitch
Henley has the type of acceleration that wins between the tackles. Whether it's diving into the backfield or matching running backs in space, he can cover some ground.
What's his role: WLB
Henley won't be a take-on linebacker at his size. He's the kind of linebacker that excels with a free runway to ball carriers.
What can he Improve: Zone drops
Henley doesn't quite get depth and match routes breaking behind him the way you'd want a linebacker to in zone coverage. He allowed a lot of big plays because of it.
---
Where he wins: Processing speed
You want 11 defenders that see the game the way Witherspoon does. With 2,334 snaps to his name, Witherspoon has seen it all, and it shows on tape. Expect him to get his hands on a ton of footballs in the league.
What's his role: Island No. 1 CB
Witherspoon has the kind of reliable man coverage skillset that enables him to play on an island consistently. Due to his ball production, you may think he's a boom-or-bust type of cornerback, but he's not that by any means.
Where he can improve: Penalties
This is a very minor gripe, but I could see Witherspoon's play style leading to a lot of illegal contact penalties in the league. He already accumulated six penalties in 2022 and five in 2021.
---
Where he wins: Football IQ
Branch is precisely the type of player you want leading your defense. His presence makes everyone else's job easier because of how adept he is at executing his role flawlessly. He'll do that and make plays that go beyond his assignment on a given play.
What's his role: Slot
If it ain't broke, don't fix it. The slot is a valuable role in today's NFL, and those who can play both the run and pass at a high level there give their defensive coordinators immense flexibility.
Where he can improve: Play strength
Adding some muscle to his frame would give Branch that extra pop when taking on wide blocks and sticking ball carriers. There's little about the way he plays the game to poke holes in.
---