• Mock trades continue at No. 1 overall: The overwhelming consensus is that the Bears will ship the top pick, and the Texans take advantage of that in this mock to snag Alabama quarterback Bryce Young.
• EDGE Tyree Wilson sneaks into top five: The Seahawks draft the uniquely sized, uniquely athletic Texas Tech pass rusher to bolster their defensive line.
• Bills go with Texas RB Bijan Robinson: The Texas rusher lands in Buffalo, as is the case in many mock drafts, and improves the Bills' offense in all facets.
Estimated Reading Time: 18 mins
---
With just one game remaining in the 2022 NFL season, most teams have turned their attention to the 2023 NFL Draft. The draft order is ripe with trade potential, too. Here is a predictive look at what I believe teams could do at the end of April.

---
Trade compensation: HOU gets 2023 first (No. 1), CHI gets 2023 first (No. 2), 2023 second (No. 34), 2024 fourth
In my first 2023 mock draft, I had the Texans selecting Young at the top. I have the same here a month later, but it will cost Houston a bit more this time. ESPN's Todd McShay recently said he believes the Texans will do "everything they can" to get up to No. 1, a spot they held until the final week of the season. It'll cost them more than one might expect due to a potential bidding war with the likes of the Colts, Raiders, Panthers and others looking to move up for a quarterback. But the Texans can boast that their offer allows the Bears to still get any defensive player they want. Plus, they have two first-round picks in each of the next two drafts.
Of course, such a move would be for a quarterback, and there is no better quarterback in this class than Bryce Young, who earned elite PFF grades of 92.2 and 91.0 in back-to-back seasons.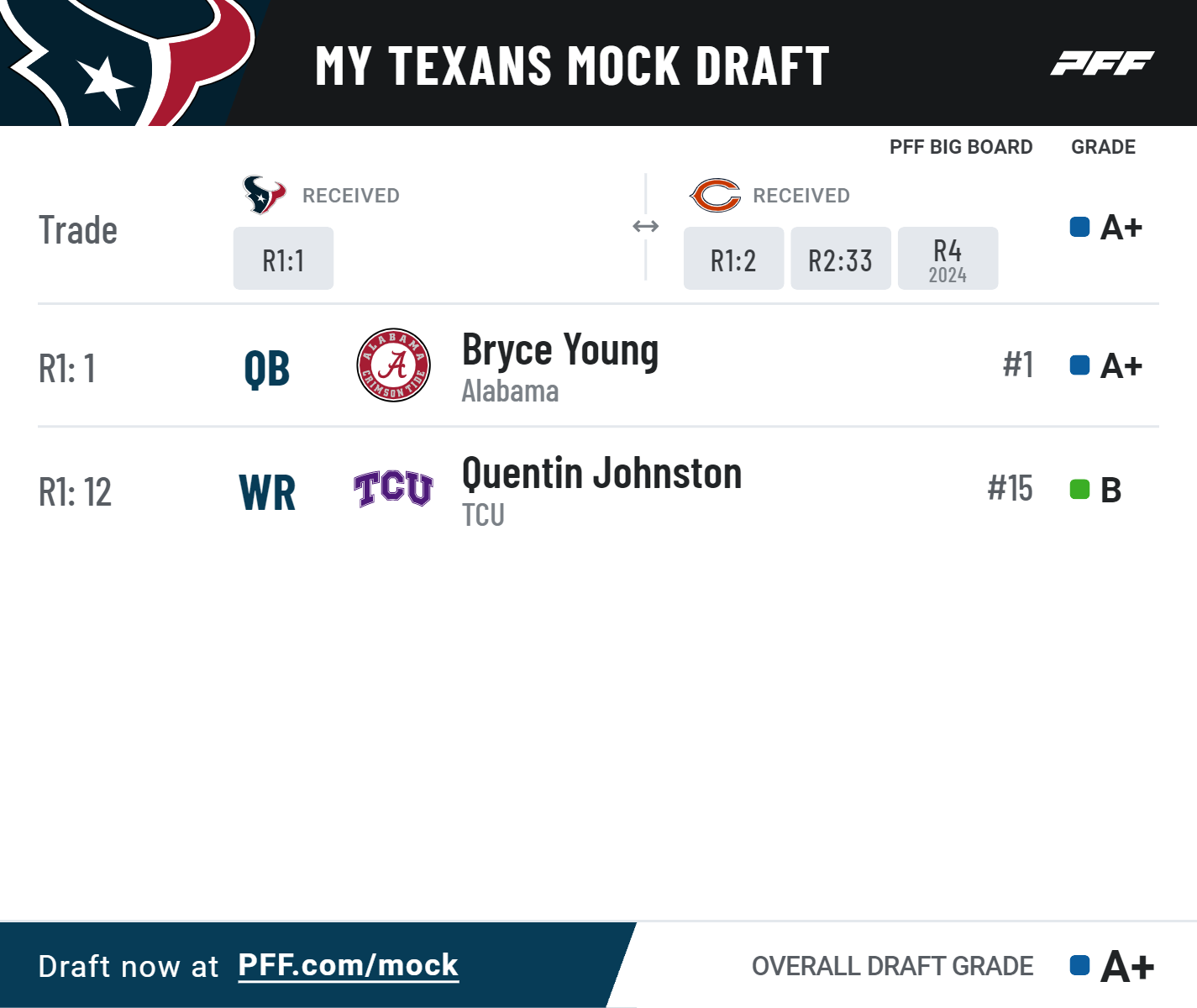 Trade compensation: CHI gets 2023 first (No. 2), 2023 second (No. 34), 2024 fourth, HOU gets 2023 first (No. 1)
When Bears general manager Ryan Poles addressed his team's draft approach in his post-season press conference, he emphasized three areas: pass rusher, offense and cornerback — "premium positions." Pass rusher doesn't just mean edge rusher, either, and a three-technique defensive tackle is paramount to Matt Eberflus' defensive scheme. In a trade-down, the Bears can recoup the early second-rounder they lost in the Chase Claypool trade while still having their choice of any non-quarterback.
Following some hints and connecting a few dots leads me to believe the Bears will have Georgia's Jalen Carter, who earned pass-rushing grades of 88.9 and 90.0 the past two seasons, at the top of their board.
I thought long and hard about a potential trade-down here. New Cardinals general manager Monti Ossenfort touched on the possibility of trading down from No. 3 but spoke so much more about an emphasis on getting the right football players on their team. Anderson was a Heisman-caliber player in 2021 (82 pressures, 17.2% pass-rush win percentage) and was a permanent team captain during another solid season in 2022. He'll check a lot of boxes the Cardinals are looking for in their new direction.
There is no telling what the Colts could do in this draft. You'll read plenty of scenarios of them selling the farm to get to No. 1 overall and draft a quarterback, and that is certainly plausible. But will Chicago want to move that far down when a lesser move is available? In this scenario, let's say they don't and Indianapolis has to stay put. I still think they can get a young quarterback to invest in, whether that is the QB2 or QB3 in this class. That debate will likely come down to Kentucky's Will Levis or Ohio State's C.J. Stroud.
Levis gets a lot of flack from draft readers who point out his lack of production — just 22 big-time throws to 24 turnover-worthy plays — over the past two seasons. But it seems the NFL is much higher on Levis than his numbers might indicate due to their belief in his physical tools and how much better he can be with some improved passing weapons (none of his wide receivers in 2022 earned a 73.0-plus receiving grade). Plus, if play under pressure is a point of emphasis for Colts general manager Chris Ballard, Levis' 58.1 passing grade under pressure beats out Stroud's 46.2. Levis' 72.9% adjusted completion percentage was also significantly higher than Stroud's 50.0%.
Do with those numbers what you will — as will the Colts. 
Seattle hit the jackpot with how poorly the Broncos played post-Russell Wilson trade, as it gives them a top-five selection in this upcoming draft. As for their potential targets, head coach Pete Carroll didn't really hide the fact that his defense, particularly his front, needs major help.
"It's killing me, yeah, it's killing me," Carroll said. "We are going to have to become more dynamic up front, we have to. We've kind of been in the same mode, we have to get more production out of the guys, they have to be more of a factor. We need to make the position really competitive, if we can."
The top five feels a bit rich for Wilson's tape, but the Seahawks love uniquely sized, uniquely athletic players. At 6-foot-6 and 275 pounds with an 86-inch wingspan, he'll be in their wheelhouse. He's a mold of edge player they simply do not have on their roster, with Uchenna Nwosu and Boye Mafe both below the 50th percentile for height and weight at the position.
Let's keep this blurb to just a few words: turn on the tape.
Though Witherspoon comes in a little lighter than desired for an NFL defender at 6-foot and 180 pounds, his tape was about as good as it gets. He earned an elite 92.6 coverage grade in 2022, which ranked first in the FBS. On top of not yielding a touchdown this year, on 107 press coverage snaps, he allowed just five catches for 23 total yards.
The Raiders' decision-makers are in a tough spot. They clearly went all in last season when trading for Davante Adams, hoping it would take Derek Carr and the franchise to the next level.
It backfired horrendously.
Now with all the pressure on both head coach Josh McDaniels and general manager Dave Ziegler, I can't imagine they have the ability to draft QB3 or QB4 in this class and just be mediocre at best while starting a rookie next season. Instead, I think they'll be very aggressive in the veteran quarterback market and will prioritize the offensive line in the top 10 of the draft. Despite not having ideal measurables with arm length (actually started his college career as a center), Skoronski earned an elite 92.4 pass-blocking grade in 2022 as the Wildcats' left tackle.
Though the Falcons' top need on defense is along the defensive line, I'm not as high on the defensive line talent in this class as it seems others are. The Falcons and general manager Terry Fontenot are committed to building the team the right way. That means not forcing picks at positions of need and instead drafting players they believe will be important contributors, potential second-contract players. Brian Branch has that potential.
As a hybrid defensive back who has played both safety and nickel defender, Branch was an elite run defender (90.7 grade) and an elite coverage player (90.4 grade) while missing just three tackles on over 600 run-defense snaps in his career.
The Panthers could certainly be among the teams bidding for the No. 1 overall pick to get their quarterback of choice. But as I pondered on which potential trade seems most realistic, it is hard for me to imagine the Bears saying yes to a deal that moves them out of the top five. That's not to say Chicago is the only potential trade partner for the Panthers, but here I have them staying put. If they can afford to do that while drafting an extremely productive quarterback (elite passing grades in back-to-back seasons) like Stroud, that would be a big win for the first draft of the Frank Reich era.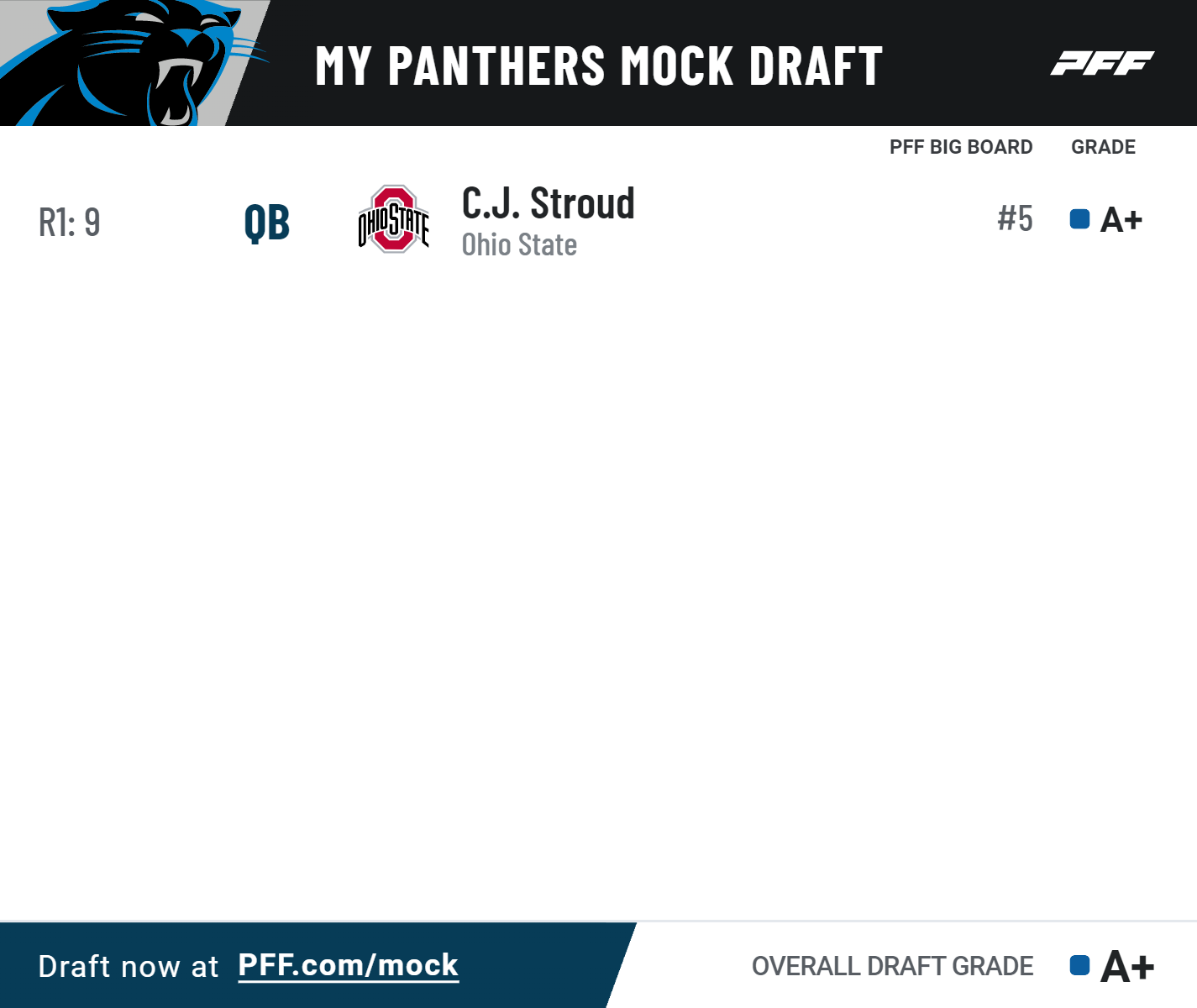 The Eagles are in a very advantageous spot as a team headed to the Super Bowl with a top-10 pick. There aren't many needs for Philadelphia to fill, but cornerback could become one. James Bradberry has been a fantastic signing for the Eagles this year, but he's only on a one-year deal. If they can't bring him back, that's a big loss. Bradberry finished the regular season with an 82.8 coverage grade and the second-most forced incompletions in the league (19).
Gonzalez brings CB1 potential to the position. His movement skills at 6-foot-2 and 200 pounds are so smooth, and this year he took his ball production to the next level with four interceptions and nine forced incompletions. 
Things have fallen off hard in Tennessee, and the best way to get back on track is through the trenches. Jones is still raw as a prospect, as this past season was just his first as a starting left tackle. But he has the size at 6-foot-4 and 310 pounds, and he moves like a real athlete along the line of scrimmage. For as physically imposing as he looks, it was his pass protection that stood out this past year. He earned an 84.2 pass-blocking grade with zero sacks and only nine pressures allowed on 449 pass-blocking snaps.
Let me just start by admitting that this year's wide receiver class is not comparable to last year's. No matter who you ask, if you wanted to know where the top receiver in 2023 would rank versus the 2022 list, you wouldn't find many, if any, who would say their WR1 would crack the top five.
However, that doesn't mean this class lacks receivers who could help a team's passing attack, and the 6-foot-4, 215-pound Quentin Johnston is one of them. He's a good vertical receiver who can provide plenty of explosive plays. Plus, he moves well for a bigger receiver and is dynamic enough to rack up yards after the catch. The Texans' pass-catching group looks barren right now, especially if Brandin Cooks remains disgruntled. They'd need all the help they can get.
I pondered an Aaron Rodgers trade here. I really did. But Rodgers' contract is so complicated with what's flexible and what's not that, until there is more clarity about how the Jets and Packers could feasibly get a pre-June deal done, I didn't even want to take a stab at it.
So, ultimately, we get back to basics, and that is a damn good offensive line prospect who could help the Jets out, regardless of whether Mekhi Becton pans out. Johnson recorded an 83.5 pass-blocking grade on 790 snaps at right guard in 2021 and then posted an 80.8 pass-blocking grade on 848 snaps at left tackle in 2022. He feels like a natural offensive tackle, but a drafting team will be able to get good production out of him anywhere.
When Jordan Addison's name comes up during big board assembly meetings across the NFL, some teams will focus on his lack of size at 6-foot and 175 pounds. Others will focus on his 2,506 receiving yards, 25 receiving touchdowns and Biletnikoff Award over the past two years. I'm not sure the Patriots are in a position to pass up a smooth and productive playmaker in the passing game.
Chances are you'll read mock drafts with Myles Murphy in the top 10, and maybe even the top five. With the way this defensive class is set up, there is still a possibility of that happening, given the lack of clear pass-rushing stars beyond Will Anderson Jr. and with Murphy being an athletic 6-foot-5, 275-pounder. Some production concerns could push him a little further down boards. But even if that's the case, he checks a lot of size and athletic thresholds the Packers typically go for.
Ah, the ultimate wild card in this draft. Here in this mock, I have Richardson going No. 16, but the truth is that his range is anywhere from No. 7 overall with the Raiders all the way to No. 26 with the Giants. Richardson's numbers might scare teams, but his tape shows more promise than the raw data.
In his lone year of starting, he recorded 19 big-time throws and 13 turnover-worthy plays with just a 63.1% adjusted completion percentage (ideally, would want to be over 70%). But in a world of what could be, Richardson is as physically gifted as they come with his arm talent and his rushing ability. The ceiling is there, it's just a bit inconsistent. This is a true home-run swing that could change everything in Washington.
The Steelers do have their current offensive tackles, Dan Moore Jr. and Chukwuma Okorafor, under contract for 2023, but that's not to say they shouldn't look for a potential upgrade. Though Wright played right tackle for the Vols — the bigger need for the Steelers is left tackle — he is talented enough to where I'd take a chance on him and feel comfortable with the growing pains of Wright or Moore on the left side. On 507 pass-blocking snaps in 2022, he allowed no sacks and just eight pressures with an 80.2 pass-blocking grade.
In a defensive tackle class that feels light on impact players after Jalen Carter, Calijah Kancey sure made his case to be the second one selected this coming April. Though he's undersized at 6-foot-1 and 280 pounds, he is an absolute menace on the interior with fantastic burst, great use of natural leverage, the fastest hands in the east and a motor that just does not quit. He recorded 27.5 tackles for loss and 14.5 sacks over the past two seasons with a 22.7% pass rush win rate.
The Buccaneers' "needs" will be fluid over the next few months. First and foremost, Tom Brady's decision regarding playing football in Tampa Bay or at all in 2023 looms large. They also have a handful of important unrestricted free agents in Lavonte David, Jamel Dean and Sean Murphy-Bunting. But, even with those departures on the horizon, trench play remains the biggest area of need.
The Bucs need pass rush, but after drafting a defensive lineman with each of their past two top picks, I'm not sure they'd do that again. Instead, I have them truly replacing Ali Marpet at left guard with the best guard in college football last season. At 6-foot-5 and 350 pounds, the mammoth Torrence earned an 87.5 overall grade with an 89.9 run-blocking grade in his first SEC season.
Defensive line and cornerback feel like the two areas the Seahawks are going to want to hit early in the 2023 NFL Draft. With them selecting Wilson at No. 5 earlier in this mock, I have them looking at cornerback here. Tariq Woolen was a steal of a pick last year, earning an 81.4 coverage grade and tying the league high in interceptions (six) in 2022. Woolen measures in at 6-foot-4 and 205 pounds, and putting the 6-foot-2, 205-pound Porter on the other side would create quite the nightmare matchup for opposing offenses.
The Chargers need to get more dynamic on offense. They'd love to get a receiver who could stretch the field vertically, but there's no Jameson Williams or Chris Olave to choose from in this class.
Flowers is dynamic and could still be what the Chargers need, even if he's not known as a vertical receiver. At 5-foot-10 and 175 pounds, he reportedly has 4.3-to-4.4-second 40-yard dash speed, and that shows up in his ability to separate against coverage and his 503 yards after the catch this past season.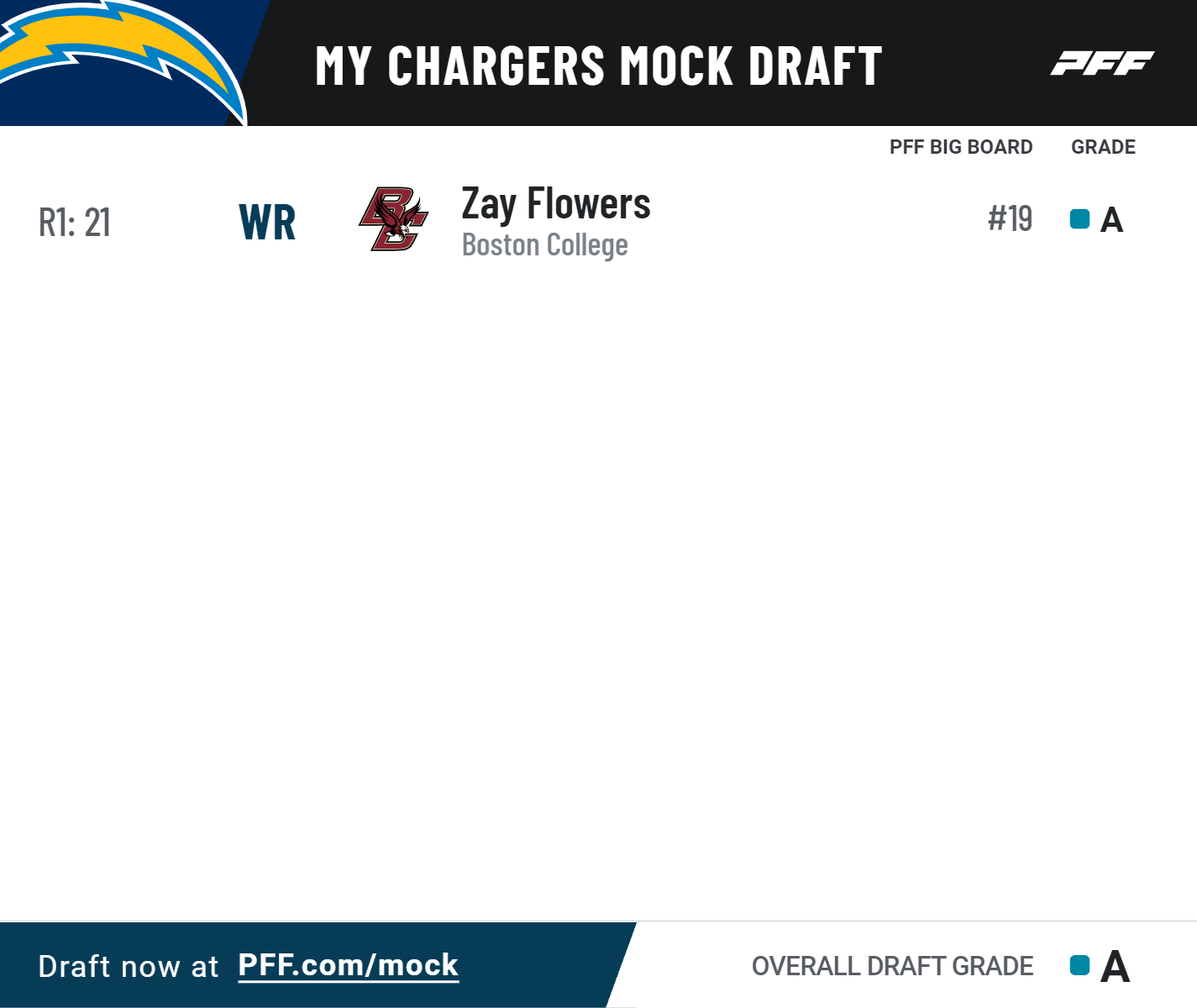 With Marcus Peters set to become a free agent, cornerback could be an area of need for Baltimore. Thankfully for them, it seems like they're in a sweet spot to get in on a strong first-round cornerback class. Banks might not bring ideal ball production, with just two interceptions in four seasons, but he knows how to cover. He earned an 81.4 coverage grade this past season with just 258 passing yards allowed on 360 coverage snaps. 
Cornerback could certainly be an option here for the Vikings, who just need to get better on defense in every facet. But with some big investments in the secondary last draft, perhaps they let those picks pan out a bit more and opt for a player like Siaki Ika, who, at 6-foot-4 and 355 pounds, boasts unique burst and pass-rush ability for a nose tackle. 
The Jaguars' offense got a great return on investment from signing Evan Engram to a one-year deal. But with 2022 being a career year for him, he might be able to find more money on the market. If they lose him, they won't want to let that hole in the offense go unfilled. Mayer was one of the most productive players in college football in recent years, posting an 82.0 receiving grade in 2021 and an elite 91.8 receiving grade in 2022. He was targeted on 30.3% of his routes run this past season and won't be inexperienced in whatever role the Jaguars ask him to play.
Though the Giants would love to get their hands on a go-to outside wide receiver, they simply need better all-around receiving talent. Smith-Njigba didn't play much this past season due to a hamstring injury, but as a sophomore in 2021, he recorded an 91.2 elite receiving grade with more than 1,600 yards receiving. And that's with Garrett Wilson and Chris Olave also on the team. He feels like a slot exclusive player, as more than 85% of his snaps came from the slot over the past two years, but he's one of the savviest receivers and best route runners in the class.
Cornerback feels like an area the Cowboys could go after at the backend of the first round if there isn't a tempting wide receiver left on the board. Clark Phillips III is undersized for an outside cornerback at 5-foot-10 and 185 pounds, but he is such an instinctual player. He earned an 83.7 coverage grade this past season with six interceptions and seven forced incompletions. When you let him sit back and watch the quarterback, he's a master at baiting throws and jumping routes.
Look, I know you've seen this one before, but it's too much fun not to manifest. Robinson has been one of the top playmakers in football over the past two seasons. He finished 2022 with a 95.2 overall grade (rushing and receiving) and more than 1,000 yards after contact. He also recorded an incredible .040 missed tackles forced per attempt, which was the fourth-highest rate in the country and the highest among any back with at least 200 carries. His presence would alleviate the need for quarterback Josh Allen to rush as much as he does, highly impact the Bills' rushing attack and improve their passing game.
Washington feels too unique of a talent to not be a first-rounder. No, he's likely not going to be a 1,000-yard receiver in the NFL, but at 6-foot-7 and 275 pounds, he blocks like an offensive lineman. He earned an 81.3 run-blocking grade and a 78.4 pass-blocking grade in 2022, and he's also a stellar weight-adjusted athlete who put up an 83.2 receiving grade, 475 receiving yards and two receiving touchdowns this past season. His presence brings so much versatility to an offense's personnel choices. 
Offensive line could be an important need for the Broncos to address at the backend of the first round, but with most of the potential first-round offensive linemen already off the board in this mock, they go with talent over need and take Simpson, a very athletic linebacker who has some of the fastest pursuit ability of any defender in the class.
At 6-foot-5 and 300 pounds with athletic ability that once made him the No. 1 overall recruit in the country, Bresee still makes it into the first round. However, an injury history that kept him off the field for most of the past two seasons, and a lot of under-developed traits, add risk to his scouting report. In flashes, he shows some unique movement skills for a lineman who has experience from zero-technique to five-technique. But it could take some time for him to really show that consistently. And the Chiefs are a team that can afford to let him take that time to develop.
Van Ness brings intriguing potential to the table. He's 6-foot-5 and 275 pounds and can really convert speed to power as a pass rusher. He played mostly as an interior player in 2021 but moved to the edge this past season. His play was more impactful as of late, with him jumping from a 69.2 run-defense grade and 71.8 pass-rush grade in 2021 to an 80.9 run-defense grade and 74.3 pass-rush grade in 2022. He's raw and inexperienced, but there's a lot of athletic potential to him.