NFL mock drafts generally fall into two categories: predictive mocks and "what I would do" mocks. I'm going to attempt to provide the best of both worlds here, as the selections represent what I think will happen alongside analysis on whether the pick makes sense for that team given their roster and the players still available. 
We start things out with what I believe the Jacksonville Jaguars will do and should do with the first overall pick.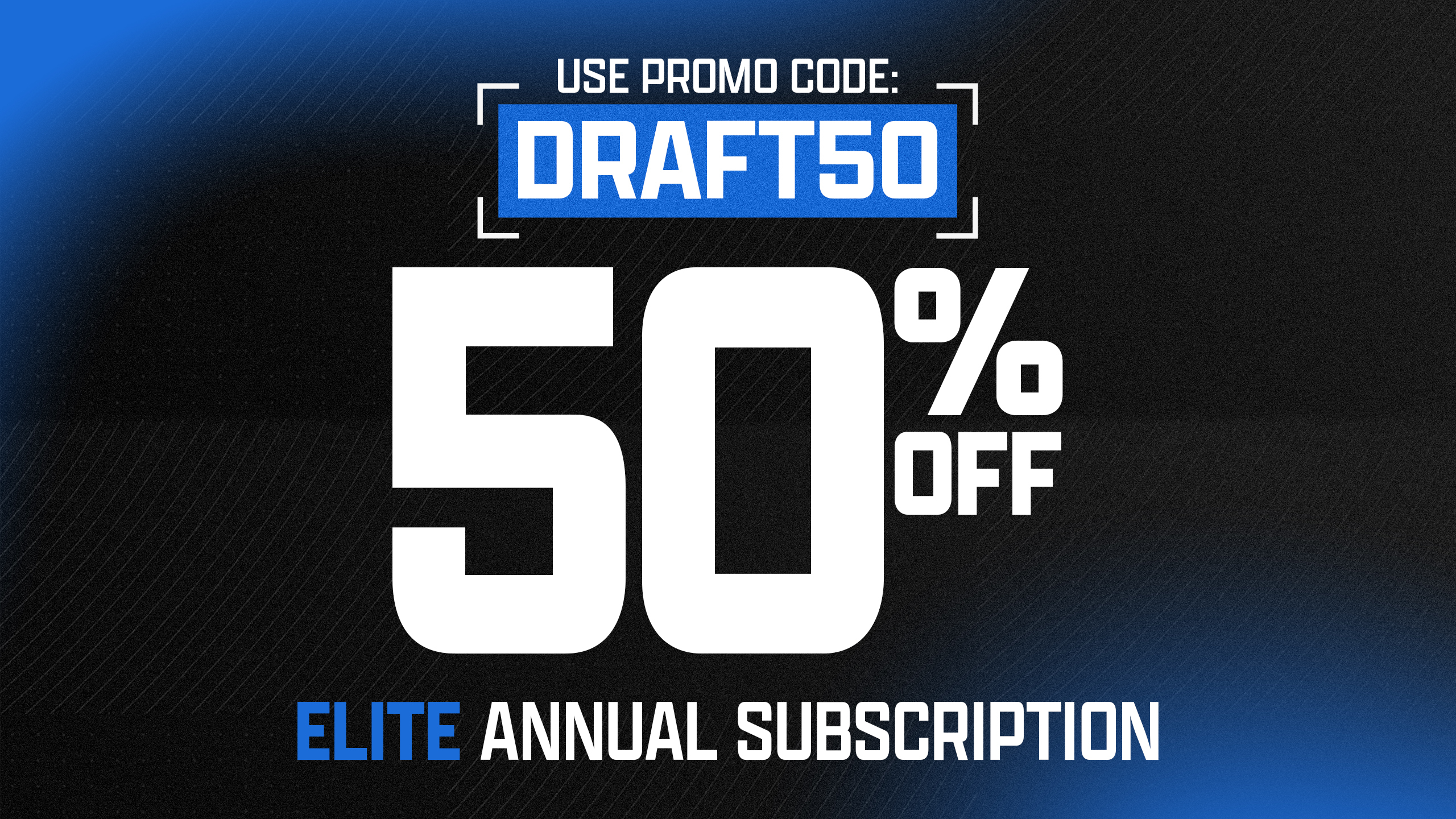 2021 Record: 3-14
Why do the Jaguars select Hutchinson?
There was some buzz that this pick could turn into an offensive tackle early in the offseason, but Jacksonville's decision to place a second consecutive franchise tag on left tackle Cam Robinson put a damper on most of those discussions. It leaves edge defender as arguably the team's biggest need in a draft loaded with edge talent. 
Hutchinson is the top prospect overall in the draft for many, including PFF. He offers the highest floor of any edge rusher in the class due to his combination of athleticism, production at Michigan and a work ethic that his coaches rave about. 
Is it the right decision?
Jacksonville has already spent recent first-round picks on Josh Allen and K'Lavon Chaisson, but there is still a need on their roster for an impact pass-rusher off the edge. Hutchinson fits the bill coming off a 2021 season at Michigan where he recorded 74 quarterback pressures and won 33% of his "true pass-rush reps." He can be a cornerstone for the Jaguars defense at a premium position, making him worth the top pick in a class thin on unquestionably elite talent at the top. 
---
2021 Record: 3-13-1
Why do the Lions select Thibodeaux?
The Lions are in a difficult position with the hometown prospect not falling to them at No. 2 overall. They could target Kyle Hamilton at safety. However, that would make Hamilton, who is fresh off a disappointing 4.7-second 40-yard dash at his pro day, the highest-drafted safety since Eric Turner was drafted second overall in 1991. Malik Willis could also be an option, but does Detroit really want to target a project at quarterback this high in the draft?
Removing those two from consideration leaves Thibodeaux and the current favorite for this slot — Travon Walker — as the two most realistic options. Detroit recently sent seven representatives to Oregon's Pro Day to get an up-close look at Thibodeaux, and the betting odds have shortened on him becoming the No. 2 overall pick. 
It wouldn't be surprising to see the Lions come around to the idea that they shouldn't pass on the projected No. 1 overall pick entering the 2021 season who is fresh off a 91.5 PFF pass-rushing grade last year at Oregon. 
Is it the right decision?
Thibodeaux makes the most sense for Detroit if Hutchinson isn't on the table. Walker's ceiling is tantalizing, but Thibodeaux also offers plenty of upside with a much safer track record of production to fall back on than Walker. 
Kayvon Thibodeaux and Travon Walker PFF grading profiles over their college careers
| | | |
| --- | --- | --- |
| Player | Run-defense grade | Pass-rush grade |
| Kayvon Thibodeaux | 79.6 | 90.9 |
| Travon Walker | 68.5 | 66.1 |
The Lions need an immediate impact pass-rushing presence off the edge following a 2021 season where their 24% pressure rate ranked 31st in the league. 
It would be hard to fault Detroit for taking a chance on a high-character, toolsy quarterback prospect such as Willis to develop him for a year behind Jared Goff, but the safer bet is waiting until a stronger 2023 draft class to target a quarterback. 
---
2021 Record: 4-13
Why do the Texans select Walker?
Walker is a coach's dream. He runs a 4.51-second 40-yard dash with a 6.89-second three cone in a 6-foot-5, 272-pound frame with 35.5-inch arms. That's potential nightmare fuel for opposing offensive lines. 
The Georgia product offers some positional flexibility due to his ability to play both inside and outside depending on the situation, and he fits what Houston is looking for on the edge as a powerful edge defender who can hold his own against the run and push the pocket. There's still work to be done for Walker, particularly as a pass-rusher, but it's easy to see the Texans falling in love with what he could be. 
Is it the right decision?
I recently made the case that Walker's tools are worth betting on in the first round, but spending a top-five pick on him comes with considerable risk. It's tough to justify using the No. 3 overall pick on a player who recorded just a 9.1% pressure rate over his Georgia career. 
Situation played a role — Walker wasn't provided a ton of true opportunities to pin his ears back and get after the quarterback off the edge. However, I'd be much more comfortable taking the chance that he could develop into that consistent pass-rusher at Houston's second first-round pick (13th overall). 
The top offensive tackle on the Texans' board — Ikem Ekwonu, Evan Neal or Charles Cross — is where I would go with Hutchinson and Thibodeaux off the board.
---
2021 Record: 4-13
Why do the Jets select Ekwonu?
Making Robert Saleh happy by adding an edge defender here becomes more difficult to justify with the top three edge rushers off the board in the first three picks. Ahmad "Sauce" Gardner could be a consideration at cornerback, but The Athletic's Connor Hughes recently mentioned that the Jets won't be targeting a cornerback at Nos. 4 or 10. Maybe New York ensures that it gets its favorite wide receiver by pulling the trigger here instead of waiting until 10th overall? 
Or maybe they continue to build the offensive line and target a player who they've continued to be linked to during the pre-draft process in Ekwonu? 
There isn't an obvious need for a starting tackle with both Mekhi Becton and George Fant on the roster, but it appears as if the Jets are open to competition on both the left and right side entering the 2022 season. 
Is it the right decision?
The Jets' tackle situation is not as stable as fans want to believe. Fant is coming off a career year in 2021, but even that resulted in just a 71.1 PFF grade (22nd at left tackle). He will turn 30 years old prior to the 2022 season and is entering free agency next offseason. Becton showed promise as a rookie, but he's a massive human being who has played fewer than 750 offensive snaps in his first two NFL seasons. 
Ekwonu would provide quality competition and insurance at a premium position, though it will likely cause the Jets to part ways with either Fant or Becton after the 2022 season. The 310-pound tackle out of NC State who has a sub-five second 40-yard dash earned 85.0-plus PFF run-blocking grades in each of the last three seasons and would thrive in Mike LaFleur's offense. 
---
2021 Record: 4-13
Why do the Giants select Neal?
New York doesn't want to go into the season with Matt Peart and Matt Gono competing for the starting right tackle job. At least, it shouldn't. 
Neal is arguably the most complete tackle prospect in this class with 80.0-plus PFF grades as a pass protector and run blocker in his final season at Alabama. He came in at No. 1 on Bruce Feldman's Freaks List entering last season, and it's not difficult to see why. Neal showed up to the Combine at 337 pounds, carrying it more like 287 pounds. There are certainly worse ways to bookend the offensive line than with Neal and Andrew Thomas. 
Is it the right decision?
The Giants' offensive line has been a disaster for years. Since they drafted Daniel Jones in the first round of the 2019 NFL Draft, the only offensive lines that earned a lower PFF grade as a unit than the Giants are the Los Angeles Chargers, Houston Texans, Cincinnati Bengals and Miami Dolphins. 
Neal fills a clear area of need and also profiles as one of the best prospects available regardless of position. This should be a no-brainer for the Giants. 
---
2021 Record: 5-12
Why do the Panthers select Pickett?
The consensus seems to be that Willis is the top quarterback in this year's draft. Draftkings Sportsbook made Willis -200 to be the first quarterback taken with Pickett coming in next at +175. However, "consensus" isn't picking at No. 6 overall — Carolina is. And the Panthers have several ties to Pickett that could push the Heisman finalist ahead of Willis. 
Pickett originally committed to Matt Rhule at Temple before de-committing and ending up at the University of Pittsburgh. There is also a connection there with owner David Tepper, who is a University of Pittsburgh graduate and donor. 
The Panthers also need a quarterback who can compete for a starting job immediately more than any other team in the NFL. Pickett isn't without his warts as a prospect and the ceiling isn't sky-high, but the PFF Draft Guide names him "as ready as any quarterback in the draft class to start out of the gate". 
Is it the right decision?
The only two realistic options for Carolina in this spot seem to be offensive tackle or quarterback. With Ekwonu and Neal coming off the board already, the chips likely push further in favor of quarterback if the Panthers weren't already stacked in that pile. 
The best bet here may be to pursue a trade back to recuperate some draft capital given that Carolina doesn't hold a single Day 2 pick. Round out the roster, take your lumps with whoever ends up at quarterback in 2022 and try again at the position next offseason. But if the Panther are set on a quarterback here at No. 6, I would lean Willis over Pickett. 
---
2021 Record: 4-13
Why do the Giants select Gardner?
There is a very good chance James Bradberry is not a member of the Giants in 2022 due to New York needing to find a way to clear cap space just to sign their draft picks in this year's class. That departure creates a need for a starting outside cornerback opposite Adoree' Jackson, particularly with Wink Martindale taking over as defensive coordinator. Martindale wants to scheme up pressure with the blitz, which puts more stress on cornerbacks to hold up in single coverage. 
Gardner isn't the top cornerback on PFF's big board, but he is expected to be the first cornerback selection on April 28. He has the necessary size and speed in addition to allowing very little production across his Cincinnati career. 
Is it the right decision?
Coming out of the first round with Neal and Gardner would be the best-case scenario for the Giants. Gardner is the most experienced press-coverage cornerback in this class with 851 career snaps in his college career in that department. 
% of career coverage snaps in press coverage, per @PFF charting:

Ahmad Gardner: 76%

Trent McDuffie: 62%
Kyler Gordon: 59%
Derek Stingley Jr: 56%
Roger McCreary: 53%

Kaiir Elam: 47%
Andrew Booth Jr: 39% pic.twitter.com/O1G5ClF9Ta

— Ben Linsey (@PFF_Linsey) March 28, 2022
Opposing offenses just gave up on testing Gardner, who allowed just a 31.8 passer rating into his coverage in his three seasons at Cincinnati. 
This quote from an opposing coach in Bruce Feldman's recent mock draft does a good job of summing up the thought process for teams playing against the Bearcats: "I thought he was very good, but I didn't know how good he was because nobody ever really went at him. We didn't want to. We put a slapdick (receiver) over there the whole game and never looked at him."
---
2021 Record: 9-7-1
Trade terms: PIT receives 8, ATL receives 20, 138 and 2023 R1 pick from PIT
Why do the Steelers trade up for Willis?
The Steelers weren't overly aggressive in the quarterback market this offseason. They signed Mitchell Trubisky to a two-year, $14 million deal that screams bridge quarterback while passing on bigger moves for established veteran starters. Pittsburgh is also doing all their due diligence on this quarterback class, officially meeting with each of the top six prospects over the next few weeks. Nonetheless, Willis is the quarterback who has consistently been connected to the Steelers from the Senior Bowl to Liberty's pro day. 
Pittsburgh could look to leap Carolina by trading with the Giants at No. 5 overall or it could roll the dice that Willis slips a bit for a cheaper trade up. In this scenario, Atlanta decides that it is out on Willis and moves back to gain additional picks and build out a roster that has holes across the board. Meanwhile, the Steelers jump Seattle — another potential Willis landing spot. 
Is it the right decision?
As far as landing spots go, the Steelers project as one of the better situations for Willis. There won't be pressure for him to start immediately in 2022 with Trubisky there, and PFF's Seth Galina highlighted that Matt Canada's use of defined half-field reads could help Willis as he transitions to the NFL. The offensive line in Pittsburgh is still a work in progress, but Willis would at least have an intriguing group of young weapons to work with — Diontae Johnson, Chase Claypool, Pat Freiermuth and Najee Harris. 
This is still a massive gamble by the Steelers on Willis' ability to develop and maximize his physical tools, though. Willis earned 75.5 and 77.4 PFF passing grades in his two seasons at Liberty. He's far from a finished product in that department. 
Yet, it's a gamble that is difficult to fault the Steelers for making when they look up at the quarterback landscape in their own division and the rest of the AFC.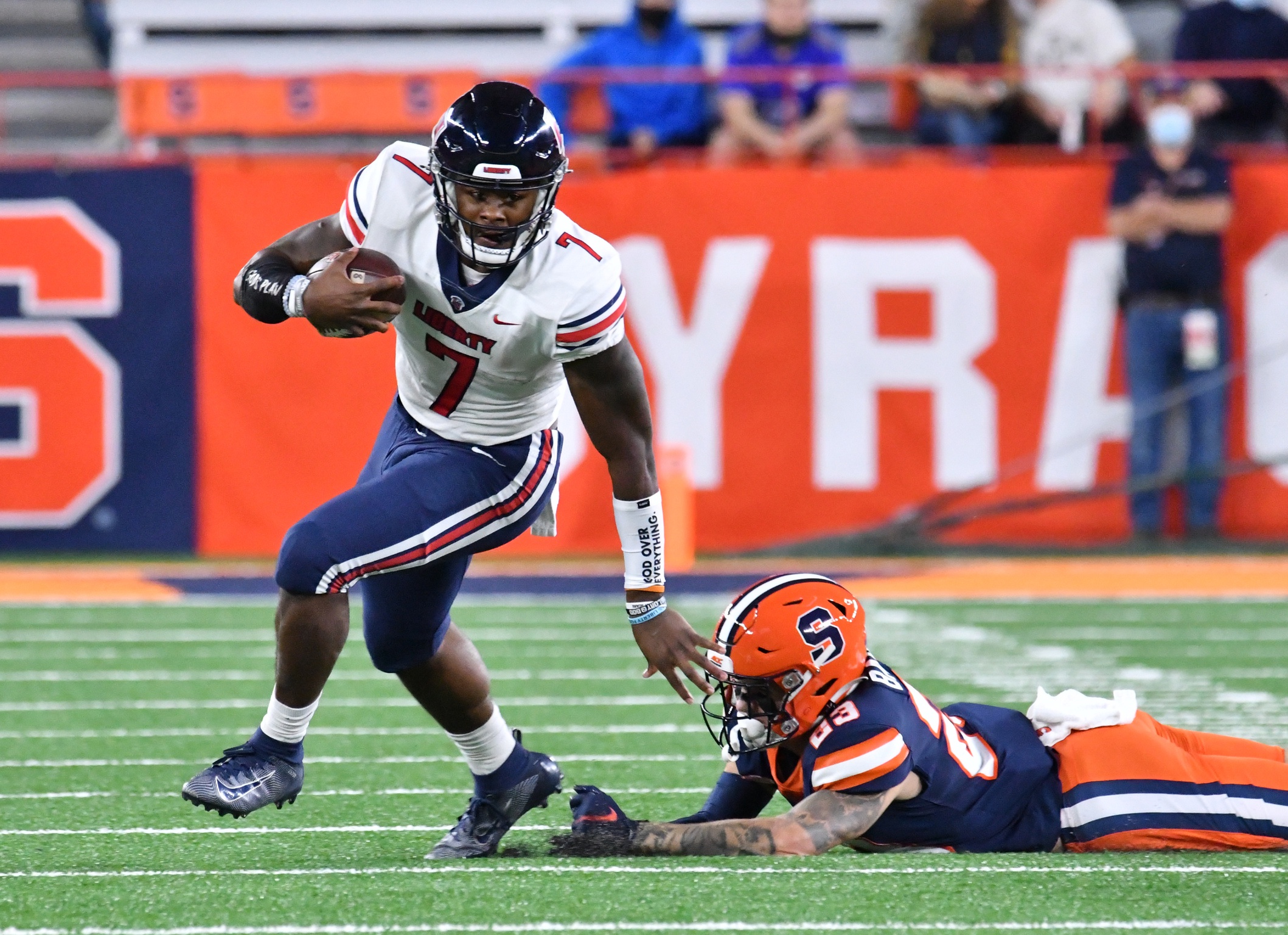 ---
2021 Record: 7-10
Why do the Seahawks select Cross?
Stone Forsythe and Jake Curhan are Seattle's current projected starters at tackle with 2021 starters Duane Brown and Brandon Shell remaining unsigned in free agency. There's still a chance that one or both of those 2021 starters return, but the Seahawks could use some additional competition at tackle, and Cross stands out as one of the top prospects remaining regardless of position. 
Is it the right decision?
Seattle could look to trade down here with a team such as the New Orleans Saints, who might have interest in moving up. The Seahawks could also stay put and target an edge defender (Jermaine Johnson II or George Karlaftis) or a cornerback (Derek Stingley Jr. or Trent McDuffie). All of those options are reasonable. 
However, adding a prospect such as Cross would solidify one of the more important positions along the offensive line. The Mississippi State product is the top tackle on PFF's big board, narrowly edging out Ekwonu and Neal, and he is arguably the cleanest of that trio in pass protection. Cross allowed just 16 pressures in 682 pass-blocking in 2021 while showing off excellent mirroring ability on tape. 
---
2021 Record: 4-13
Why do the Jets select London?
The Jets haven't made it a secret that they're looking to add a high-end wide receiver for Zach Wilson as he enters his second NFL season. New York was in on Calvin Ridley, Amari Cooper and Tyreek Hill trades but has nothing to show for it. It seems inevitable that the Jets either spend one of their first-round picks on a potential No. 1 target or work something out for an elite, young wide receiver via trade, which seems like a pipedream at this point. 
It likely comes down to London or Garrett Wilson here, as the Jets probably want to give their quarterback a target such as London, who can create separation underneath (despite narratives) and win the majority of the "50-50" balls thrown his way downfield. 
Is it the right decision?
As much as the Jets might be tempted to add an edge rusher such as Jermaine Johnson II here after missing out on the initial wave earlier in the draft, their top priority needs to be setting up Wilson for success. The Jets need to give him enough talent to make an evaluation that they're comfortable with in 2022. 
That points the arrow to wide receiver, where London would go a long way toward rounding out a wide receiving corps that already features Elijah Moore and Corey Davis. London isn't a one-trick pony — he has the makings of a true No. 1 option. 
The only WR in the 2022 draft class with top five marks in contested catches and missed tackles forced after the catch in 2021: Drake London (in 8 games)

19 contested catches (1st)
22 MTF after catch (t-5th)

— Ben Linsey (@PFF_Linsey) March 31, 2022
Adding Ekwonu and London reduces the list of potential excuses for Wilson underperforming, and that's exactly what New York should want. 
---
2021 Record: 7-10
Why do the Commanders select Wilson?
Terry McLaurin is the only Washington wide receiver to clear 500 receiving yards in a single season since he was drafted back in 2019. That's far from ideal. The receiving corps might not be in as bad of shape as that would suggest, as a healthy Curtis Samuel should provide a nice spark and Dyami Brown could offer more in his second season than he did as a rookie. Nonetheless, it's still a position that the Commanders could stand to invest premium resources in. 
Wilson is the top wide receiver prospect on Grinding the Mocks' expected draft position tool while coming in one spot behind London at 12th overall on PFF's big board. The 6-foot Ohio State product is a high-end route runner who has sub-4.4 second speed and excellent body control. With London off the board already, he's the most likely choice if Washington decides to take a wide receiver in the first round. 
Is it the right decision?
It's easy to get behind this pick given the reasons outlined above. The biggest decision that the Commanders will have to make if this is how the draft pans out is whether Kyle Hamilton makes more sense as a target than Wilson. The Kamren Curl and Bobby McCain safety tandem currently in place is serviceable, but Hamilton would add a different element to the group. 
---
2021 Record: 8-9
Why do the Vikings select Johnson?
Minnesota already has one of the better starting edge tandems on paper — Danielle Hunter and Za'Darius Smith — entering the 2022 NFL season. Nevertheless, there are concerns about both of those players remaining on the field moving forward. 
Hunter has played just 384 defensive snaps over the last two seasons due to a herniated disc in his neck and torn pectoral muscle. His name has also come up consistently in trade conversations, though those have quieted since Hunter restructured his contract. Meanwhile, Smith is coming off a major back injury of his own and will turn 30 years old right around the start of next season. 
Johnson is currently -165 to be drafted inside the top 10, and the Vikings could look to pounce on value with him sliding a bit in an effort to add another talented player to their defensive line rotation.
Is it the right decision?
Despite the Vikings whiffing on several first-round cornerbacks such as Mike Hughes and Jeff Gladney in recent drafts, I would go back to the well with both Stingley and McDuffie still on the board. 
Stingley, in particular, would be tough to justify passing on given the talent he showcased when he was the highest-graded cornerback in the FBS during LSU's championship run in 2019. Minnesota brought back Patrick Peterson to fill the starting spot opposite Cameron Dantzler in the short term, but the Vikings would still be well-suited to add a potential No. 1 shutdown cornerback like Stingley.
---
2021 Record: 4-13
Why do the Texans select Hamilton?
Texans' beat reporter John McClain recently came on the NFL Stock Exchange podcast as part of their guest mock draft series and selected Hamilton at third overall for the Texans. 
Here is McClain's reasoning for the pick: "Texans are desperate to improve their offensive line…They need a pass-rusher to play opposite Jonathan Greenard to complete their defensive line. But they need a safety worse than anything other than running back."
If Hamilton slides as some are projecting following an uninspiring 40-yard dash time, this would be an easy decision for Houston. Hamilton is the clear-cut top safety in this class. He and Walker would give the Texans two foundational pieces — one on the defensive line and one in the secondary — to build around on defense. 
Is it the right decision?
If the league is going to let Hamilton drop this far because of a 40-yard dash and positional value, Houston will gladly take advantage. Hamilton has rare size for the position, and his jumps showed that he's an explosive athlete even if he doesn't have the long speed. He's coming off three consecutive seasons with 78.0-plus PFF coverage grades and could do a little bit of everything in Lovie Smith's defense.
---
2021 Record: 8-9
Why do the Ravens select Stingley?
This is too good of a value for Baltimore to pass up at cornerback. The top of Baltimore's cornerback depth chart may be strong, but the injury to Marcus Peters and the general attrition they fought through as a roster last season highlighted the importance of quality depth. In addition, the Ravens don't have an obvious No. 3 cornerback on the roster. 
Stingley could step in and start opposite Peters on the outside with Marlon Humphrey kicking back inside to the primary slot role that he played in 2019 and 2020. 
Is it the right decision?
Stingley has fallen down boards due to injuries and inconsistent play clouding his final two seasons at LSU. The talent he showcased during his true freshman season in 2019 didn't just disappear, though. Stingley was the highest-graded cornerback in the FBS (91.7) that season while allowing just 37% of the passes thrown into his coverage to be completed. He has the press-man skill set and athleticism that Baltimore is looking for, as well. The Ravens should be ecstatic if Stingley slides to them at No. 14. 
---
2021 Record: 9-8
Why do the Eagles select Davis?
The Eagles brought back Fletcher Cox on a re-worked one-year contract, but he hasn't looked like the same player over the last two years. The 341-pound Davis steps in as the future at the position and a bonafide difference maker in the present on a defensive line that likes to rotate to keep the front fresh.
Philadelphia decides to target Davis here because there's no guarantee that he'll make it to its second first-round pick with Davis' most common landing spot in mock drafts, the Los Angeles Chargers, sitting in between the Eagles' two selections. 
Is it the right decision?
There have been plenty of arguments on the value Davis brings as a run-first defensive tackle and how high a player with that skill set should be drafted. My take: the 15th overall pick is acceptable value for a human being this large and this athletic who can single-handedly change how you operate as a run defense, regardless of concerns about pass-rush upside and snap volume.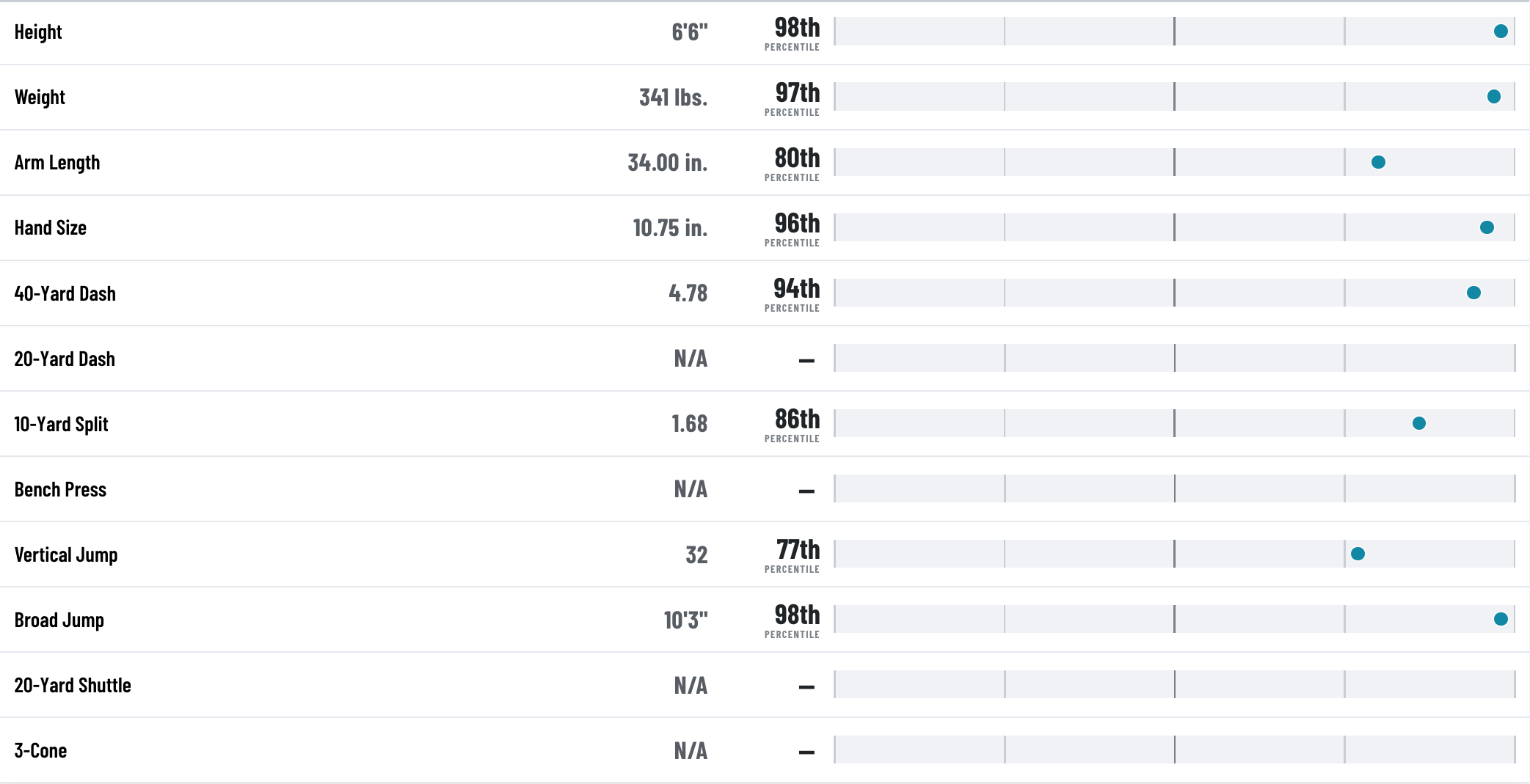 Interior run defenders matter, and Davis projects as the best one in this class with 80.0-plus PFF run defense grades in three of his four seasons at Georgia. 
---
2021 Record: 9-8
Why do the Saints select Penning?
The Saints might not be done making moves after finalizing a trade to collect an additional first rounder from the Eagles earlier in the week. There's talk that New Orleans could be looking to package its two first-round picks to move into the top 10. However, the Saints could have also been looking to simply jump the Chargers — another team in the market for an offensive tackle — to add more first-round talent to compete in a down NFC next season. 
Trevor Penning's run blocking tape is just a montage of him absolutely bodying dudes pic.twitter.com/WTyztwRR4i

— Ben Linsey (@PFF_Linsey) March 30, 2022
When asked to use three words to describe his style of play at the NFL combine, Penning responded, "Physical. Nasty. Prick." 
That shows up on tape, as Penning is coming off a 99.9 PFF run-blocking grade in his final season at Northern Iowa. He's not going to replace what Terron Armstead offered at left tackle, but Penning would create an imposing run-blocking tandem at tackle with Ryan Ramczyk already in place on the right side. 
Is it the right decision?
Bernhard Raimann is several spots ahead of Penning on PFF's big board, but I have no issues with the Saints looking to add some physicality and nastiness with Penning. 
Offensive tackle is one of the team's biggest needs due to Armstead's departure in free agency. Wide receiver is also a clear area of need, but there's a decent chance a wide receiver that the Saints like is available at No. 19, which might not be the case with tackle. 
---
2021 Record: 9-8
Why do the Chargers select McDuffie?
McDuffie is an ideal fit in Brandon Staley's defense, and the value is there for a player who is currently eighth on PFF's big board. The 5-foot-11 cornerback out of Washington can play outside or inside, is an intelligent cornerback with extensive experience in zone and is a willing, consistent tackler. 
The Chargers did a good job of eliminating most of their clear areas of need in free agency and the trade market, allowing them to take more of a "best player available" approach in the draft. McDuffie would be a tough combination of scheme fit and value to pass on.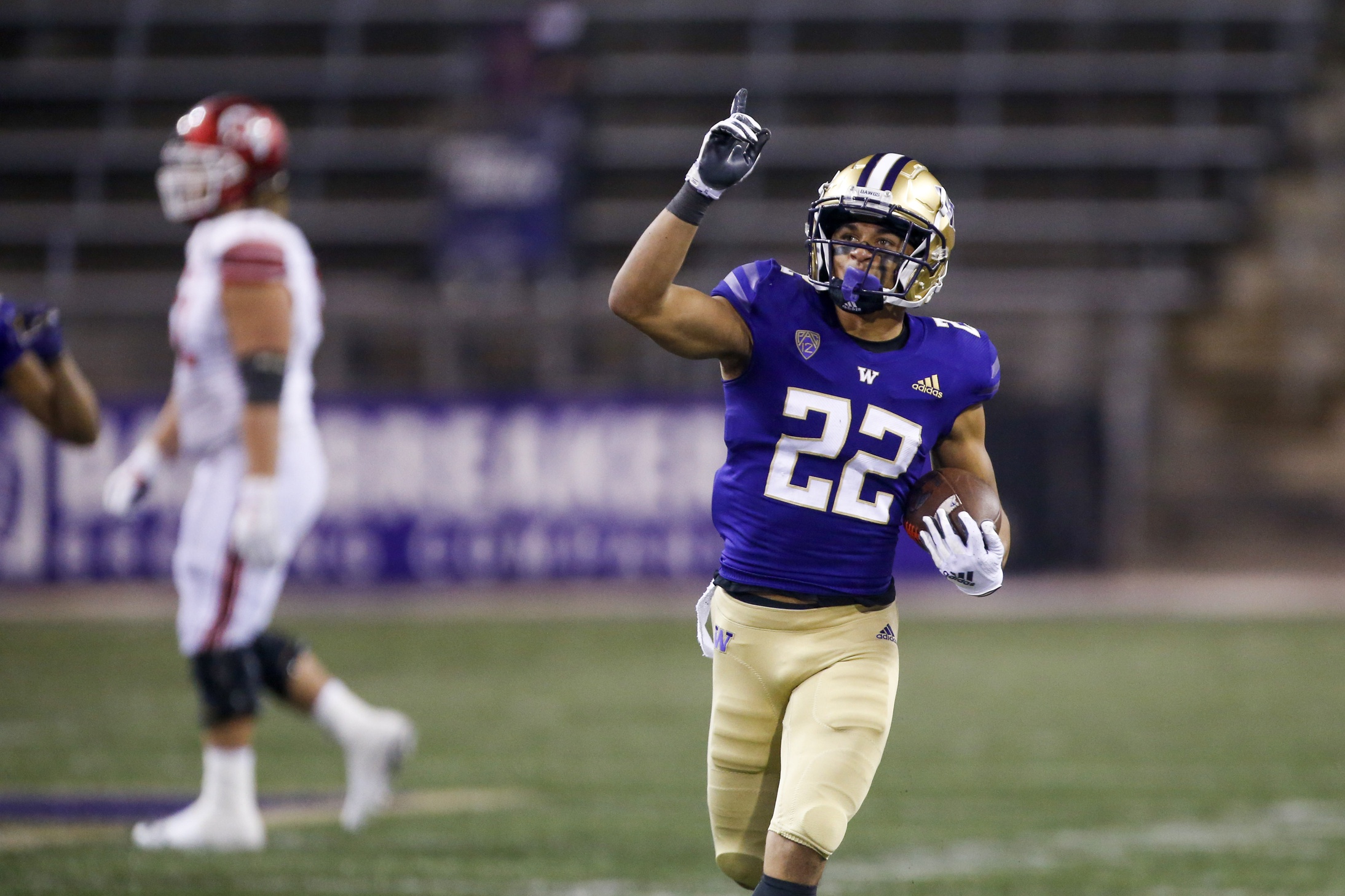 Is it the right decision?
You can make an argument that right tackle is the more pressing need, making Raimann subsequently the better fit. Nonetheless, teams shouldn't merely be drafting for need. McDuffie is an excellent value at this stage of the first round and fits what Staley wants to do on defense. McDuffie could compete for a starting role either in the slot or outside with Michael Davis and Asante Samuel Jr. in 2022. 
---
2021 Record: 9-8
Why do the Eagles select Lloyd?
This is the part where the city of Philadelphia collectively reminds me that the Eagles don't prioritize off-ball linebackers and won't be spending a first-round pick on the position. Putting that history aside, let's look at what Lloyd could provide to Philadelphia's defense and why that might intrigue the Eagles. 
The 6-foot-3 linebacker with 33-inch arms has the requisite length and athleticism to be an every-down player in the middle of a defense. Lloyd's grading profile also backs up that idea with 80.0-plus grades against the run, in coverage and as a pass-rusher in his final season with the Utes. 
Is it the right decision?
The toughest hurdle to clear here is the positional value aspect. Micah Parsons was one of the best value picks in the first round for the Dallas Cowboys in last year's draft, but the chances are slim that Lloyd provides a similar bump as a rookie off-ball linebacker. 
The Eagles may be better suited to add a cornerback (Kaiir Elam), wide receiver (Jameson Williams) or edge defender (George Karlaftis), but there is still value in finding an elite linebacker in a league where offenses are consistently getting better at punishing the position. Lloyd has a chance to be that kind of player, making him a reasonable target for Philadelphia here. 
---
2021 Record: 9-8
Why do the Saints select Williams?
The 2021 season highlighted that the Saints are thin at wide receiver behind Michael Thomas. They need speed more than anything, particularly with Jameis Winston, who loves to push the ball downfield. 
Williams would provide help in that department fresh off a 2021 season where he stacked up 671 receiving yards on throws 20 or more yards downfield (fifth in FBS). He has a rare combination of size and speed to go along with quickness that helps him both at the line of scrimmage and after the catch. 
Is it the right decision?
If the Saints are attempting to be real competitors in the NFC next season, as their recent trade suggests, they can't go into the season with Marquez Callaway and Tre'Quan Smith as their Nos. 2 and 3 wide receivers. Williams is a deep threat that the offense is currently lacking, and he makes a lot of sense as a Saints target at one of their first-round picks if they don't package them to trade up. 
---
2021 Record: 7-10
Why do the Falcons select Karlaftis?
The Falcons have been in the quarterback conversation with their original selection at eighth overall, but it makes more sense for Atlanta to trade back and collect more swings of the bat to fill out a barren roster. In this case, the trade comes with Pittsburgh, as the Falcons collect a 2022 fourth and 2023 first-round picks — potential ammo to move up in a 2023 quarterback class that should be considerably stronger. 
Karlaftis, the 10th-ranked player overall and EDGE3 on PFF's big board, would be quite the consolation prize for the Falcons after moving back 12 spots in the first round. 
Lowest team pressure rates in NFL | 2021 season
| | |
| --- | --- |
| Defense | Pressure rate |
| Atlanta Falcons | 20% |
| Detroit Lions | 24% |
| Seattle Seahawks | 27% |
Atlanta's 20% team pressure rate last season was lowest in the league by nearly four percent. The need is there for an impact pass rusher off the edge. 
Is it the right decision?
There are a couple of different ways that the Falcons could go here that make sense. They'll need to add more receiving talent at some point — unless they plan go into the season with Auden Tate as WR1. Offensive line targets such as Tyler Linderbaum, Zion Johnson or Bernhard Raimann could make sense, as could secondary help such as Kaiir Elam. 
Karlaftis — a versatile, powerful and high-effort edge rusher out of Purdue — represents the best value at this stage, which is what Atlanta should be chasing. 
---
2021 Record: 10-7
Why do the Patriots select Elam?
The top three names on the Patriots' outside cornerback depth chart are Jalen Mills, Terrance Mitchell and the now un-retired Malcolm Butler. That's a problem for a Bill Belichick defense that wants to play as much man coverage as any defense in the NFL. With the list of remaining free agent cornerback fits thinning, it's important that New England adds some competition at the position via the draft. 
Is it the right decision?
In terms of Elam's fit in New England, he has the size, physicality and press-coverage chops that the Patriots are looking for at the position. Elam's physicality went too far at times with Florida in 2021, leading to seven penalties, but he recorded 80.0-plus PFF coverage grades in each of his first two seasons.
The DeVante Parker addition reduces the need to look at wide receiver early, and while the Patriots could go with a guard such as Zion Johnson here, cornerback is the more pressing need. This is about where Elam should come off the board. 
---
2021 Record: 13-4
Why do the Packers select Olave?
It's difficult to believe that Green Bay makes it out of the first round without addressing wide receiver after trading away Davante Adams. Of course, similar sentiments have been expressed in the past to no avail. Nevertheless, one would think the prospect of starting the season with Allen Lazard and Juwann Winfree on the outside would spur some action for a team with Super Bowl aspirations. 
Olave is in a tier with Williams and Treylon Burks behind the top two wide receiver prospects in expected draft position, and there's little concern Olave could provide an immediate impact in Green Bay's receiving corps. He's a polished route runner who has the kind speed and sure hands that should translate. 
Is it the right decision?
No one should fault the Packers for making this pick. Adams has commanded a target on 31% of his routes since 2020 — no other wide receiver with at least 500 routes run over that two-year stretch is above 27%. Green Bay has to replace a lot of production, and Olave is one of the safer bets in this wide receiver draft class to help in that regard. 
---
2021 Record: 11-6
Why do the Cardinals select Wyatt?
Interior offensive line, cornerback and wide receiver all stand out as areas of need for Arizona as we approach the 2022 NFL Draft, but so does interior defensive line. And it may be more difficult to find an impact player such as Wyatt than it would be to find an impact player at the other positions later in the draft. 
J.J. Watt is in the final year of his contract and 33 years old. No other Cardinals' interior defensive lineman topped 25 pressures in 2021. They could use a disruptive presence such as Wyatt to help spark a pass rush that will have to make up for losing Chandler Jones in free agency. 
Is it the right decision?
The positional scarcity at the top of this draft makes Wyatt the ideal target for Arizona in the first round. Maybe Logan Hall or DeMarvin Leal falls to the Cardinals at 55th overall, but that's far from a certainty. The depth at defensive tackle isn't as impressive as some of the other positions after Wyatt and Davis. 
---
2021 Record: 12-5
Why do the Cowboys select Johnson?
Dallas lost two starters from its starting offensive line a season ago. Left guard Connor Williams signed with the Miami Dolphins in free agency while right tackle La'el Collins ended up with the Cincinnati Bengals after Dallas released him to save some cap space.
Connor McGovern — the current favorite to step in at left guard for Williams — earned a 61.7 PFF grade in just over 1,000 snaps at left guard and right guard over the last two seasons (59th out of 86 qualifiers). The Cowboys should, at least, be looking to add competition, and Johnson is the best-case scenario at guard. He tested extremely well athletically and has few holes on his tape. 
Is it the right decision?
Guard isn't the most valuable position to target in the first round, and there are potential starting-caliber options to be had on Day 2. However, there isn't a guard prospect in this class who is as clean as Johnson. The Cowboys can slide him into the starting role at left guard and not think twice. That's not a bad outcome toward the back of the first round.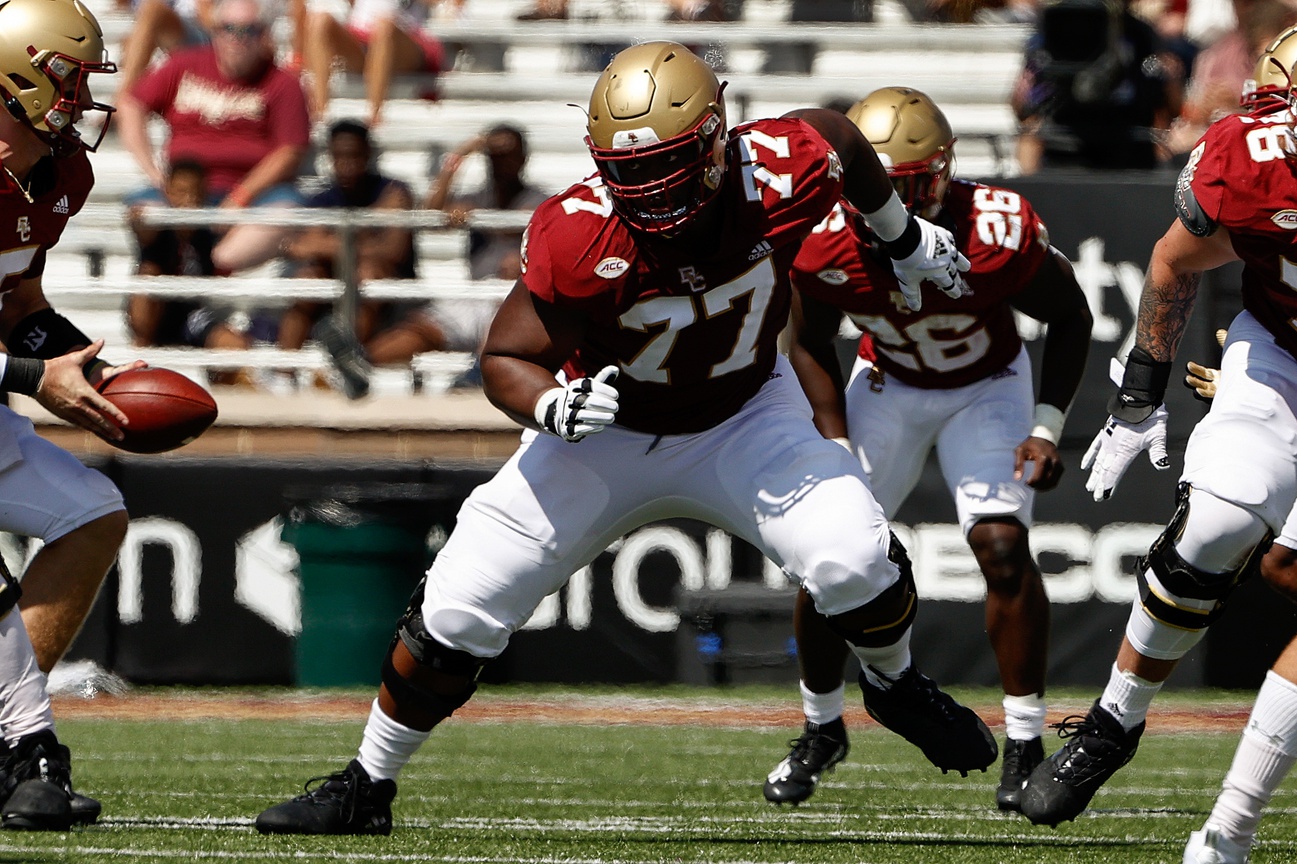 ---
2021 Record: 11-6
Why do the Bills select Booth?
The Bills have one of the strongest rosters from top to bottom in the NFL, which is expected from a team that currently stands as the Super Bowl favorite. Their one true weakness on paper in the starting lineup is the cornerback spot opposite Tre'Davious White. Dane Jackson filled in for White last season, but it's a position where the Bills could stand to add some talent and competition. 
There's also a bit of a drop in cornerback talent after the second tier of Booth and Elam, who is already off the board in this scenario. Booth comes in at 27th on PFF's big board and the next outside cornerback is Kyler Gordon down at No. 60. That could create additional impetus for Buffalo to go cornerback here. 
Is it the right decision?
Booth is going to be a scheme fit for most defenses, including Buffalo's. As the PFF Draft Guide puts it: "Booth has a skill set that can run any coverage. He's as scheme-diverse a corner as exists in this draft class, meaning everyone will have him on their board."
Booth is coming off a career-high 78.6 PFF coverage grade in his final season at Clemson. Buffalo is drafting for need here, but they're not reaching for need. Booth is a talented player who could help one of the better defenses in the NFL.  
---
2021 Record: 12-5
Why do the Titans select Burks?
Burks' 4.55-second 40-yard dash time was one of the bigger disappointments of the combine, but it doesn't take long when watching his tape to realize that his combination of size, speed and physicality creates problems for defenses before and after the catch. The biggest sticking point for Burks is that he didn't get to run a very diverse route tree at Arkansas and didn't get many opportunities on the outside against press coverage. Yet, Burks made defenses play when he did get those outside opportunities against press with 7.0 yards per route run on 49 routes over his Arkansas career. 
Is it the right decision?
Tennessee replaced Julio Jones with Robert Woods via trade earlier this offseason, giving them their two starters on the outside. It still makes sense for the Titans to add a "big slot" such as Burks to play alongside Woods and A.J. Brown, particularly with Woods coming off an ACL injury and Brown battling through some injuries of his own early in his NFL career. 
This could be an area where the Titans look at a quarterback such as Desmond Ridder if he's still on the board as a forward-thinking move. Ridder has been on record saying he models his game after Tannehill, and he's played for Mike Vrabel's close friend and former teammate Luke Fickell at Cincinnati. The Titans would have to eat less than $20 million in dead cap space if they moved on from Tannehill in 2023.
---
2021 Record: 13-4
Why do the Buccaneers select Cine?
The Buccaneers are one of the more difficult teams to pin down a first-round target for because there aren't many glaring needs across the roster. Tampa Bay has shown a willingness to continue to invest heavily in the secondary through the draft in recent years, and the Buccaneers go back to the well here with Cine after replacing Jordan Whitehead with Logan Ryan in free agency. 
Cine opened a lot of eyes with a 4.37-second 40-yard dash and 11-foot-1 inch broad jump at the 2022 NFL combine. He pairs that athleticism with an impressive understanding of where to be on a given play. The fact that he's an excellent tackle and run defender (75-plus PFF grades in both facets every season since 2019) doesn't hurt, either. 
Is it the right decision?
The 2021 season really tested Tampa Bay's depth in the secondary, which has become one of the underrated strengths of its roster. Maintaining that depth is hard to gripe about. 
The Whitehead loss this offseason is offset somewhat by the Ryan addition and Mike Edwards' presence, but it wouldn't hurt to add a potential long-term starter such as Cine alongside Antoine Winfield Jr.
---
2021 Record: 13-4
Why do the Packers select Dean?
This is a "best player available" decision by the Packers. Linebacker isn't necessarily a need for a defense that runs dime packages at one of the higher rates in the league and just signed De'Vondre Campbell to a big contract extension. Dean, fresh off a 91.7 PFF grade in 2021, may be too good a value for Green Bay to pass up at this stage of the first round, though. 
timing with the motion, shoulder reduction when crossing, gets the feet pointed back at the QB and finishes for a sack

Nakobe Dean *chef's kiss*pic.twitter.com/sCA2XRthje

— Anthony Treash (@PFF_Anthony) March 25, 2022
The Georgia product played fast and physical last season despite concerns about his size. Dean and Campbell — assuming Campbell's 2021 performance is a sign of things to come — would represent one of the league's better linebacker tandems on paper. 
Is it the right decision?
Boye Mafe or David Ojabo may be better options for the Packers here after factoring in positional value and need, even with Ojabo slated to miss the majority of the 2022 season after tearing his Achilles at his pro day. An injury to Rashan Gary or Preston Smith would leave Green Bay thin on the edge following the Za'Darius Smith release, and it wouldn't hurt to have a productive third rusher even if the two starters remain healthy. 
I'm not going to be too critical of the Packers selecting a top-20 player on PFF's big board and the potential LB1 at this stage of the first round, though. 
---
2021 Record: 12-5
Why do the Chiefs select Raimann?
Kansas City's current tackle situation is Orlando Brown Jr. playing the 2022 season on the franchise tag at left tackle while Lucas Niang is the projected starter at right tackle. Brown isn't signed long term and might not be worth the top-end tackle contract that he'll likely be looking for. And Niang is still relatively unproven and coming off a major injury (torn patellar). 
Offensive line moved to the back burner after the Chiefs dumped the majority of their resources into the position last offseason, but that doesn't mean they won't look to add a potential starter at tackle like Raimann (No. 13 player on PFF's big board) if he's available. 
Is it the right decision?
Mock drafts for Kansas City almost always result in the team landing a wide receiver and edge defender in their two first-round slots because those stand out as the team's two most immediate needs. That doesn't mean the Chiefs have to follow that blueprint. 
Raimann might not start on Day 1, but he offers good value at the back end of the first round and provides some leverage/insurance in case Brown demands to become the highest-paid tackle in the NFL — a demand that the Chiefs should be hesitant to meet. 
---
2021 Record: 12-5
Why do the Chiefs select Mafe?
In this scenario, the decision will come down to wide receiver or edge rusher. The differentiator is that there's a better chance Kansas City gets an impact wide receiver at the back end of the second round than an impact edge rusher. 
Mafe is an excellent athlete who finished above the 90th percentile at the position in the 40-yard dash (4.53 seconds), vertical jump (42 inches) and broad jump (10 feet, five inches). He's also earned 83.0-plus PFF pass-rushing grades in each of the past two seasons at Minnesota, albeit in a limited role. At a position such as edge defender, where athleticism and production in college translate so well to the NFL level, Mafe is an intriguing target late in the first round. 
Is it the right decision?
Edge defender makes the most sense here for the reasons outlined above, and Kansas City's decision will likely come down to Mafe vs. David Ojabo, who was projected as high as the top 10 in mock drafts prior to his injury at his pro day. Now, Ojabo will likely have to redshirt during his rookie season given how late in the process that injury came. For a Super Bowl contender in need of immediate pass-rush help off the edge like Kansas City, that could be tough to justify in the first round, especially with an athlete like Mafe still available. 
---
2021 Record: 10-7
Why do the Bengals select Linderbaum?
The Bengals have gone a long way toward rebuilding their offensive line this offseason with the Alex Cappa, Ted Karras and La'el Collins acquistions. That doesn't mean they should stop there, though. 
Linderbaum is widely regarded as one of the best overall players in this draft class but is being pushed down boards because he's viewed as a "center only" who is best suited in a zone scheme. He earned 80-plus PFF grades in three consecutive seasons at Iowa with 90.0-plus grades in each of the last two years. You're not going to find too many better football players available this late in the draft. 
His slide could open the door for the Bengals to solidify another spot on their offensive line (center) while kicking Karras over to left guard, where he played well for the Patriots in 2021. 
Is it the right decision?
If Cincinnati's top priority this offseason was to protect Joe Burrow and improve the offensive line, Linderbaum helps achieve it. Just because the plan was to start Karras at center, that shouldn't preclude the Bengals from drafting a prospect like Linderbaum and changing plans. 
---
2021 Record: 7-10
Trade terms: SEA receives 32; DET receives 40 + 2023 3rd round selection
Why do the Seahawks trade up for Ridder?
The Seahawks, along with the Panthers, are one of two teams that doesn't have a clear starting option at quarterback for next season. They could roll with Drew Lock, but that's admitting a lost season given what we've seen from Lock to begin his NFL career. Ridder has started to settle in as the consensus QB3 in this year's class behind Willis and Pickett with some, such as PFF's Anthony Treash and Austin Gayle, believing that Ridder is QB1. 
Ridder is a quick processor and natural leader with above-average athleticism for the position. He's one of the quarterbacks better equipped to step in and start in Week 1 as a rookie. 
If he's still available as the first round winds down, it wouldn't be surprising to see Seattle try to jump a few spots to secure Ridder and a fifth-year option for him. 
Is it the right decision?
The No. 9 overall pick is probably a bit too rich for Ridder, especially for Seattle given that it is well-positioned to fill needs at offensive tackle, cornerback or edge defender with that selection. However, it will continue to make more sense for the Seahawks to move back up into the first round with some of the draft capital that they acquired in the Russell Wilson trade the further that Ridder slides. 
A 2023 third-round pick is a small price to pay to move up and add an average starting quarterback with some upside on a rookie contract.