With the 2020 NFL Draft now in the books, it's time for me to turn my attention to a year from now. The NFL recently announced that the 2021 draft will take place in Cleveland, Ohio, from April 29-May 1. And while you might not believe me, I couldn't be more excited about it.
While the team-fits part of this 2021 NFL mock draft is guesswork at best, this is more an exercise in where we see these prospects at the moment, with positional value not taken into account in the way it usually would be at PFF. The draft order is based on the current Super Bowl gambling odds.
[Editor's note: Click this link to see PFF's 2020 NFL Draft grades for all 32 teams. And if you haven't already, be sure to pick up a copy of PFF's 2020 NFL Draft Guide by subscribing to PFF EDGE or ELITE.]
I know everyone is saying that Justin Fields made up ground on Lawrence last season, but something drastic would have to change for Lawrence not to be the No. 1 pick. He's earned grades of 90.7 and 91.0 in his first two seasons and has elite physical tools for the position.
Fields started last season like a house on fire but showed some flaws as the season wore on. Still, his performance was every bit elite as he earned a 91.5 overall grade. He is accurate at all levels of the field and is a legit threat with his legs.
The use of the term "generational" has gotten out of control. That being said, Sewell is still a generational tackle prospect. He'll likely be the best offensive tackle prospect since at least Jake Long, if not Orlando Pace. He already dominated college football with an FBS-high 95.8 overall grade as a true sophomore — his blend of power, technique and athleticism is scary.
4. Miami Dolphins — EDGE Greg Rousseau, Miami (FL)
Rousseau has almost comical physical tools — it's as if someone built the ideal edge defender body and then said "more." He's listed at 6-foot-7 and 253 pounds with long arms, and he racked up 16 sacks as a redshirt freshman last season. The Miami defensive end still has a ways to go technically, though, as his 76.2 overall grade didn't quite match that sack total.
Parsons is already elite when it comes to making actual linebacker reads, which is an ability that many scouts worried about when it came to Isaiah Simmons' evaluation. Parsons led the nation with a 94.8 run-defense grade as a sophomore. To play like a grown man at his age is special.
6. New York Jets — WR Ja'Marr Chase, LSU
Speaking of grown men, Chase looked more like a redshirt senior than a true sophomore last year with the way he physically overpowered cornerbacks in the SEC. His 24 deep catches were eight more than the next closest receiver in the country.
7. New York Giants — Edge Xavier Thomas, Clemson
We were expecting big things from Thomas heading into his sophomore year, but they never quite came to fruition. After racking up 26 pressures on 150 pass-rushing snaps as a freshman, Thomas had the exact same amount on 96 more pass-rushes as a sophomore. That talent he showed as a freshman didn't disappear, though.
8. Detroit Lions — WR Rondale Moore, Purdue
In another loaded receiver class, Moore is the single most electric player of the bunch. As a true freshman in 2018, he led the entire country with 37 broken tackles. He had 367 yards through the first three games of last season before going down with a knee injury. With everyone looking for the next Tyreek Hill in the 2020 NFL Draft, Moore is the closest thing I saw in college football last year.
Wilson was on pace for a monster junior campaign before breaking his hand against Miami and going down for the year. He could have been a fringe first-rounder had he declared, but he returned in hopes of a Derrick Brown-esque stock increase. Wilson earned a 90.9 pass-rushing grade on the season and looks like a complete modern nose tackle.
10. Miami Dolphins — TE Kyle Pitts, Florida
Pitts is more of a jumbo wide receiver than actual tight end, at 6-foot-6 and 240 pounds. I'd be scared if that's what he checks in at during the combine, but that's what he was listed at last season when he was only 18 (!) years of age to start the year. He moves unlike any other tight end in the country and led the Gators with 649 receiving yards last year.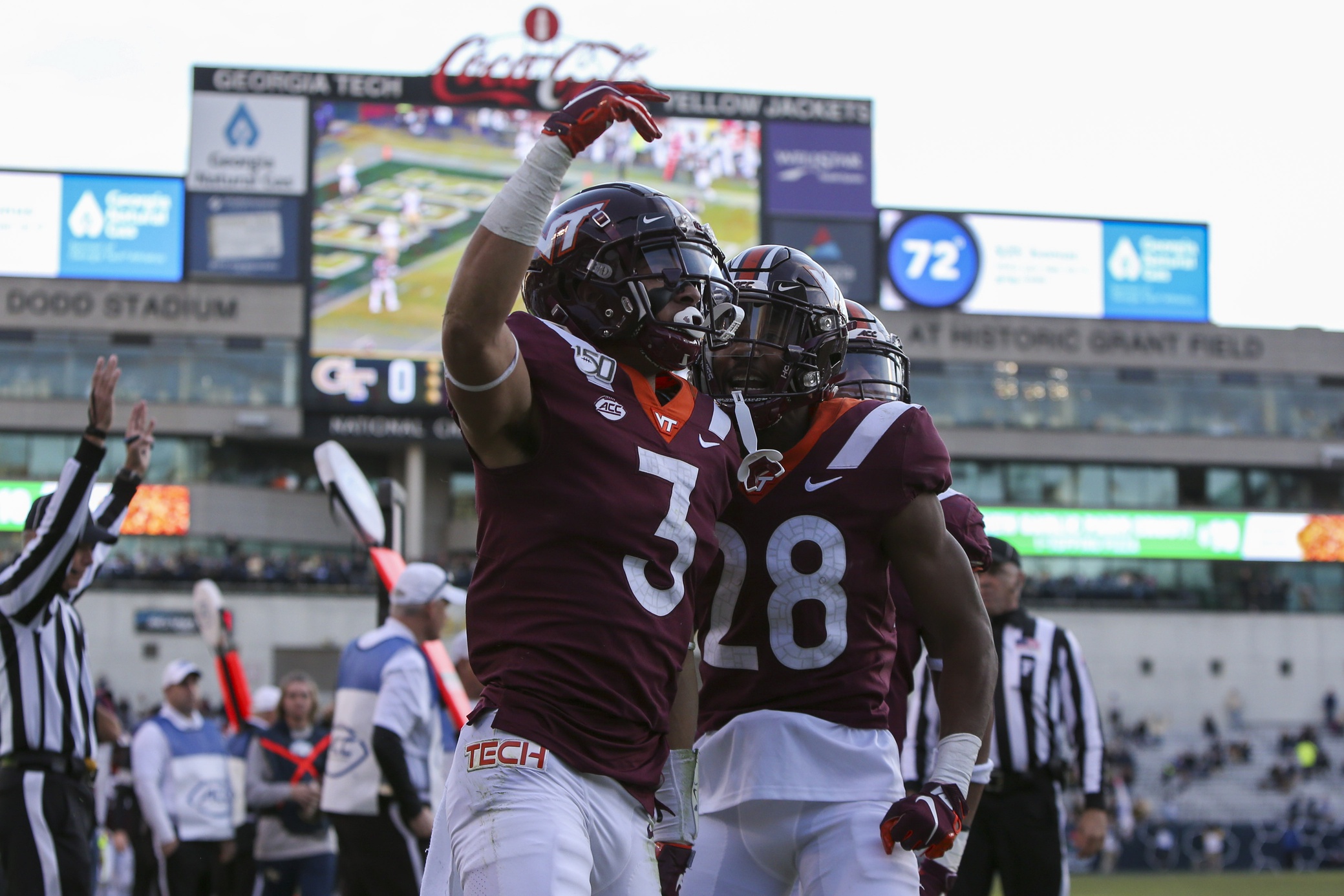 11. Arizona Cardinals — CB Caleb Farley, Virginia Tech
The first cornerback off the board? Farley has those kinds of physical tools. Listed at 6-foot-2, 207 pounds, Farley has the kind of size NFL evaluators love to see at the position. He also has the production we love, with a 90.3 coverage grade last year and a 26.8 passer rating allowed.
Leatherwood would have been among the top tackles in last year's class had he declared, but he chose to return to Alabama. The way we saw certain tackles get pushed down, that could be the right decision with a big senior year. Leatherwood actually outperformed Jedrick Wills Jr. in pass protection last year with an 80.0 pass-blocking grade at only 10 pressures allowed all season.
13. Denver Broncos — CB Shaun Wade, Ohio State
We'll see how Wade's transition from full-time slot to outside cornerback goes. He has all the physical tools to get it done, but we've seen players like Minkah Fitzpatrick struggle to do both in the past.
14. Atlanta Falcons — WR DeVonta Smith, Alabama
It's easy to see why Smith returned to the Crimson Tide despite a monster junior campaign that saw him rack up 1,256 yards. Listed at 6-foot-1, 175 pounds, Smith needs to put some serious muscle on his frame to get selected early next year. Even at that weight, he attacks the ball in the air far better than you'd expect, going 7-for-12 on contested catches last season.
Little had cleaned up the hitch in his kick-slide last year against Northwestern and looked poised for a big year before going down with an injury for the season. He's got the physical tools to be a complete tackle in the league.
Waddle hasn't played much the past two seasons — only 729 snaps over that span — but he's produced whenever he has been thrust in. On 40 targets last season, Waddle averaged 12.2 yards after the catch per reception and had a perfect 158.3 passer rating when targeted. He's got NFL-level juice.
There's the sticker shock of Lance's 28-0 touchdown to interception ratio that will stick in people's minds, but Lance is still a tier below Trevor Lawrence and Justin Fields at this point. A big reason for that number is that Lance averaged an incredibly low 18 passing attempts a game last season. However, he's got the easy arm talent and earned an 87.5 passing grade as a redshirt freshman.
18. Tennessee Titans — Edge Jayson Oweh, Penn State
Oweh is still a projection at this point, as he was a part-time player as a true sophomore in 2019. The defensive end played only 332 snaps but earned an 81.8 pass-rushing grade that was on par with Yetur Gross-Matos.
Smith has been plagued by blood clots in his lungs, limiting his development since a fantastic freshman year and putting his playing career in jeopardy. We finally started to see him come on towards the end of last year, though, when he was one of the highest-graded guards over the second half of the season.
20. Minnesota Vikings — DI Christian Barmore, Alabama
There's a good chance Barmore ends up even higher than this. We barely got to see him until Alabam's final five games of last year, and then he averaged three pressures a game over that span. On 269 snaps, Barmore earned an 87.8 overall grade for the season.
Freiermuth has prototypical-tight end size at 6-foot-5 and 259 pounds. While the Gronk comparisons are a little rich for me, that's the type of tight end you're getting in Freiermuth at least. He's a jumbo route-runner who defenders just bounce off. He broke nine tackles on 43 catches last season.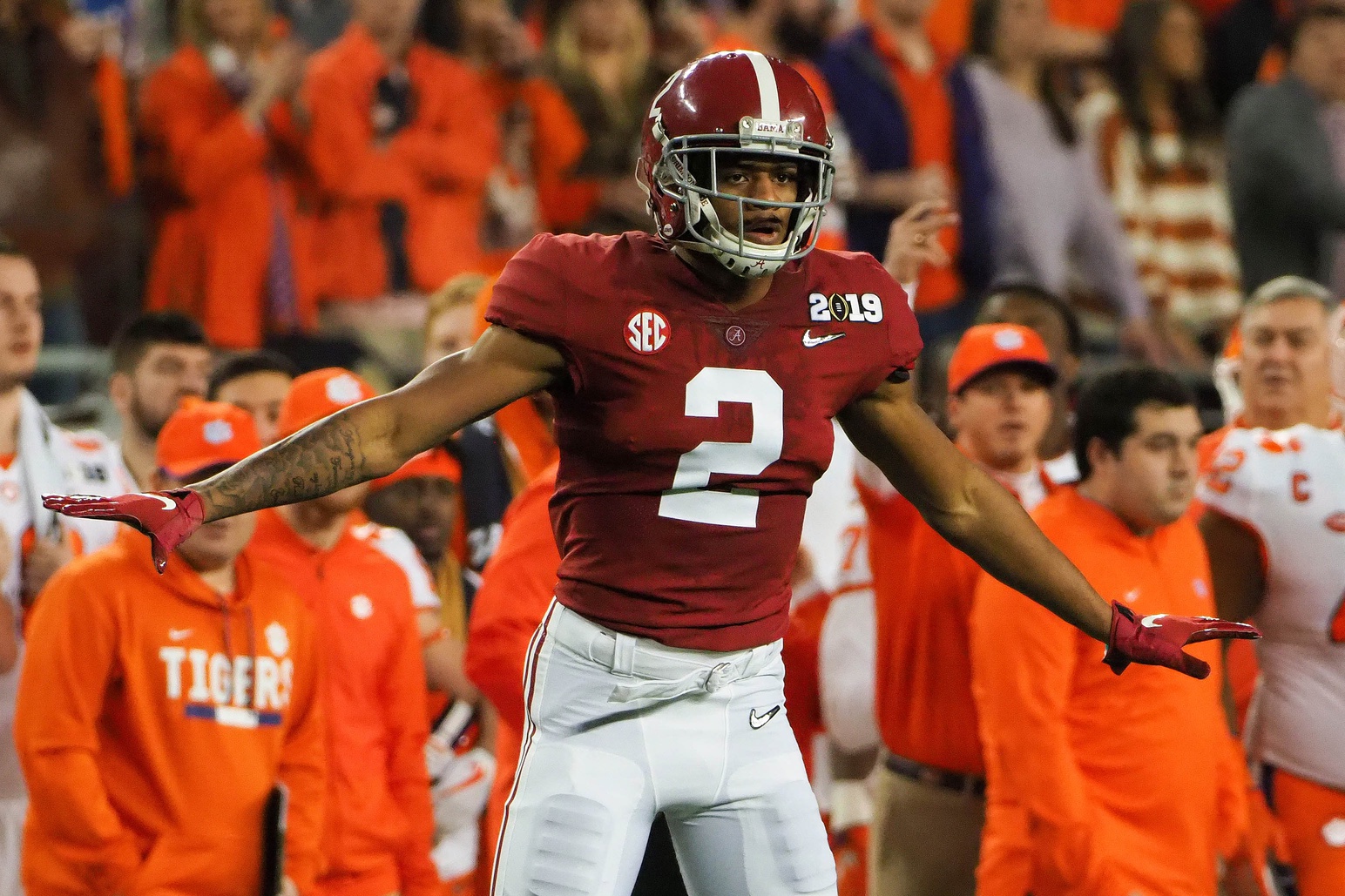 22. Buffalo Bills — CB Patrick Surtain II, Alabama
Surtain is another long Alabama corner at 6-foot-2 and 203 pounds. He's been starting ever since he was a true freshman in 2018, and this past year allowed only 28 catches for 301 yards on 49 targets. If he's anything like his father — a longtime Dolphins corner — he'll be well worth this pick.
If Moses hadn't torn his ACL last season, we probably would have seen him come off the board in this range last week. He's explosive as can be, though we'd like to see a few more plays on the ball in coverage as he doesn't have a single pass breakup in his career so far.
24. Dallas Cowboys — TE Brevin Jordan, Miami (FL)
Jordan looks next in the long line of Miami tight ends. As a true freshman, he caught 32 balls for 287 yards and broke seven tackles along the way. He followed that up with 35 catches for 495 yards and five broken tackles last year. He has the speed to be a real downfield threat at the position.
Cosmi has posted back-to-back seasons with terrific pass protection grades at both right and left tackle for the Longhorns. This past season on the left side, he allowed only 14 pressures on 595 pass-blocking snaps. He needs to get a bit stronger and is likely why he returned to school for his redshirt junior season.
I'm not sure exactly where Rumph plays, but he fits the Patriots' mold of athletic, do-it-all front-seven players. He had an absurd 31.6% pass-rush win rate for the Blue Devils last season — the highest in the country — as he played a similarly versatile role in their defense.
Humphrey struggled mightily with Baylor nose tackle Bravvion Roy's power in the Big 12 title game, and it's likely a big reason why he returned to Norman. That said, we've seen him play excellent football ever since he earned a 78.9 overall grade as a redshirt freshman for the Sooners in 2018.
Basham is a force to be reckoned with. His combination of size (6-foot-5, 275 pounds) and explosiveness will have NFL evaluators drooling over what he could become in the NFL. To date, though, Basham is defined more by his inconsistency as he alternated between dominant games and disappearing acts.
You'll probably know him as the other Miami edge defender this fall. Roche transferred in from Temple where he was pretty much unblockable for the Owls in 2019. His 68 pressures are the most of any returning player in the country, as is his 93.3 pass-rushing grade. He needs to add some muscle to his frame, but he has the pass-rushing moves down pat.
You can't really coach instincts, and that's why it's a good thing that Holland clearly already has them. He's picked off nine passes and broken up 11 more in two seasons with the Ducks between safety and slot corner. His playmaking ability should be coveted in pretty much any defense, but he'd match especially well with the Ravens.
Davis already caught our eye as a redshirt sophomore when he didn't allow a single sack or hit all season in his first year as a starter. While he likely would have been a Day 2 pick had he declared, he has all the physical tools to sneak into the first round with a big 2020.
St. Brown got lost in the shuffle of a loaded USC receiving corps last season, but he was arguably the most complete of the bunch. At 6-foot-1 and 195 pounds, he's a talented route-runner who can win at all levels of the field. He broke 18 tackles on 77 catches, and after a slow start, he averaged over 100 yards a game over his final eight games.