Last season, the Alabama Crimson Tide presented the college football world with perhaps one of the greatest wide receiver units it has ever seen: the quartet of Jerry Jeudy, Henry Ruggs III, DeVonta Smith and Jaylen Waddle. All four did damage with the ball in their hands, forming a nearly unstoppable personnel package when on the field together:
There were 42 plays in 2019 when Alabama put out Jerry Jeudy, Henry Ruggs, DeVonta Smith and Jaylen Waddle (@PFF). Results:

Jeudy 7/8 122 yds 1 td
Ruggs 6/8 148 yds 1 td
Smith 7/10 176 yds 3 td
Waddle 5/6 118 yds 2 td

Might be best personnel pack to ever take the field in CFB. pic.twitter.com/aSvDYuwjCf

— Anthony Treash (@PFF_Anthony) December 13, 2019
Jeudy and Ruggs both ended up declaring for the 2020 NFL Draft as top-10 prospects in the entire draft class. Smith opted to return for his senior season, and Waddle didn't have a choice to return as he was just a true sophomore last year. While Alabama no longer has Jeudy and Ruggs on roster, it still clearly has the best wide receiver duo in college football in Smith and Waddle. And don't be surprised if those two both end up being first-round picks in the 2021 NFL Draft.
[Editor's note: Click this link to see PFF's 2020 NFL Draft grades for all 32 teams. And if you haven't already, be sure to pick up a copy of PFF's 2020 NFL Draft Guide by subscribing to PFF EDGE or ELITE.]
Last season, LSU true freshman Derek Stingley Jr. had the best cornerback season we have ever recorded in the PFF College era. In fact, it was actually the most valuable season we have ever recorded for a non-quarterback. Stingley recorded a 91.9 coverage grade, allowed just a 38% catch rate in coverage and allowed 50 yards or less in all but four games against the stiffest competition in college football.
There was, however, one wide receiver in particular Stingley faced who was really the only one to give him trouble all year long: DeVonta Smith. In the infamous LSU versus Alabama game during Week 11 this past year, Smith had 211 receiving yards against Stingley. That accounted for 34% of Stingley's yards allowed all season long.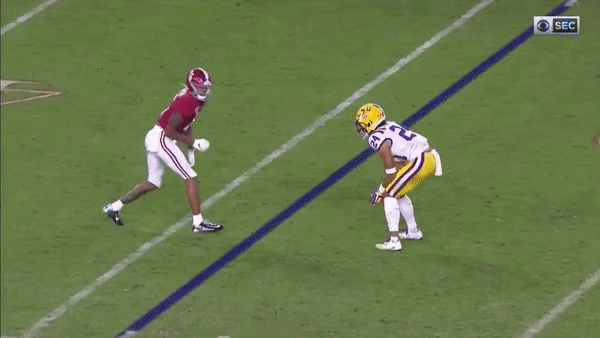 Oh, and this was the only target he didn't catch against Stingley that game: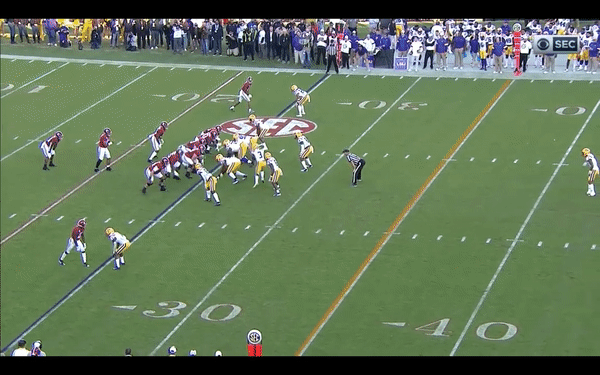 Subscribe to PFF Edge to continue reading
Already have a subscription? Sign In