The 2021 NFL Draft has officially come to a close. From April 29 to May 1, 259 players were selected to join the NFL. Let's wrap up an action-packed draft by identifying the steals of Day 3.
Here, we use the information available in PFF's advanced database, big board and 1,283-page 2021 NFL Draft Guide to identify the NFL teams that got the best bang for their buck in Rounds 4, 5, 6 and 7 of the 2021 draft. You can get into a full recap of the entire draft by clicking here.
More of PFF's 2021 NFL Draft tools here: 
2021 NFL Draft Big Board | 2021 NFL Draft Guide | 2021 NFL Draft Stats Export | NFL Mock Drafts | NFL Mock Draft Simulator
While there are serious question marks still hovering over the Dallas cornerback room, there is no questioning this group of off-ball linebackers after the Cowboys drafted Micah Parsons in Round 1 and Jabril Cox here.
Let's start with why Cox fell. First off, the medicals did him no favors: He underwent a serious shoulder surgery a year ago, and he had to sit out the primary LSU pro day due to a hamstring strain.
Perhaps the biggest reason for this slide is his play strength. He's often deadened on any type of contract and likely won't make a significant impact against the run. Cox earned a 55.0 run-defense grade in 2020, and I don't believe that's going to get drastically better in the big leagues. Still, we'll take an off-ball linebacker with standout coverage ability over a stiff thumper who can't cover.
Cox is just so smooth on the move. It showed up time and time again in coverage, which is where he was at his best in college. Whether he was dropping into zone, manning up against tight ends or covering the slot, Cox made play after play and put the clamps on the opposition at both North Dakota State and LSU.
Cox recorded an 85.2 coverage grade with the Bison in 2018 and 2019. He then transferred to LSU for the 2020 season and went on to become the third-highest-graded Power Five off-ball linebacker in coverage. The coverage skills are certainly there for Cox to succeed at the NFL level.
---
Tampa Bay is the home of the most talented receiving unit in the NFL, and it just got even better with the addition of Darden. A dynamic slot weapon, the 5-foot-9, 174-pound wide receiver finished the 2020 season as the fourth-highest-graded wide receiver in the country.
Darden has long been thought of as one of the most elusive pass-catchers in the college game. He broke an FBS-high 23 tackles and averaged 7.7 yards after the catch per reception last season. And while he was clearly a threat on screens, his speed posed even more of a threat on vertical routes, where he earned the fourth-highest receiving grade in the country on the back of a nation-leading 11 vertical route touchdowns.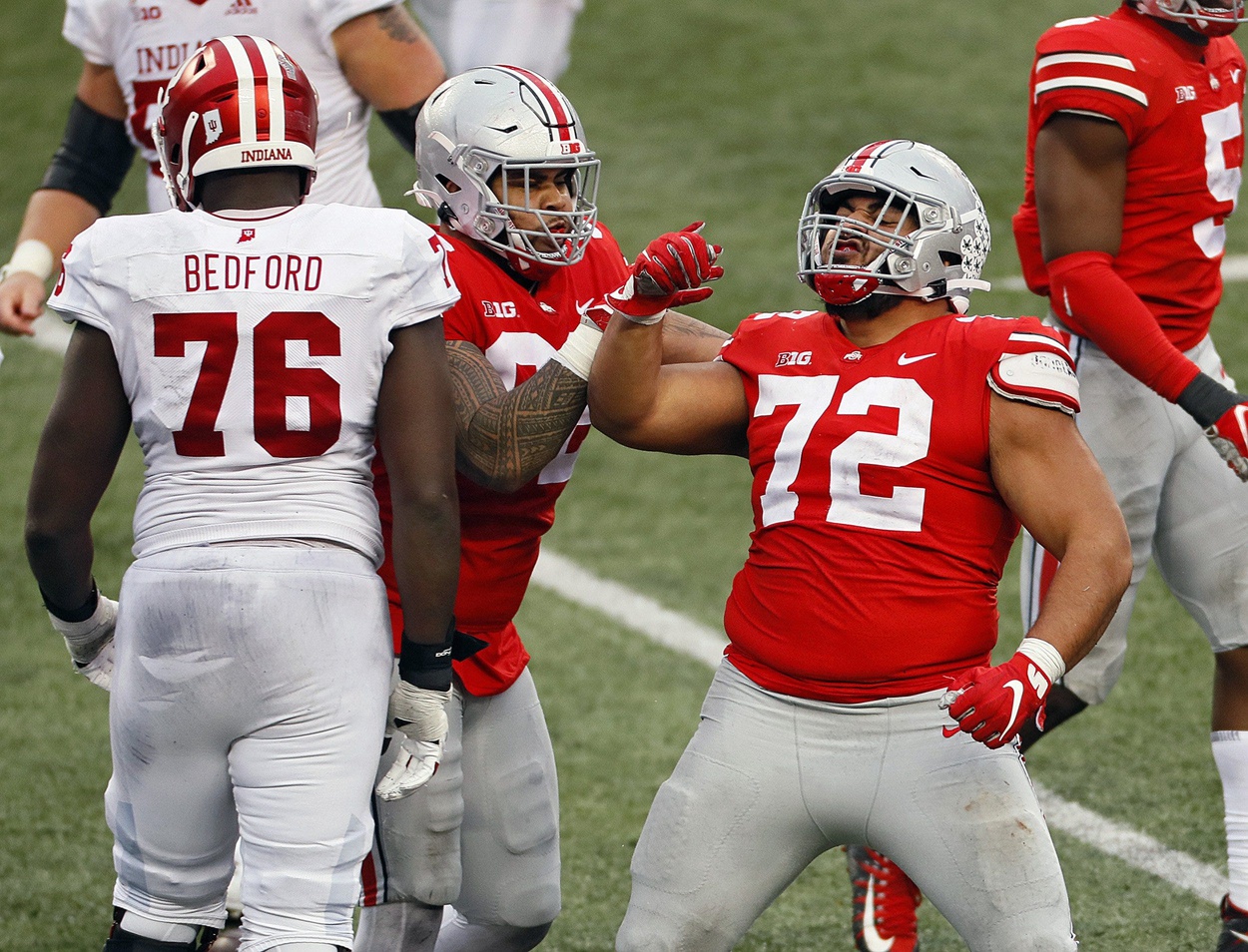 Yet another Cleveland Browns draft steal? Well, it shouldn't even be a surprise at this point.
Experience and a less-than-ideal frame did Togiai no favors in the draft process. He has just 659 career snaps to his name and is well below average when it comes to the prototypical 3-technique height and length — he stands at 6-foot-2 with 31.75-inch arms.
Still, that didn't stop him from being one of the more productive defensive tackles in college football, and it shouldn't hurt him as much as teams think in the NFL ranks.
Togiai was one of six Power Five interior defensive linemen to post a 75.0-plus grade as both a run defender and pass rusher in 2020. He finished fourth among that group in overall PFF grade at 87.5, behind only Christian Barmore, Alim McNeill and his former teammate Haskell Garrett. His bull rush is truly menacing, and he is also a promising all-around athlete. Togiai has all the tools to be a forceful defensive tackle in both facets of play in the NFL.
---
Weaver's slide is likely due to a combination of his lackluster athletic profile, a 2019 knee injury and age. But with his power, technical refinement and size, we still thought of him as a Day 2 prospect.
Weaver notched five or more pressures in seven of his nine starts coming off that knee injury, putting up a 90.0 pass-rush grade on the year. He has an incredibly high floor and is bound to be an impact player for the Titans, who are starving for pass-rush help.
Johnson sliding this far wasn't a complete shock, as we at PFF were a lot higher than most on the Indiana safety. Tackling issues and lack of experience were two of the biggest things scaring teams away, as he has missed 22.5% of his tackle attempts over his career and has played just shy of 800 snaps in that span. For reference, Trevon Moehrig, the top safety on PFF's draft board, played more than twice as many snaps in his TCU career.
Still, the coverage ability Johnson flashed in his smaller sample is too good to ignore. Johnson played all over the field for the Hoosiers and thrived in every role he played, displaying the nimble feet and the smooth hips that are required on the back end in the NFL. Johnson produced an 89.3 coverage grade in an Indiana career that featured seven interceptions and six forced incompletions. He's a perfect fit for this Vic Fangio defense and is a fantastic addition to an already stacked secondary.
---
Forsythe's 6-foot-8 frame certainly helps him from time to time, but it also hurts him. It's pretty easy for him to lose the leverage battle, and he has to overcompensate by overextending. But, as noted in the PFF 2021 NFL Draft Guide, he has uncoachable feet for a man of his size to go along with fantastic upper-body strength. Pair that with the ideal length, a punch that can be deadening and some sneaky good numbers in the Combine agility drills, and you have an intriguing profile.
The Florida tackle played the fourth-most true pass sets of any tackle in college football last season and still managed to rank third in the SEC in pass-block grade. He just might become the offensive linemen Russell Wilson dreamed of adding this offseason after the star quarterback voiced his frustration with the current group of pass protectors.
---
We here at PFF tend to advocate for not attacking the running back position until the end of Round 3 or early on in Round 4. Herbert, PFF's RB5, should have come off the board in that range, but Chicago got him in the sixth round instead.
Herbert is short but thick for a running back, measuring in at 5-foot-9 and 212 pounds. He's not easy to bring down with that low center of gravity. Among all backs with at least 100 carries in 2020, Herbert tied for first in yards after contact per attempt at 4.7. He has some decent wheels on him, too, and his 4.46-second 40-yard dash at his pro day verified what he showed on tape. Those traits helped him pick up a 10-plus-yard gain on 22% of his carries in 2020, the fourth-highest rate in the FBS.
He is a late-bloomer and doesn't have receiving experience, but this was a bit too far of a slide. Herbert can also offer value in the return game if given the opportunity.
---
After a couple of years at Miami (OH.) and playing only six snaps in 2016 and 2017, Gowan transferred to community college for the 2018 season before returning to the FBS ranks in 2019 to play for UCF. He was nothing short of exceptional that year, posting an 80.1 coverage grade, 12 total plays on the ball and just 13 first downs or touchdowns allowed across 12 starts. Gowan opted out of the 2020 season due to COVID-19 concerns.
The new Cardinals cornerback has the combination of size, length and speed desired for the position, but the lack of experience is scary and quite easily the biggest knock on him as a prospect. But all the way at Pick 223? That's way too far of a fall.
I wouldn't be surprised if we see him start at some point next year, given the current nature of the Cardinals' cornerback room.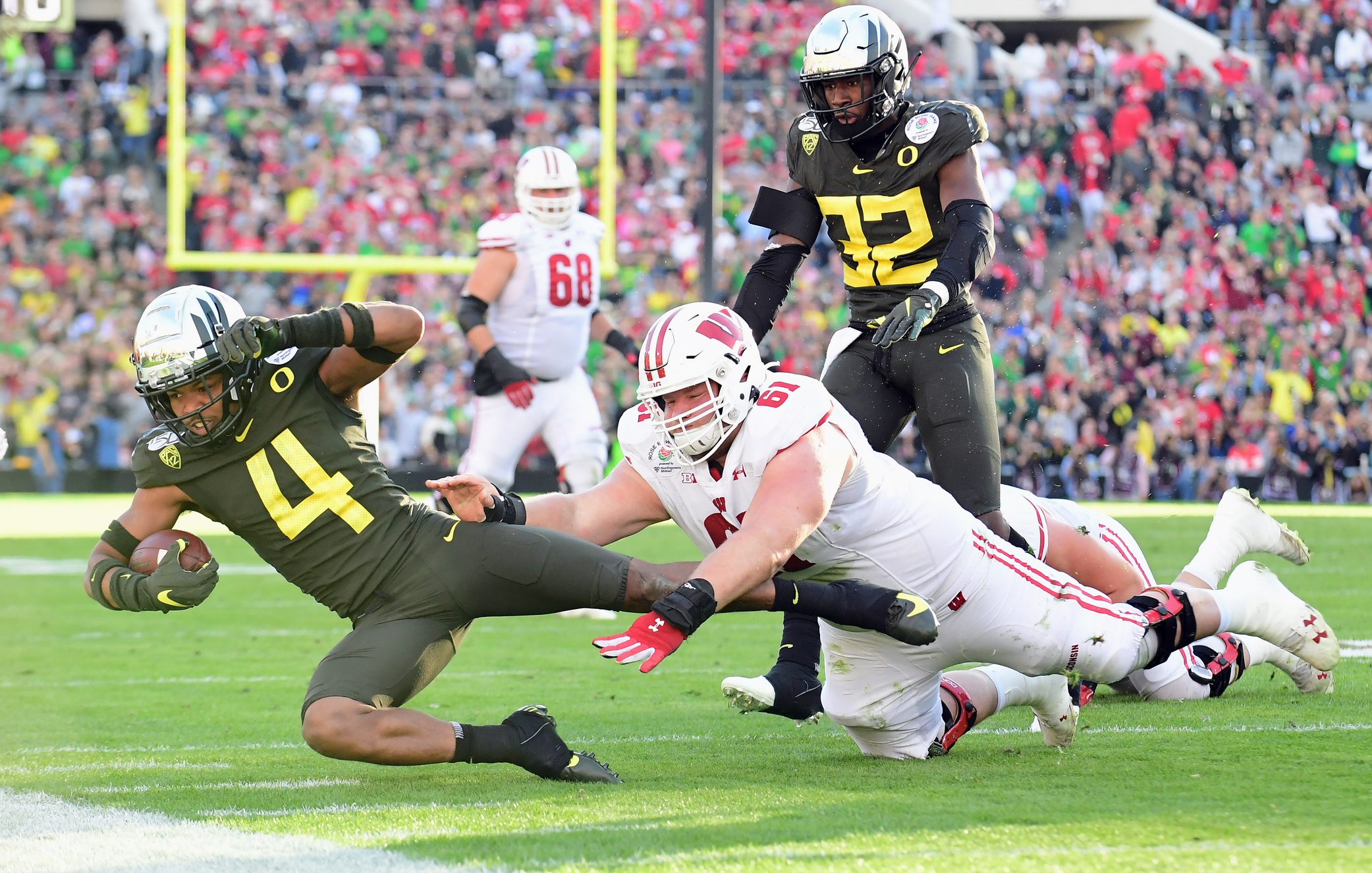 Graham is a small, relatively underwhelming athlete and was a 2020 opt-out, but we still viewed the former Oregon Duck as a third-round prospect. And yet, the Bears — who were already in the running for having the best draft of any of the 32 franchises — swooped in and got him with the final pick of the sixth round.
Graham was lights out in coverage over his final two seasons, earning a PFF coverage grade of 79.8 in 2018 and 82.9 in 2019. He ranked in the top 10 among FBS cornerbacks in both passing stops (23) and plays made on the ball (29) in those two years combined.
Graham is a patient corner with balanced and nimble feet who also attacks the catch point incredibly well. As noted in the PFF 2021 NFL Draft Guide, his flat-footed breaks are superb. He should be a fantastic fit in the Chicago defense that will be bursting with Vic Fangio's influence under new defensive coordinator Sean Dessai.
---
More of PFF's 2021 NFL Draft tools here: 
2021 NFL Draft Big Board | 2021 NFL Draft Guide | 2021 NFL Draft Stats Export | NFL Mock Drafts | NFL Mock Draft Simulator