With Week 15 of the 2020 college football season just about here, it's time to present the PFF Draft Riser Team, or, as it can alternately be known this year, the All Thankful COVID Didn't Cancel The Season Team.
If we didn't have football this fall, a good deal of these guys either wouldn't be drafted or likely would have opted to return in 2021. Now, many of them are thought of as Day 1 or Day 2 picks. That massive leap in development one can take from age 18-23 is a big reason why scouting can be such a crapshoot, but thankfully we got to see all these guys take that next step already this season.
Editor's note:  PFF's CFB Premium Stats+ subscribers can view player grades, advanced statistics, positional snap counts and more. Subscribe today for access!
The biggest riser, period. Wilson could very well end up as the second overall pick come late April. After an injury-plagued sophomore campaign that saw him earn a 72.5 passing grade, Wilson has skyrocketed up to an FBS-leading 95.2 this season. His accuracy, arm talent and consistency have been a sight to behold. His lowest-graded passing game this season — a 75.4 against Houston — is still higher than his passing grade from last season. That's quite the leap.
Williams was certainly productive as a sophomore, with nearly 1,000 yards and 56 broken tackles on 165 carries. He's taken his physicality to another level this season, however. He's got the highest broken-tackle rate in the country after forcing 63 misses on 134 attempts. His yards after contact per attempt number has seen a bump from 4.2 to 4.6, and his yards per carry average has gone from 5.7 to 7.0. Williams has put himself in the conversation as being the top back in the class.
Moore has come a long way since he pretended to be a dog urinating in the Egg Bowl last season. That flagged celebration eventually led to Lane Kiffin becoming head coach for the Rebels and Moore being the focal point of his offense. Now, Moore is averaging nearly 150 yards a game and racking up big plays from the slot. His 1,193 receiving yards are second in the country, while his 18 broken tackles rank fourth. At 5-foot-9, 185 pounds, he's certainly on the small side but still figures to come off the board somewhere on Day 2.
When you load the tape on productive small-school receivers, it's often to watch someone with a plus combination of size and speed who is simply too much for the middling athletes they face at cornerback. Watch Darden's tape at North Texas this season, though, and you'll see something different entirely. Darden is one of the most electric receivers in the country; he has an NFL-caliber combination of speed and shiftiness at only 5-foot-9, 174 pounds. With 20 broken tackles and 15 scores on 66 catches this year, Darden is the type of weapon you want in the slot nowadays.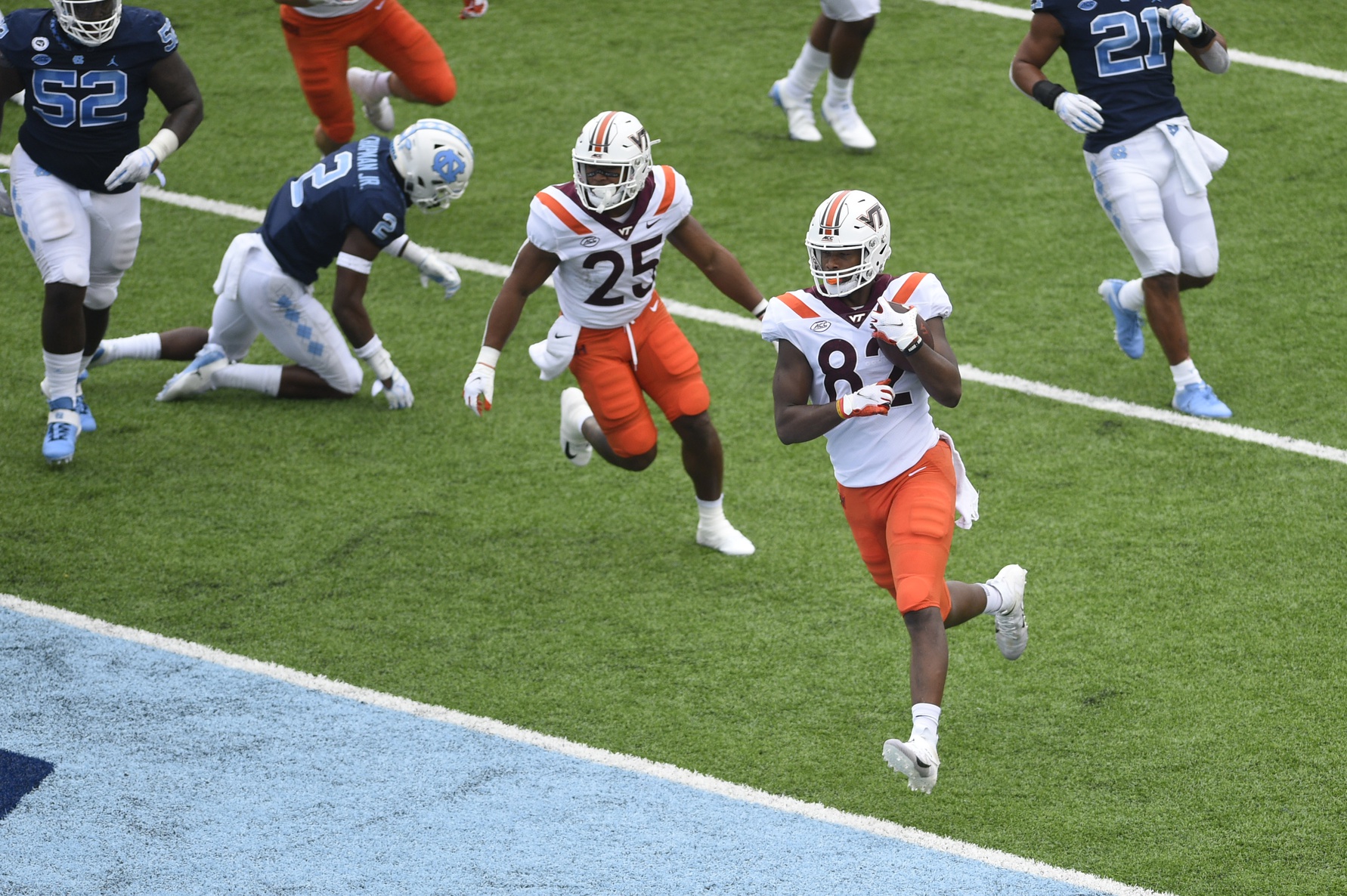 Mitchell split targets with 2020 third-rounder Dalton Keene at the tight end position last season, but he's been the go-to-guy this year. He's far more of a downfield threat in the offense than Keene ever was and is averaging 16.0 yards per catch on 23 receptions. While he's on the "smaller side" for the position, at 6-foot-3, 242 pounds, he has some dog in him as a run-blocker. He already has four big-time blocks (PFF's highest-graded blocks) in the run game this season.
Darrisaw's' leap is the result of a perfect storm of physical improvement mixed with technical improvement. His overall grade went from an 80.3 in 2019 to a 94.8 this year, and it's unlikely that the first round of the 2021 NFL Draft ends without his name being called. He's allowed all of six pressures on the season, and it's not as if he's faced slouches this year. He's shut down Miami's Quincy Roche, Wake Forest's Boogie Basham and Duke's Victor Dimukeje so far.
Vera-Tucker was firmly entrenched as a Day 2 guard based on his tape in 2019, but he's liable to be the first guard off the board now. He's even considered a tackle by some, based purely on his 2020 tape at left tackle. He's allowed three pressures on 192 pass-blocking snaps all season and has been a nightmare for linebackers at the second level.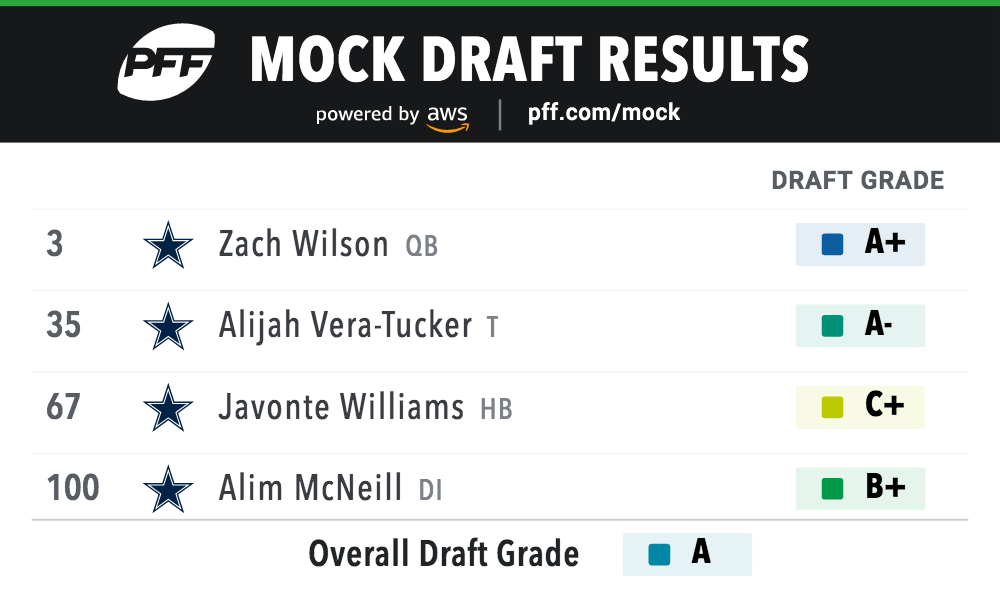 While Kentucky's Drake Jackson deserves a mention here, I'm siding with Linderbaum because of how much he's developed physically. He looked like a tight end playing center in 2019 — so much so that most didn't think he'd even be able to put on the weight to declare after this, his redshirt sophomore season. Well, he put on that weight up to a listed 289 pounds in the preseason and is playing like the best center in the country. His 90.8 PFF grade leads the position, and he's allowed one pressure all year.
Oftentimes with offensive linemen from pass-happy college programs, you worry about the learning curve in the run game. It can be coached as an afterthought sometimes when, in Anderson's case, a player pass blocks on 1,816 snaps and run blocks on 1,125 snaps over his career. That's why seeing a talented pass-protector like him go from a 58.0 run-blocking grade in an injury-shortened 2019 season to a 77.7 this year is massive for his draft stock. He showed some very strong hands that are unwilling to let defenders go and has worked his way into the mid-round conversation.
While he may not be the most fleet of foot or have the most impressive highlight reel, Boron has not been losing this season. He's now only allowed one pressure on 245 pass-blocking snaps in an SEC-only schedule this season. That's pretty impressive for the 6-foot-6, 332-pounder. His lack of top-tier athleticism may kick him inside to guard, but he should have no problem with that transition.
If you don't yet know the name, make sure you get to know the Oklahoma edge rusher ahead of draft time, as he could sneak his way into the first round. He's been superb as an every-down player this season, with 39 pressures on only 143 pass-rushing snaps. Bonitto is simply too athletic for most offensive tackles he's facing — he has racked up 14 pressures in his past two games alone. While he's undersized for the position at 238 pounds, he's got the body type to continue to fill out.
Ohio State's defensive line doesn't rebuild; they reload. After losing Davon Hamilton and Jashon Cornell to the NFL, Garrett has filled in as if they never left. The senior played all of 217 snaps in 2019 as a backup, but he's flourished in a starting role this year. He's earned a 91.1 pass-rushing grade so far, with 12 pressures on 101 pass-rushing snaps. With heavy hands and a high motor, he's put his name on the map.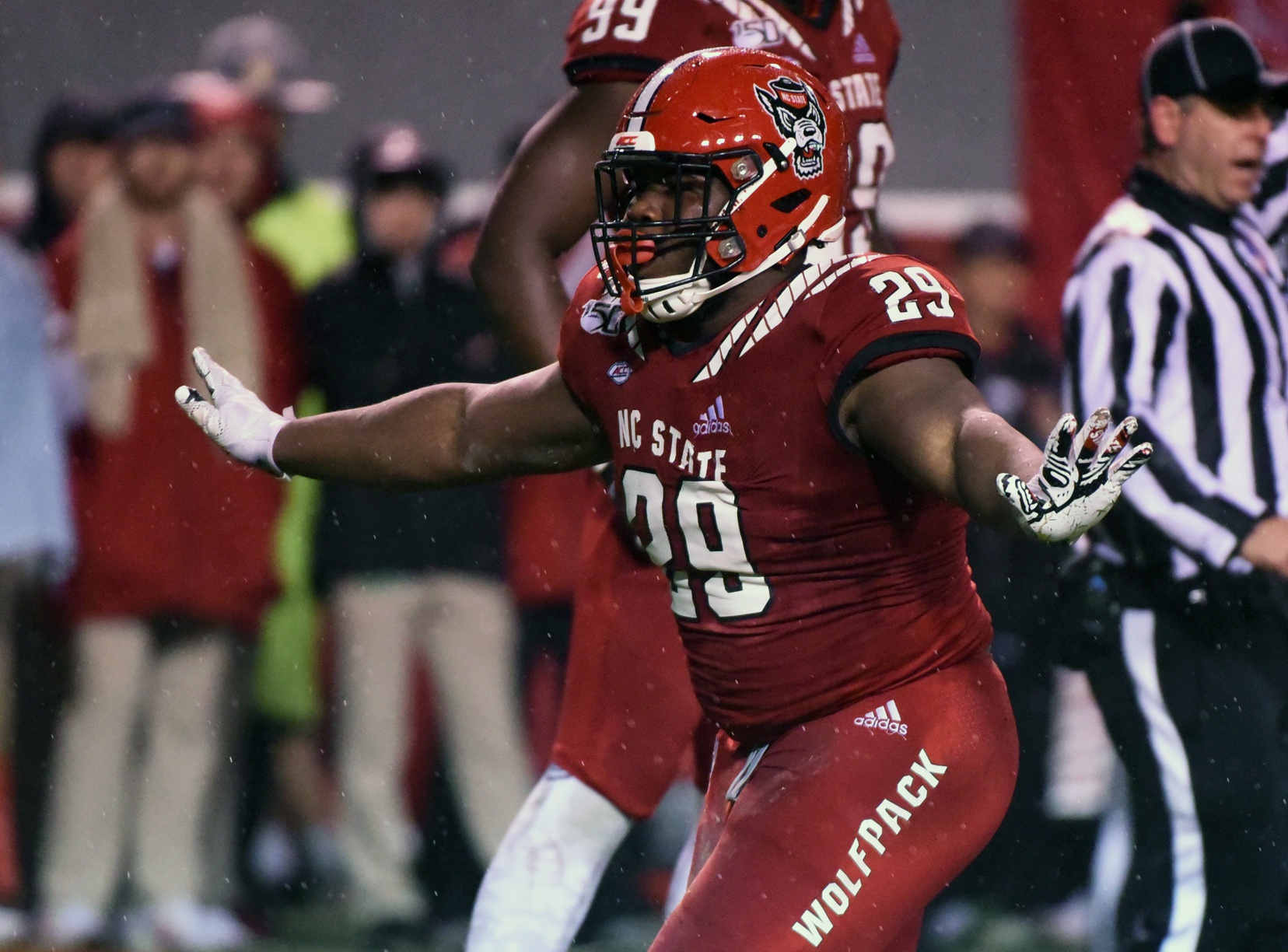 It certainly helps McNeil that there's almost nothing in the way of "blue chip" at defensive tackle in this year's class. With the rare quicks that he brings to the table as a 320-pound nose tackle, his dominance against the run this year could make him the first defensive tackle off the board. He earned a 91.8 run-defense grade this season after a 77.1 in that regard last year. His block and double-team recognition have taken massive steps forward. While he's still a work in progress as a pass-rusher, he can penetrate at an elite level.
I'm not sure any prospect on this list came further out of left field than Tupuola-Fetui. He had played only 162 snaps in his first two seasons at Washington, with four total pressures to show for it. This season, he already has five times as many pressures through four games and has arguably been the most dominant edge rusher in the country. He's earned a 91.8 pass-rushing grade as his bull-rush has been near unstoppable. While he won't get many games in with the Pac 12's limited schedule, he's done all he can in limited time.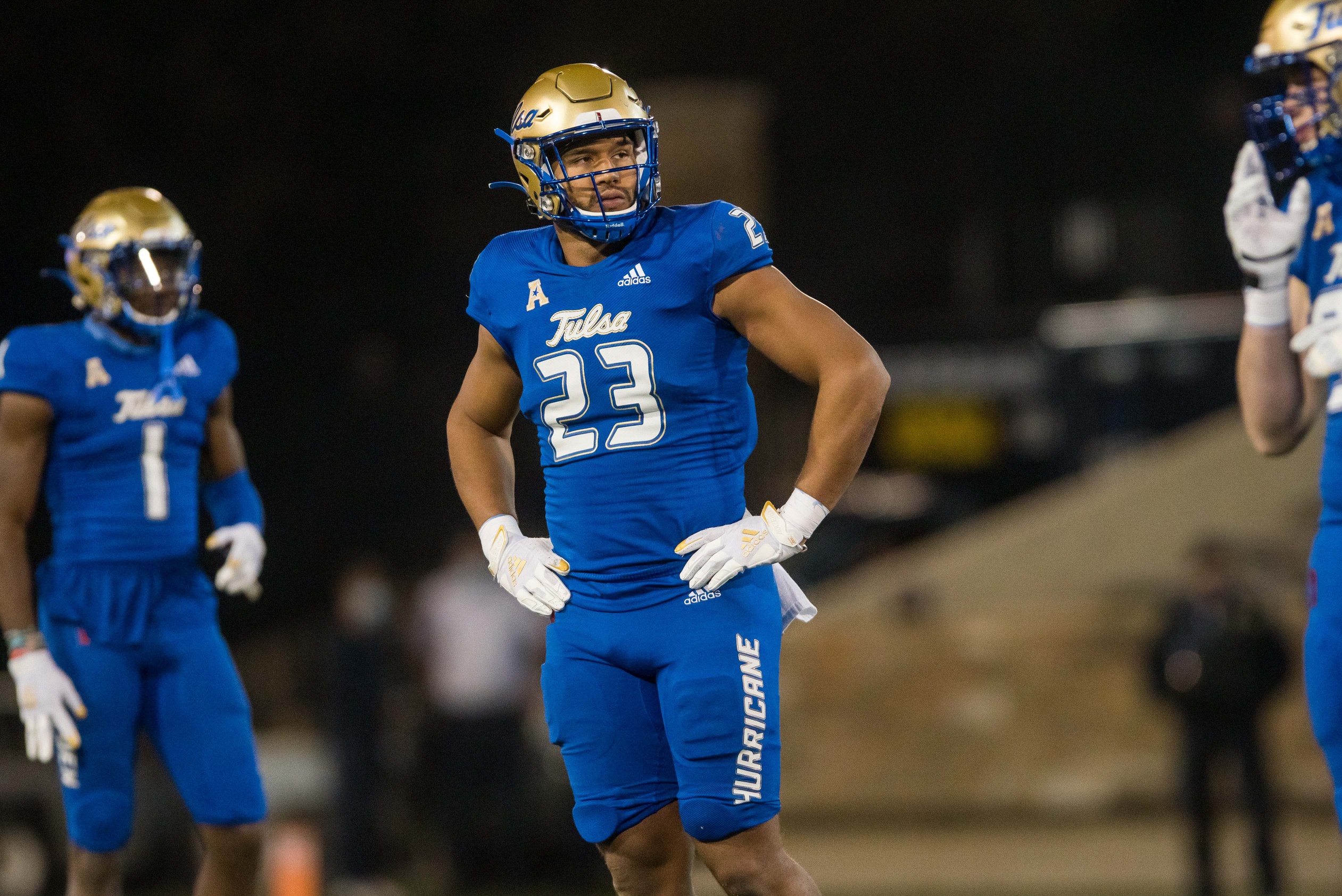 Collins was garnering attention towards the end of 2019 for being a freaky 6-foot-4, 260-pound off-ball linebacker. His next step into becoming a consistent splash playmaker this season has been something to behold. Collins already has four picks in seven games, including a game-winning pick-six in overtime against Tulane. He's yielded all of 58 yards in his coverage all season. Collins' skill set is tailor-made for any team that blitzes their linebackers or plays a good deal of man coverage.
The Clemson defense has been built on the linebacker-safety hybrids in recent years, and Jones is next in line after playing all of 196 snaps in his first two seasons at Clemson. He's allowed six catches from 10 targets for 15 yards on 143 coverage snaps this season. Those numbers are absurd. While he's had some tackling issues, Jones has the type of movement skills you can't teach. Unfortunately, a midseason injury has limited him of late, and he may not put enough on tape to declare as a redshirt sophomore.
Even though Greedy Williams is midway through his second year in the NFL with the Browns, Rodarius is the older of the two Williams brothers. He's been starting at Oklahoma State for four years now but never locked down one side of the field quite like he has this season. He's allowed only 10 catches from 21 targets for 148 yards, with six pass breakups through nine games. He's had only two games where he's allowed multiple catches. In the Big 12, those are eye-opening numbers.
There aren't many corners at any level of football built like the 6-foot-3, 213-pound Melifonwu. If the name sounds familiar, it's because his older brother Obi was a second-rounder at safety for the Raiders in 2017. Ifeatu is far less of an athletic projection, though, as he's already been stingy for the Orange. He's allowed fewer yards this year than last year (394 vs. 395) despite playing almost 200 more coverage snaps (451 vs. 274). Of his 50 targets, only 18 resulted in first downs, and he forced incompletions on nine of them.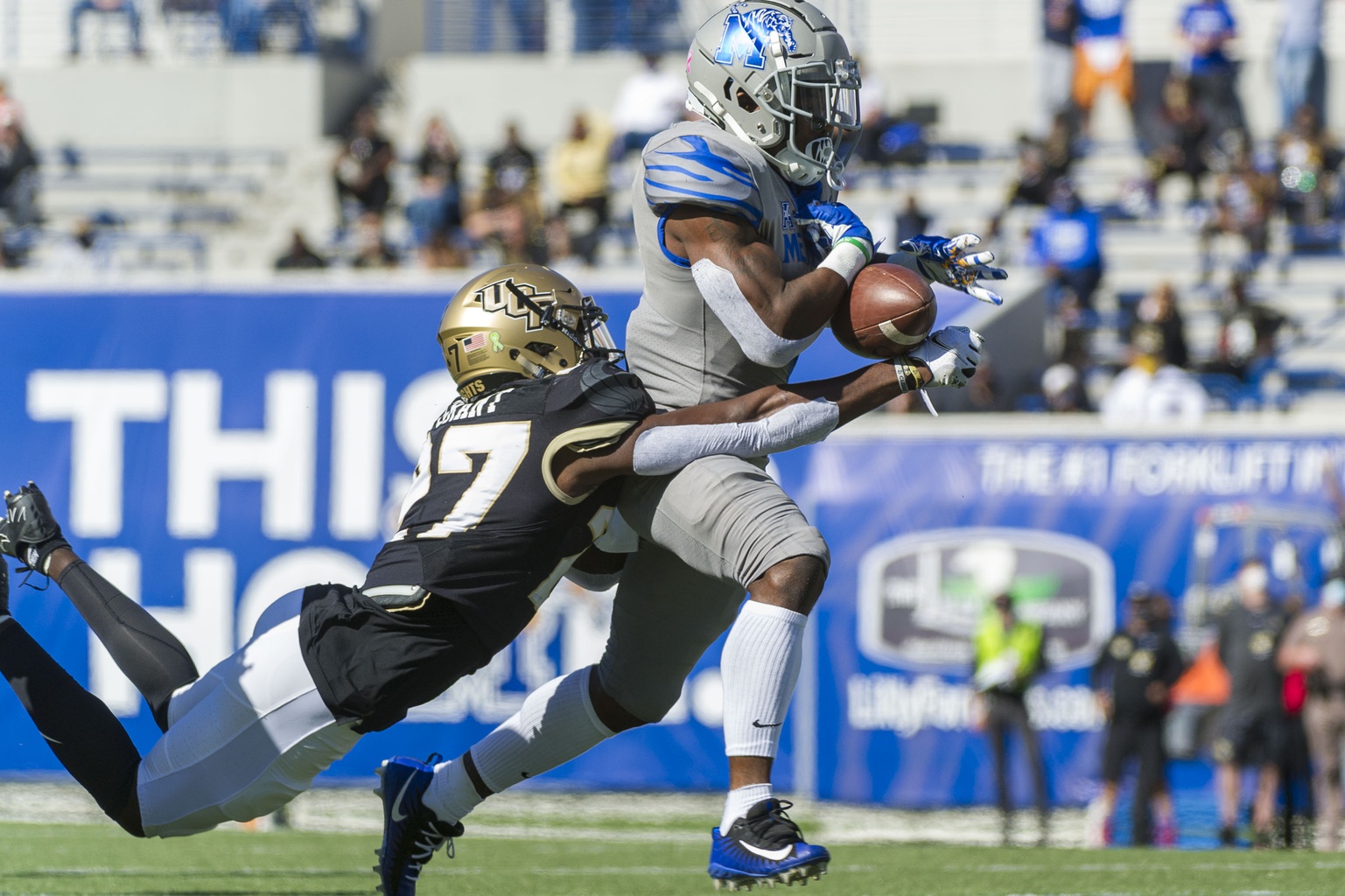 Grant already had a reputation as a ball-hawking free safety in UCF's defense, but he showed a much more well-rounded game in 2020. He played more snaps in the box this year (236) than he did deep (225) for the first time in his three seasons as a starter for the Knights. Grant responded with the highest run-defense grade of any safety in the country with a 90.0, despite not fitting your typical "box safety" mold at 6-foot, 194 pounds. That versatility will move him up draft boards.
While a lot of things have gone wrong for Penn State this season, Brisker's emergence is not one of them. After being part of a rotation last year, Brisker has excelled as an every-down safety in 2020. He's forced as many incompletions (six) as the number of first downs he has allowed in coverage. Arguably his most impressive trait has been his tackling, where he's missed one of his 45 attempts all year. At 6-foot-1, 212 pounds, you want this guy around the ball.