Week 4 is here and we finally have some primetime matchups. That means players with first-round grades butting heads in what is shaping up to be a jam-packed weekend. Who cares about an intro, let's talk prospects. 
[Editor's Note: All EDGE and ELITE subscribers have access to PFF's Preseason 2020 NFL Draft Guide. Subscribe today to download your copy!]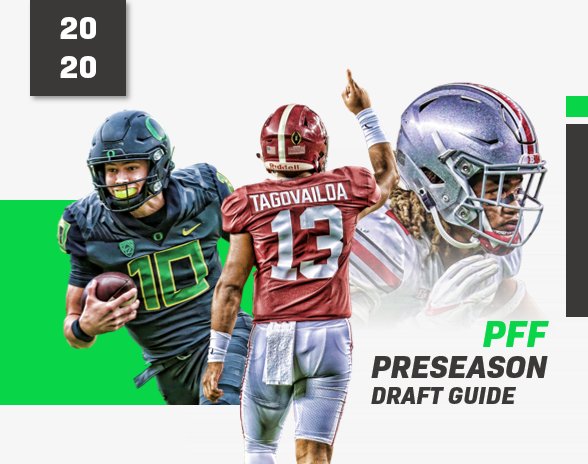 Notre Dame WR Chase Claypool vs. Georgia Secondary
The Georgia secondary is loaded with draftable talent. The safeties J.R. Reed and Richard LeCounte are the headliners after grading out exceptionally in 2018, but redshirt sophomore cornerback Eric Stokes could make his way up boards here soon as well. They'll face a man who looks like an NFL wideout at 6-4, 230 pounds with good speed but has yet to produce like one until this season. Claypool was a basketball standout in high school yet that hasn't translated as well in contested situations as we may have liked going 6-for-14 on those last season. The key here will be the play of both Claypool and Stokes at the line of scrimmage. Bigger receivers often lack the flexibility and quick to deal with good press corners, and Stokes has played the eighth-most snaps in press of any corner in the nation (64).
Houston LT Josh Jones Houston vs Tulane's Patrick Johnson
Who you may ask? Well, Patrick Johnson is still fresh off of saucing highly touted Auburn left tackle Prince Tega Wanogho a couple of weeks ago on his way to six pressures against the Tigers and earned a 91.3 pass-rushing grade in 2018 as a sophomore. With all that said, Jones looks like the better NFL prospect and recently cracked the PFF Top-50 after a lights out start to his senior season. The Houston tackle has started for four years now and is in the midst of a career year with only one pressure allowed on 102 pass-blocking snaps against Oklahoma, Prarie View A&M and Washington State. Johnson will line up pretty evenly on both sides, so we'll get to see a good deal of head-to-head matchups in this one.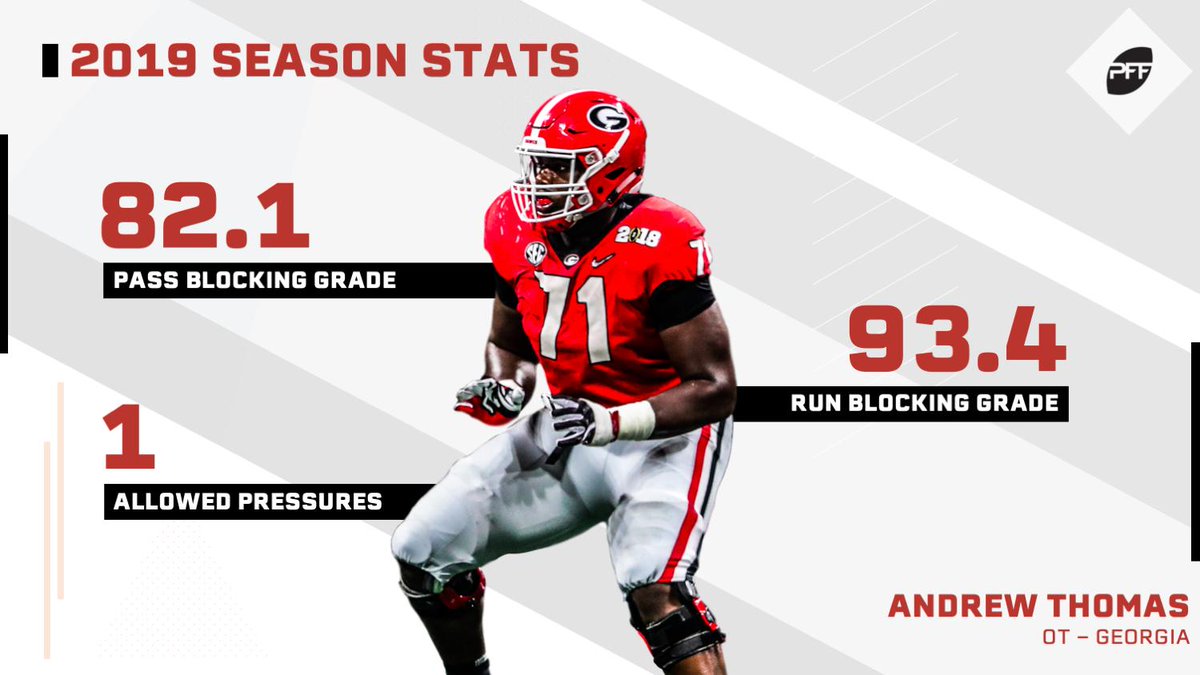 Georgia LT Andrew Thomas vs. Notre Dame's Khalid Kareem and Julian Okwara
When Notre Dame heads down to Georgia, it will be the largest collection of draftable talent facing off in any game we've seen yet this season. The marquee matchup will be right along the line of scrimmage. Both Andrew Thomas and Julian Okwara look very likely to be first-round selections come next April, checking in at 10th and 17th on the PFF draft board, respectively. Kareem is more of a Day 2 guy, but that's still a great litmus test for both him and Thomas. Okwara is one of the best players in the nation at converting speed-to-power with a prodigious combo of length and burst. Kareem is more of pure power player and even played defensive tackle early in his Notre Dame career. Thomas is currently the highest-graded tackle in the country and won't face a better edge duo all season, and the Notre Dame duo won't face a better tackle. This is tape scouts will be coming back to frequently next spring.
Wisconsin OL Cole Van Lanen and Tyler Biadasz vs Michigan DL
This is yet another combo matchup where there's so much talent in units facing off against each other that it's going to be difficult to focus on just one guy. We had high hopes for Biadasz coming into the season after back-to-back years of top-five grades nationally at the center position, but so far the dominance hasn't been there with a 59.5 overall grade against USF and Central Michigan. We'd also like to see more shutdown performance from Van Lanen, who we gave a fourth-round grade to in the offseason. He hasn't quite made the leap from good to dominant this year. Michigan's defensive line has once again been eating offensive lines alive, as defensive tackle Carlo Kemp (91.7 pass-rushing grade) along with edge defenders Josh Uche (90.7), Kwity Paye (81.0), and CMU transfer Mike Danna (73.7) have impressed the first couple weeks. Danna was the only one of the bunch on PFF's radar heading into the year, as he's the only one that even played 400 snaps last season. This will be a great proving ground for each. 
Charlotte DE Alex Highsmith vs Clemson
This is pretty much it for the breakout edge defender from Charlotte. He's not going to face a pair of tackle close to what Clemson brings to the table until he goes to whatever senior showcase bowl he chooses at the end of the year. Highsmith is currently the highest-graded edge defender in the country with six sacks and 17 pressures through three games. He has more burst than your average small school edge rushers that racks up big numbers too and will legitimately be on the NFL's radar. A stout performance against left tackle Jackson Carman (78.9 overall grade) and right tackle Tremayne Anchrum (83.0) will be tough to come by, though. They are fresh off shutting down Syracuse's Alton Robinson with a combination of quick passes and sound play.