As PFF's sixth-ranked prospect and the top cornerback in this class, Washington's Byron Murphy is a versatile, lockdown corner. Moreover, no other cornerback had a higher overall or coverage grade than Murphy in 2018. With Murphy playing arguably the most valuable position on the defensive side of the ball, he is worthy of a top-10 pick in this year's draft.
[Editor's Note: To view all of Pro Football Focus' advanced stats and grades for draft-eligible players, check out our 2019 NFL Draft Guide. All EDGE and ELITE subscribers already have access to the guide, and for those who don't, you can get your copy for as low as $9.99!]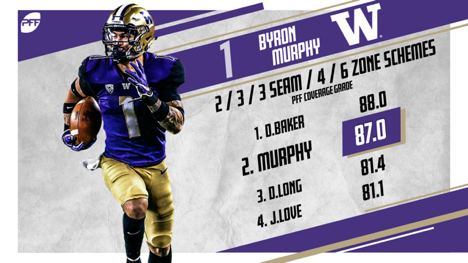 One of Murphy's many specialties is his play when in zone coverage. His 87.0 coverage grade in zone coverage is the second-highest among the top cornerback prospects. He also allowed just a 48.3 passer rating when targeted in zone.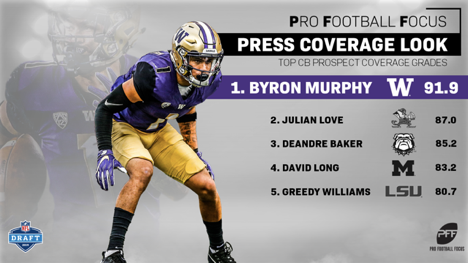 Murphy's performance when in a press coverage look was unparalleled in 2018. He may be undersized, but with 13 forced incompletions and allowing a 41.9 passer rating when in press, he's the can't miss corner in this draft.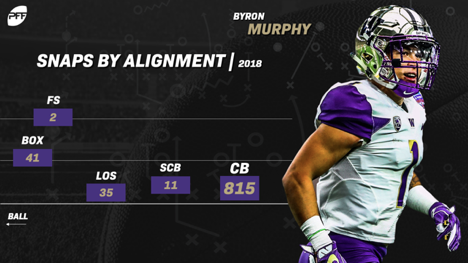 Murphy was used primarily out wide in 2018, but his versatility and overall talent show that he is bound to be successful anywhere on the field, including the slot. He's best suited for an outside role in a zone-heavy scheme in the NFL, but he's talented enough to make ends meet regardless of where he suits up on Sundays.
All of PFF's 2019 NFL Draft Profiles can be viewed here or on PFF's YouTube Channel. Follow along as we go through all the top prospects in the draft.