In lieu of a mock draft, let's just look ahead to next year's draft class and highlight a few key names to know. A few of the listed players are on PFF's radar due to impressive on-field performances to this point, while others are hyped-up names for whom context is needed about their current standing heading into the 2018 season. 
Quarterback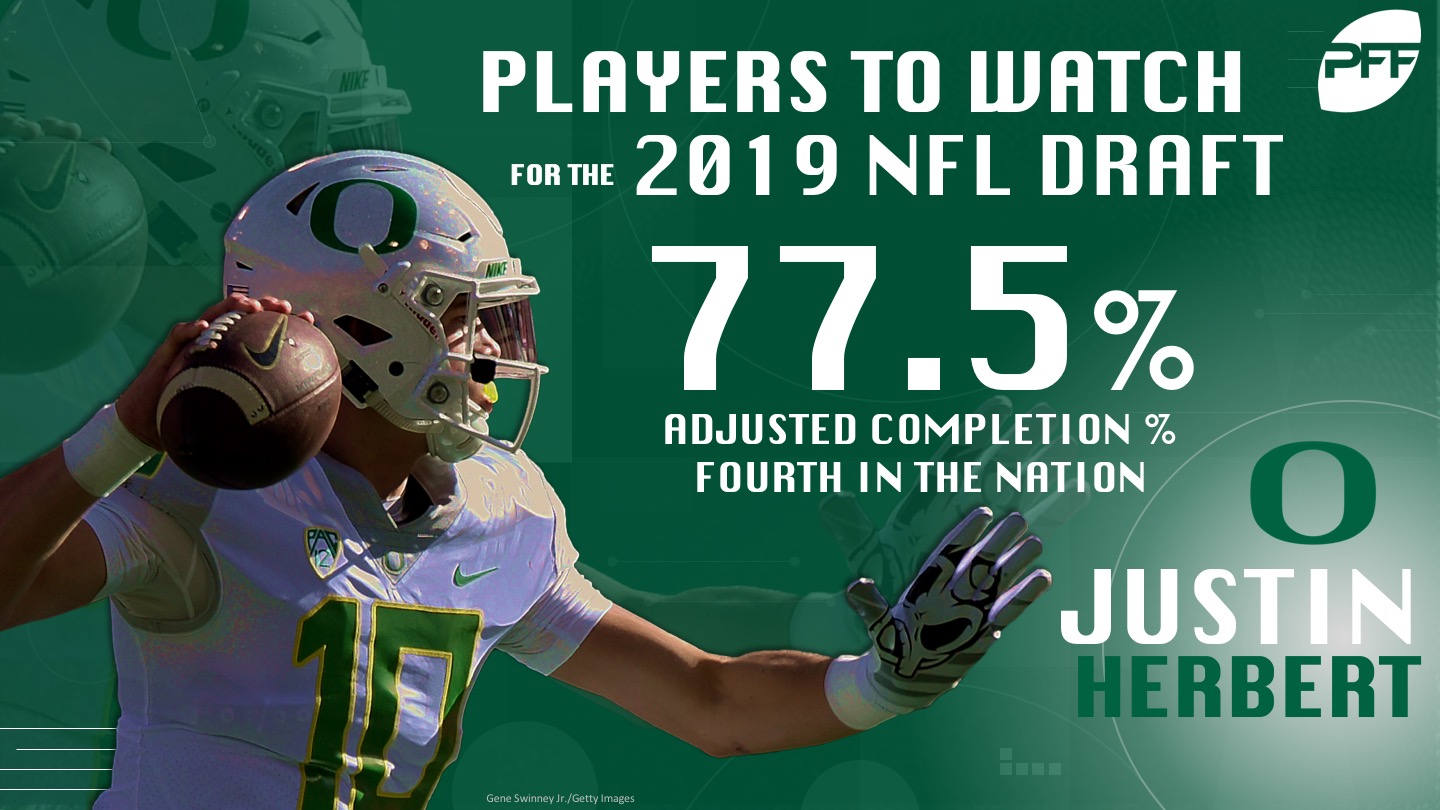 Justin Herbert, Oregon, 87.2 overall grade: The early favorite to be the top quarterback off the board, Herbert has a live arm and athleticism and he ranked fourth in the nation with an adjusted completion percentage of 77.5 last season.
Will Grier, West Virginia, 91.7 overall grade: Grier had a breakout 2017 season, ranking fourth in the nation with 1,506 yards on deep passes in West Virginia's aggressive, downfield system.
Ryan Finley, NC State, 89.5 overall grade: Finley doesn't have a cannon for an arm, but he's a good decision-maker and he can throw with touch to all levels of the field. He ranked 21st in the nation in adjusted completion percentage on deep passes a year ago (48.1 percent).
Drew Lock, Missouri, 85.0 overall grade: Lock has progressed nicely, from a 44.5 overall grade in 2015, to 76.2 in 2016 to 85.0 last season. He has a chance to take a big step forward next season, especially with a new offensive system that will incorporate more pure dropback style concepts rather than the simplified offense he's run the last three years. Lock has one of the best pure arms in the nation.
Shea Patterson, Michigan, 82.4 overall grade: Patterson is a dynamic playmaker, both as a passer and with the ball in his hands, and his transfer to Michigan should help him show off his ability to make plays from the pocket. He tied for 29th in the nation with an adjusted completion percentage of 73.9 last season.
Running Back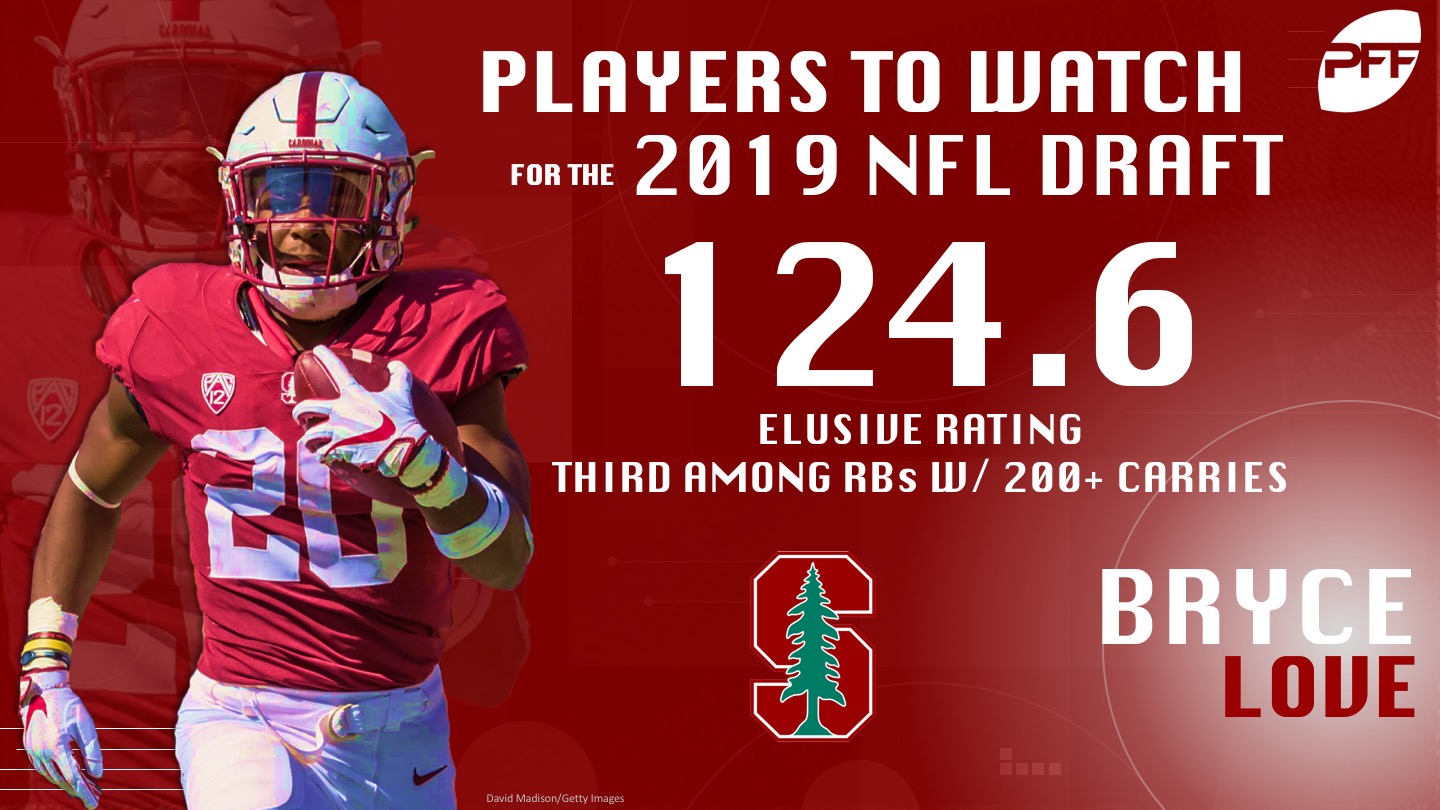 Bryce Love, Stanford, 90.5 overall grade: Love was one of the nation's top big-play threats before injuries slowed him down late in 2017. His elusive rating of 124.6 ranked third in the nation among running backs with at least 200 carries.
David Montgomery, Iowa State, 92.1 overall grade: Don't let the traditional stats fool you, Montgomery did as much independently of his offensive line as any running back in the country last season. He led the nation with 86 missed tackles forced on the ground while ranking second with 23 forced misses as a receiver.
Devin Singletary, Florida Atlantic, 92.6 overall grade: Singletary has the highest single-season grade among returning running backs as he ranked third in the nation with 83 missed tackles forced while ranking 12th in the nation with an elusive rating of 112.5.
Wide Receiver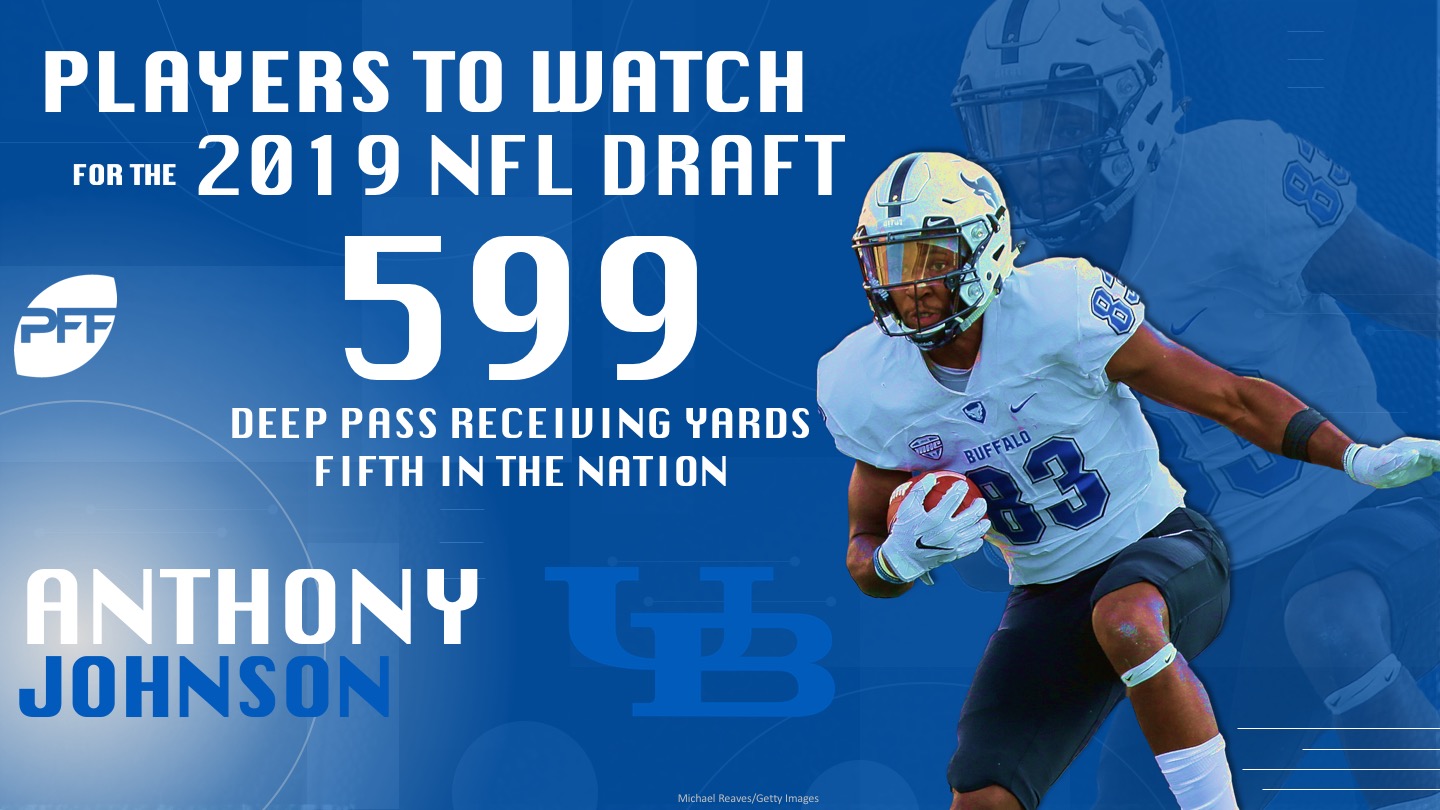 Anthony Johnson, Buffalo, 90.2 overall grade: Johnson posted the highest grade in next year's draft class while ranking fifth in the nation with 599 yards on deep passes and forcing an impressive 18 missed tackles on his 77 catches.
Deebo Samuel, South Carolina, 85.5 overall grade (2016): Limited to only 146 snaps a year ago, Samuel will look to regain his 2016 form that saw him force 18 missed tackles on only 59 catches. When healthy, he's an explosive, slippery athlete as a route runner and in space.
A.J. Brown, Ole Miss, 85.3 overall grade: Brown's 674 yards after the catch ranks second among all returning wide receivers as he forced 23 missed tackles and averaged 16.7 yards/reception last season.
N'Keal Harry, Arizona State, 86.7 overall grade: Harry followed up a strong true freshman season with an even better sophomore campaign as he uses his big, 6-foot-4 frame extremely well in contested situations.
Tight End
Caleb Wilson, UCLA, 93.4 overall grade: Wilson was the nation's top tight end before going down due to injury in Week 5. He has a good feel for working the middle of the field and his 2.44 yards per route ranked eighth in the nation last season.
Offensive Line
OT Jonah Williams, Alabama, 81.1 overall grade: Williams stepped right in as a productive right tackle as a true freshman in 2016 and he was solid when moving to left side last year. He's surrendered five sacks, four QB hits and 21 hurries on 899 pass-blocking attempts.
OT Greg Little, Ole Miss, 85.0 overall grade: Little was solid as a true freshman and he looked much more like a 5-star recruit last season, allowing only 14 total pressures on 500 pass-blocking attempts.
OT Bobby Evans, Oklahoma, 86.9 overall grade: Right there with his teammate, Orlando Brown, in grading, Evans allowed only 12 pressures last season while continuing to improve in the run game.
OT Max Scharping, Northern Illinois, 89.5 overall grade:  Scharping has graded between 85.5 and 89.5 in each of the last three seasons, and he has NFL size at 6-foot-6, 320 pounds. He's allowed only 11 pressures over the last two seasons combined.
OT Dalton Risner, Kansas State, 91.3 overall grade: With back-to-back campaigns over 90.0-plus and a 2015 season grading at 85.8 at center, Risner has been one of the most productive offensive linemen in the PFF era. He may be better off on the inside at the next level, and another strong year will solidify his position as a player to watch for the 2019 NFL draft.
Edge Defender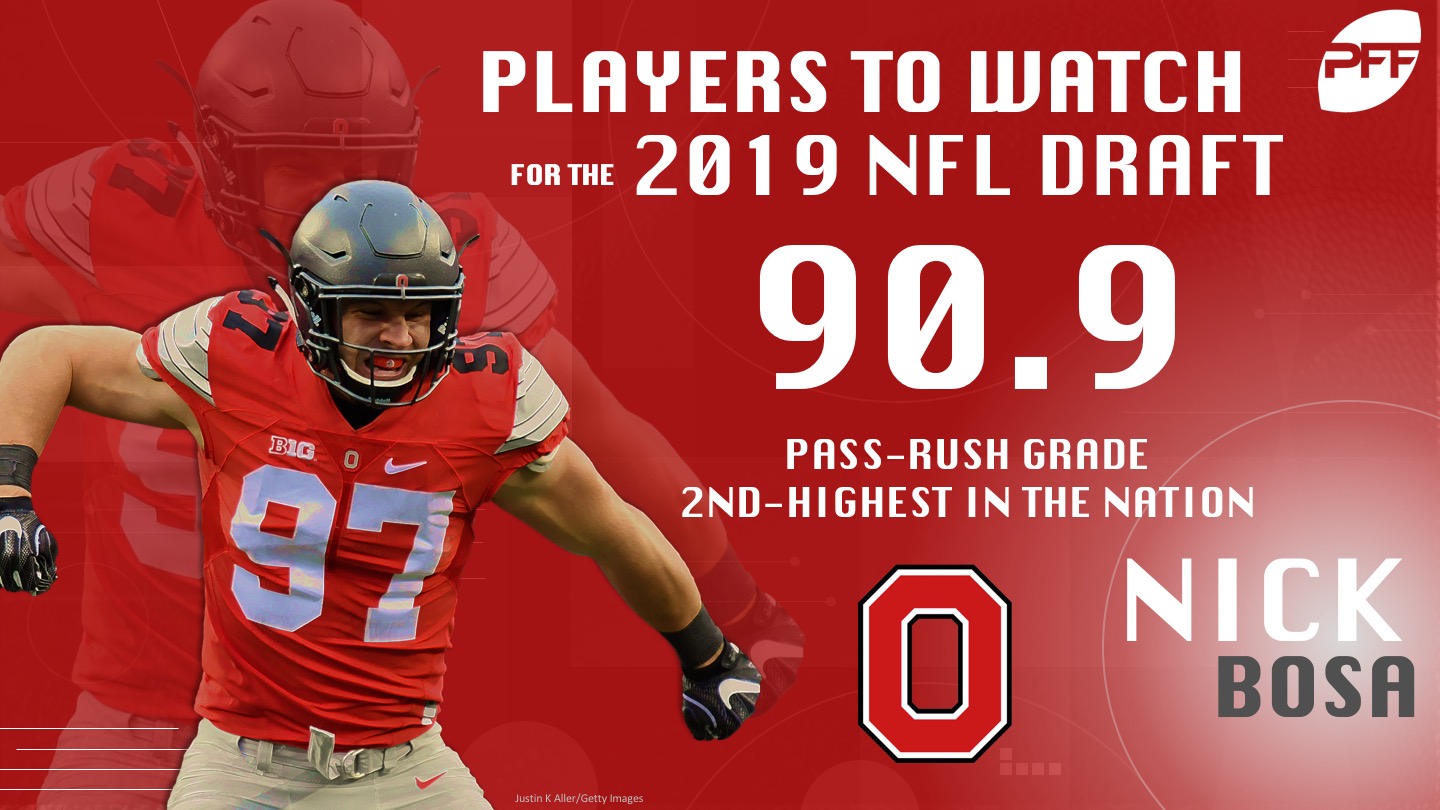 Nick Bosa, Ohio State, 92.7 overall grade: The Bosas continue to churn out top-notch football players as Nick's 92.2 grading is right there with brother Joey who was dominant in college and carried that into the NFL. His 90.9 pass-rush grade ranked second in the nation last season, and he should be in the top-10 conversation for next season.
Jalen Jelks, Oregon, 88.6 overall grade: Jelks excelled in a challenging role, often taking on much bigger guards on the interior in the run game, but his 87.3 pass-rush grade ranked fifth among interior defensive lineman and he projects as an edge at the next level.
Chase Winovich, Michigan, 89.5 overall grade: After an excellent 2016 season in a part-time role, Winovich was one of the nation's bets edge defenders in full-time role on 739 snaps last season. His two–year totals – 16 sacks, 22 QB hits, 46 hurries on 559 rushes – are outstanding.
Sutton Smith, Northern Illinois, 95.4 overall grade: This will be a fascinating evaluation. Smith posted the best overall season we've seen from an edge defender in four years, but he did it at linebacker size at 6-foot, 225 pounds. He may have to become a traditional linebacker at the next level, but his feel for beating blocks and getting to the quarterback could become a next-level weapon in the proper role. He picked up 16 sacks, 14 QB hits and 64 hurries on only 439 rushes.
Malik Reed, Nevada, 89.0 overall grade: Reed has continued to grow in all phases and 2017 was by far his best season as a pass-rusher as he picked up nine sacks, eight QB hits and 24 hurries on only 286 rushes.
Defensive Interior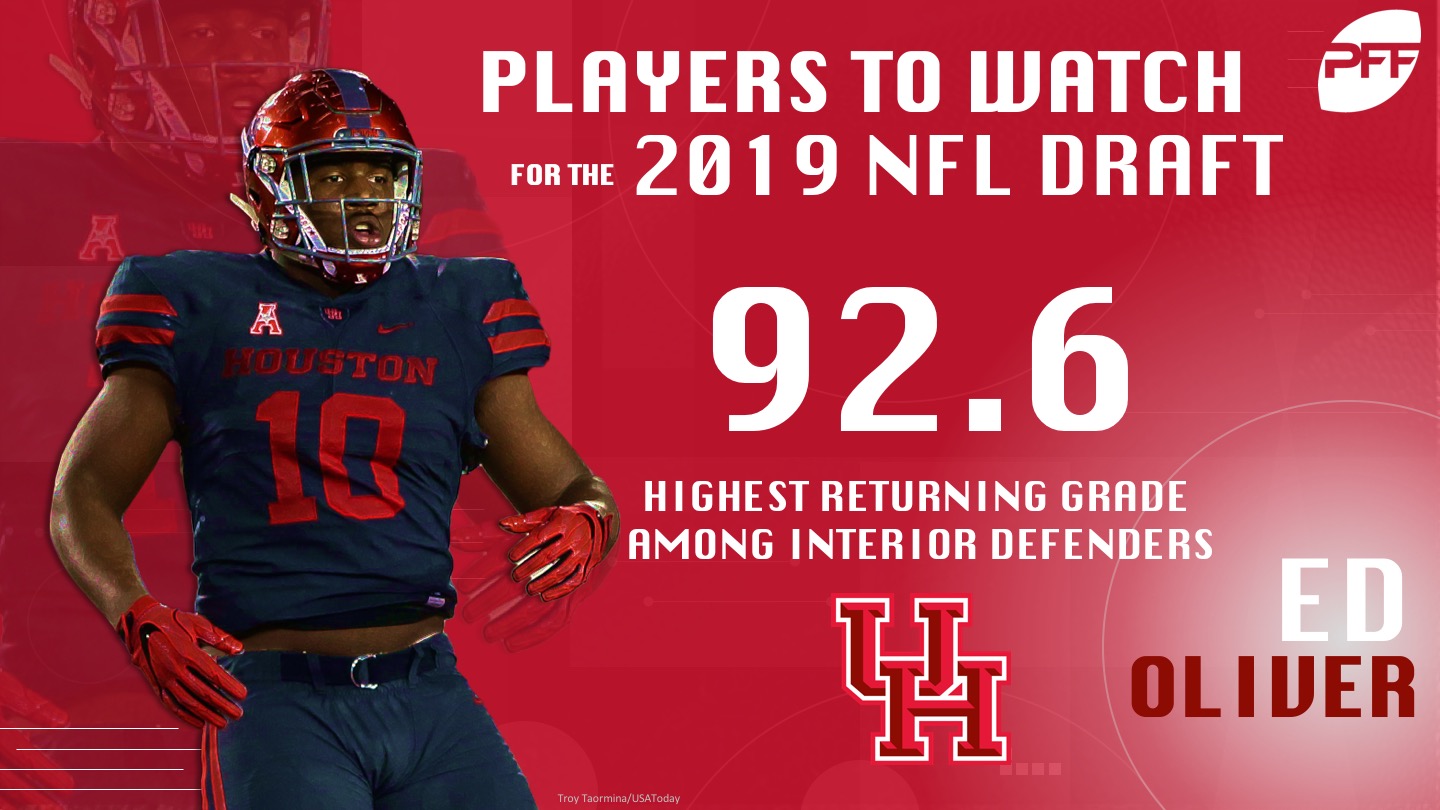 Ed Oliver, Houston, 92.6 overall grade: A projected top-five pick, Oliver has been dominant against the run in his first two years, with a 94.7 grade in 2017 and 88.1 grade as a true freshman in 2016. Keep an eye on his pass-rushing as he must improve upon last year's 80.9 grade in order to be worthy of a first-round selection.
Jeffrey Simmons, Mississippi State, 88.2 overall grade: On the field, Simmons looks like a future first-rounder as he had the No. 2 pass-rush productivity in the nation at 11.5 (behind only Michigan's Maurice Hurst) while proving disruptive in the run game.
Dexter Lawrence, Clemson, 83.6 overall grade: Lawrence actually graded better as a true freshman (87.1 overall), but he's a force in the run game and his 11 sacks, 12 QB hits and 43 hurries on 554 career rushes may be enough to show that he can rush the passer at the next level.
Christian Wilkins, Clemson, 82.7 overall grade: Wilkins has never had the production truly match the first-round hype, but he's been productive in multiple roles in Clemson's defense. He must improve upon his pass-rush productivity of 5.4 that ranked 119th among interior defensive linemen.
Dre'Mont Jones, Ohio State, 82.2 overall grade: Jones was a monster in Ohio State's opener against Indiana, picking up seven of his 22 pressures on the season. He must improve his week-to-week production next season.
Derrick Brown, Auburn, 84.7 overall grade: At 6-foot-5, 316 pounds, Brown will have the NFL's attention on size alone, but his 864 career snaps have started out strong as he's been good against the run and efficient as a pass-rusher, grading at 81.5 last season.
Raekwon Davis, Alabama, 83.1 overall grade: Davis is a massive human at 6-foot-7, 306 pounds and he only has 523 career snaps to his name. Like most Alabama interior defensive linemen, he's done his best work against the run, and he needs to show that he can get after the quarterback more consistently next season.
Linebacker
Joe Giles-Harris, Duke, 90.4 overall grade: The nation's No. 1-graded linebacker a year ago, Giles-Harris was a force against the run and strong in coverage on his way to the fifth-most stops in the nation with 66.
Devin Bush, Michigan, 88.1 overall grade: Bush made plays all over the field, missing only three tackles on 94 attempts while notching an impressive seven sacks, three QB hits, and 16 hurries on 99 rushes.
Cornerback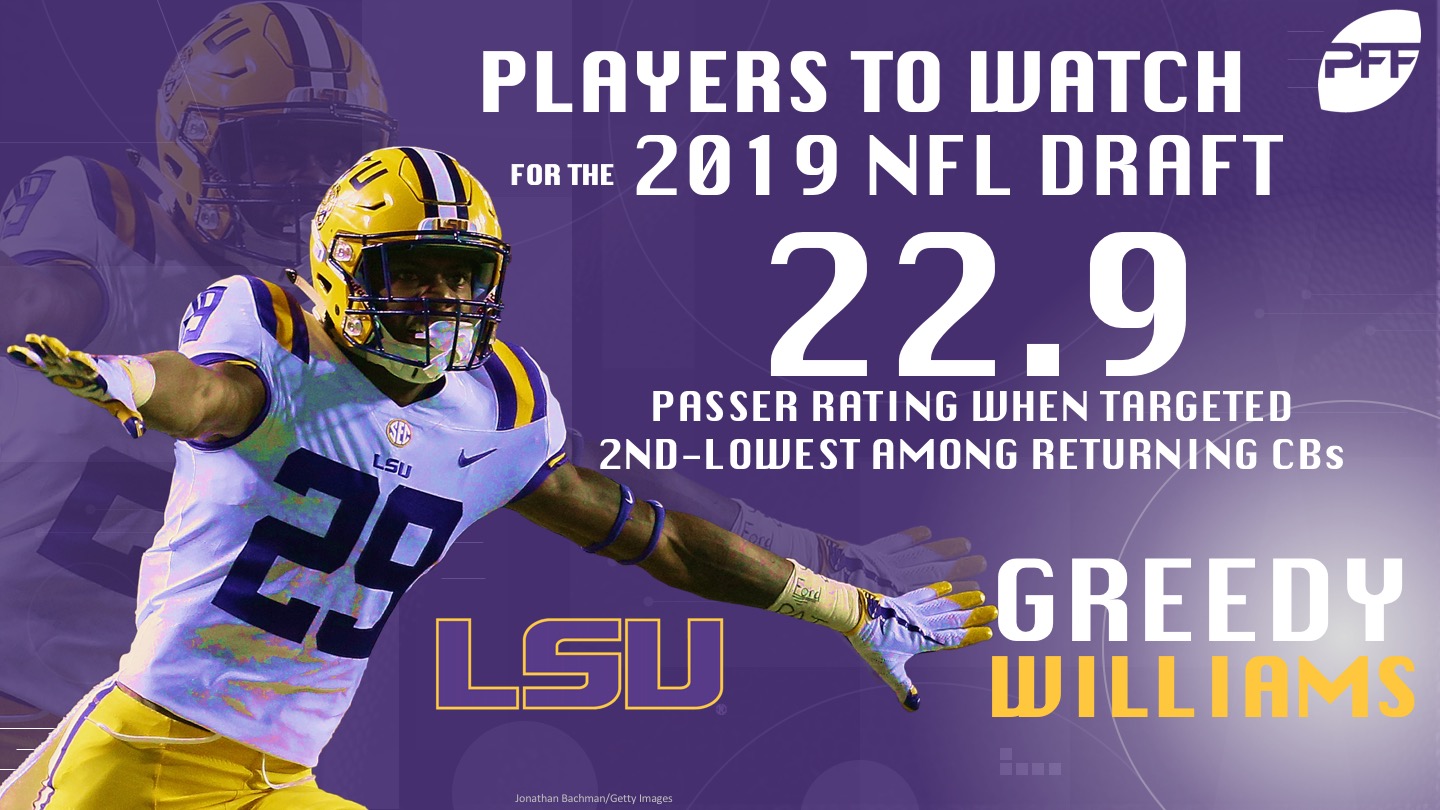 Andraez 'Greedy' Williams, LSU, 86.3 overall grade: Only a redshirt freshman a year ago, Williams allowed the second-lowest passer rating in the nation at 22.9, picking off six passes and deflecting nine. His 6-foot-2 frame may cause the NFL to fall in love with long corners once again.
Mark Gilbert, Duke, 87.6 overall grade: Gilbert had a breakout 2017 season, intercepting six passes and breaking up 10 on only 60 targets while allowing only 38.3 percent completions into his coverage. His 6-foot-1 frame will put him on the NFL's radar.
Jordan Wyatt, SMU, 85.8 overall grade: Wyatt has been a playmaker for SMU for the last two years, picking off eight passes and breaking up 10 more.
Deandre Baker, Georgia, 87.1 overall grade: Baker allowed a passer rating of only 32.7 when targeted, fourth-best in the nation about cornerbacks with at least 60 targets. He didn't allow a touchdown while picking off three passes and deflecting 10.