Quarterback overview
Western Kentucky quarterback Mike White received little of the quarterback attention during the week in Mobile but he was one of the star quarterbacks of the game. White looked crisp throwing to the intermediate and deep levels, completing both of his passes under pressure and looked to be in full command of the two-minute offense. White's performance in the game will have NFL teams giving greater credence to his 2016 film than his 2017 film under the new coaching staff.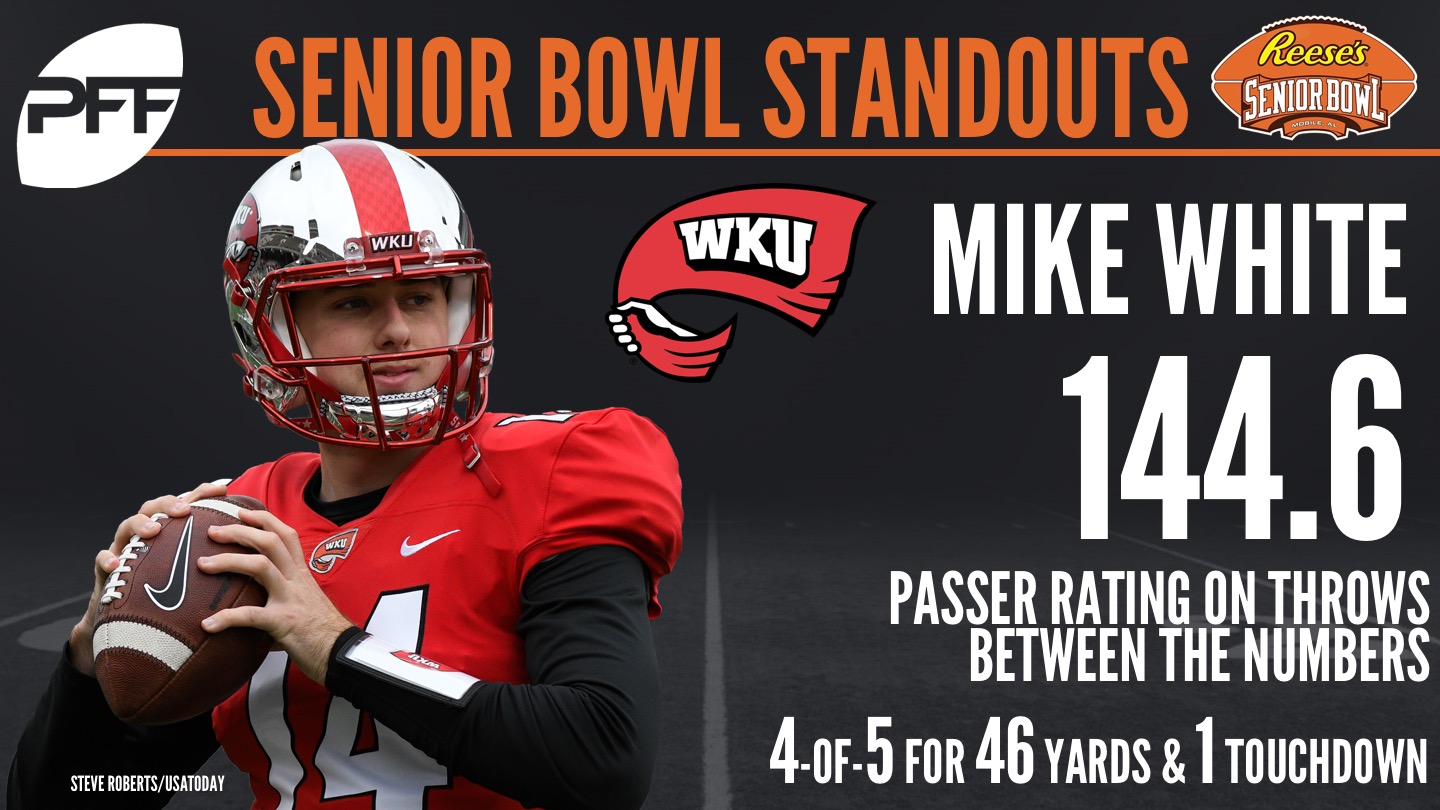 Richmond quarterback Kyle Lauletta finished up the week of practice with an impressive showing of red zone accuracy. During the game, he showed that was not an exception, consistently making accurate red zone throws including one play in which he was forced to leave the pocket and quickly re-set his feet. Lauletta completed both of his deep passes including one to UCF's Tre'Quan Smith streaking down the sideline. Lauletta was also highly effective to the intermediate depth as he completed 4-of-5 passes targeted between 10-19 yards downfield.
Wyoming quarterback Josh Allen was a tale of two halves. In the first half, Allen missed badly on a vertical throw and made more plays with his legs than his arm. In the second half, he threw three deep vertical routes to his right with excellent touch and placement, including two for touchdowns. The three throws were somewhat reminiscent of each other and of a hot jump-shooter returning to his favorite spot on the floor.
Top-graded quarterbacks:
1. Josh Allen – 80.9 overall grade
2. Kyle Lauletta – 76.6 overall grade
3. Mike White – 76.1 overall grade
Running back overview
San Diego State running back Rashad Penny showed his breakaway ability and displayed his potential mismatch against linebackers in coverage, as he caught and ran for a 73-yard touchdown including 57 yards of which came after the catch. He also displayed speed to the corner on outside runs.
Arizona State running back Kalen Ballage's physicality became clearly evident when full-contact game action began. He exploded into more than one tackler falling forward for extra yardage as Ballage generated 28 yards after contact on his 10 carries. Ballage also forced two missed tackles and his speed, power, physicality and receiving ability drew a lot of notice this week.
Top-graded running backs:
1. Rashaad Penny – 78.4 overall garde
2. Kalen Ballage – 72.4 overall grade
3. Akrum Wadley – 70.2 overall grade
Wide receiver overview
LSU wide receiver D.J. Chark showed that he can make an impact on his NFL team in a myriad of ways. Chark showed the open-field running ability to be used on run plays and end arounds, forcing two missed tackles on the ground. He also displayed his receiving prowess catching five of his seven targets for 160 yards including 65 yards after the catch. Chark even made a special teams tackle showing he can help a NFL team from Day 1. Chark helped himself in both practices and ultimately in the game.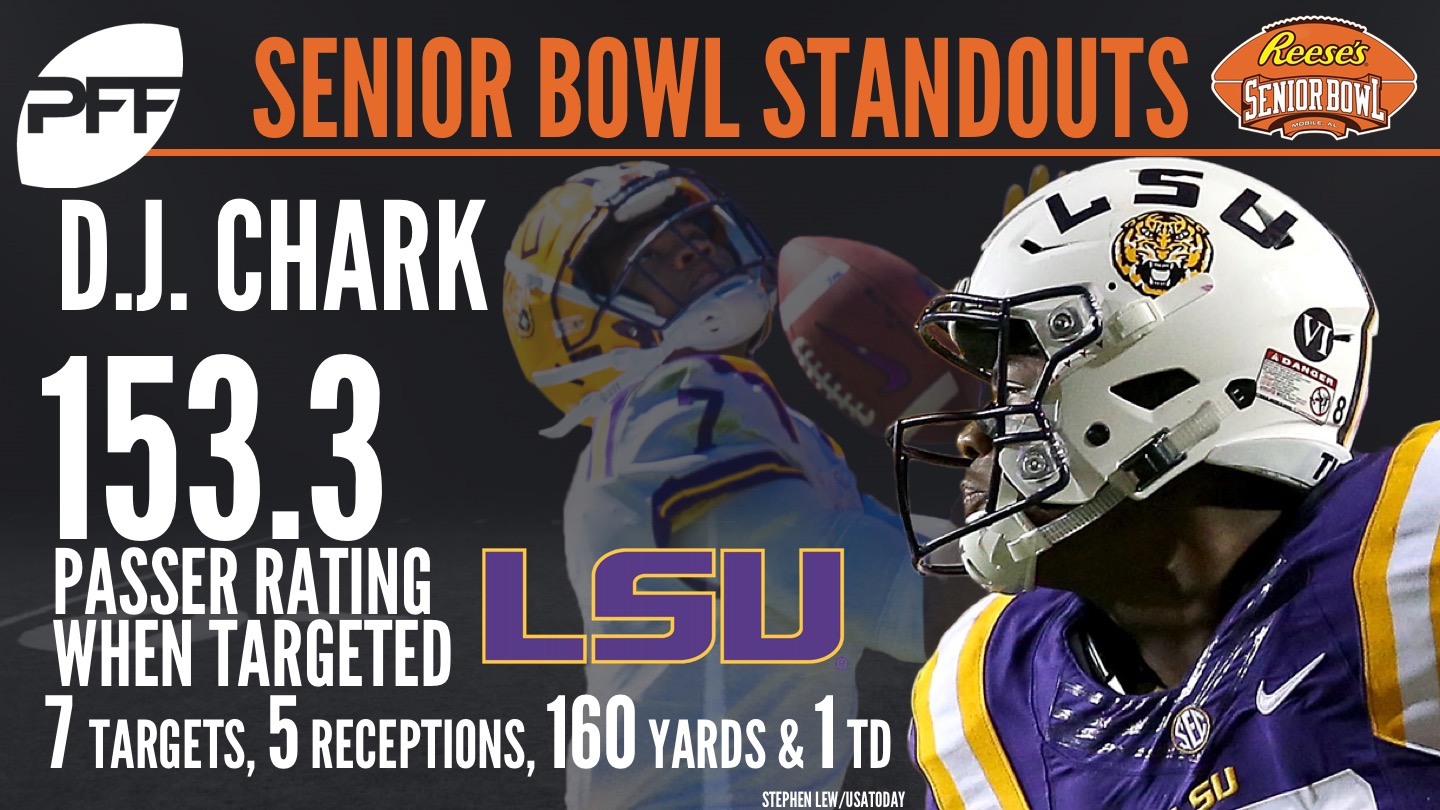 Colorado State WR Michael Gallup showed the physicality to come down with contested catches and that he he could take a hit and hold onto the ball. Gallup's combination of physicality and speed were evident all week in Mobile, including the game.
Top-graded wide receivers:
1. D.J. Chark – 85.6 overall grade
2. Tre'Quan Smith – 83.0 overall grade
3. Michael Gallup – 77.6 overall grade
Top-graded tight ends
1. Durham Smythe – 81.9 overall grade
2. Mike Gesicki – 80.5 overall grade
3. Ian Thomas – 76.6 overall grade
Top-graded offensive linemen:
1. Sean Welsh – 84.8 overall grade
2. Will Hernandez – 81.4 overall grade
3. Cole Madison – 79.9 overall grade
[Editor's Note: The 2018 NFL Draft Guide is coming. For PFF Edge & Elite subscribers, a comprehensive guide featuring player profiles of signature stats, grades and exclusive PFF content will be released on February 19.]
Interior defender overview
Virginia DT Andrew Brown was a force during practices and was also disruptive in the game, batting down a Baker Mayfield pass, blowing up a run play and generating a pressure that led to a Poona Ford cleanup sack. Brown finished the game with three hurries, one batted pass and three defensive stops.
Top-graded interior defenders:
1. Poona Ford – 78.8 overall grade
2. Andrew Brown – 78.6 overall grade
3. Justin Jones – 77.0 overall grade
Edge defender overview
UTSA edge defender Marcus Davenport collected a sack on Mayfield as Mayfield moved up in the pocket. Davenport also generated another four pressures to go along with that sack on his 25 pass-rushing snaps and was the recipient of a fumble recovery that he took for a touchdown.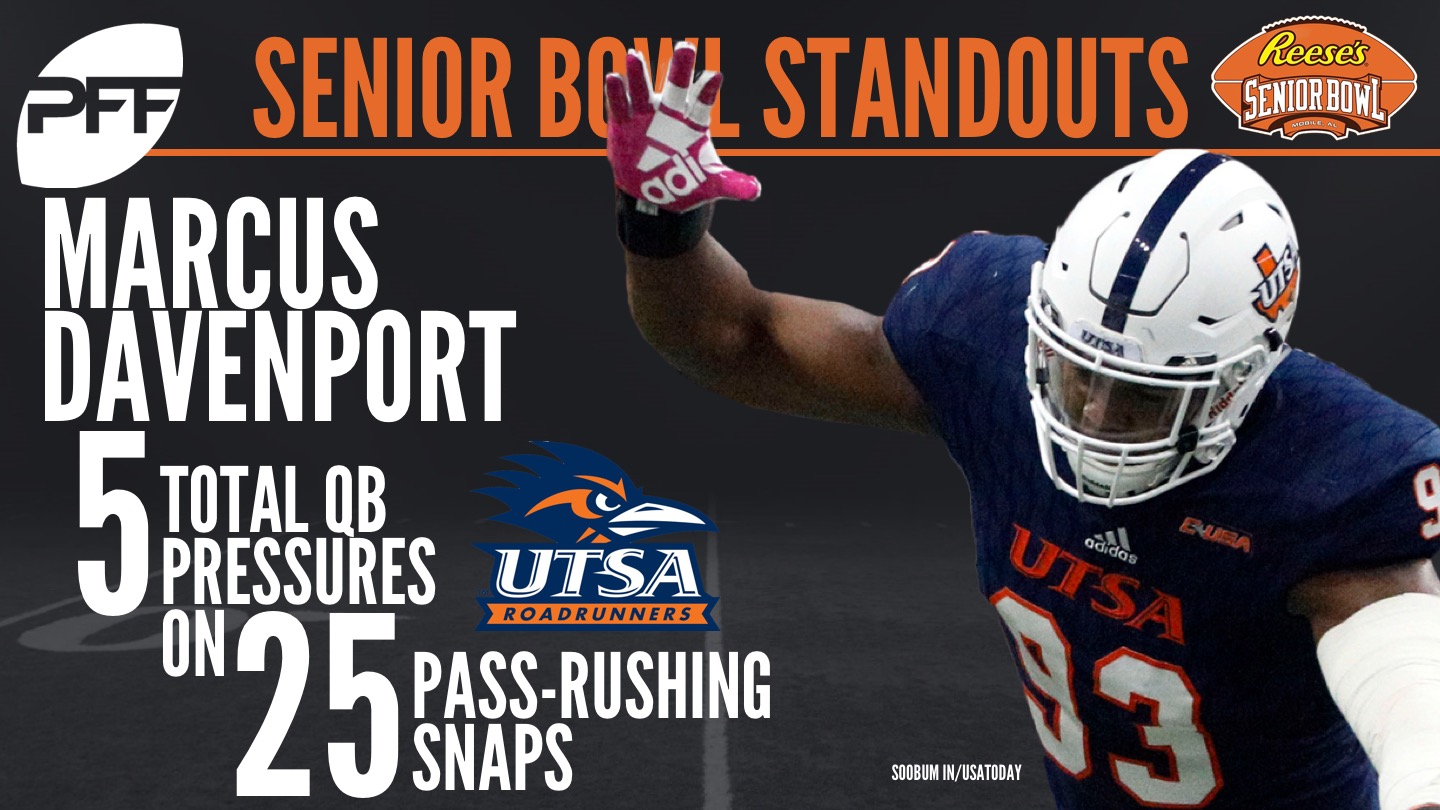 Oklahoma edge defender Ogbonnia Okoronkwo finished up a strong practice week rushing the passer by replicating his ability to dip around a tackle for a sack in the game. Okoronkwo also showed off a hard inside move for another sack. He showed both in practices and in the game that he can be a productive "change of pace" pass-rusher who plays with a lower-than-normal pad level which makes it difficult for tackles to block him at times. Okorokwo totaled two sacks and five hurries on his 15 pass-rushing snaps.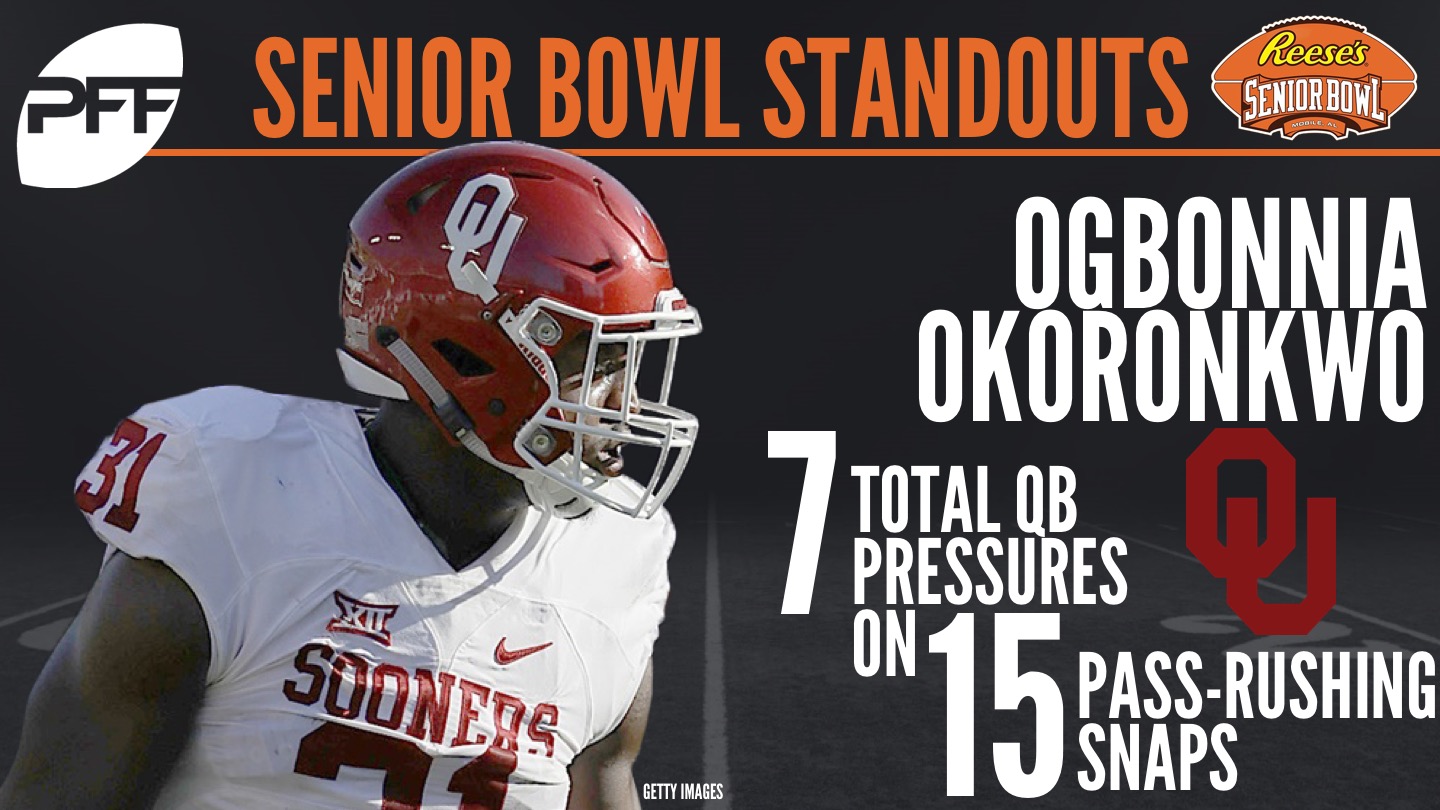 Top-graded edge defenders:
1. Ogbonnia Okoronkwo – 89.0 overall grade
2. Marcus Davenport – 84.0 overall grade
3. Tyquan Lewis – 83.4 overall grade
Linebacker overview
South Carolina State linebacker Darius Leonard stood out to our analysts this week and plays like an NFL linebacker. He made plays in coverage in practice and he graded positively both as a run-defender and in coverage in the game even though he did surrender a touchdown, his coverage was tight. Leonard had six defensive stops in the game.
Top-graded linebackers:
1. Mike McCray – 83.2 overall grade
2. Darius Leonard – 81.9 overall grade
3. Oren Burks – 79.5 overall grade
Secondary overview
South Alabama safety Jeremy Reaves showed out in his home stadium as he was impressive in coverage. He was targeted six times but only allowed three catches and he also broke up a pass and intercepted another. Reaves chipped in with another three defensive stops, rounding out his game.
Top-graded defensive backs:
T1. Jeremy Reaves – 85.1 overall grade
T1. Isaac Yiadom – 85.1 overall grade
3. Trayvon Henderson – 80.1 overall grade

Quick hitters
UCF WR Tre'Quan Smith caught all five of his targets including a touchdown.
Ohio State edge Tyquan Lewis had a highly productive pass-rushing game as he collected one sacks and five hurries on his 22 pass-rushing snaps.
Boston College CB Isaac Yiadom was targeted three times in the game and didn't allow a catch.
Mississippi edge Marquis Haynes quickly beat Army tackle Brett Toth outside for a strip-sack and  also had another two hurries on his 18 pass-rushing snaps.
Oregon LS Tanner Carew was one of the more effective players in the game not only handling his long snapping duties effectively but also making special teams tackles and downing a punt.