Quarterback overview
Oklahoma QB Baker Mayfield was the best quarterback during Senior Bowl practices as his accuracy was a step above his counterparts and he consistently displayed an ability to throw with anticipation before his wide receiver made a break on the ball. Mayfield also displayed some of the practice traits that teams will want to see from their leaders such as encouraging and congratulating his teammates and quickly moving from drill to drill.
While Mayfield continues to be a polarizing prospect in the scouting community he definitely helped his draft stock by showing up to the Senior Bowl and performing well in practices. Washington State QB Luke Falk also helped himself in Mobile and was highly effective in red zone work and performed well despite his injured wrist still protected by a brace. He continued his prowess on play action, showing that his 26.5 percent boost in completion percentage after a play fake during the season was no fluke.
QB Luke Falk on the move off of play action. He saw a 26.5% boost in his completion percentage after play action last year! #SeniorBowl pic.twitter.com/HyqZXQOTa7

— Pro Football Focus (@PFF) January 25, 2018
Pass-catchers steal the show
Iowa State WR Allen Lazard had his best day of practice on Thursday and really stood out among both team's wide receiver groups. Lazard had a strong day in red zone drills against defensive backs displaying good hands and body control to go along with his physicality.
Allen Lazard of Iowa State going up against Michael Joseph of Dubuque in the red zone pic.twitter.com/pU6doXUlO5

— Pro Football Focus (@PFF) January 25, 2018
Lazard also caught a nice dig route from Mayfield. Penn State's DaeSean Hamilton stood out with several nice catches on Thursday including a touchdown over Michael Joseph from Mayfield in 7-on-7 red zone drills. Boise State WR Cedrick Wilson caught two nice touchdowns in the back of the end zone on Thursday and LSU's DJ Chark had a nice diving catch in 2-minute drill and another in the end zone to go along with some other nice plays on the day.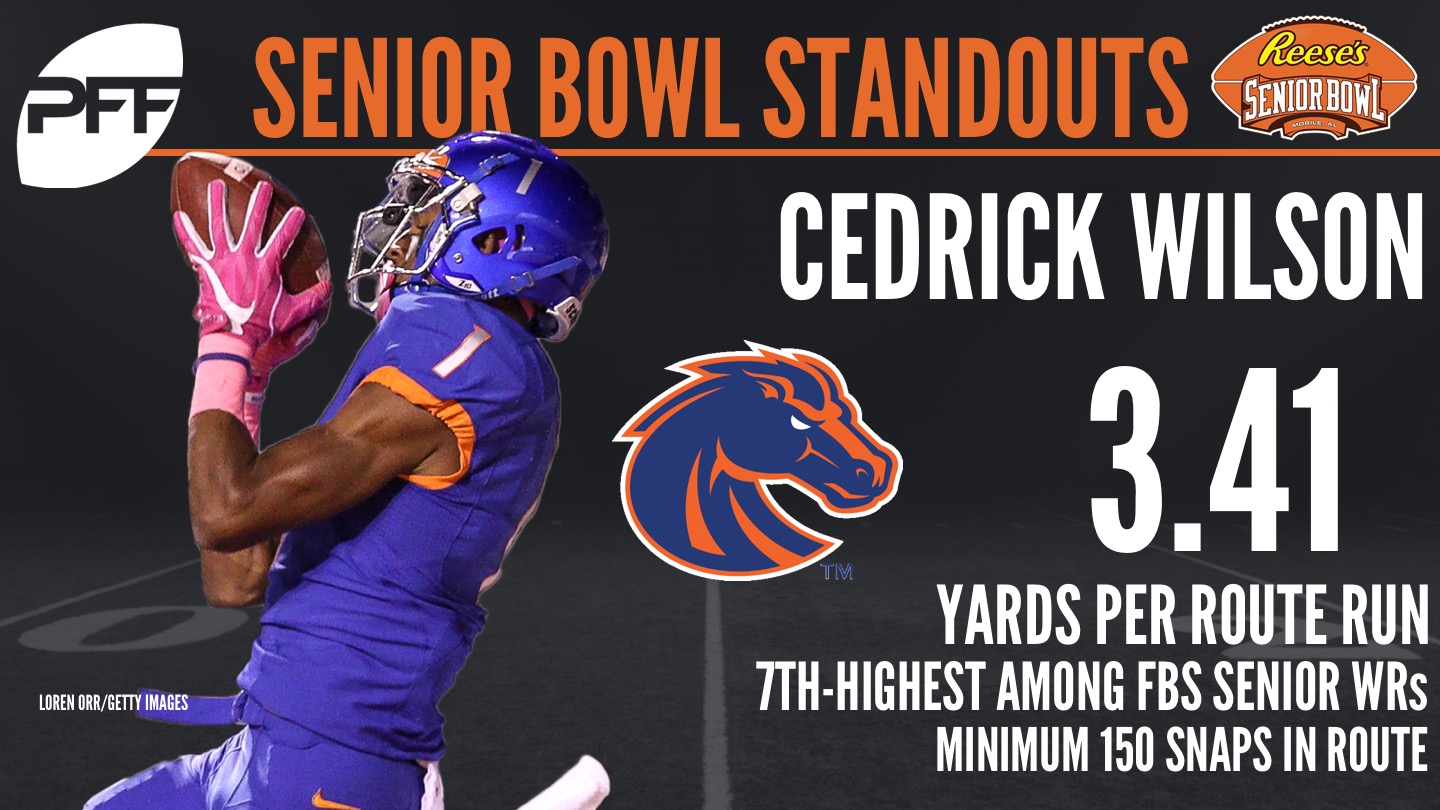 The tight end that stood out the most on Thursday was Penn State's Mike Gesicki. Gesicki beat West Virginia safety Kyzir White for a nice touchdown in red zone drills and caught a nice fade TD pass from Luke Falk.
[Editor's Note: The 2018 NFL Draft Guide is coming. For PFF Edge & Elite subscribers, a comprehensive guide featuring player profiles of signature stats, grades and exclusive PFF content will be released on February 26.]
On the defensive side of the ball
Oklahoma edge defender Ogbonnia Okoronkwo had another strong day rushing the passer due to his explosion and ability to dip around blockers. but the defensive player that flashed the most on Thursday was UCF LB Shaquem Griffin. His quickness and athleticism were on display in all phases of defensive play and on one specific rep, Griffin displayed a quick inside pass-rush move to beat Humboldt State's Alex Cappa for a sack. In red zone drills, Griffin quickly slid inside Indiana TE Ian Thomas's block to blow up a run.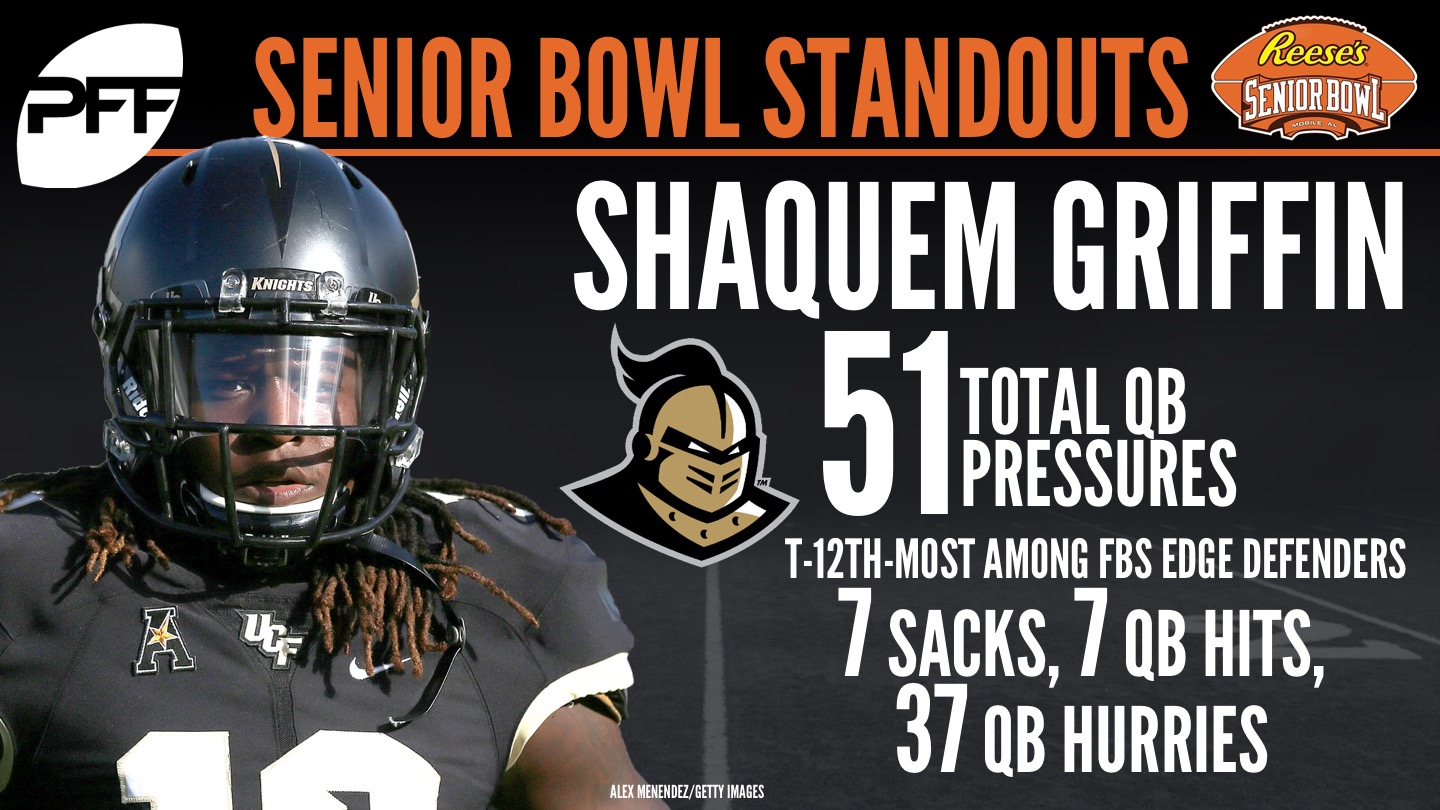 Penn State CB Christian Campbell displayed sticky coverage in red zone drills on Thursday while Hawaii safety Trayvon Henderson caught yet another interception as well.
Small school sleepers
PFF only grades FBS college games, which means the only grades we have for FCS players are typically from individual September games against FBS opponents. Because of this, we don't have the same depth of data for the small school players, however, several small school players stood out at one point or another in the week's practices including the aforementioned Cappa with some dominant 1-on-1 reps.
Weber State CB Taron Johnson had several pass breakups while South Carolina State LB Darius Lenoard repeatedly made plays in coverage on Thursday and broke up several passes himself. Maybe the highlight of the day for small school prospects was when Jacksonville State CB Siran Neal locked up Oklahoma State WR James Washington during 1-on-1 drills.
Jacksonville St. CB Siran Neal shutting down Oklahoma St. WR James Washington! ????#SeniorBowl pic.twitter.com/dgK9nHb72R

— Pro Football Focus (@PFF) January 25, 2018
North Dakota State LB Nick DeLuca also made plays in coverage on Thursday and while not an FCS player, lesser-known Georgia State CB Chandon Sullivan wasn't intimated by the FBS's top wide receivers and was very competitive in coverage. Richmond QB Kyle Lauletta displayed nice red zone accuracy on Thursday rounding out the afternoon's practice.