[Editor's note: This update piece was originally posted on Friday, March 2, and has been updated with each day's take from the Combine. For more, follow @PFF_College on Twitter.]
Pro Football Focus will be live at the 2018 NFL Scouting Combine all weekend with our analyst's takes on the participants as they run their on field workouts. With eyes on the 2018 NFL Draft, the combine is the next step for NFL teams looking to further their scouting reports on the top players across every position to build their franchises around.
That being said, we take a look at some of the notable performers from the first day of action on the field.
The 2018 NFL Draft Guide is here! For PFF Edge & Elite subscribers, a comprehensive guide featuring player profiles of signature stats, grades and exclusive PFF content including position by position rankings. Find out more information here and join PFF now!
Position ranks: QB | RB | WR | TE | OT | OG/C | EDGE | DI | LB | CB | S
Monday, March 5
---
Derwin James, S, Florida State
James measured in at 6-foot-1, 215-pounds with 33" arms but James is such a rare prospect that he can play edge rusher, linebacker or safety. We feel James can make an impact in a number of ways for his future defense and we have him listed as our No. 1 ranked safety. His 40-inch vertical leap and 11-foot broad jump showed that he possesses significant lower body explosion which helps him close on plays as a defender. James also ran a 4.48 40-yard dash and had 21 bench press reps of 225-pounds, showcasing his all-around athletic ability. – @PFF_Jordan
Denzel Ward, CB, Ohio State
Ward – our No. 3 ranked cornerback – showed off his track speed in the 40-yard dash buy notching a time of 4.32. He didn't do any of the on the field drills and will wait until his pro day due to a lingering ankle issue. However, Ward showed he has the athletic ability to play outside cornerback or in the slot. On film, he consistently showed sticky coverage on the outside and was targeted 57 times in 2017 yet allowed only 20 passes to be caught while he intercepted two and broke up another 12. Ward's elite speed along with his production makes him an attractive first round option. – @PFF_Jordan
Mike Hughes, CB, UCF
Hughes – our No. 5 ranked cornerback – displayed quick feet and smooth change of direction ability during field drills although he didn't look as fluid as he did in game action. Hughes ran a 4.53 40-yard dash showing he has the speed to play on the outside. He is a playmaker on the field and had four interceptions and nine pass breakups in 2017. Hughes only allowed a passer rating of just 35.5 when targeted in 2017, surrendering only 273 yards in coverage all season. He has the physical tools and ability to play inside in the slot or outside in the NFL. – @PFF_Jordan
Isaiah Oliver, CB, Colorado
Oliver is a track athlete at Colorado in addition to a starting cornerback and his testing numbers did not disappoint. Oliver – our No. 6 ranked cornerback – ran a 4.50 40-yard dash and stood 6-foot tall and weighed 201-pounds with 33-inch arms. He can use his big frame and long arms to make plays on the ball and has 23 career pass break-ups. Oliver also moved the best of the big corners during on the field drills. – @PFF_Jordan
Jaire Alexander, CB, Louisville
Alexander turned in one of the better looking field workouts among the cornerback group that featured a number of future high draft picks. Alexander also showed off his long speed with a 4.38 40-yard dash. He came into the week as our No. 11 ranked cornerback among a talented group but his strong combine performance has his arrow pointing up. – @PFF_Jordan
Troy Apke, S, Penn State
Apke started the safety group off with a bang as he ran a 4.35 40-yard dash to pace the group. He is having a strong draft season as he was one of the standouts of the NFLPA Bowl where he had an interception and two run stops. Apke graded positively on the year both in coverage and as a run defender and  was at his best when he was covering in the slot last year as he was only targeted once for every 8.8 coverage snaps which tied him at No. 19 among all draft-eligible defensive backs. Apke's workout results will have talent evaluators going back to his film to see if his athleticism was that evident in his on the field play. – @PFF_Jordan
Sunday, March 4
---
Tremaine Edmunds, LB, Virginia Tech
Edmunds is such a unique prospect that evaluators have a difficult time trying to find an apt player comparison. Edmunds is still only 19 years old and measured in at 6-foot-5, 253-pounds at the combine. Edmunds showed he can also move that big frame very well and ran a 4.54 40-yard dash and covered ground quickly and smoothly in field drills. He is our No. 2 ranked linebacker prospect and shouldn't make it out of the top half of the first round of the draft. – @PFF_Jordan
Leighton Vander Esch, LB, Boise State
Vander Esch is an early entry to the draft with limited playing time at Boise State. However, he was extremely productive a season ago, especially as a run defender and his 57 run stops and run-stop percentage of 15.9 in 2017 both ranked No. 1 among all FBS inside linebackers. Vander Esch came into the combine as our No. 3 ranked linebacker and a player we compared to former Minnesota Vikings' linebacker Chad Greenway. Vander Esch measured in at 6-foot-4 and weighed an impressively lean 256-pounds so he is actually a bit bigger than Greenway was at the combine. Vander Esch ran an impressive 4.65 40-yard dash which backed up the range he showed during game action. – @PFF_Jordan
Leon Jacobs, LB, Wisconsin
So much of the attention during today's workout was rightfully on Shaquem Griffin and the Georgia defensive duo, but Jacobs' official 4.48 40 time was second-best in the group. He was a jack-of-all-trades at Wisconsin this past season as he posted grades north of 79.0 in all three defensive facets. He posted 34 total pressures and 38 total defensive stops with just five missed tackles in 2017, and over the course of his four-year career at Wisconsin, Jacobs surrendered a passer rating against of just 65.6 on throws into his coverage. – @PFF_Josh
Marcus Davenport, edge, UTSA
Davenport is a long-time PFF favorite and our No. 4 ranked edge defender in the draft class. His length was always apparent on film and he measured in at 6-foot-6, 264-pounds at the combine with 33 5/8-inch arms. In Indianapolis, Davenport's athleticism was fully on display and looked looked outstanding in the field drills, showing a burst off the edge and fluid movement ability. Davenport also ran a blazing fast 40-yard dash for a defensive lineman at 4.58 and also posted a 10'4″ broad jump. Davenport has helped himself this draft season with a strong Senior Bowl week which put him on our list of the 15 prospects who helped themselves at the Senior Bowl and now backed that up with his impressive combine performance. – @PFF_Jordan
Genard Avery, LB, Memphis
Avery's impressive week in Indy will have some scrambling to watch his film for the first time, but he's a prospect we've been high on throughout the season. Weighing in at 250-pounds, he benched 225-pounds 26 times on Saturday, and on Sunday, showed off his speed and explosiveness with a 4.60 40-yard dash. His specialty at Memphis was his pass-rush ability, as put up an impressive 57 total pressures in 2017 with nine sacks and 14 QB hits. He tallied at least five pressures in seven different games last season, including a two-sack, four-hit, three-hurry performance against Iowa State in the Liberty Bowl. – @PFF_Josh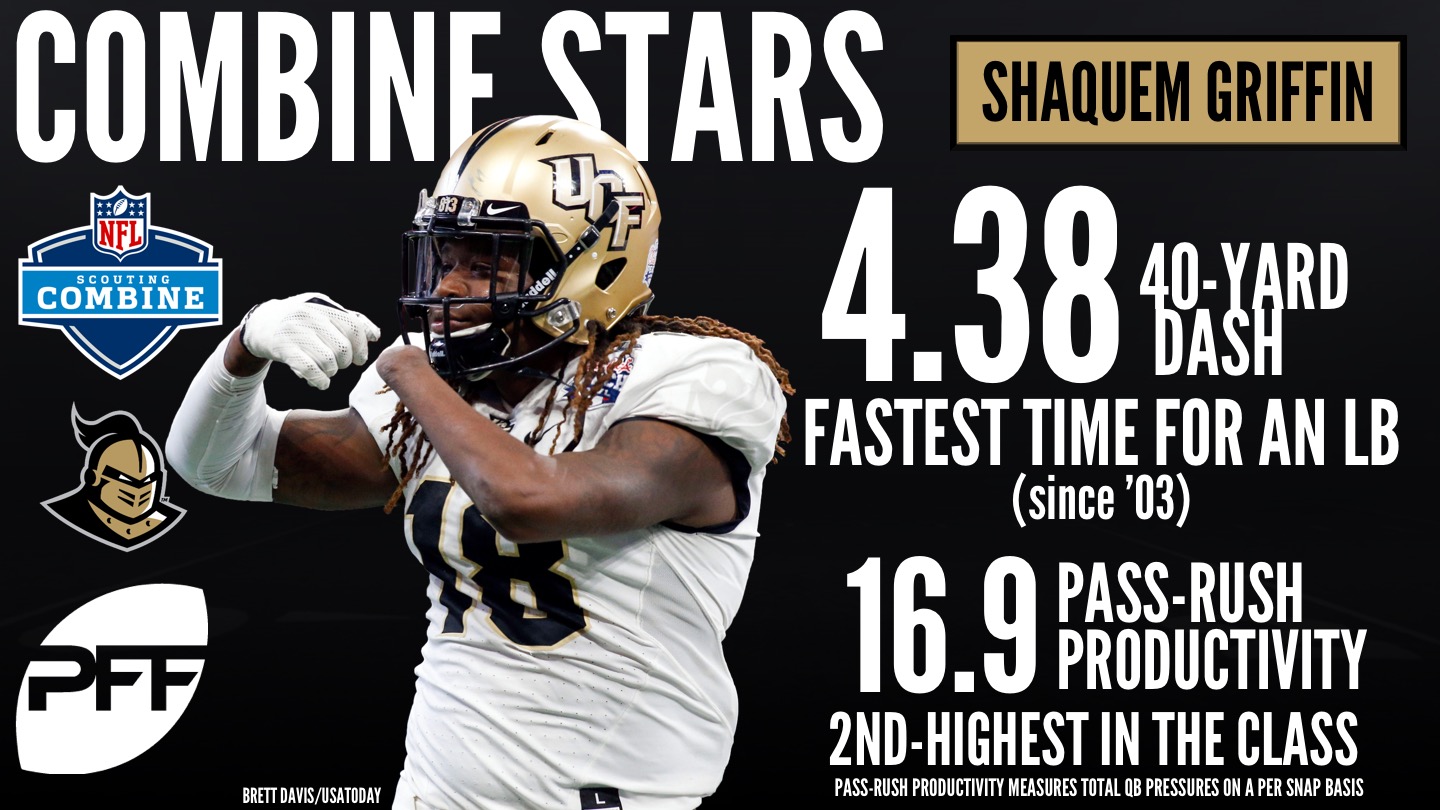 Shaquem Griffin, edge, UCF
The best story of the draft class has now put himself in position to be the best performer of the entire combine. Griffin's weight is now up to 227-pounds, he put up an amazing 20 reps on the bench press on Saturday, and on Sunday, he posted a 4.38u 40 time. While there still appears to be significant debate as to his best NFL position, his measurables this week, when combined with his on-field production, suggest he can be an edge. He posted 55 total quarterback pressures in 2017, including a double-digit performance against Auburn in the Peach Bowl. His snap count and effectiveness were nearly identical on each side, and his pass-rush productivity score of 16.9 ranked second in the draft class. – @PFF_Josh
20 reps from Shaquem Griffin. Without one hand. Monster! pic.twitter.com/95N9FQLNmx

— Sam Monson (@PFF_Sam) March 3, 2018
Bradley Chubb, edge, NC State
Our No. 3 edge rusher in the draft class, Chubb looked the part of a high first-round pick throughout his workout. He blazed a 1.63 10-yard split on his way to clocking in at 4.66 in the 40-yard-dash, and changed directions with ease during positional drills. At North Carolina State in 2017, he was equally adept at rushing the passer from either side, notching 29 total pressures off the left edge and 27 off the right. His run-stop percentage of 11.0 ranked first among all edge prospects in this year's class. – @PFF_Josh
Josh Sweat, edge, FSU
Sweat's college career never quite lived up to his hype coming out of high school, but he led the edge group today with an unofficial 4.53 40-yard dash, which included a 10-yard split of 1.55. Sweat was a solid run defender throughout his time at Florida State, capping his 3-year career with the Seminoles by posting 24 run stops with no missed tackles last season. While his 78.3 pass-rush grade in 2017 represented the best effort of his college career, he still ranked just 68th among all edge players in the country, and is our 14th-ranked edge prospect in the draft class. – @PFF_Josh
Da'Ron Payne, DI, Alabama
Payne – our No. 3 ranked interior defensive lineman – turned in a 4.91u 40-yard dash time which was among the fastest of the big-bodied defenders. Payne also looked to have quick feet for his size during position drills. His athletic display will help his draft assessment as teams try to determine if he can generate a consistent pass-rush in the NFL. Payne is an early draft entry and improved his overall play each year of his career but only managed two sacks, nine QB hits and 22 hurries on his 387 pass-rushing snaps. Payne is already a stout run defender so his draft slot is largely dependent on how well teams feel he can rush the passer. – @PFF_Jordan
Vita Vea, DI, Washington
On film, Vea is an awesome combination of rare size, playing strength and quick feet and he is our No. 2 ranked interior defensive lineman in the draft class. He backed all of that up at the combine although his workout was cut short by a hamstring injury. Vea measured in at 6-foot-4, 347-pounds and showed that his playing strength on film was no fluke as he bench pressed 225-pounds a whopping 41 times. Vea also managed to run a 5.11 40-yard dash which was impressive at his size. We have compared Vea to Haloti Ngata and think he will go in the first round of the draft. – @PFF_Jordan
Saturday, March 3
---
Mike Gesicki, TE, Penn State
Gesicki – our No. 7 tight end – was expected to put up solid testing numbers at the combine as his athleticism was evident on film and he didn't disappoint. He posted an impressive 41.5-inch vertical leap to go along with his 10-foot-9 broad jump. Gesicki also bench pressed 225-pounds an impressive 22 times. Topping it off, he also ran a 4.54 40-yard dash time and looks like he'll be a weapon down the seam in the NFL. – @PFF_Jordan
Jaylen Samuels, TE, NC State
We identified Samuels as one of the most versatile offensive weapons in the draft class and he is our No. 9 ranked tight end. Samuels is one of the premier mismatch weapons in the draft and showed why with a 4.54 40-yard dash, demonstrating his long speed and why it's difficult for linebackers to stay with him in coverage down the field. He weighed in at 225-pounds which has many NFL teams leaning towards playing him more in a running back role but one that should be used heavily in the pass game. Samuels had 42 receptions in the slot last season which ranked No. 2 among tight ends in the draft class and he showed off his natural hands in pass-catching drills. Samuels also had a strong 10-foot-1 broad jump. – @PFF_Jordan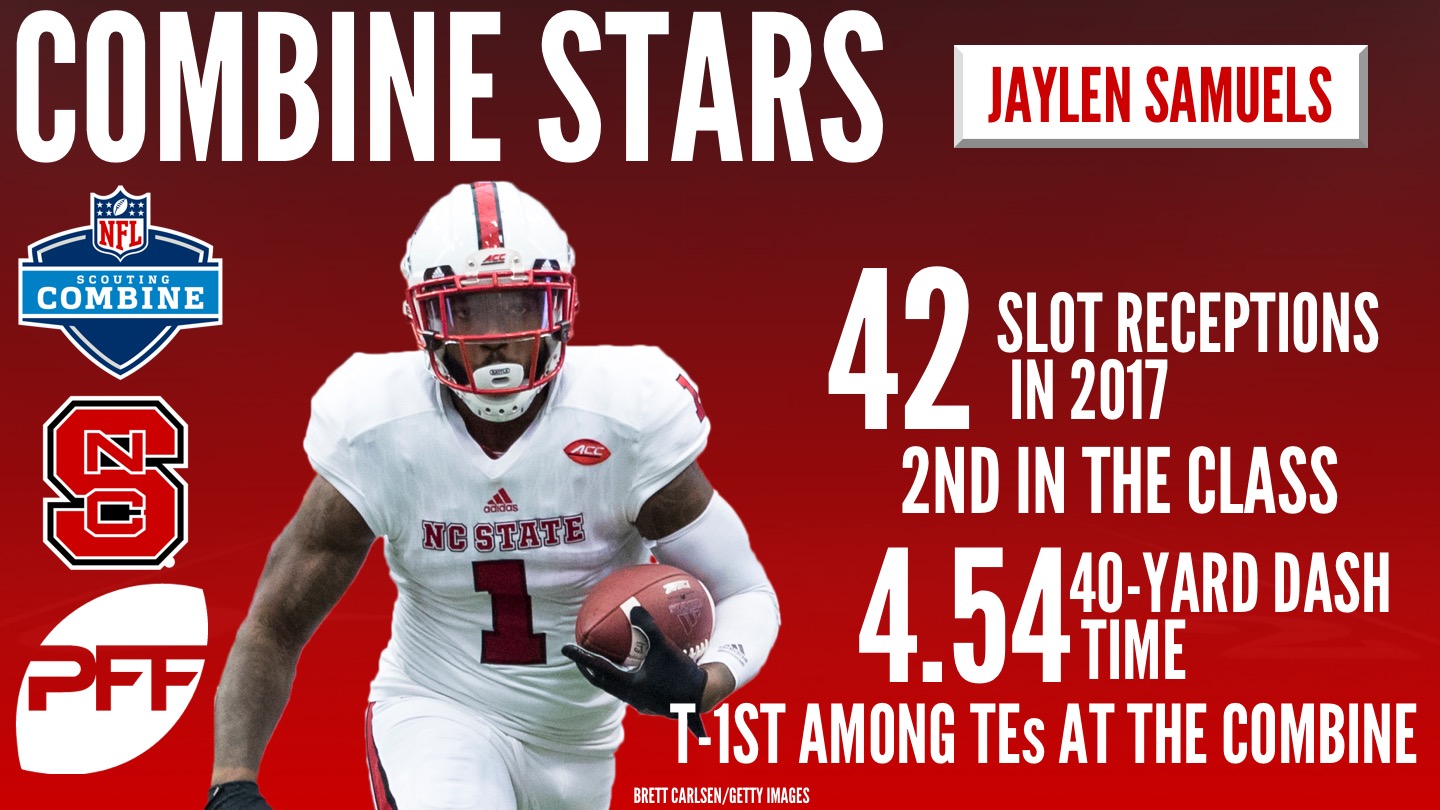 D.J. Chark, WR, LSU
Chark is having a spectacular draft season thus far as he was one of the stars of the Senior Bowl week in Mobile – including a five-catch and 165-yard performance in the game – and one of the players we highlighted as helping themselves the most that week. Chark has subsequently followed that up with a strong performance at the combine. He had a 4.34 40-yard dash showing that his long speed on film was not a fluke and capped it with a 40-inch vertical leap. Chark's strong showing since the end of the season should see him moving up draft boards. – @PFF_Jordan
Michael Gallup, WR, Colorado State
Gallup – our No. 1 rated wide receiver in the draft class – showed he has sufficient speed to play on the outside in the NFL when he ran a 4.51 40-yard dash. Gallup's long speed was the biggest question in his game as his route-running is crisp and he is an angry, physical runner with the ball in his hands. He has finished in the top-15 in yards per route run both of the last two seasons. – @PFF_Jordan
Keke Coutee, WR, Texas Tech
Coutee has stood out to our analysts as one of the most versatile offensive players in the draft class. Coutee came into the combine as our No. 9 ranked wide receiver and put up a strong showing. He ran a 4.43 40-yard dash and looked quick and explosive in positional drills. His best fit in the NFL is a slot receiver who can also be used on designed runs like jet sweeps as he ranked No. 2 in the country with 1,088 receiving yards from the slot in 2017. – @PFF_Jordan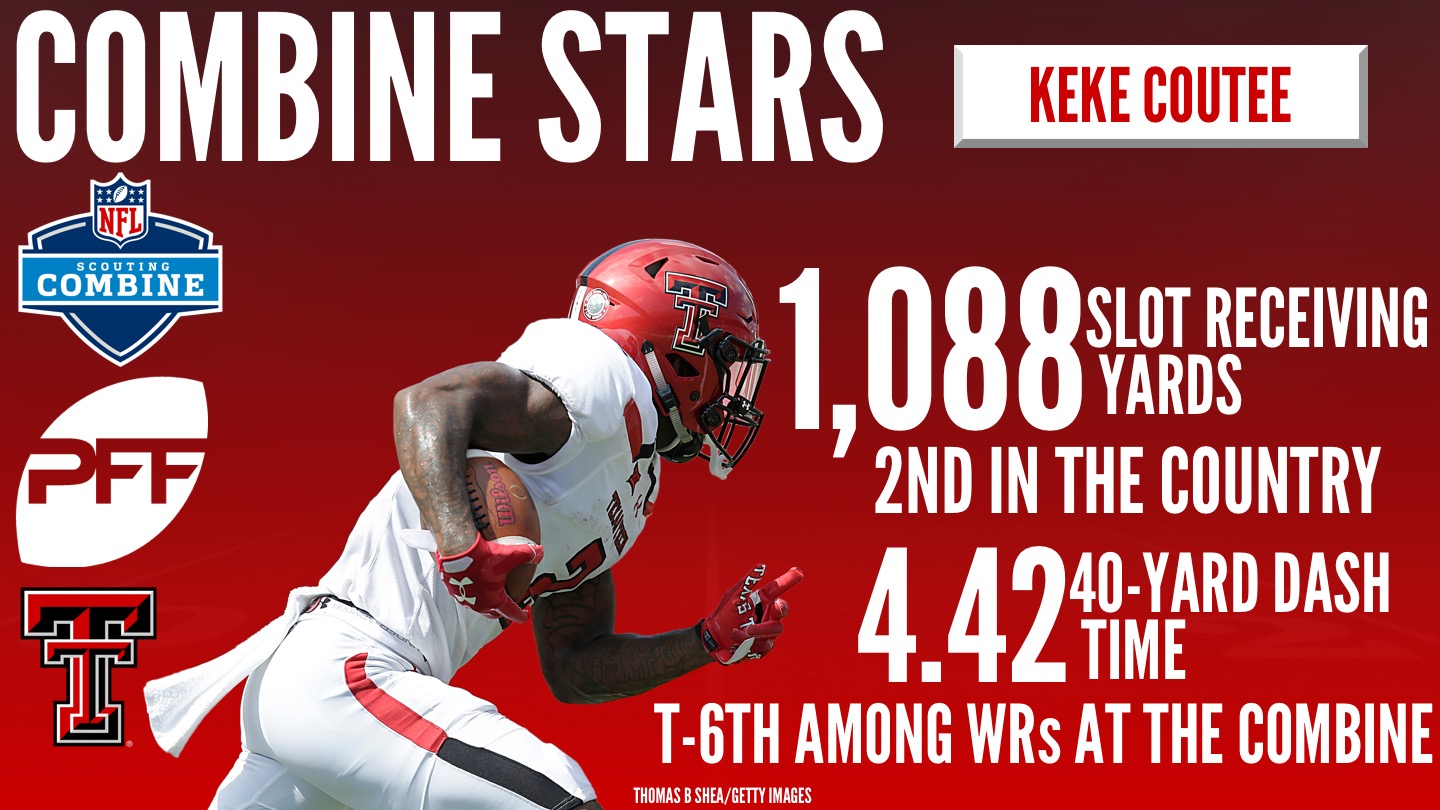 D.J. Moore, WR, Maryland
Moore – our No. 6 ranked wide receiver – posted some of the most impressive testing numbers of the wide receiver group at the combine. He showed off his deep speed by running a 4.42 40-yard dash and his lower body explosion in his jumps with a 39.5-inch vertical and 11-foot broad jump. Moore can play inside in the slot or outside and his 2.78 yards per route run ranked No. 16 among all 2018 NFL Draft wide receivers. – @PFF_Jordan
Josh Allen, QB, Wyoming
It was widely expected for Allen to look good at the combine as he is a big, strong athlete at the position and ran a 4.75u 40-yard dash. There aren't too many things to be gleaned from the quarterback's passing performances during the combine drills as they are throwing to strange wide receivers but Allen was able to show off his trademark arm strength a time or two and seemed to be a bit more accurate than he looks in games. Allen is our No. 6 ranked quarterback in the class and looked his best when he was throwing deep in Indianapolis. – @PFF_Jordan
Friday, March 2
---
Trending up
Offensive line
Desmond Harrison, OT, West Georgia
Harrison's athleticism at the combine was rare for an offensive lineman and at times, the drills looked too easy for him and as if he belonged with the tight end group. He didn't do the bench press but Harrison is an exceptional athlete albeit raw with regards to his positional development. Harrison ran an extremely fast 4.90 40-yard dash and combined with his movement ability showed, he is an intriguing developmental prospect at tackle. – @PFF_Jordan
Will Hernandez, G, UTEP
Hernandez – our No. 3 ranked guard – looked quick and fluid for a big-bodied 6-foot-2, 327-pound guard. He was 340-pounds at the Senior Bowl and dropped 13 pounds to be lighter and more fluid in drills, and it showed. He ran a 5.15 40-yard dash which was impressive at his weight while looking solid in pass protection drills, backing up his 99.4 pass-blocking efficiency rating which ranked No. 2 in the class. Hernandez looked almost as good pulling in drills as he did pulling on film, minus the crumpled linebacker at the second level. He is one player you wouldn't want to see running at you with bad intentions.
Hernandez was able to bench press 225-pounds an impressive 37 times which led all offensive linemen at the combine. We believe that Hernandez is a Day 1 starter in the NFL at guard and his combine performance certainly backed that up. – @PFF_Jordan
James Daniels, C, Iowa
Daniels – our No. 4 ranked center – didn't run the 40-yard dash due to a slight hamstring issue but he still participated in positional field drills. His ability to move fluidly and quickly really stood out during offensive line drills while he also displayed excellent lateral movement ability in the mirror drill and he was able to consistently keep his body positioned in front of the rusher. – @PFF_Jordan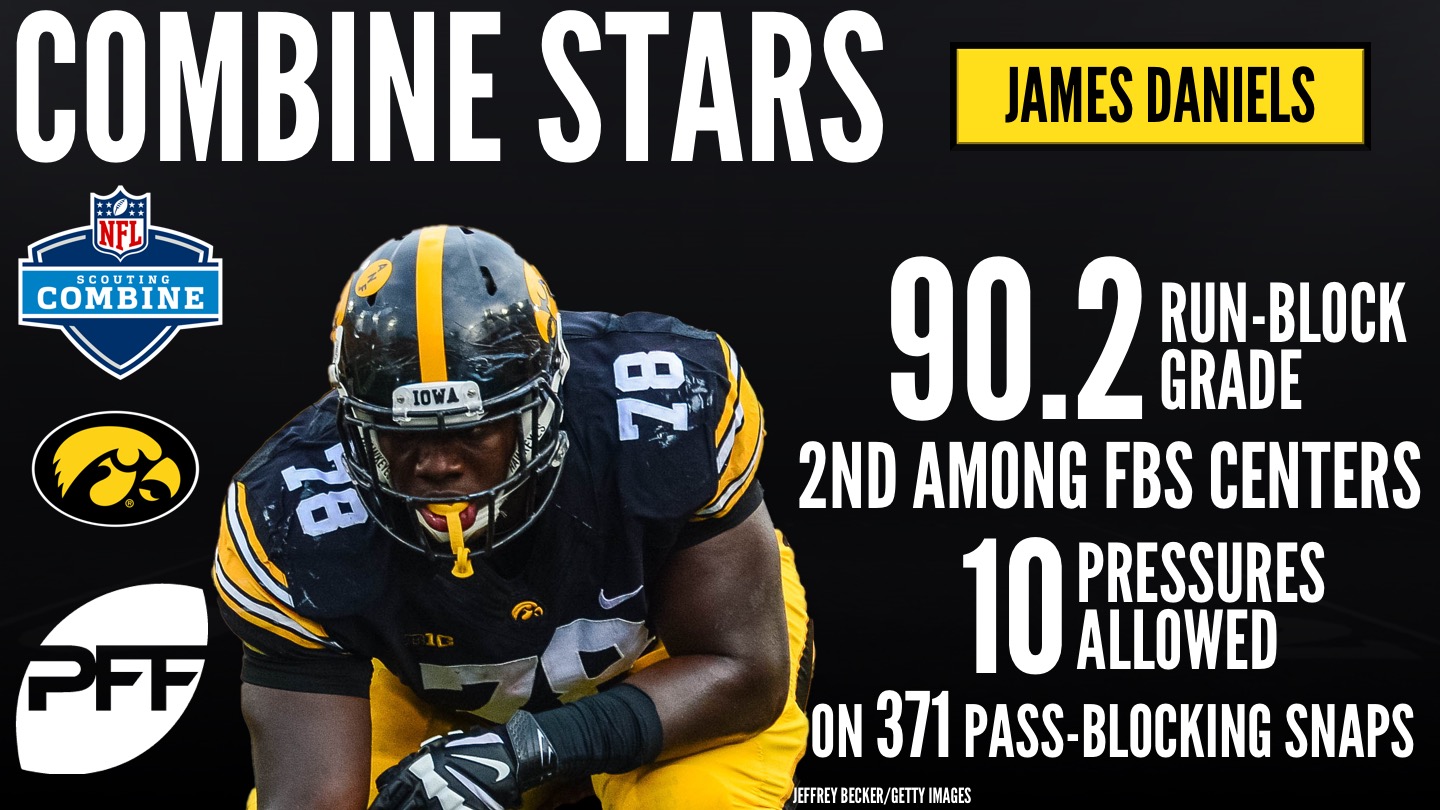 Kolton Miller, OT, UCLA
Miller is an early entry player who is coming off a strong redshirt junior campaign in which he surrendered two sacks, eight QB hits and six hurries on his 579 pass-blocking snaps. Miller is our No. 7 ranked offensive tackle and displayed his athletic ability at the combine. Standing over 6-foot-8 with lengthy 34-inch arms, Miller showed some serious lower body explosion with an eye-popping 10-foot-1 broad jump and to cap it off, he also ran a 4.95 40-yard dash. During positional drills, Miller looked fluid moving laterally in the mirror drill and was able to cover ground quickly with his light feet and long strides protecting the corner in the outside pass-rush drill. Miller's combination of size and athletic ability are sure to intrigue NFL teams. – @PFF_Jordan
Connor Williams, T, Texas
Williams is a long-time PFF favorite and he had a monstrous 2016 campaign that saw him finish with an 91.1 overall grade. He suffered through some injuries during the 2017 season but he looked fully healthy and at a trim 296-pounds on the field. Williams is our No. 2 ranked offensive tackle and he showed top-notch movement ability for an offensive tackle while he ran a 5.05 40-yard dash. Some NFL teams might view Williams as a guard, but we think he can succeed outside at tackle and his measurements and testing at the combine looked to indicate the same. – @PFF_Jordan
Running backs
Saquon Barkley, Penn State
Barkley entered the combine as one of the few blue-chip prospects in the draft class and our No. 1 ranked running back. His combine performance can't vault him any higher in our rankings but it was the most impressive by far of the running backs in attendance. Barkley weighed in at a chiseled 233-pounds which made his 4.40 official 40-yard dash quite an astonishing time for a player of that mass. Barkley's 29 bench press reps of 225-pounds tied him at No. 1 in the running back group and his 41-inch vertical leap also ranked No. 1 in his position group. He also showed natural hands in receiving drills, further exemplifying his skill set. – @PFF_Jordan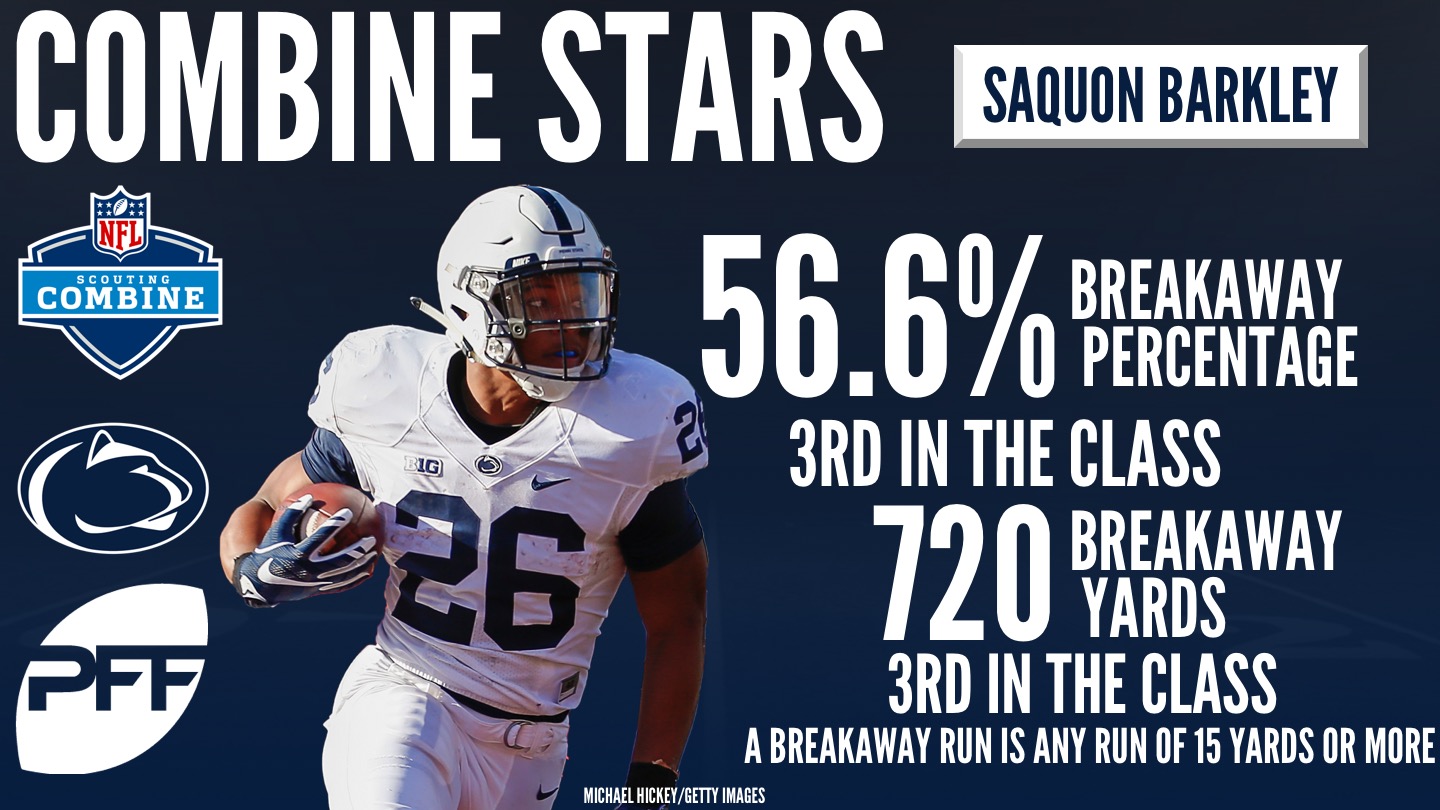 Rashaad Penny, San Diego State
Penny – our No. 3 ranked running back – had a strong athletic performance at the combine to back up a truly impressive body of work in 2017 on the field and a noteworthy Senior Bowl. Penny forced 86 missed tackles as a runner on the way to his 2,254 rushing yards and a 128.6 elusive rating that ranked No. 1 in the class. Penny wasn't tackled on first contact 42.8 percent of the time last year which also ranked No. 1 in the class and he averaged 4.5 yards after contact per attempt. His 4.46 40-yard dash time at the combine backed up his game-breaking speed on film that he routinely showed off on long runs and kick returns. He also had a strong 10-foot broad jump and looked good running routes and catching the ball in receiving drills. – @PFF_Jordan
Nyheim Hines, NC State
NFL teams that like to use a lot of outside zone runs in their offense – such as the San Francisco 49ers or Atlanta Falcons – will see a lot on Hines' film that interests them. NC State frequently used Hines on outside zones and he showed an ability to find a hole or cutback lane and then get to top speed quickly. Hines showed at the combine that his top-end speed makes him a breakaway threat as he ran a 4.38 40-yard dash and 44.2 percent of his 1,111 rushing yards came on big play runs of 15 or more yards. He also showed impressively quick-cutting ability in field drills which helped him force 36 missed tackles as a runner in 2017 and his elusive rating of 76.2 that ranked No. 10 in the class. Hines also averaged an impressive 3.76 yards after contact per attempt in 2017. Showcasing a well-rounded skill set, he also played 37 snaps in the slot in 2017 and 19 snaps out wide, while he started several games at wide receiver in 2016, further showing he can be used in a number of ways. – @PFF_Jordan
Trending Down
Orlando Brown, OT, Oklahoma
Brown – our No. 3 ranked tackle – did an exceptional job protecting quarterback Baker Mayfield on the field this season as he only allowed one sack, one QB hit and 10 hurries on his 479 pass-blocking snaps. Unfortunately, Brown hasn't performed up to the level that many were expecting at the combine. He tested very poorly in the bench press with only 14 bench press reps of 225-pounds. Brown also ran a nearly historically slow 5.85 in the 40-yard dash and he didn't move as fluidly as many of the other tackle prospects. His sheer size must be taken into account as he stands nearly 6-foot-8 and weighs 345-pounds with very long 35-inch arms. Brown's pro day workout will need to be stronger all-around to put teams at ease with taking him with a high pick. – @PFF_Jordan
[Editor's note: The 40-yard dash times listed above are up-to-date with NFL.com's Combine Tracker and will be refreshed upon any changes made to official reporting.]