The PFF team is going position-by-position to preview the 2017 college football season as it pertains to the 2018 NFL draft. There's still a lot of football to be played and the evaluation stage is still very young, but a number of prospects are already on the NFL's radar and you can read up on over 300 of them (to go with PFF signature stats on over 2,200 total prospects) in our first ever Preseason NFL Draft Guide.
We've taken a look at quarterbacks, and running backs, today here's a look at the wide receivers to know heading into the season:
While there may not be a clear-cut top wide receiver in the draft class, there are a number of players who may hear their name called on the first day. SMU's Courtland Sutton has a huge frame that allowed him to rank second in the draft class with 16 receptions on deep (20-plus yard) targets. Oklahoma State's James Washington is a deep threat as well, but he gained his class-high 690 deep yards with his speed and sharp route-running. If he can improve in contested situations, he'll get plenty of first-round looks. Uneven quarterback play at Alabama has hurt Calvin Ridley's production but he's still managed 11 catches of 40-plus yards over the last two years and he's a downfield and after-the catch threat. South Carolina's Deebo Samuel is shifty both before and after the catch, forcing a missed tackle on 26.7 percent of his targets, fifth-best in the draft class. Finally, Florida's Antonio Callaway has battled off-field issues during his two years in school, but he's the draft's biggest playmaker with the ball in his hands and he's averaged 7.3 yards after the catch per reception in his career.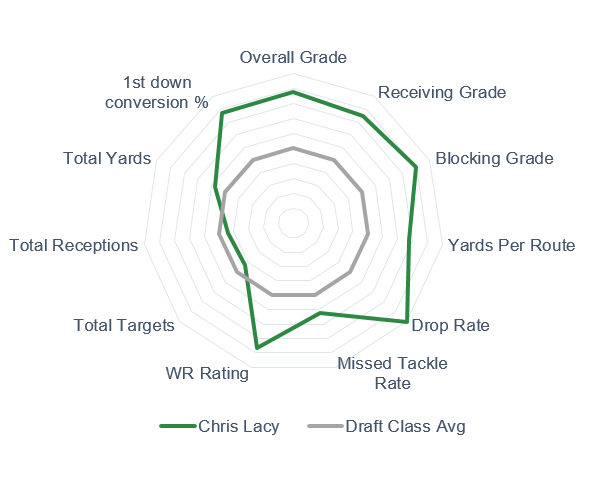 Can make a big jump
Deon Cain, Clemson: It's a big year for Cain who will become more of a focal point in the Clemson passing attack, particularly after the loss of first-round wide receiver Mike Williams. Cain has proven to be a big-play threat as his 14 receptions on deep (20-plus yard) passes will attest. He can do a better job of making plays over the middle of the field and catching the ball more consistently (dropped six of 44 catchable targets in 2016). Cain has a big opportunity to show he can handle a more high-volume role and better round out his skillset.
Sleeper(s) to know
Anthony Miller, Memphis: Miller has the speed to stretch the field (485 yards on "go" routes ranked third in the draft nation) and his 3.22 yards per route ranked fourth in the draft class. Miller has quietly been one of the nation's best receivers over the last two years.
Michael Gallup, Colorado State: Perhaps he's not much of a sleeper with a draft-class-high 4.34 yards per route in 2016, but Gallup should be a much bigger name by the end of 2017. He's both physical and athletic, so look for much more hype from Gallup this year and into draft season.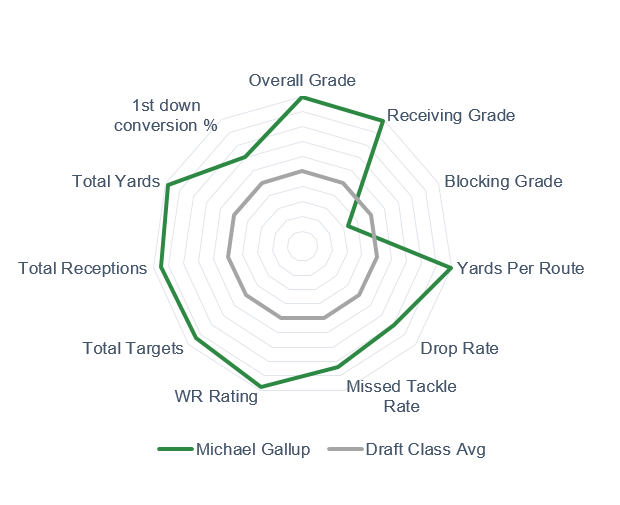 Breakout candidates
D.J. Chark, LSU: It's all about speed for Chark who can get behind the defense and stretch the field. Despite inconsistent quarterback play, he still averaged 2.17 yards per route though much of his production has come via the deep ball. He'll get the opportunity to show a more well-rounded game in 2017, and if he proves to be more than a deep threat, his draft stock will be on the rise by next spring.
Non-Power 5 watch
Ventell Bryant, Temple: Bryant's 3.62 yards per route ranked third in the draft-class as he was one of the nation's most efficient receivers. He's forced 19 missed tackles on only 93 career receptions and he didn't drop a pass in 2016. If he can maintain his production with a new quarterback, Bryant will be hard to ignore as a draft-riser this season.
Cedrick Wilson, Boise State: Wilson was a big-play threat for Boise State last season, averaging 20.2 yards per reception to go with 12 forced missed tackles on only 56 catches and 7.7 yards after the catch per reception. Wilson has the size and speed to move up draft boards quickly.