The PFF team is going position-by-position to preview the 2017 college football season as it pertains to the 2018 NFL draft. There's still a lot of football to be played and the evaluation stage is still very young, but a number of prospects are already on the NFL's radar and you can read up on over 300 of them (to go with PFF signature stats on over 2,200 total prospects) in our first ever Preseason NFL Draft Guide.
Here's a look at the running backs to know heading into the season:
Let the debate begin as Penn State's Saquon Barkley and LSU's Derrius Guice will both likely vie to be the top running back off the board next spring. Both players are big-play threats as Barkley led the nation with an elusive rating of 126.7 in 2015 while Guice stepped in last season and averaged 7.6 yards/carry with 59.5 percent of his yards coming on explosive (15-plus-yard) runs, third-best in the nation. Keep an eye on Georgia's Nick Chubb who wasn't completely himself last season as he came off injury, forcing a missed tackle every 5.7 carries compared to one every 3.6 carries in 2014 and 2015. A return to form will have him back in the first-round mix as an every-down option.
New Iowa RB James Butler (late transfer from Nevada) picked up a first down or a touchdown on 33.1 percent of his carries last season, best among draft-eligible running backs with at least 200 carries.
Alabama's Bo Scarbrough picked up 7.5 yards/attempt on zone runs, third-best in the nation among running backs with at least 708 zone carries.
Oregon State's Ryan Nall led the draft class with an elusive rating of 160.9 behind 47 missed tackles on only 147 rushes and another seven on 22 receptions.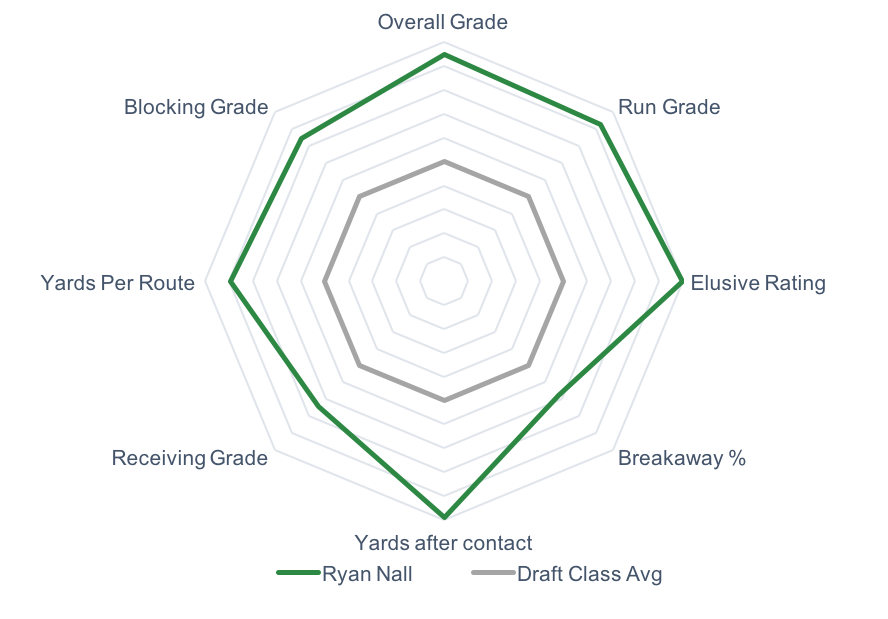 Can make a big jump
Kalen Ballage, Arizona State: While Ballage has proven to be a versatile player in the pass game, there's still room to improve as a down-to-down runner. He picked up only 0.9 adjusted yards before contact per rush, tied for third-lowest among draft-eligible running backs, so he didn't receive much help up front. If his run blocking improves, he's shown the patience to set up blocks and the explosiveness to create big plays when given the opportunity.
Sleeper to know
Butler, Iowa: Transferring from Nevada to Iowa may give Butler more opportunities to impress as he pairs with fellow draft prospect, Akrum Wadley (elusive rating of 120.9 ranked ninth in the nation in 2016), to form one of the nation's top duos. Butler maximizes his run blocking and he can make things happen in tight spaces with sharp cuts. He was productive in the pass game as well, ranking ninth in the draft class with 2.17 yards per route.
Breakout candidates
Bryce Love, Stanford: Love has only 141 career carries, but he's made the most of them averaging 7.1 yards/attempt and a gaudy 4.5 yards after contact per rush. Throw in 39 missed tackles forced on those rushes and we can't wait to see what he can do when given a full workload as first-round pick Christian McCaffrey's replacement.
Non-Power 5 watch
Rashaad Penny, San Diego State: Like Love at Stanford, Penny has to replace a legend in departed NCAA career rushing leader, Donnel Pumphrey. He's been productive when called upon, ranking 10th in the draft class with a 109.0 elusive rating last season and ranking third with 2.60 yards per route.
Larry Rose III, New Mexico State: Rose is a shifty runner who excels in zone schemes where he posted the eighth-best grade in the nation last season. He forced a missed tackle on 27.3 percent of his touches, sixth-best among draft-eligible running backs.