The PFF team is going position-by-position to preview the 2017 college football season as it pertains to the 2018 NFL draft. There's still a lot of football to be played and the evaluation stage is still very young, but a number of prospects are already on the NFL's radar and you can read up on over 300 of them (to go with PFF signature stats on over 2,200 total prospects) in our first ever Preseason NFL Draft Guide.
Here's a look at the quarterbacks to know heading into the season:
Can make a big jump
Wyoming's Josh Allen is already getting plenty of hype, and why not with throws like this? However, while Allen possesses outstanding physical tools as far as size, arm strength and athleticism, there is still plenty of room to improve his ability to work through progressions and throw with better accuracy within the flow of the offense. He has to improve his adjusted completion percentage that ranked 51st in the draft class (67.0 percent).
Louisville's Lamar Jackson reminds of former NFL QB Michael Vick who had a big arm, inconsistent accuracy and athleticism that could be a game-changer, even at the NFL level. For Jackson to warrant a first round pick, he must continue to improve as a passer as he did in 2016 when his passing grade rose from 56.4 to 79.6. If he can take another step forward and hit a higher percentage of throws, he'll possess the run/pass threat that can keep NFL defenses off balance.
Sleeper to know
Looking for a quarterback that already has the attention of scouts and will be more of a household name by the end of the season? Western Kentucky's Mike White is that guy. He ranked second in the draft class with an adjusted completion percentage of 78.2 percent, including the top mark on deep (20-plus-yard) passes at 60.5 percent.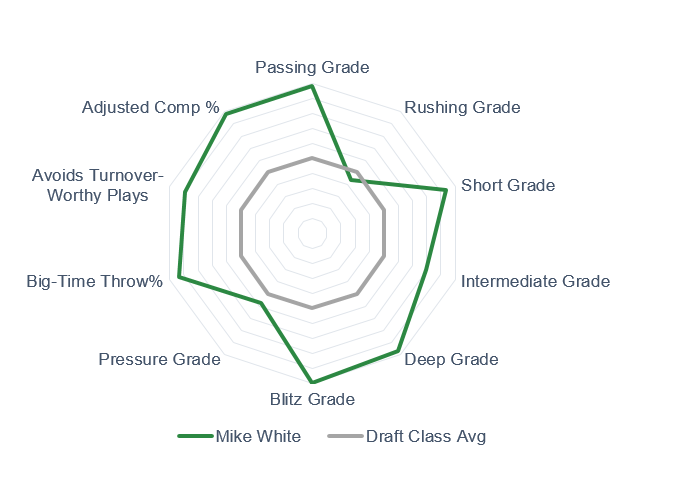 Breakout candidates
Colorado's Steven Montez has good size and arm strength and he performed well when given a chance to start last season. His best work comes when the defense give a pre-defined look, but if he can improve his ability to process and throw with accuracy when working through multiple reads, he has a chance to become a big-time prospect.
With an 80.4 overall grade on only 109 passing attempts in 2015, new Auburn QB Jarrett Stidham already showed his potential during his true freshman season at Baylor. He'll have plenty of opportunities to show off his deep ball that went for 596 yards and seven touchdowns on only 28 attempts in 2015.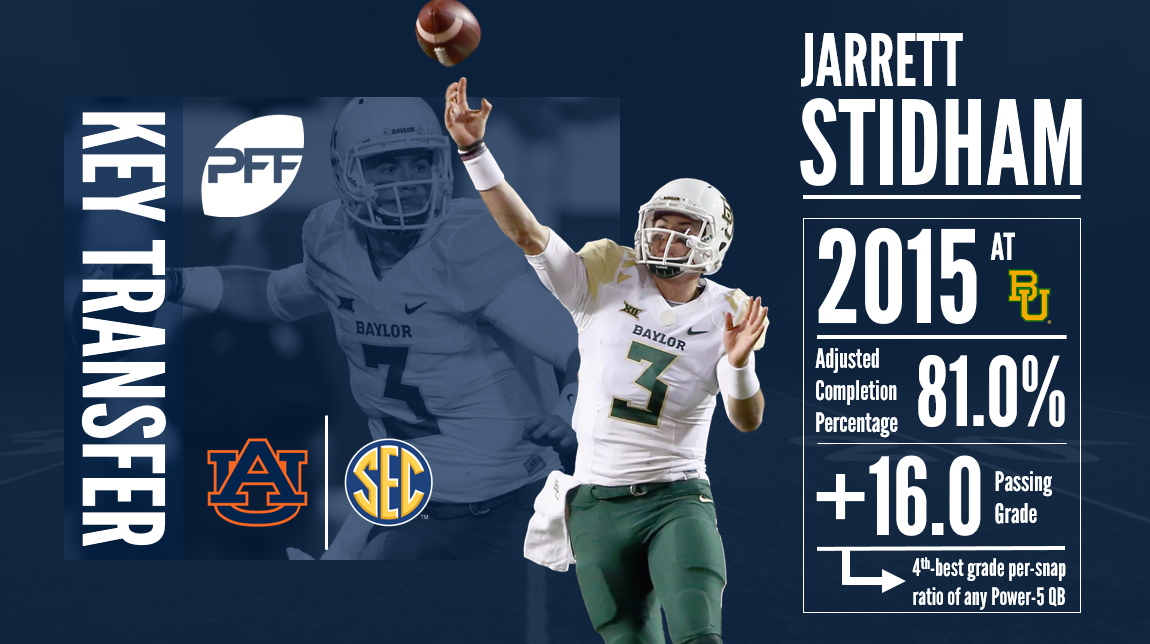 Non-Power 5 watch
In addition to Western Kentucky's Mike White and Wyoming's Josh Allen, Eastern Michigan's Brogan Roback has a chance to turn heads this season. He has a live arm that works best in a timing and rhythm passing game and if he can improve his underneath accuracy (adjusted completion percentage of 80.2 percent ranked only 34th in the draft class), he'll be another name to watch in this deep group of signal callers.