• Bet Broncos WR Jerry Jeudy U 4.5 receptions: PFF's simulation has Jeudy finishing at four or fewer catches in 62.9% of outcomes.
• Bet Seahawks RB Rashaad Penny U 15.5 carries: PFF projects closer to 10 carries.
• Bet OVER 43.5: Pick off this lonely total at FanDuel.
---
• After a positive start on opening night, the expected Sunday-night shootout never materialized, causing us to miss the majority of bets on our most recent ultimate preview. But we are still up 2.5 units in this space as we continue to identify positive expected value plays for island games. 
• Our prime-time previews pull all the key modeling numbers and simulated outcomes from PFF's betting tools, including PFF NFL Greenline and the player props tool, which use top-down machine learning models backed by PFF's exclusive data to derive value when compared to the betting market.
Estimated reading time: 4 mins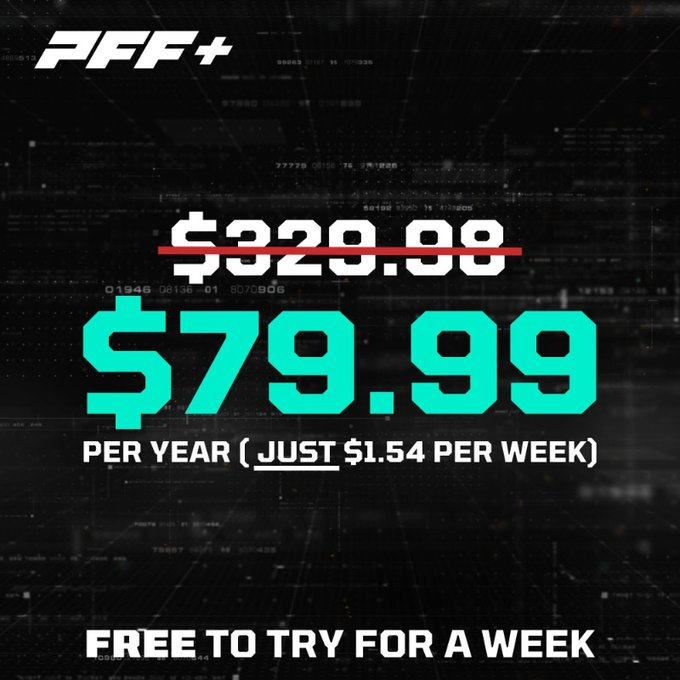 Click here to sign up and try PFF+ for free!
---
GAME LINES
• Second-largest line movement Week 1: Bettors are convinced Russell Wilson will extract revenge on his former team. The opening -4 spread was one of our favorite bets on schedule release, and we were rewarded with 2.5 points of value. PFF Greenline now finds a little value on Seattle to cover the 6.5 point spread, showing 0.8% value and 0.1% value on the +230 moneyline. 
• PFF's play-by-play simulation projects a similar outcome, with the mean expectation closer to 5.5, but there are a number of scenarios where Denver coasts to an easy victory.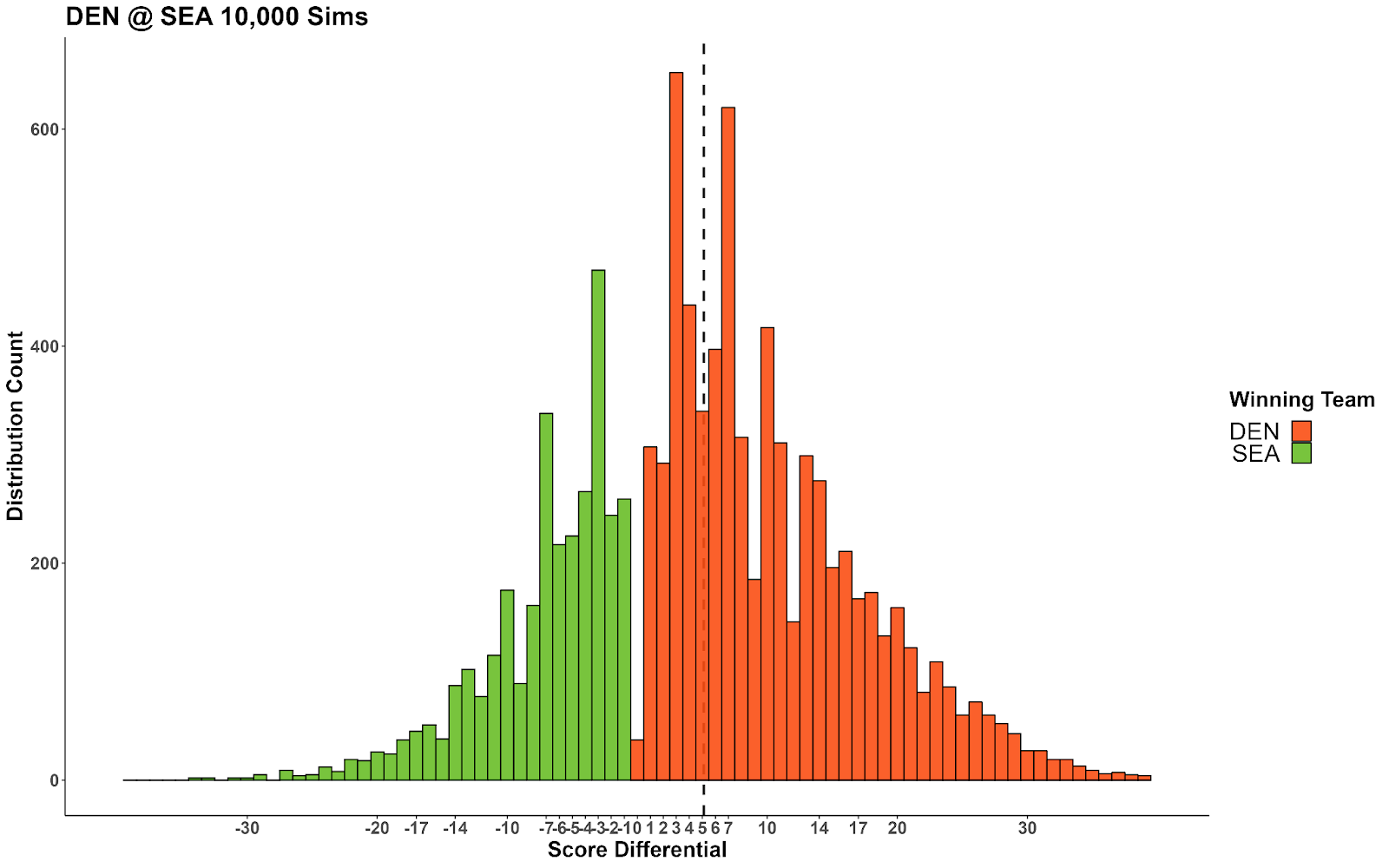 • PFF Greenline also finds value on the over 44, showing 0.2% value for this game to go over the total. The pbp simulation sees a similar result, pointing toward a high likelihood of this game landing in a valuable range above 44.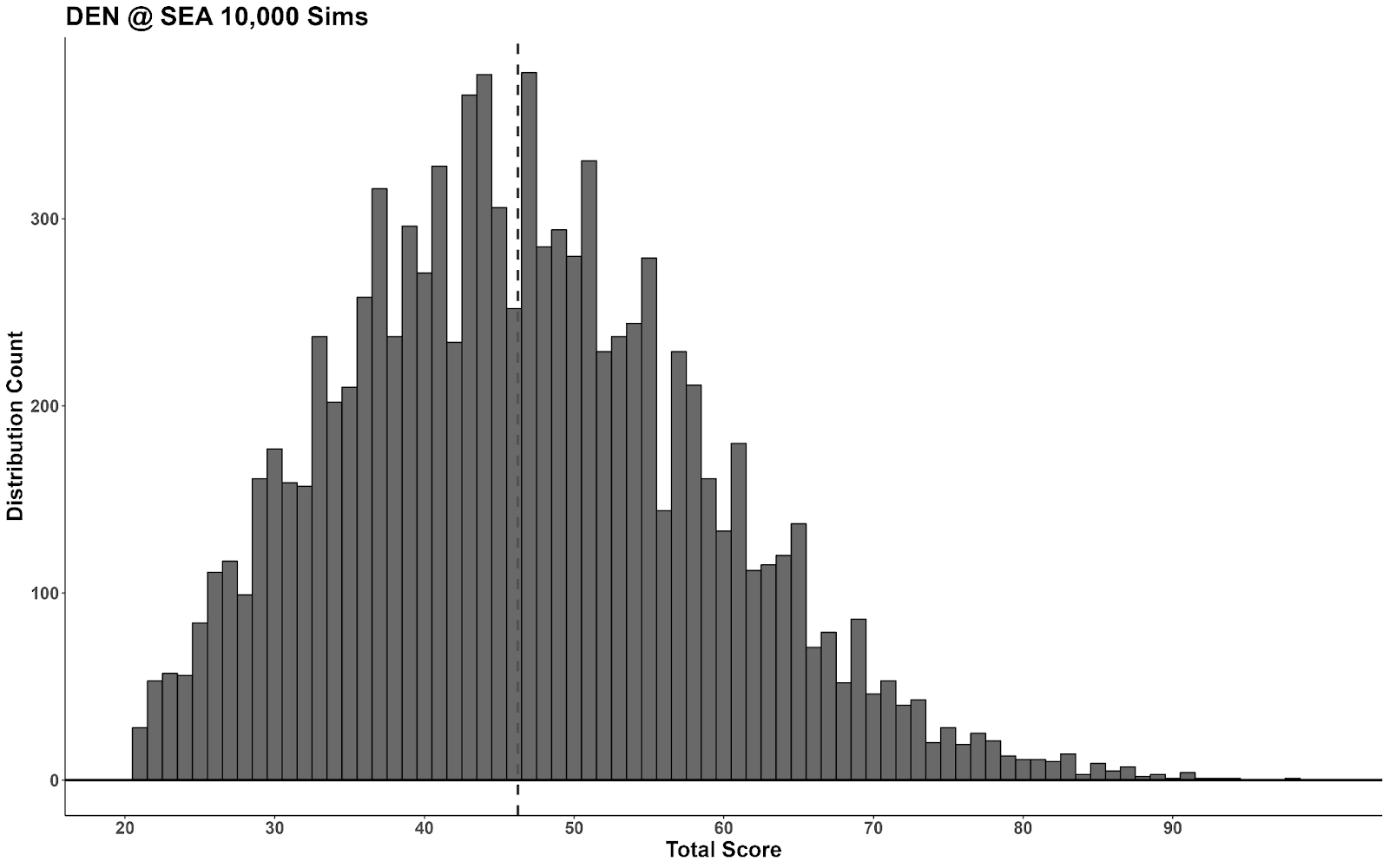 • It's tough to project either offense, as both ranked in the bottom half of the NFL in massey offensive ranking last year. Both have obviously seen tremendous offseason upheaval, with Seattle specifically going back to its roots of a ground-and-pound attack. 
It might take one or two chunk plays from Seattle to see this game go over, but there are more than enough reasons to pick off a lonely 43.5 number on Fanduel to take over. 
BET: Over 43.5 -115 (FanDuel)
---
PLAYER PROPS
BET: Jerry Jeudy Under 4.5 Receptions +110 BetMGM
• Myriad mouths to feed in Denver: Although Jeudy seems to be the top target, Wilson always has distributed to a wide range of pass catchers. Jeudy's under reception prop is the highest value play in PFF's player prop tool, at 62.7 percent, making the plus price on the under an enticing proposition. 
• PFF's simulation sees a similar outcome to the projections, with Jeudy finishing with four or fewer receptions 62.9% of outcomes.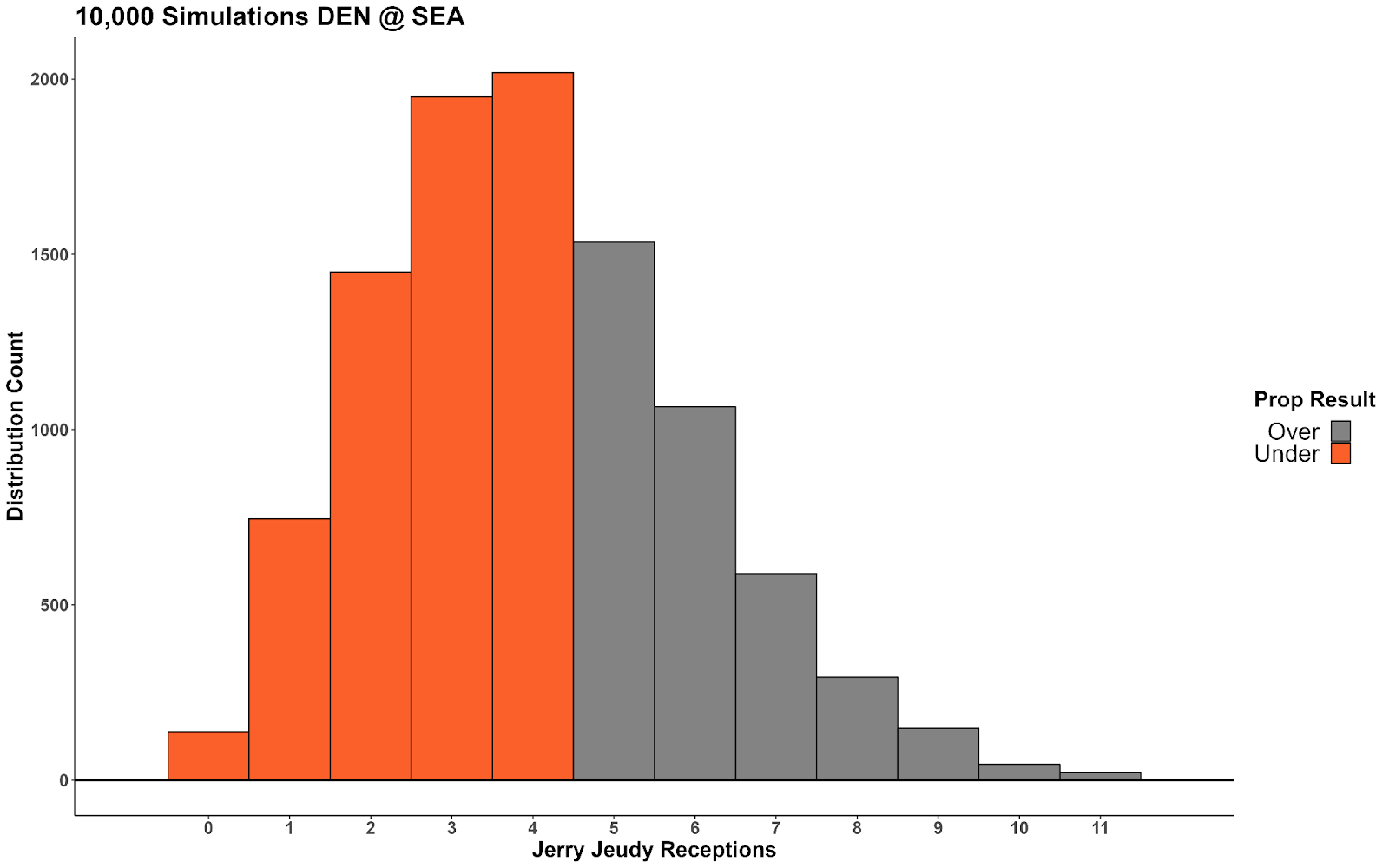 • Jeudy's expected to draw Seattle's top corner Sidney Jones: And given Denver's receiving unit is as healthy as it will be all season, even in a high-volume passing attack, there won't be enough targets funneled in Jeudy's direction for him to go over this prop number. 
BET: Rashaad Penny Under 15.5 Carries  +100 BetMGM
• Backfield committee expected: The books are jumping all over the Pete Carroll narrative, pricing Penny to have a high volume of touches in a new-look Seattle offense. This seems like an egregiously high total given both PFF projections and the pbp simulation have him closer to a 10-carry expectation. 
• Poor game script: With Geno Smith still being a somewhat spry quarterback and game-script concerns abound, it's questionable to expect Penny to be the feature back. Travis Homer will be involved on passing downs, and DeeJay Dallas has also shown some life when given carries, meaning we should once again see a committee type approach to Seattle's backfield on Monday night.
---
DERIVATIVE BETS & SAME-GAME PARLAY 
• Defensive struggle looms: There are very few scenarios where the game goes over 44 with Rashaad Penny hitting over his carry prop number. If Pete Carroll is effective at establishing the run, then we should finish well short of the total number. 
• Same game parlay opportunity: If we fold in Jerry Jeudy to go under his reception prop, we introduce some negative correlation to our same-game parlay build, upping the payout to an enticing number. It's not the most-likely scenario, but PFF's play-by-play simulation sees all three of these events happening 14.8% of the time, easily justifying a +750 payout with an implied probability of 11.8%.  
SGP BUILD (+750 Caesars):
• Rashaad Penny Under 15.5 Carries
• Jerry Jeudy Under 4.5 Receptions
• Over 44
---
• New users who bet $10 or more at BetMGM will receive a free year's subscription to PFF+ — a $79.99 value.
PFF's newest tool is a play-by-play simulation that uses a bottoms-up prediction approach backed once again on PFF data and state-of-the-art machine learning models.